Nestled in the heart of the Lowcountry, Charleston, South Carolina, is a city with a rich history and a wealth of family-friendly activities. From strolling along cobblestone streets to exploring historic plantations, Charleston offers a wide range of experiences that will delight both young and old. Here are the top 10 family-friendly activities to enjoy in Charleston.
1. Charleston Waterfront Park: A Splash of Fun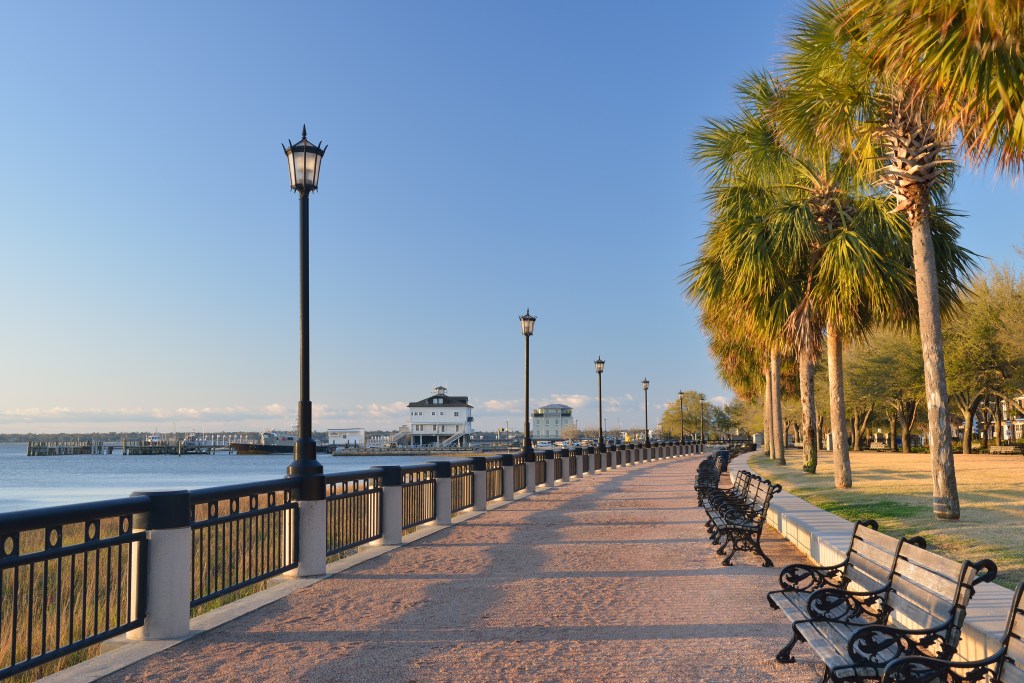 Start your Charleston adventure at the Charleston Waterfront Park. This scenic park features a large pineapple-shaped splash fountain, perfect for kids to cool off during hot summer days. The lush gardens, walking paths, and beautiful views of the harbor make it an ideal spot for a family picnic.
2. South Carolina Aquarium: Underwater Wonders
Dive into the wonders of the sea at the South Carolina Aquarium. Kids and adults alike will be mesmerized by the vibrant marine life on display. Explore touch tanks, watch playful sea otters, and marvel at the majestic sea turtles. It's an educational and entertaining experience for the whole family.
3. Charleston Tea Garden: Sip and Explore
Discover the art of tea at the Charleston Tea Garden, the only tea plantation in America. Take a guided tour of the tea fields, learn about the tea-making process, and enjoy a refreshing cup of freshly brewed tea. It's a unique and relaxing experience for all ages.
4. Charleston City Market: Shopping and Snacking
Wander through the historic Charleston City Market, where you'll find a wide array of local crafts, souvenirs, and delicious snacks. Let the kids pick out a unique souvenir, and don't forget to try some traditional sweetgrass baskets and pralines.
5. Magnolia Plantation and Gardens: Blooms and Butterflies
Explore the stunning gardens of Magnolia Plantation, known for their beautiful azaleas and camellias. The Audubon Swamp Garden within the plantation is a fantastic place for bird-watching and spotting alligators. Keep an eye out for butterflies fluttering among the flowers.
6. Patriots Point Naval & Maritime Museum: Nautical Adventures
For maritime enthusiasts, a visit to Patriots Point Naval & Maritime Museum is a must. Climb aboard the USS Yorktown aircraft carrier, explore a submarine, and learn about naval history through interactive exhibits. It's an immersive experience that will captivate the whole family.
7. Boone Hall Plantation: A Glimpse of History
Step back in time at Boone Hall Plantation, one of America's oldest working plantations. Take a guided tour of the plantation house, wander through the famous Avenue of Oaks, and learn about the Gullah culture and history of the Lowcountry. It's a fascinating journey into the past.
8. Folly Beach: Sun, Sand, and Surf
Charleston's nearby Folly Beach offers sun-soaked adventures for the family. Build sandcastles, swim in the Atlantic Ocean, or try your hand at fishing from the pier. Folly Beach is a laid-back destination that provides a perfect day of sun, sand, and surf.
9. Children's Museum of the Lowcountry: Hands-On Learning
The Children's Museum of the Lowcountry is a paradise for young explorers. With interactive exhibits, art activities, and play spaces, kids can learn through hands-on experiences. It's an educational and entertaining destination that encourages creativity and curiosity.
10. Charleston Carriage Tours: Historic Rides
Explore the historic charm of Charleston aboard a horse-drawn carriage. Guided tours take you through the city's cobblestone streets, passing by historic homes and landmarks. It's a leisurely way to soak in the rich history and unique architecture of Charleston.
In conclusion, Charleston, South Carolina, offers a delightful blend of history, nature, and family-friendly fun. Whether you're splashing in fountains, learning about marine life, or stepping back in time on a plantation tour, Charleston has something for everyone. Plan your family getaway to this charming city and create cherished memories together.
The 10 Best Family-Friendly Activities in Charleston, South Carolina – Summary
Charleston, South Carolina, is a city where history and family-friendly activities come together in perfect harmony. From exploring beautiful gardens and plantations to learning about marine life and relaxing on the beach, there's no shortage of adventures to embark on. Charleston's rich culture and welcoming atmosphere make it an ideal destination for families seeking both fun and education. So, pack your bags and make Charleston your next family vacation destination, where unforgettable experiences await.