servings: 12 squares
prep time: 15 minutes
cook time: 25 minutes
total time: 40 minutes
Ingredients:

2¼ cups old fashioned oats (not instant)
¼ cup oat bran
1 teaspoon ground flax seed meal
½ cup hazelnuts (chopped)
½ cup dried figs (chopped)
3 dates (pitted and chopped)
¼ cup honey
¼ cup all-natural almond butter (or any other nut butter)
3½ tablespoons coconut oil
½ teaspoon spices (cinnamon, allspice, and nutmeg)
pinch of sea salt
Preparation:

Step 1: Preheat oven to 325 degrees.
Step 2: Line a 10 x 7 inch baking dish (an 8 x 8 inch dish will work, too) with parchment paper, leaving extra paper to hang over the sides. Coat with non-stick oil spray.
Step 3: Pour oats, oat bran, and flax seed meal in to a large bowl.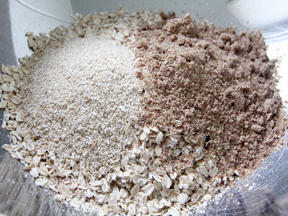 Step 4: Roughly chop hazelnuts, dried figs, and dates into about 1 inch pieces. Add to large bowl.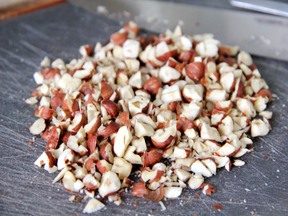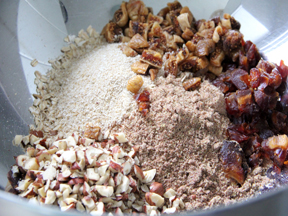 Step 5: In a smaller bowl, use a rubber spatula to mix together honey, almond butter, coconut oil, spices, and sea salt.
Step 6: Pour honey mixture into the oat bowl, and mix with rubber spatula until all of the dry ingredients are thoroughly coated.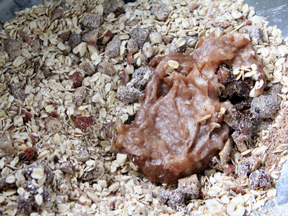 Step 7: Once ingredients are thoroughly incorporated and mixed, transfer mixture into parchment-lined pan and press down with lightly oiled hands to flatten the top (you can also use the rubber spatula to help press granola down).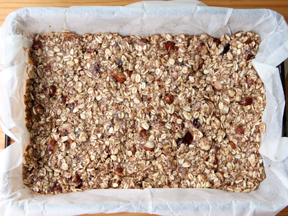 Step 8: Bake granola for 20 – 25 minutes.
Step 9: Remove from oven, and allow granola bars to cool completely. (This step is essential; otherwise, you will wind up with granola crumbles.)
Step 10: Once they have cooled completely, transfer parchment paper with baked granola, to a cutting board, and cut into squares with a sharp knife.
Want more healthy snack ideas?
Find more delicious recipes form Karen Biton-Cohen at K. abc Food & Photography.