When it's the day before Valentine's Day and you realize you need a little gift for someone (or need to snack on something sweet), this simple Valentine's Day no-bake chocolate bark will be your go-to choice. Swirled with milk chocolate and pink candy melts, this chocolate-bar like candy is topped with Valentine's Day-themed sprinkles and mini marshmallows. Whether you want to make a treat for kids or adults, rummage through your cupboards and pull out your favorite toppings. This simple holiday chocolate bark would be tasty with any sprinkles, candy hearts, marshmallows or nuts you have lying around. Simply melt, pour, swirl and top. I guarantee it's even easier than going out to the store to buy something!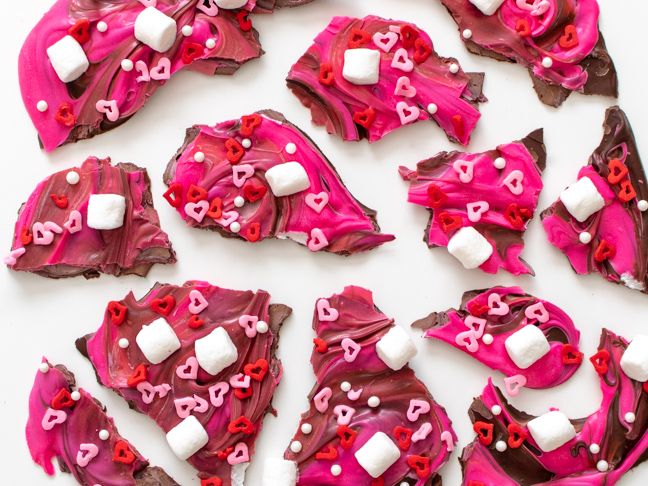 For a cute Valentine's Day gift, add a few pieces of chocolate bark to a plastic goody bag and tie with red or pink ribbon and a heart tag! Otherwise, store it in a bag to hide in the pantry and keep it allllll for yourself! The great thing about chocolate bark is it's a treat that will last for several weeks.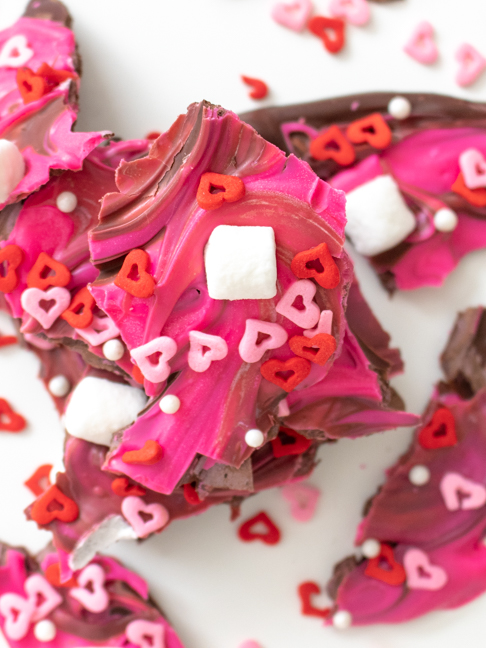 Here's how to make your own Valentine's Day no-bake chocolate bark, completely with pink and lots of hearts!