We've all been an inch from going absolutely bonkers when our little one won't stop crying. They're fed; they're changed; they've slept and yet they're crying and crying and crying. It's a quick road to crazy-town for us parents in those situations. For me almost always, in these cases, putting on a baby carrier helps. It takes a minute or so, but it works to calm a baby – they key is, at least at first, to move. Don't just put it on and stand saying "shhhhhh." Baby will usually fall asleep rather quickly or at least calm down if you move around whatever space you find yourself in.
Often, to help keep my sanity, I combine this moving with a workout – as crazy as it sounds. It squeezes in workout time seamlessly, helps get the endorphins running and pretty much always does the trick to help baby stop crying and me from going nuts!
To get insight into the kind of workout moves we can safely do while wearing a baby carrier I turned to lead P.volve instructor, Alexia Acebo.
But first, let's talk fashion.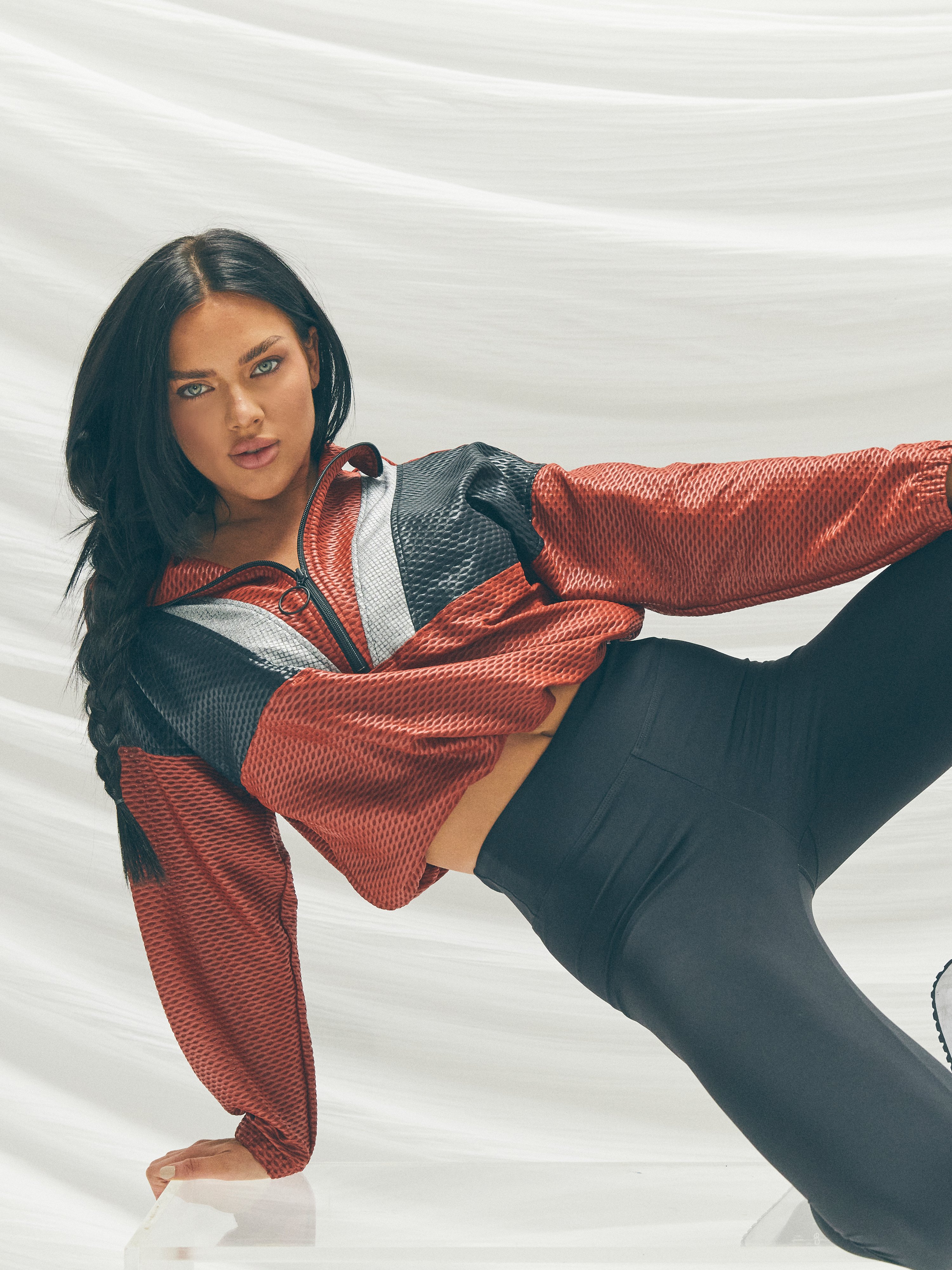 Acebo is wearing Koral leggings and APL slides. As someone who has written about health and wellness as well as fashion for over a decade, I can safely say these are the two best athleisure brands – period. I can't think of a mom I know who wouldn't be happy to live every day in these two brands! They work for all-day wear, which is amazing for when you need to slip in a workout whenever and wherever you can. In our shoot, Acebo is wearing APL's Lusso slides (these do take a little bit of "breaking in" but once you do they are soooo comfortable and unlike most other slides, they feel supportive) and leggings from Koral's holiday collection.
Both brands are having major sales for the holidays.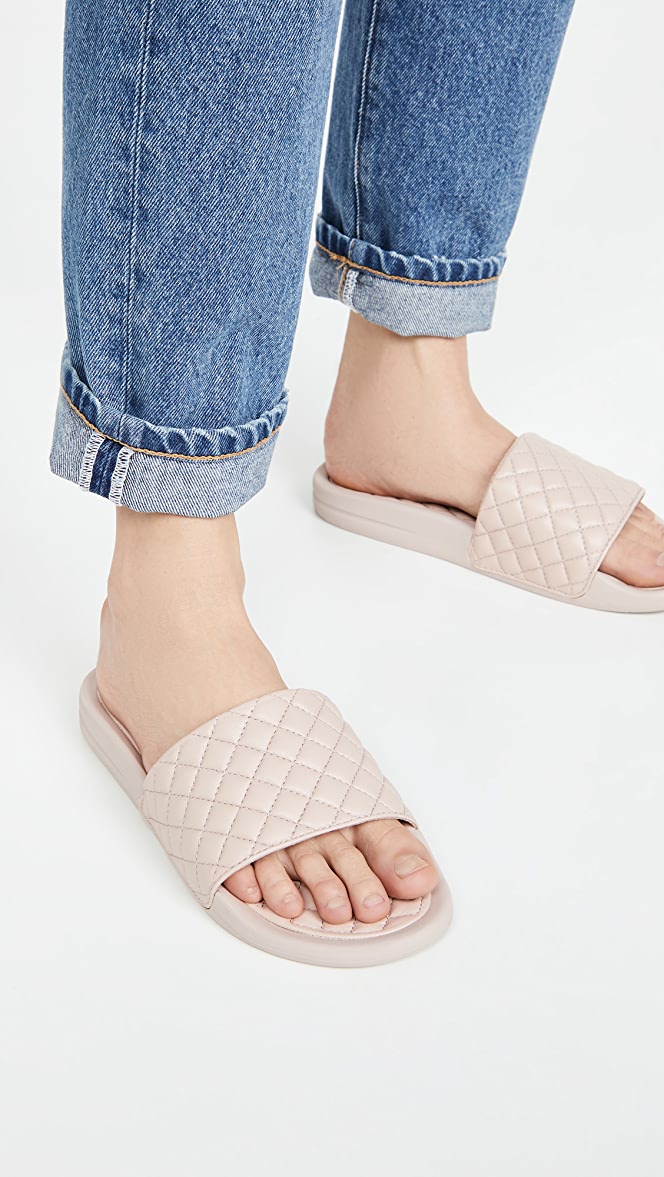 Koral:
Nov 23: 35% off sitewide + 45% off outerwear
Nov 24: 35% off sitewide + 45% off all tops
Nov 25: 35% off sitewide + 45% off all sports bras (THANKSGIVING)
Nov 26: 35% off sitewide + 45% off all leggings (BLACK FRIDAY)
Nov 27–28: 35% off sitewide
Nov 29-30: 40% off sitewide (CYBER MONDAY + Tuesday following)
APL
APL is giving away a free $60 value lux logo 3-sock gift pack with every pair of shoes purchased
The APL Lusso Slides are one of Oprah's Favorite Things. APL is celebrating by giving 20% off every pair now with the code: OPRAH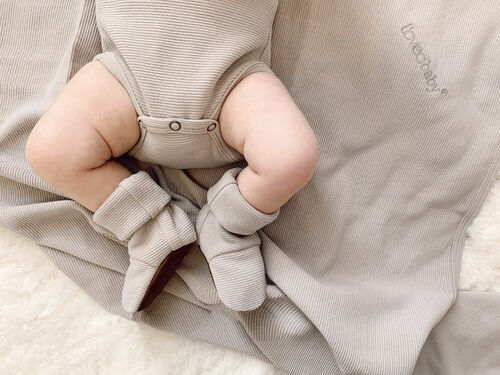 As for the baby clothes, the little shoes you see peeking out are from L'ovedbaby. Babies don't need shoes until they are outside walking. In fact, it's better for them to not wear shoes when they are very young, but it's winter and going barefoot isn't feasible all the time. So, when heading out to friends/family little booties like these are both functional and adorable.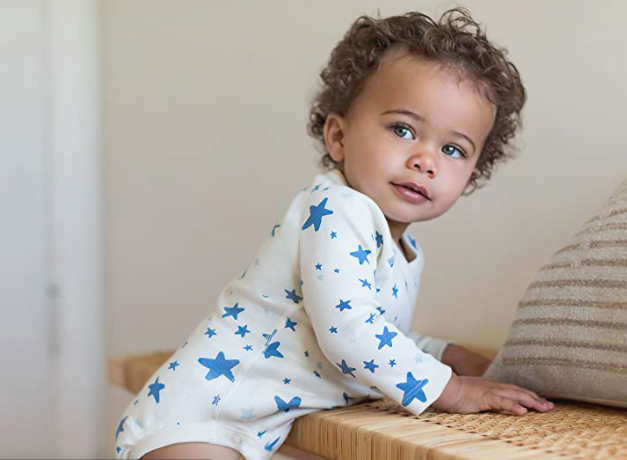 The outfit baby is wearing is Moon and Back by Hanna Andersson, a brand that is the result of a collab between cult children's wear brand Hanna Andersson and Amazon. It's a bit hard to see the outfit given that baby is in a carrier, but trust that it's super cute and lives up to Hanna Andersson's reputation for quality and comfort (and the pieces withstand lots of washing and drying). Plus, given that it's a collab with Amazon you can expect great holiday discounts.
As for the hat – it's OG Hanna Andersson! And on sale now. See below for the brand's other upcoming promos.
November 11th-20th: Up to 40% off all Pajamas + Up to 40% off Kids' Apparel
November 21st-27th: Pajamas from $29 + Baby Sleepers from $25 + Up to 40% off Everything Else
November 28th-29th: Up to 50% off Everything
Now on to our workout.
Keep reading for our look at the best workout moves you can do while wearing a baby carrier.  
More Fitness For Moms and Moms-to-Be:
A Workout Routine You Can Do While Wearing Your Baby Carrier
P.sit and Stand: 60 seconds

"Stand tall with your feet a little wider than hips width. Hinging at your hips, bend your knees slightly keeping knees directly over ankles and lean your upper body forward, maintaining a long neutral spine with abdominals deeply pulled in. Reach your arms up by your ears and hinge your glutes back as if there are magnets pulling your glutes to the back wall. Then push your feet through the floor to stand back up, squeezing your glutes at the top while reaching your arms back by your hips. This is a great way to strengthen your glutes for proper support while walking, running and general movement. The exercise also strengthens your back muscles, which may get tired from baby carrying. Be sure not to round your shoulders as you lean forward, but keep your collarbones wide and shoulder blades strong down your back. Your baby is providing extra weight for your back muscles to fire up!"

P.sit and Stand: 60 seconds

Tall Stance to Internal: 45-60 seconds each leg

"Start standing tall and imagine you are standing in the center of a square on the floor. Reach one leg back so your foot is reaching toward the back corner of the imaginary square while your hips pivot to the opposite front corner. Strike the moving foot into the floor, landing with the heel high, leg straight and glutes engaged. As you step back, keep the front knee facing straight forward as your hips turn towards your front leg. This creates a deep internal rotation in your standing leg, which will increase mobility and strength in the hips, especially important if you are sitting more than usual with your baby! Return back to a neutral stance. When you get the legs down, you can add reaching your arms out to the sides of the room in neutral and then bringing the hands together in the internal 45."

Tall Stance to Internal: 45-60 seconds each leg

Internal 45 Stagger and Stretch: 60 seconds each side

"Start in the internal 45 and lean your torso forward on a long diagonal, reaching your arms up by your ears. Draw your back foot into your front knee, squeezing your inner thighs as you sit low and reach your arms back into an isometric tricep press. Extend the leg straight to your back corner and reach your arms overhead. This movement will deeply fire up your outer glute on your standing leg, especially since it is in an internally rotated position. The exercise helps to open up your hips, strengthen your glutes and create greater stability in the pelvis. For an added bonus, you can activate your pelvic floor muscles while squeezing the inner thighs together to build strength and tone in the pelvic floor."

Internal 45 Stagger and Stretch: 60 seconds each side

Soccer Kicks: 60 seconds each leg

"Tap one toe straight forward, angling your hip bones up toward the ceiling and squeezing into your glutes while leaning back. Be sure to keep your ribcage hugged together in the front and the abdominals contracted so you don't sink into the lower back. For an added stability challenge, reach your arms overhead with palms facing forward. Lift your front leg up while pressing your arms down, recruiting your abdominals and thighs and also working on stability! You can always take one hand to a chair if you need to work up your balance. This exercise will gently rebuild core strength."

Soccer Kicks: 60 seconds each leg