Over the years a long list of studies have pointed to the power of exercise when it comes to staving off postpartum depression. Even low intensity activities like walking with a stroller can be beneficial. And it goes without saying that working out is critical for heart and over-all health, as well.
Typically women are cleared six weeks after giving birth for exercise. Unfortunately, while the benefits are well documented, carving out time to jump back into that pre-baby HIIT routine may not seem possible, particularly given our country's ongoing struggles to offer fair across-the-board maternity and paternity leave (we're not even asking for 40-day postpartum hotels which is customary in many places in Asia!). One of the ways around the problem is to work your exercise program into your every day baby routine. Like a stroller workout routine. There's no need for dumbbells and jump ropes when you have your bodyweight and a sturdy stroller and some other baby essentials (like a Diaper Genie) that can easily be used as workout props.
By simply pushing your baby in her stroller—something you do already—you can burn calories and complete a total body workout just as you would by sweating it out in a gym.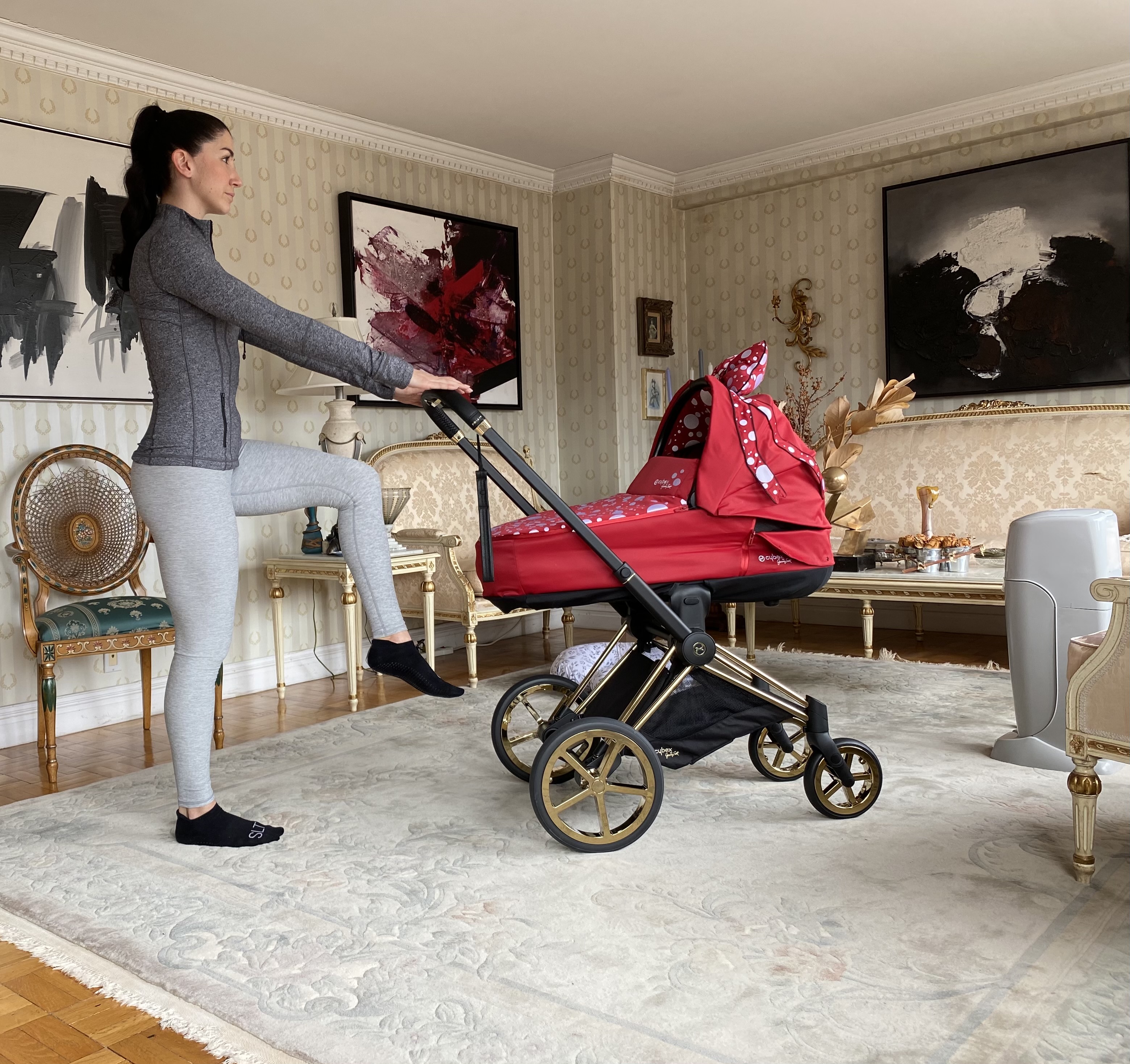 The first step to a successful stroller workout routine (after finding the perfect postpartum workout leggings) is to find out exactly how incorporate your stroller and other baby essentials into a safe and effective workout routine. We turned to SLT instructor and pre/postnatal fitness expert Vanessa Padula.
Carve out a 20-minute block of time, ideally 5-6 times a week, or break up this routine in between baby's eat-play-sleep schedule. The basic idea is to do each of these moves for 45 seconds, resting as long as needed between each exercise (if there are two sides, do 45 seconds on each side). When you finish the circuit, rest, and then repeat the circuit another two times.
More Fitness For Moms and Moms-to-Be:
A Calorie-Blasting Workout Circuit You Can do With a Stroller
Single Leg Dead Lift

Keeping you core tight and your back flat, hinge at the hips as you role stroller forward. Come back up to standing as you roll the stroller back. To make this more challenging, drive knee to chest as you move forward. 

Single Leg Dead Lift

Squat Hold with Press Up

Stand feet hip distance apart with your chest lifted and come down to a squatting position holding Diaper Genie in front of chest. Come to standing pressing Diaper Genie overhead. Remember to keep your core engaged the whole time and squeeze glutes at the top.

Squat Hold with Press Up

Plank Tap

Get into plank position with core engaged and hands under shoulders. Alternate tapping with one hand to the top of Diaper Genie. Remember to keep hips steady. To modify spread your feet wide or do the plank on knees. For an added challenge, add a push-up between taps. 

Plank Tap

Hollow Hold to Boat Pose

Start in a hollow hold with your legs straight out squeezing the Boppy pillow between your thighs and your arms overhead. As a modification, keep knees bent. Rock to seated boat pose. Squeeze pillow as tight as you can the whole time. 

Hollow Hold to Boat Pose

Jack Knife

Hold Boppy pillow with hands towards your toes, which should be pointed toward the sky. Lower legs to floor as you lift arms overhead. As a modification, bend knees.

Jack Knife

Plank to Bear

Bonus advanced move! For this you want to make sure you're using a stable stroller like the Cybex Priam used here (it's arguably the most lightweight yet stable stroller and fast to fold and unfold making it as versatile for baby as it is for using as a workout tool!). Start in plank position with feet gripping the front bottom part of stroller and hands under shoulders. Bend knees slowly as you glide stroller in. Slowly press back out.

Plank to Bear

Cybex Petticoat

Don't get us wrong, we love the Uppababy Vista just as much as the next discerning parent, but there's simply no competing with Cybex and in particular the brand's limited edition collaborations. They're the ultimate in fashion and function. The latest launch has them once again teaming up with Moschino's Jeremy Scott for a collection called Petticoat. Inspiration for the new collection originated as a result of a custom design baby gift to Katy Perry, who is a close friend of Scott, and we can all agree that Daisy Dove Bloom is adorable in tow! The Petticoat Collection includes the PRIAM Seat Pack and the PRIAM LUX Carry Cot, as well as the MIOS Seat Pack, the MIOS LUX Carry Cot and the CLOUD Q and Z-I SIZE infant car seats. The collection also has a footmuff and "essential bag." Note that you can put the Petticoat Seat Pack and Carry Cot on any Priam or Mios base. Here it's pictured in Platinum Matte Black, while in the workout demo it's pictured in the Jeremy Scott Wings Frame.  

Prices vary at Cybex

Playtex Diaper Genie

If there's one thing all parents can agree on - especially if you live in an apartment where the trash disposable is many flights down, a Diaper Genie is critical. And yes, this diaper trash is so smell-proof you can use it as a workout tool and not smell a whiff. 

$62.25 at Amazon

Boppy Original Feeding & Infant Support Pillow

No need for a Pilates ring or a block when you have Bobby's feeding pillow. Designed with a lactation consultant it's the perfect item for bonding in comfort. Plus it comes in a long list of print options. 

$40-$60 at Boppy

A Pea in the Pod Luxe Essentials Secret Fit Belly Ultra Soft Maternity Leggings

These aren't great for working out in public (you'll probably expose more skin than you anticipate given how thin the fabric is), but for home workouts you're sneaking in throughout the day, they work perfectly because they allow you to move with ease and comfort while looking flattering enough for all-day wear. Plus, they're a great price!

$25 at A Pea in the Pod

Hatch The Premium Legging

These leggings were designed with all day wear in mind, so while they won't work for a sweaty HIIT workout, they're perfect for when you're trying to squeeze in lunges and squats throughout the day. They've got a soft, comfortable, second-skin feel and a bit more fitted than the aforementioned A Pea in the Pod ones. 

$128 at Hatch Collection

Motherfigure Maternity and Postpartum Leakproof Leggings

These don't slip on as easily as the aforementioned two options, but once on, they feel amazing. The have built-in underwear so you can go commando and still go about your day without worrying about leaks or sweat stains. 

$88 at Motherfigure

Beyond Yoga

Beyond Yoga has an extensive collection of maternity leggings (that work postpartum as well) along with a new, dedicated postpartum collection. If you're looking for an option to standup to sweaty workouts, this is a great place to look. Not only do their separates provide full coverage, they're soft, comfortable and very easy to move around in. Plus, unlike most other brands they offer an extensive color and print selection.

Prices vary at Beyond Yoga