Whether you are picking up your kids from school, attending an event, or going out on a causal outing with friends, updos are the perfect hairstyle for every occasion. They are simple, elegant, stylish, and easy to recreate for even the busiest mornings. Here are 20 quick and easy updos for all hair types.
1. High Ponytail Tied Into a Top Knot
This classic updo will never go out of style, because it is a handy two-in-one hairstyle that would be perfect if you have an event right after picking up your kids from daycare. Just bunch up all your hair into a high ponytail and secure it with a hair tie. For the oomph factor, wrap a small section of hair around the hair tie to create a more polished look.
Tie the ponytail into a knot while picking up the kids and let your hair down after dropping them home. The top knot will lend some gorgeous waves to your ponytail, providing immense volume and texture that will amp up the look.
2. Tight Bun
This quick and easy hairstyle is great for date nights or casual outings. Tie up all your hair into a high ponytail and twist your hair into a bun. Then secure the loose strands with pins for a polished look. From celebrities to top models, this hairstyle is loved by all due to its ease and versatility.
3. Braided Updo
This is an easy hairstyle for long hair since the updo will require you to braid it up before rolling it into a textured bun. You can adjust the complicacy of this hairstyle, as you can choose between a simple braid or something more complicated like a fishtail braid. After wrapping it up into a bun, secure it in place with a hair tie and bobby pins for a princess-like hairdo.
4. Twisted Half Updo
The twisted half updo is a chic and easy hairstyle for girls with long as well as short hair. You will need to part your hair into upper and lower sections, leaving the lower section loose for the half-up half-down look. Then divide the upper further into sections, twisting them in opposite directions and securing them with hair ties.
5. French Braid Updo
The French braid is a cute and easy hairstyle that can easily transition into an elegant updo. First braid your hair along the hairline, adding more as you go. After reaching the crown of your head, secure the braid with a hair tie and bobby pins. Finally, tease the hair ends before tying it into a bun to create a voluminous updo.
6. The Double-Bun Twist Updo
For this hairstyle, divide your hair into two equal sections and twist them all the way to the end for a classy updo. Then roll them back into buns and secure them with hair ties and pins. These twisted mini chignons are ridiculously easy to create and with a bit of teasing, will look nice and voluminous for a fresh look that lasts all day long.
7. The Headscarf Roll Updo
Add a hint of vintage with a bohemian flair to your updo with a stunning bandana or scarf and look like a mom-on-the-go with this hairstyle. Just take your favorite headscarf and turn it into the chicest hair accessory in your arsenal.
8. Twisted Half-Up Half-Down
For a cute and easy hairstyle, try the twisted half-up half-down hairstyle. Simply twist a section of your hair from the crown of your head and secure it with bobby pins, leaving the lower section loose for a princess-like hairdo. This is a quick and easy updo for short hair.
9. Braided Half Updo
To create this chic and feminine hairstyle, part your hair into two sections and make a French braid on one side, securing the updo with bobby pins. Leave the remaining hair down, curling it ever so slightly to complete the look.
10. The Elegant Side Bun Updo
This is an easy updo for those who usually wear their hair down, especially if you go for the tousled-up look. Plus, you can wear this updo in two ways; sleek and refined or loose and tousled. Both hairstyles look extremely elegant and are perfect for formal occasions.
11. Side-Swept Braided Bun
The side-swept braided bun is an easy updo for those with long hair. Make a French braid on one side and tease the braid for a voluminous look. Then simply roll it up into a textured updo that will keep all your hair away from your face, with the hairstyle looking straight out of a bridal photoshoot.
12. Double Braid Updo
The double-braid updo is an easy hairstyle that you can achieve in mere minutes. Simply divide your hair into two sections and braid each section along the hairline. Then, twist the two braids together into a bun at the back of your head and secure them with bobby pins (because a hair tie won't get the job done for this look).
13. Waterfall Braid Updo
The waterfall braid is an easy hairstyle for long hair that looks absolutely magical when incorporated into an updo. Start by creating a waterfall braid on one side of the hair and secure its end, repeating the procedure on the other side as well. Then twist the braid around the base of your head and pin it in place, bunching up the rest of your hair into a loose bun.
14. The Voluminous Messy Bun
Messy buns are the perfect solution when your hair is greasy and uncombed and you simply want to look presentable for the day without putting any effort. So pull up all your hair into a bun and tease it to create a voluminous look. 
15. The Tousled Updo
Go for an effortlessly sexy look with this simple updo, leaving out tufts of hair for a casual yet chic hairstyle. Backcombing is essential to achieve this look, as it lends immense volume to the look.
16. High Bun with Braids
The high bun with braids is an easy updo for long hair. Leave out two sections of your hair in the front; then bunch up all your hair into a high bun and secure it with a hair tie. Braid the front sections and secure them with pins, incorporating them into the bun for a seamless look.
17. The Multi-Braided Updo
Braids add a fantastical element to all the hairstyles. To achieve this look, you'll need to flip your hair upside down and make a few braids at the back. Micro braids are the way to go to amp up the textured updo.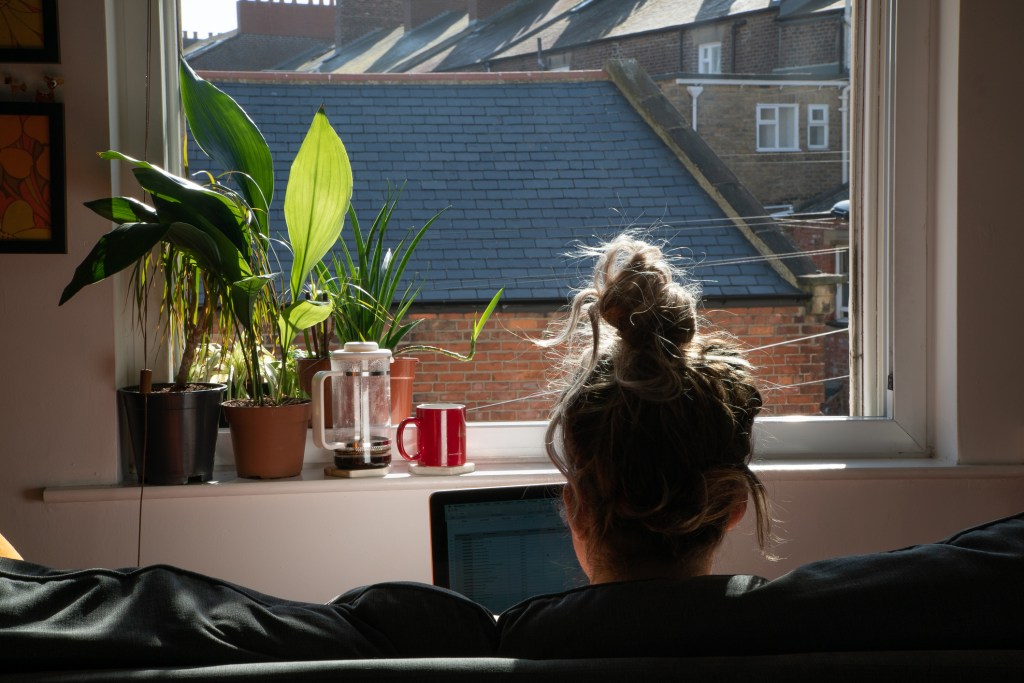 18. The Messy Updo
Any hairstyle that starts with a ponytail and ends with a bun sounds perfect when you are a mom. This everyday updo that has been a fan-favorite for generations is finally making the rounds on the red carpet. So feel free to rock this effortless hairdo that has been a top choice for celebrities and top models as of late.
19. Twist, Clip and Pin Updo
Although best suited for long hair, you can easily create this with short hair as well. Simply twist your ponytail, grab the ends of your hair, and clip it into an elegant bun with a large clip. Additionally, you can leave out tufts of hair that will drape over the updo for a flowy version of the same.
20. The Braided Top Knot
Here's a cute way to make a simple braid seem anything but basic. Despite the complex look of this top knot, it's pretty easy to achieve. If you can braid your hair, you can make this happen in about three minutes, and that too with four easy steps.
The best part about these updos? If your little one has long hair, then you can try out a few of these on them too. Twin with your kiddo with these quick and easy updos, and do let us know which of these hairstyles are your favorite in the comment section below.