We've been on a Disney princess kick in this house since my eldest was about two-years-old. Now that she's four, and has long hair to play with, I get daily requests for a "princess style."
Looking at Pinterest for inspiration on little girls' hair can be intimidating — not only do the more complicated styles require talent and patience, they also can't be achieved on wiggly kids like mine.
This is why I've come up with a few super-simple Disney princess looks that are easy to recreate even on the squirmiest little ones. If my demanding little diva approves of these royal hairstyles, yours will too, for sure!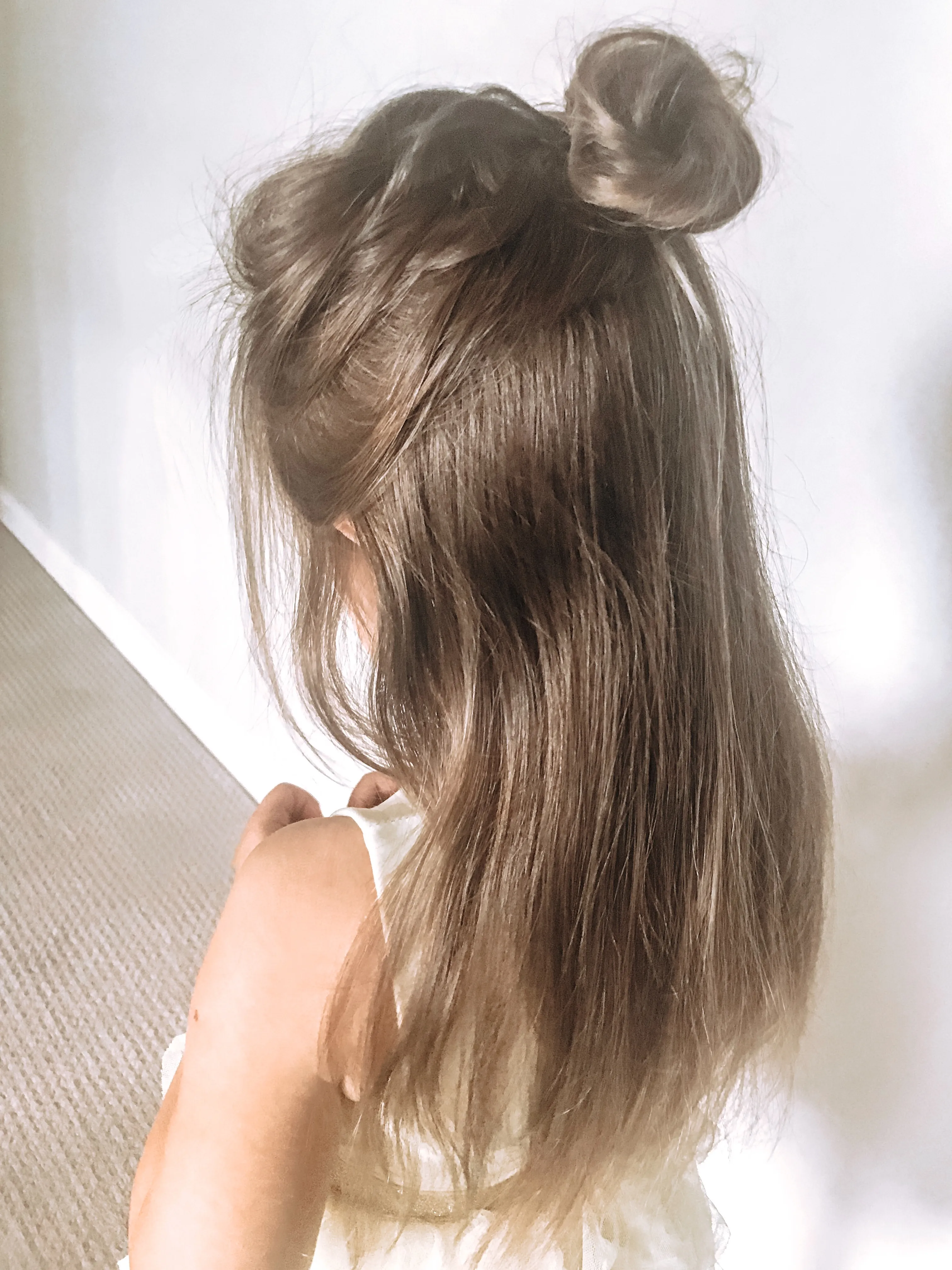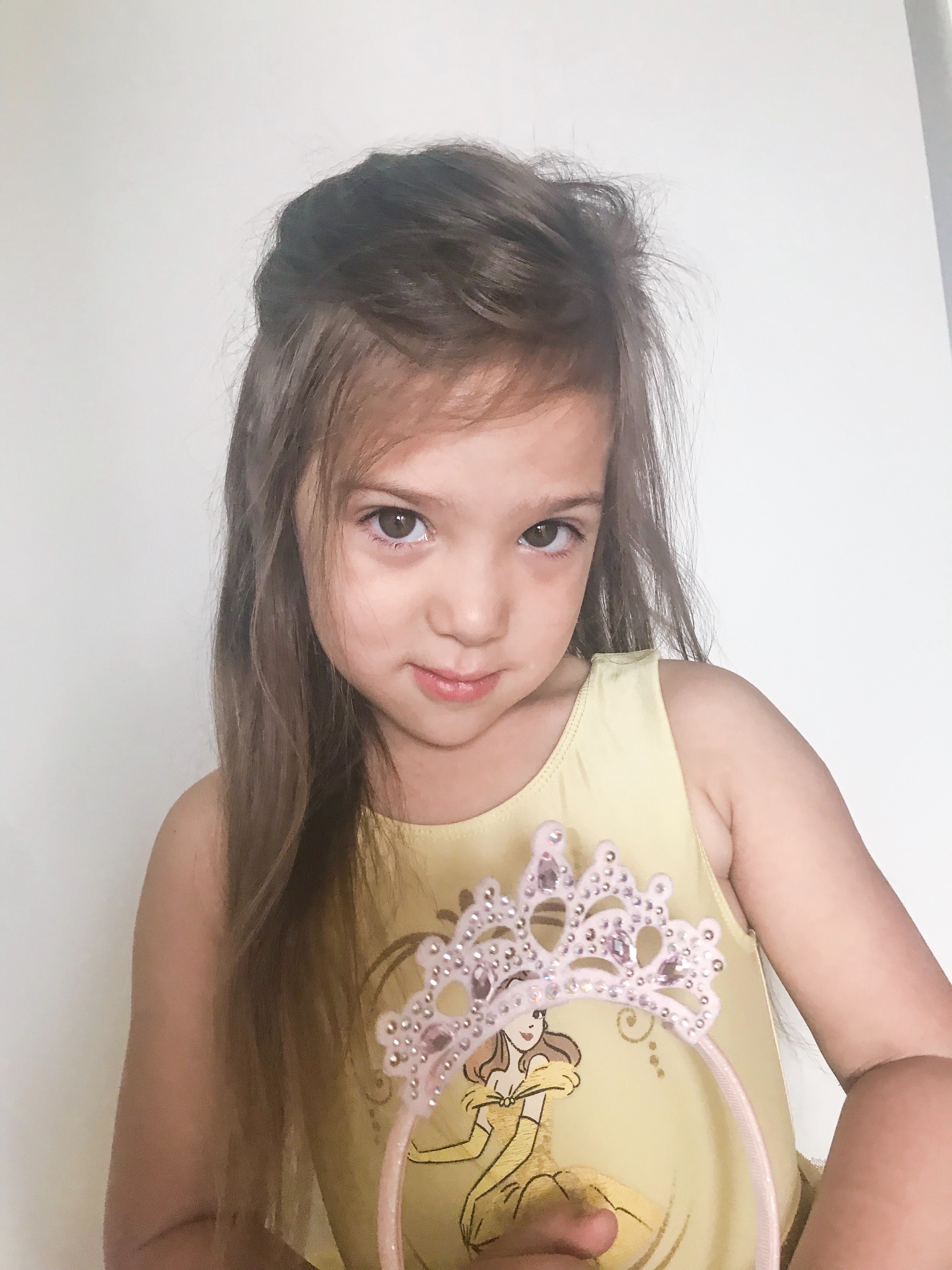 Belle's Half-Bun
Princess Belle wears her hair swooped up on either side with an elegant knot at the back and the bulk of it cascading down her shoulders. You could just create a messy bun or top knot and throw a crown on top, but taking a little extra care makes this look extra princessy.
First, I part my daughter's hair on the side and pull out just a little less on each side than you would use for a traditional "half back" style. Slowly, I twist each half in toward the center to create a bit of volume and a rolled look. Affix at the back with a ponytail holder and then twist around itself into a bun toward the crown of the head. Use one more elastic around the base of the bun to hold it in place and give a gentle dusting of hairspray to keep it there for hours of play.
Bonus: If your little one will sit still for curls (mine won't!), you can add extra volume with a large barrel curling iron on the half of the hair that's down.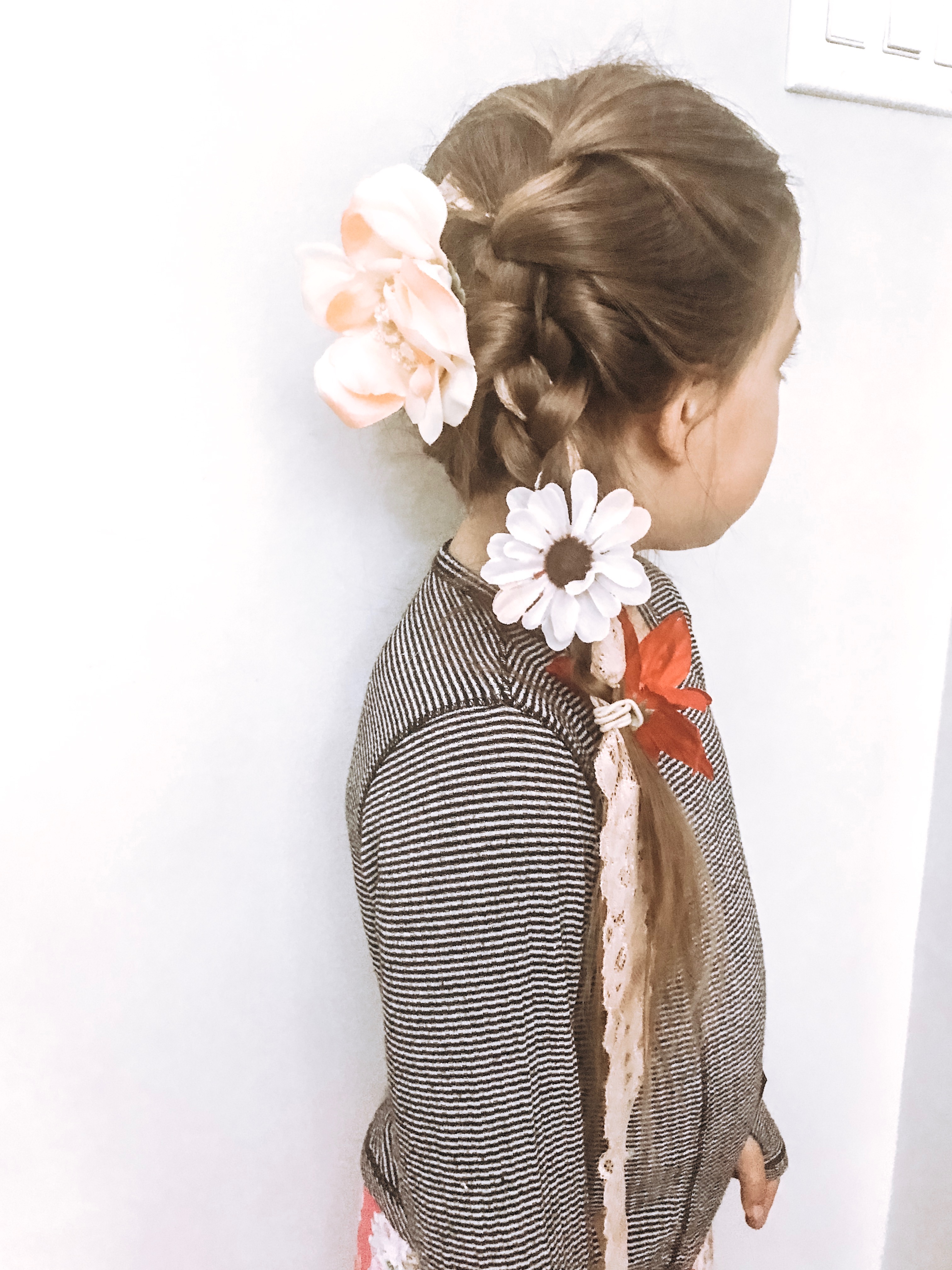 Rapunzel's Super-Sized Side Braid
The purple princess happens to be my little girl's favorite. After months of clipping a long piece of tulle to her head and calling it a day, I decided to get a little more creative with recreating Punzie's signature hairstyle. If you know how to French braid, start at the top left corner of the head and bring the braid on down over the right shoulder. Otherwise, you can simply pull hair into a low pony at the nape of the neck and begin your braid from there.
For length and whimsy, clip a piece of ribbon or lace toward the top of the head but under the coverage of hair so it blends in. Work this ribbon through your style as if it was just another strand of hair. Once the braid is finished, you can use Velcro-back hair flowers to decorate, or tie some small plastic florals to the long strand of ribbon "hair." Best. Day. Ever!
Bonus: Try adding clip-in hair extensions for more length and thickness.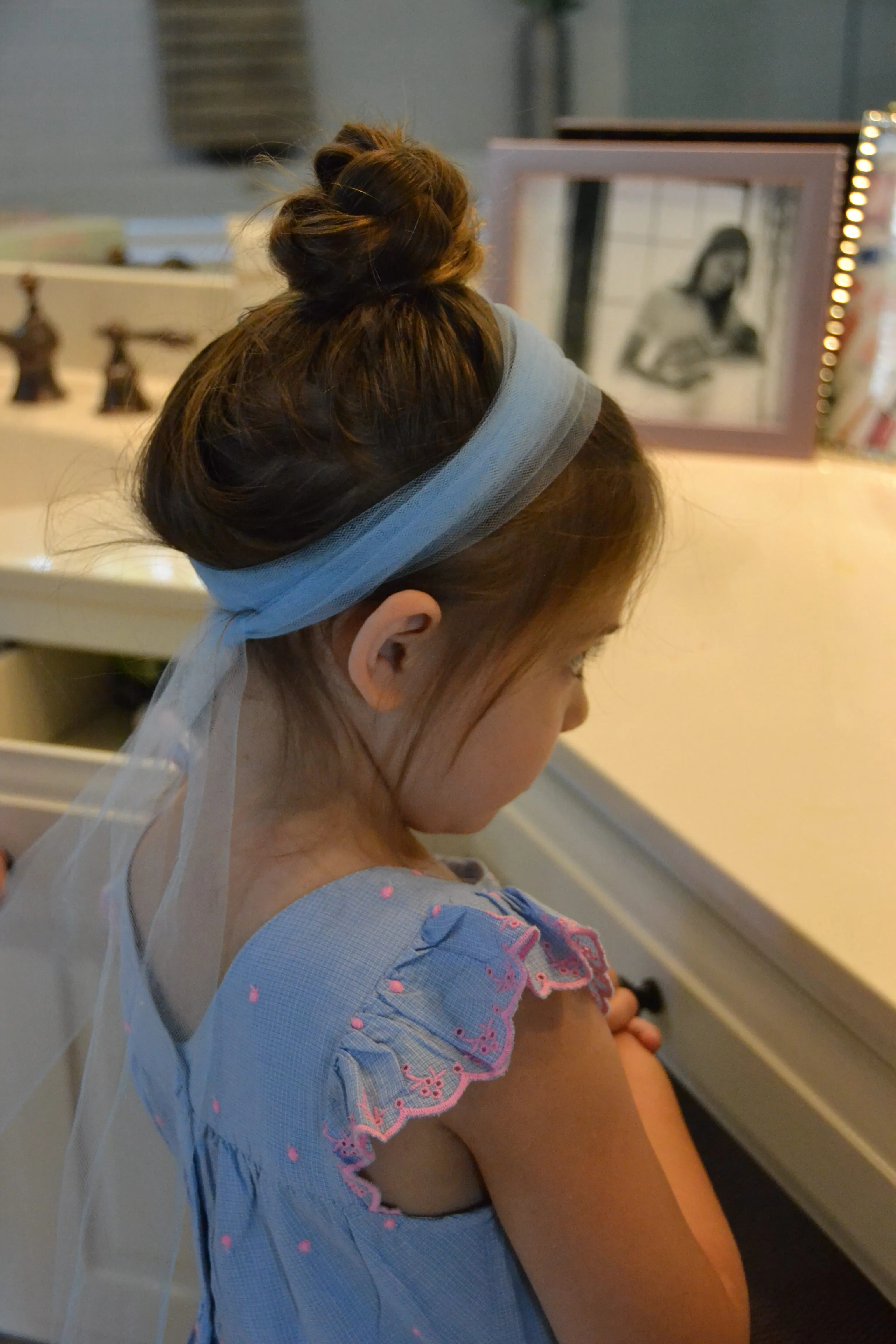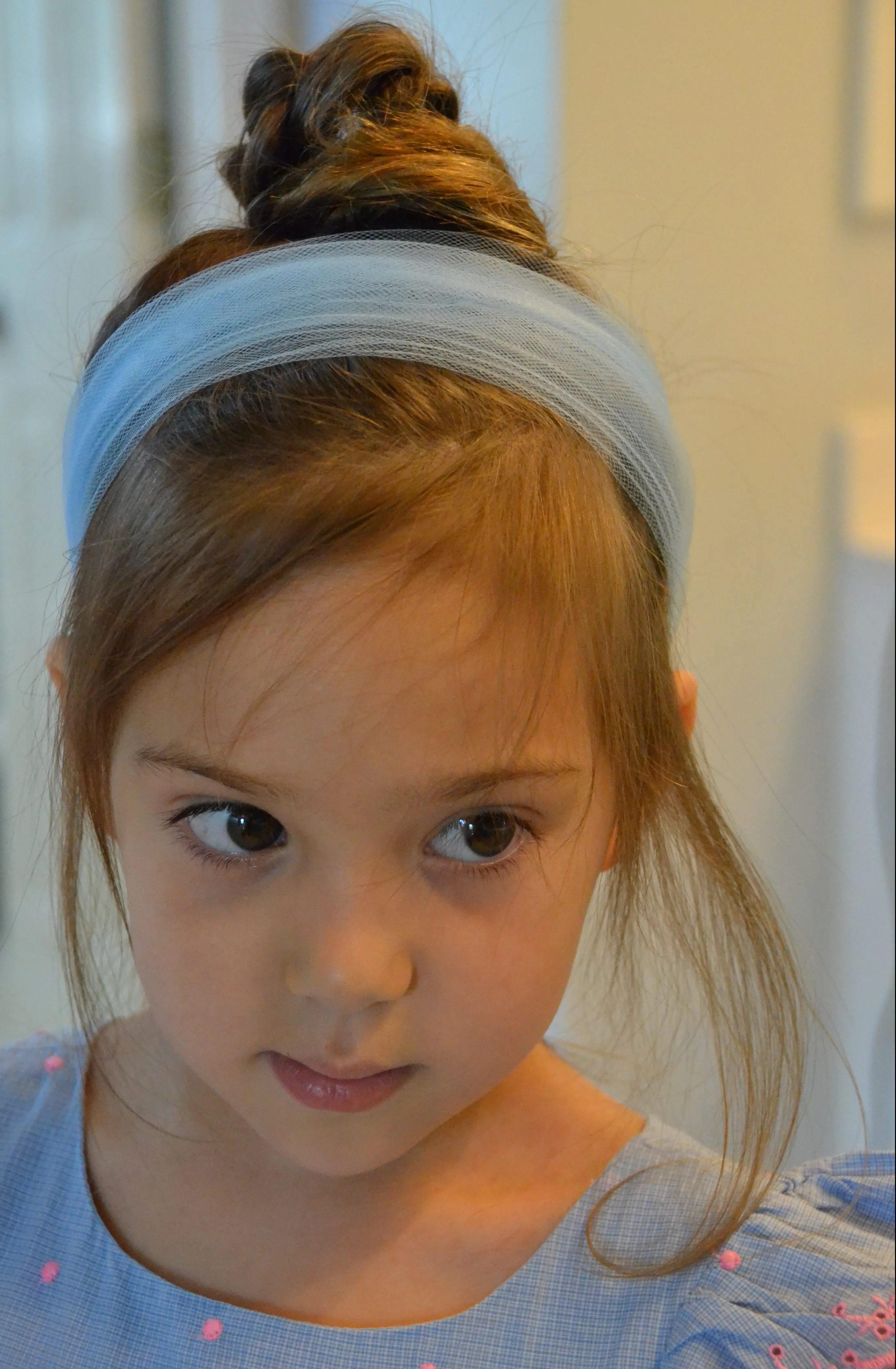 Cinderella's Fancy Updo
The classic royal ball-bound hairstyle is easier to achieve than you might think. To add volume and the appearance of texture to my daughter's fine hair, I separate it into top and bottom sections with a part across the back of her head from ear to ear. Then I braid each of these sections so I have two braids on top of each other.
Make a bun at the crown of the head with the top braid or ponytail and affix with pins. Then, wrap the bottom piece around the top. The bottom section won't go as far, so you'll likely need more pins to hold it in place. Add a black or light blue headband or tie a black ribbon around the top of her head, closing it with a bow at the nape of the neck. We used tulle, because that's what we had on it in the right color scheme.
Bonus: Big faux pearl earrings round out this Disney princess look!
More Disney Info: