CREDIT: LEGO
Praised for being one of the most recognizable brands in the toy space, LEGO announced they're releasing a special set, called "Everyone is Awesome," that celebrates the diversity of their fans. This is the first time in Lego's 72-year history where they are releasing an official LGBTQ LEGO Pride Month set.
The 346-piece set, which will be released at the beginning of June for Pride Month, contains 11 figures, each with an assigned rainbow color and unique hairstyle. It also includes thoughtful details, like the black and brown sections to represent diversity within the LGBTQIA+ community, as well as the light blue, white, and pink sections to embrace the trans community specifically.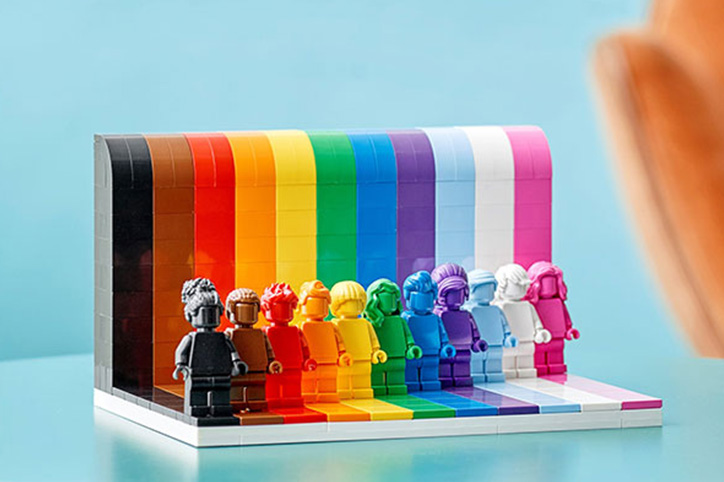 "I wanted to create a model that symbolizes inclusivity and celebrates everyone, no matter how they identify or who they love," the set's designer, Matthew Ashton, said in a statement Thursday.
"I am fortunate to be a part of a proud, supportive and passionate community of colleagues and fans. We share love for creativity and self-expression through LEGO bricks and this set is a way to show my gratitude for all the love and inspiration that is constantly shared."
The LEGO Pride Month set is an encouraging first step from LEGO for fans looking for more diversity in their collections.
"Everyone is unique, and with a little more love, acceptance and understanding in the world, we can all feel more free to be our true awesome selves!," Ashton added. "This model shows that we care, and that we truly believe 'Everyone is awesome!'"
And as a promising show of support, the company says it partners with Workplace Pride, Stonewall and Open for Business to help "shape strategies to support employees who identify as LGBTQIA+ and allies across the company."
Ultimately, plenty of the manufacturer's customers agree that LEGO's move is a step in an excitingly progressive, more inclusive direction. Excited to see what's next!
More About LEGO: