The world is a big, unpredictable, and sometimes scary place, so it's no wonder that kids experience anxiety. Anxiety in children is an unfortunately growing trend among modern youth; the Centers for Disease Control and Prevention (CDC) reports that 9.4% of children between the ages of 3 to 17 years had diagnosed anxiety in 2016 – 2019 in the U.S. That's approximately 5.8 million kids across the country who are struggling with this sometimes debilitating form of mental illness. The good news is that as adults who are aware of the importance of mental health, we can guide our kids through their struggles with anxiety. In addition to getting kids the psychological and psychiatric care they need to handle anxiety, parents can also create a "toolbox" that their anxious kids can use when their feelings become overwhelming. Specifically, we're going to take a look at how sensory toys can help kids with anxiety regain equilibrium.
What anxiety looks like in kids
According to the CDC, "Anxiety may present as fear or worry, but can also make children irritable and angry. Anxiety symptoms can also include trouble sleeping, as well as physical symptoms like fatigue, headaches, or stomachaches." If you are concerned about your child's mental health, speak with your pediatrician. A referral to a child psychologist or psychiatrist may be warranted.
How sensory toys can help kids with anxiety
Anxiety-relieving toys take a child's mind off their troubles and help them refocus on their senses. They provide an outlet for restlessness and relieve stress.
We've rounded up some soothing products to ease childhood anxiety and help kids restore their sense of calm. From fidgets and sensory toys to stuffed animals and breathwork gadgets, these tools help kids cope with worry.
Spring dog pop tubes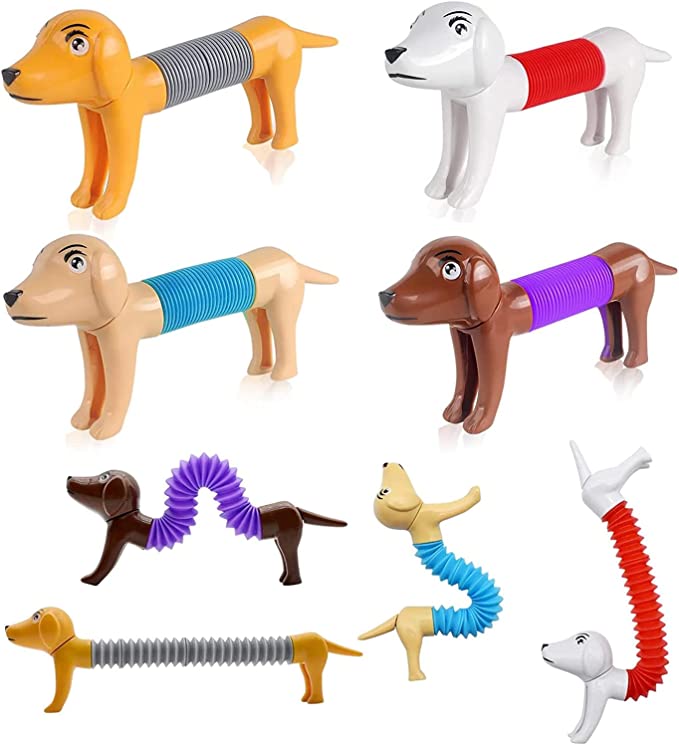 These spring dog pop tubes will keep anxious hands busy. Kids can push, pull, bend, and twist these adorable pups to improve focus and regulate emotions. Also available in unicorn!
Amazon reviewer Erin W Jacobson says, "These are cute and easily taken with a kid anywhere. I love how the heads turn so you can play with them as more than a fidget toy. My kids love the noise they make when stretching and shrinking the tubes so be prepared!"
Get a set of four from Amazon for only $7.99.
Arggh! Ball Mini!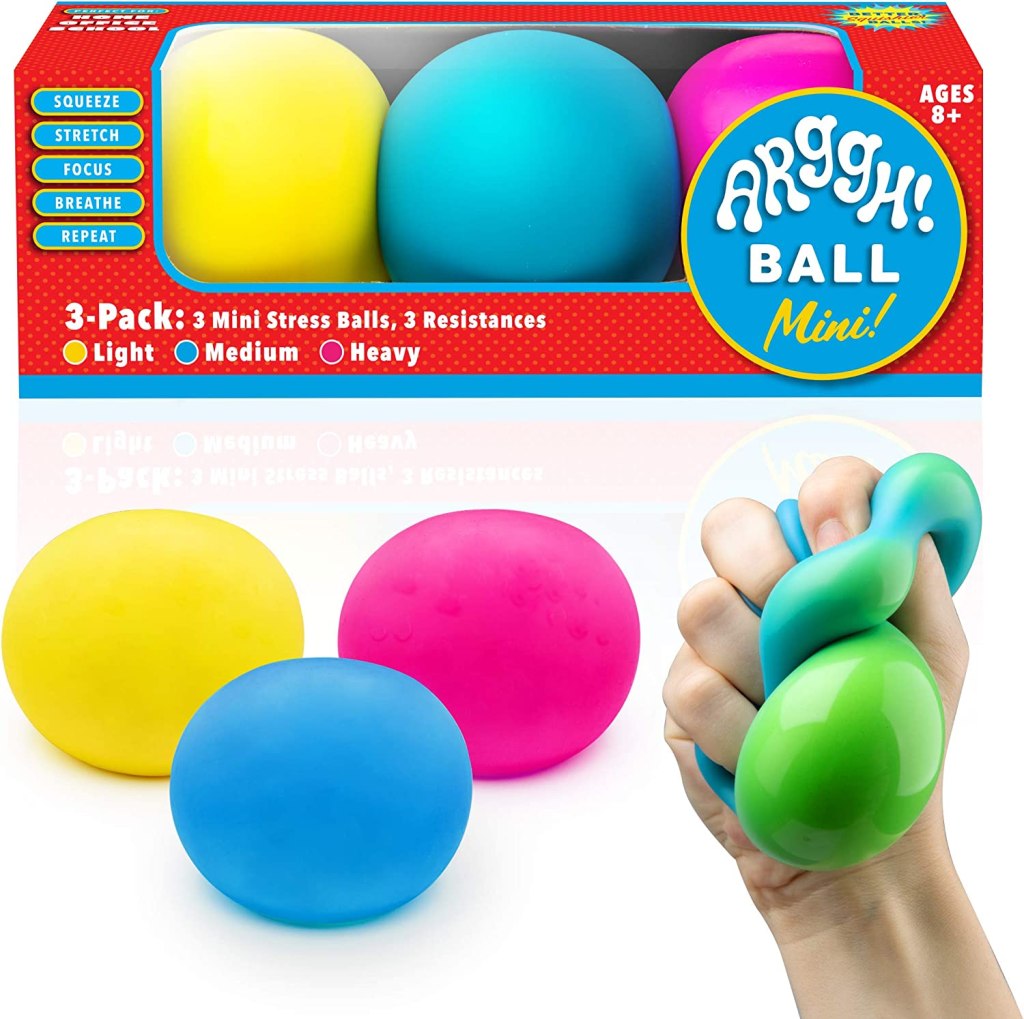 This Arggh! Ball Mini! set lets kids squish out their stress. These color-changing stress balls come in three resistances (light, medium, and heavy) so kids can self-soothe quietly, anytime, anywhere.
Amazon reviewer Raeann Johnson says, "My family & I really like this stress-relief balls. They easily calm your nerves down. When you squeeze it, the colors change into a spectacular color. They have helped my autistic son when he gets stressed."
Get a set of three from Amazon for $9.99.
Pop It fidget toys
These relaxing Pop It fidget toys are great for easing anxiety on-the-go. There's something so soothing about popping these little silicone bubbles!
Amazon reviewer SimpLee Beth says, "All kids love them! Having different options in shape and size is great for children, all of whom can be finicky, at times. This is a nice set with a great price! Highly recommend!"
Get a set of four from Amazon for $9.99.
Wacky track snaps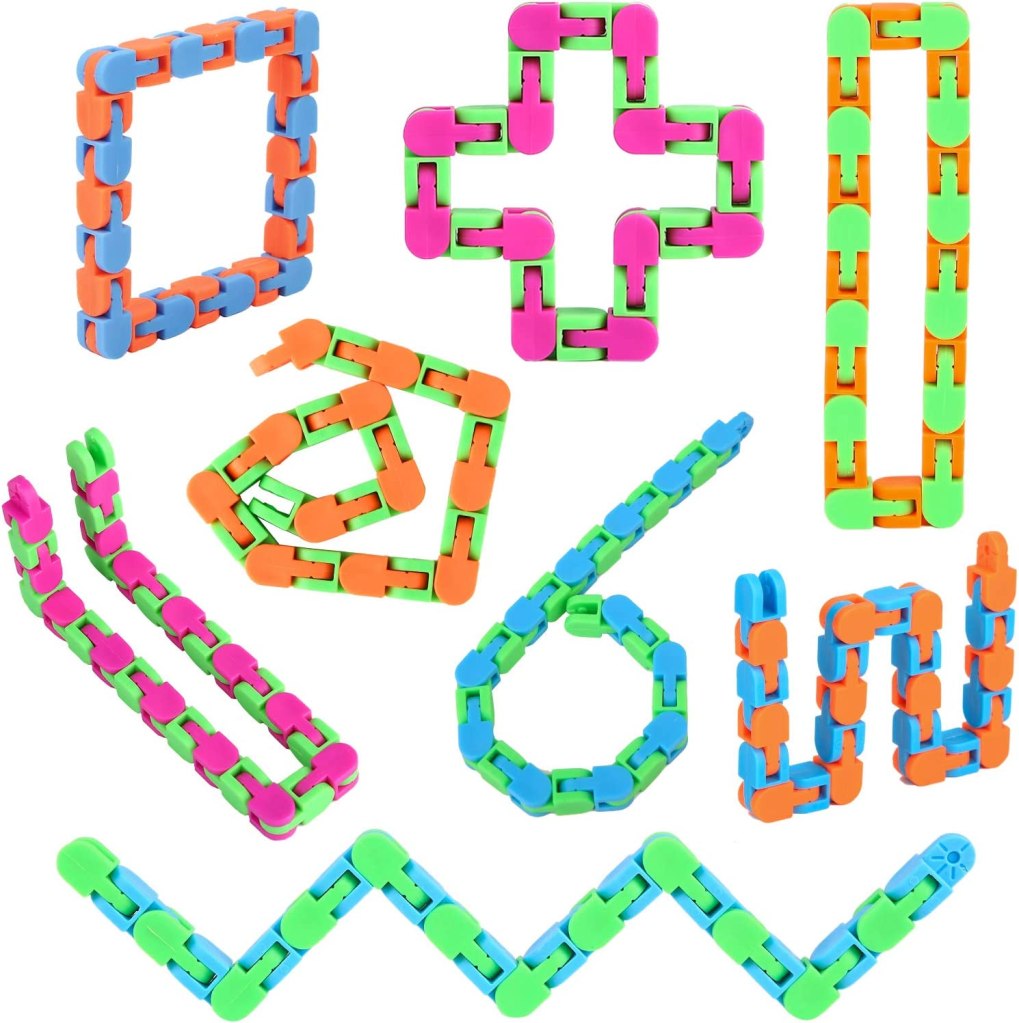 Wacky Track Snaps entertain and distract kids from worry. These snap fidget toys shift kids' attention from anxious thoughts to making cool shapes and clicking sounds.
Amazon reviewer Brent C says, "Durable. Fun. Clicky. Overall a really great fidget at an awesome price. I have taken all the links apart and rearranged the colors more than once (yay, anxiety!) And they're still holding up. I haven't had a single link break yet. Just get 'em, dude."
Get eight pieces on Amazon for $6.49.
Sensory stretchy strings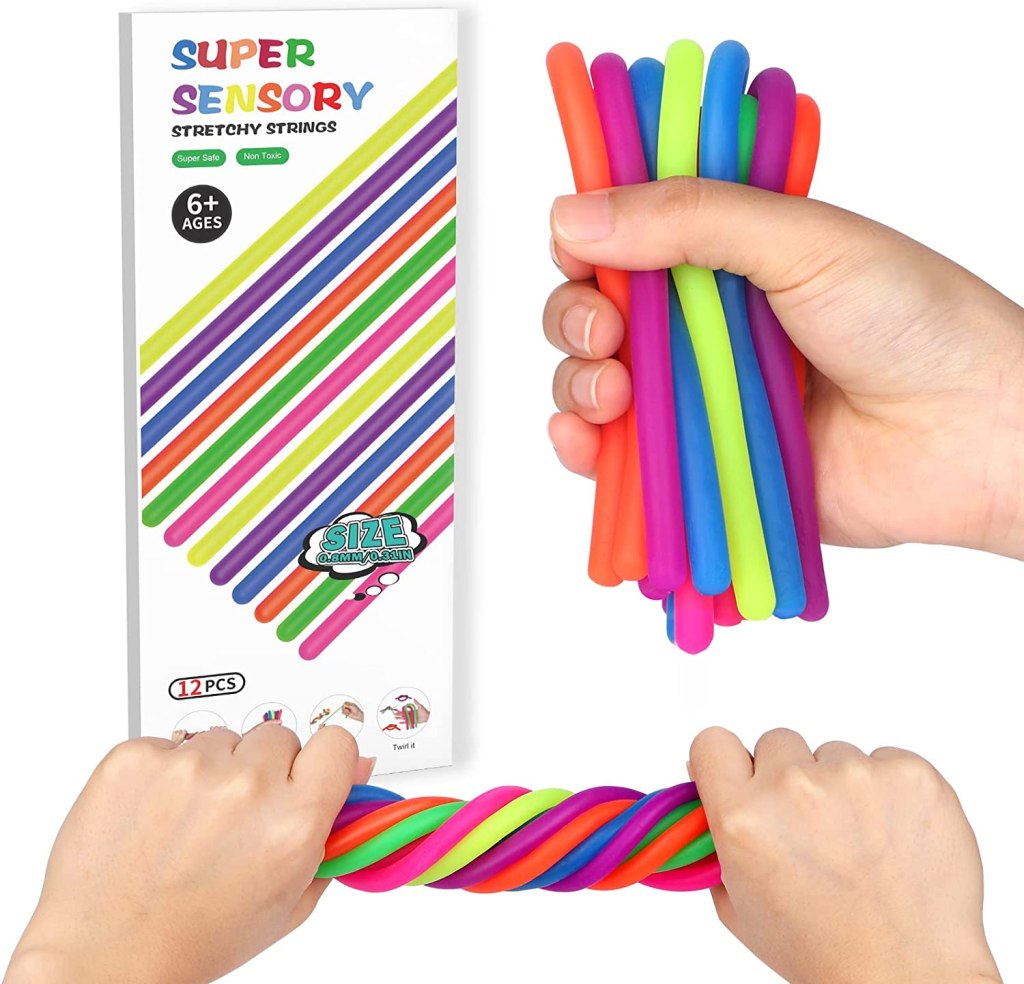 These sensory stretchy strings let kids work out their feelings safely. Kids can stretch, twist, pinch, or knead these sturdy yet soft strings to their hearts' delight.
Amazon reviewer RYAN GALAZ says, "Bought this pack for my special needs 12-y/o step-daughter, as she loves to play with things that wiggle. Not only did she love them, but when my 4-year-old granddaughter came over they played with them together non-stop. So much so that we ordered a second set. They are soft and very durable, which was perfect for those two as they are as hyper together as anyone could imagine. Great value for the money."
Get a 12-pack on Amazon for $8.99.
Momtastic participates in the Amazon Services LLC Associates Program, an affiliate advertising program designed to provide a means for sites to earn advertising fees by advertising and linking to Amazon.com.