St. Petersburg, Florida, is a city that hosts a wealth of family-friendly activities. It has gorgeous beaches, outdoor activities, and fascinating museums, making it a great destination for a family vacation. Here, we've listed the top 10 family-friendly activities in St. Petersburg, so get ready to explore the city and have some serious fun.
Dive Into Surrealism at The Dali Museum
The surreal world of Salvador Dali is on full display at The Dali Museum, which houses the largest collection of Dali's works outside of Europe. As you wander through the galleries, you can admire his genius, illustrated in works such as his melting clocks and surrealist landscapes. 
For young artists in the making, there are exhibits and activities that encourage them to explore their own creativity, so the kids will have a great time, too.
Create Experiences at the Great Explorations Children's Museum
The Great Explorations Children's Museum will spark kids' curiosity through interactive exhibits and educational activities designed to engage young minds. Children can take on a variety of roles in the adult world, with spaces such as a vet's clinic, a fire station, and a grocery store. There's also an outdoor playground to explore, featuring a pirate ship and areas for water play. 
With its various activities, programs, and workshops, the museum is guaranteed to engage your youngsters and provide a fun and educational day out.
Relax at Fort De Soto Park
This beautiful and expansive park and beach lie on five interconnected islands. There are pristine beaches to relax on and clear waters to paddle or swim in, but if all that fun leaves you feeling hungry, there are also picnic areas where the whole family can refuel before exploring the rest of the park. 
Aside from the beach, the park has nature trails for biking, hiking, and birdwatching. You can also look around the historic fort, which dates back to the Spanish-American War. Don't miss a day of outdoor fun and relaxation at Fort De Soto Park.
Experience Nature at Sunken Gardens
Sunken Gardens is a lush, tropical paradise in the heart of St. Petersburg, featuring over 50,000 tropical plants set among winding paths and cascading waterfalls. It's the perfect place for a relaxing stroll, allowing you to soak up the exotic atmosphere and vibrant colors. 
Guided tours are available, as well as educational programs and interactive exhibits, so your family can relax, learn, and enjoy the beauty of nature together.
Get Creative at Morean Arts Center
This contemporary arts center offers workshops and art classes for all ages and interests, including painting, ceramics, sculpture, and even glassblowing! 
Make sure you also explore the galleries, containing a diverse array of artworks by both local and international artists. and admire the diverse artworks created by local and international artists. If you're a family of art lovers, the Morean Arts Center has got you covered and is a great place to nurture self-expression and inspiration. 
Learn About Sea Life at Clearwater Marine Aquarium
The Clearwater Marine Aquarium focuses on the rescue, rehabilitation, and release of injured marine animals. It's home to Winter the prosthetic-tailed dolphin, made famous in the movie Dolphin Tale. You can learn about her inspiring story of survival and also enjoy other denizens of the deep, such as sea turtles, otters, and sharks.
In addition to caring for the animals themselves, the aquarium also promotes marine conservation through educational presentations and interactive experiences. 
Enjoy the Outdoors at Weedon Island Preserve
Weedon Island Preserve is a 3,190-acre nature preserve packed with biodiversity and ideal for lovers of the outdoors. There are guided nature walks along the boardwalks and trails, where you can see and learn about the local wildlife, including various species of birds, reptiles, and mammals. The Cultural and Natural History Center also is a great place to learn about ecology and local history.
If you're feeling more adventurous, head off on a kayaking adventure through the waterways and mangroves. Whatever you decide to do, nature lovers will have a fantastic time in this wildlife haven.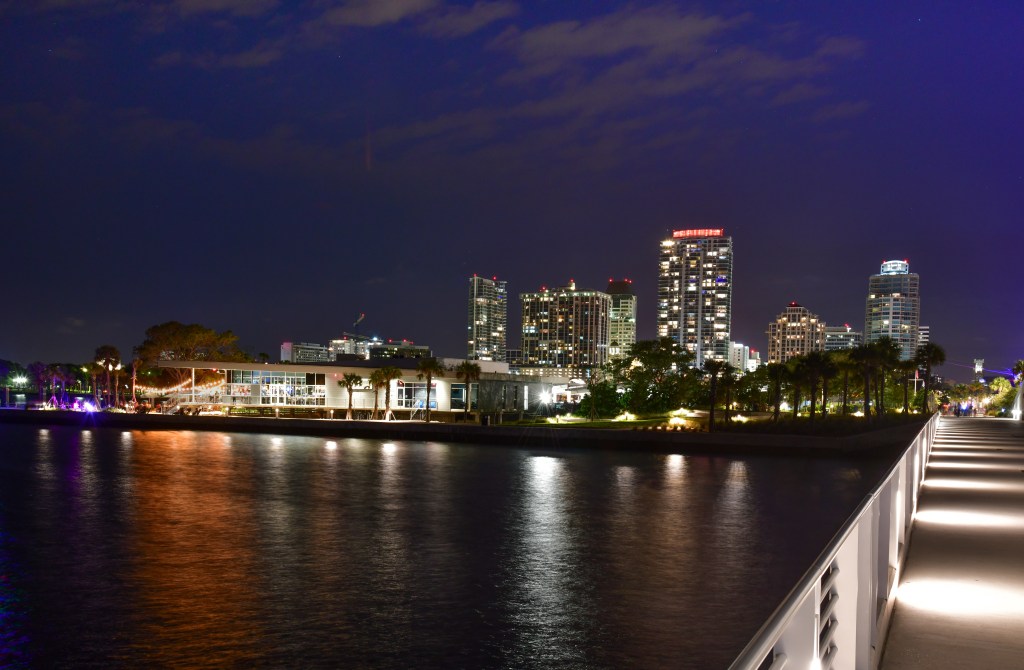 Soak up the Atmosphere at the St. Pete Pier
This waterfront attraction offers a range of enjoyable activities for families. Enjoy delicious food at the many restaurants and cafes after a stroll and souvenir shopping on the promenade.
There are panoramic views of the city and Tampa Bay to be enjoyed from the observation deck, and for the kids, there's a splash pad and a playground, so everyone can be sure of a great time. 
Catch a Game at Tropicana Field
Tropicana Field is home to St. Petersburg's Major League Baseball team, the Tampa Bay Rays, so is a perfect spot to enjoy America's favorite pastime and catch a game. The atmosphere is always a thrill, especially if you're rooting for the home team. 
Classic ballpark snacks are available, and there's also a play area and games for kids, along with other family-friendly amenities. For the thrill of professional baseball and a great family experience, Tropicana Field is hard to beat.
Enrich Your Mind at the Museum of Fine Arts
This impressive museum houses a diverse collection of artworks, from classical to contemporary, and features pieces by renowned artists. Genres include painting, sculpture, and photography. 
Family-friendly events are held in addition to workshops that will get everyone involved and enjoying themselves through art. This is a cultural experience not to be missed on a trip to St. Petersburg.
The 10 Best Family-Friendly Activities in St. Petersburg in Summary
St. Petersburg's array of family-friendly activities caters to all. Explore interactive exhibits at Great Explorations Children's Museum, enjoy nature at Fort De Soto Park, or meet dolphins at Clearwater Marine Aquarium for unforgettable memories in this city. The Florida sunshine is waiting for you, so get planning and have yourself an adventure you won't forget.