Typically, when I hear about some of the viral TikTok food trends (like cloud bread, pesto eggs and the like), I'm hesitant to try them. HOWEVER, I am officially on board with pasta chips! These air fryer pasta chips are the tastiest snack I didn't know I needed in my life! Who thinks of these things? I don't think I ever would have thought to toast cooked pasta in an air fryer, but these crispy pieces are incredibly delicious. Sometimes we need a little variety to add to our snack menus as the kids eat us out of house and home.
Go grab your favorite type of pasta because these pasta chips are about to blow your mind…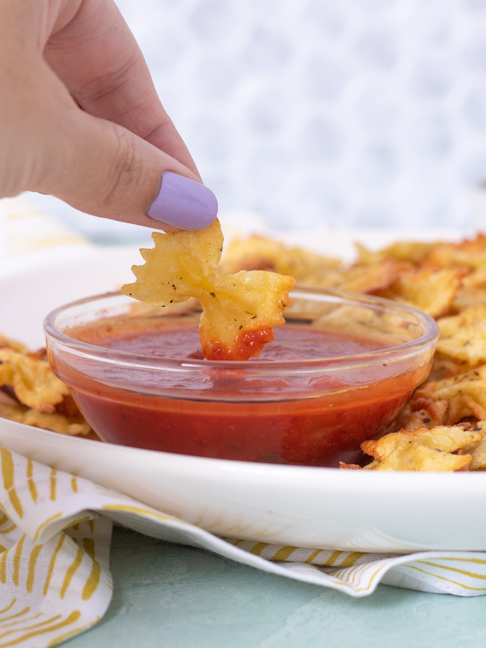 OK, so what are pasta chips? They are exactly what they sound like: crispy pasta pieces. After boiling the pasta of your choice until soft and cooked through, you mix them with oil, seasonings and/or cheese. Then you air fry them until golden and lightly crispy. Combined with a dipping sauce like marinara or pesto, they make a delicious snack. Plus, they are no more or less healthy than a traditional pasta because the air fryer doesn't fry them in oil. A little olive oil tossed in is all you need!
As far as seasonings, you could use any of your favorite flavors on pasta chips. Most commonly, they are mixed with olive oil, parmesan, salt and pepper, garlic powder and even a bit of Italian seasonings. This was my prefered method! However, now that I've tried them, I wonder how they would taste with a bit of heat. Maybe some chili flakes would be tasty too? I'd also love to try them with a flavored olive oil.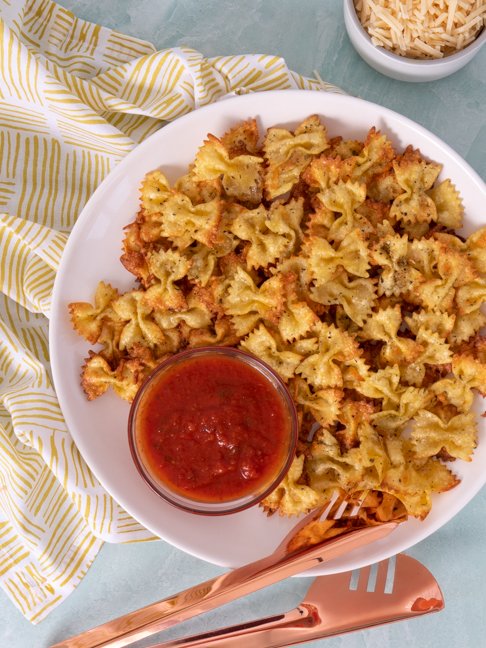 I've seen different types of cheese used to make air fryer pasta chips, but I used a basic shredded Parmesan because I always have it in the house. It worked well for me, but I would recommend trying a powdered or grated parmesan instead. The shredded cheese can melt in globs if you mix it in with the rest of the seasoning, so I found that it was best to sprinkle it on after the pasta was layered in the air fryer.
Are you convinced to try these yet?! Here's how to make delicious pasta chips in your air fryer.