I'm not going to lie—when I first decided to throw my daughter a DIY Peppa Pig birthday party, I thought it would be super easy. (Her first birthday was a full-out Frozen bash…a story for another time), so for her second, I figured I'd tone things down with a super fun and casual party at our amazing neighborhood My Gym and a few Peppa themed goodies from a party store. I assumed Peppa Pig would be an easy-breezy theme. I haven't met a toddler who doesn't adore the cheeky British pig and her gaggle of adorable friends on Nick Junior…but then two things happened.
Guess what? Despite Peppa Pig's popularity with the toddler set, there are very limited Peppa Pig themed party goods in the States. (Wait, what?! That totally squashed the "easy" part of the party-planning equation.) Second: Well, I'm a stylist by trade, so I just couldn't help to make it a bit more…festive. (And, yes, I coordinated her Lilly Pulitzer dress to the cake. Please don't judge.)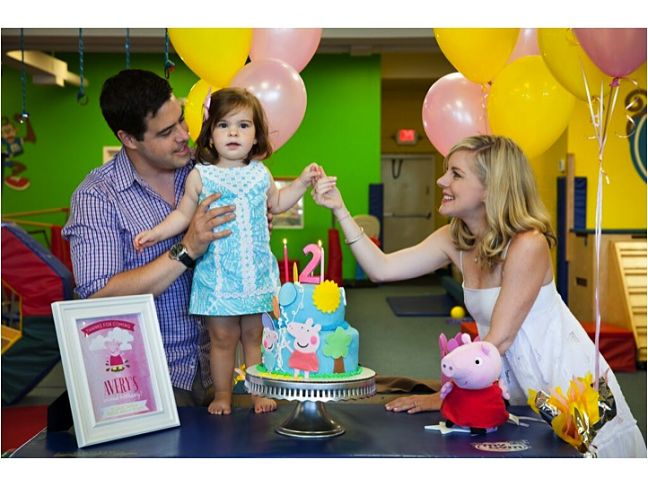 Aves' party became an exercise in Etsy / Pinterest / mommy-on-her-toes creative thinking—and I came across some really fun ideas!
---
RELATED: 101 Kids' Party Favors that Won't Make Parents Cringe
---
So, if you're looking to throw your Peppa-loving little one a pig-themed bash, I definitely have some fun ideas. Note: They do involve a lot of craft shopping, cutting, pasting, and late-night glue-gunning, but that's nothing a little crafting with red wine won't solve (proof in the behind the scenes at the bottom of this post!).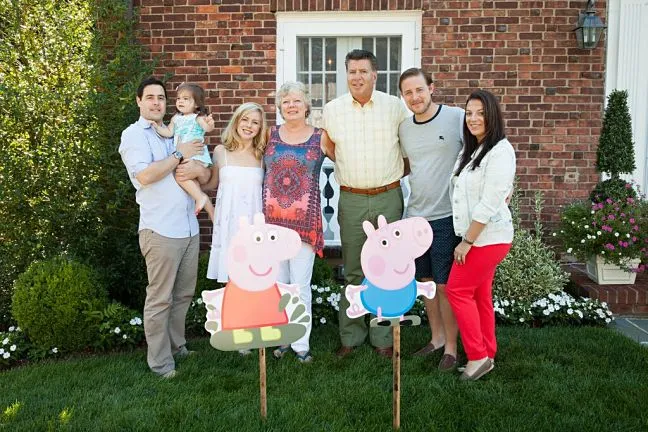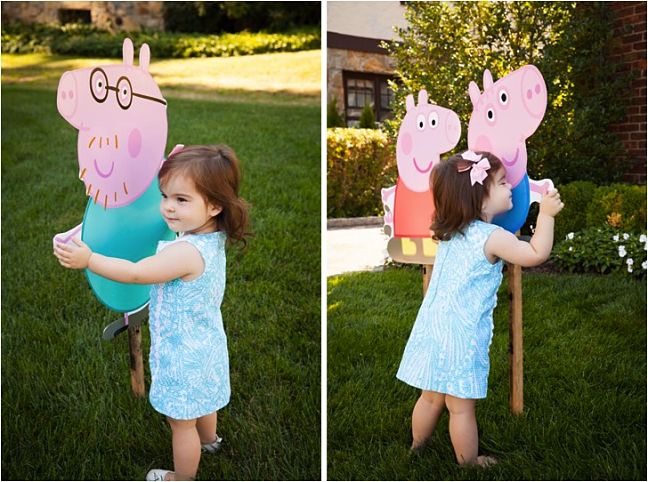 We started the day with family photos and some toddler-size Peppa printables on the front lawn. Avery just adored them! I purchased these from APROPerParty, then affixed them to garden stakes from Home Depot.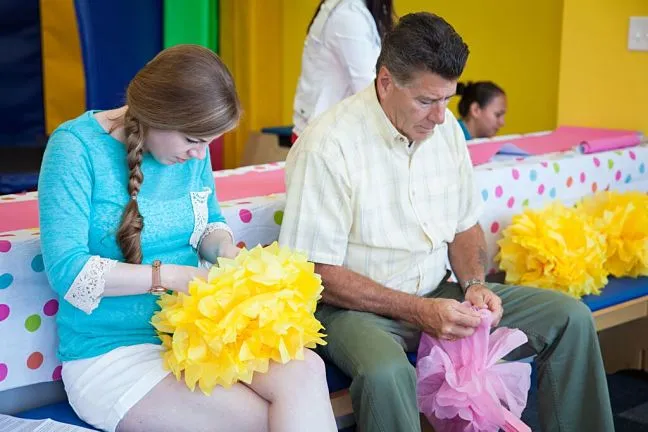 You know that saying about how it takes a village to raise a child? Same is true for birthday parties! My family was a major help.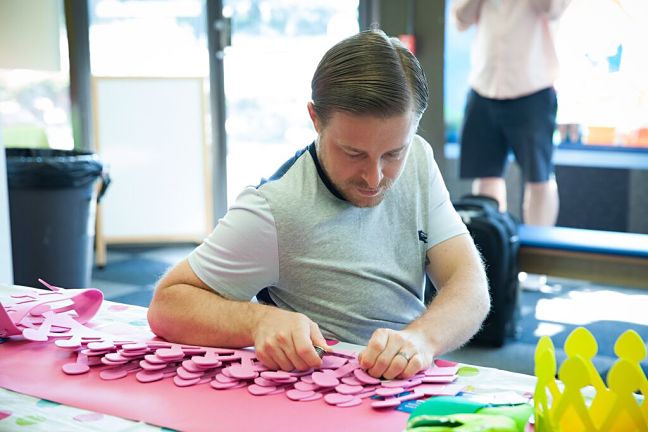 Ready, set, go! My brother-in-law gets to work putting together the foam crowns that look just like Peppa Pig fairy crowns that the kiddies would decorate before lunchtime.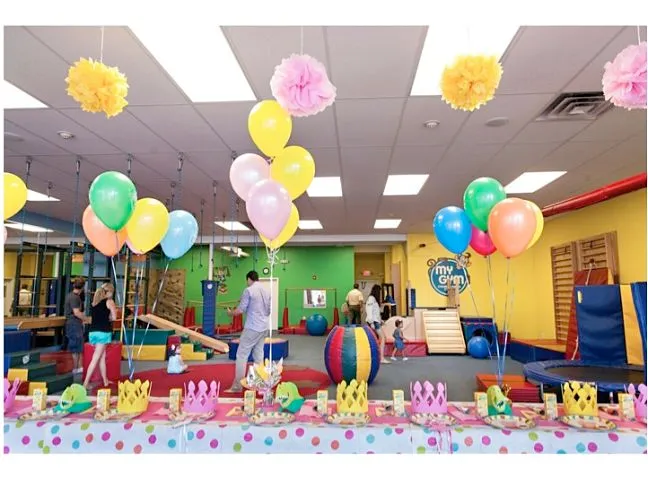 Since true Peppa Pig licensed party goods are scarce in the States (still kinda boggled by that!), we relied on some simple tissue balls to pull out the pink and yellow color story to brighten up the gym's drop ceiling, and placed helium balloon bundles in the same shades on the tables. Party City did have paper tablecloths, but the overabundance of Peppa heads on them was tacky, and we all know they tear with one juice box spill, so I bought cheery polka dotted covers from Michaels and lined the center with a pink paper "runner" that eventually held all the supplies for the hat crafts.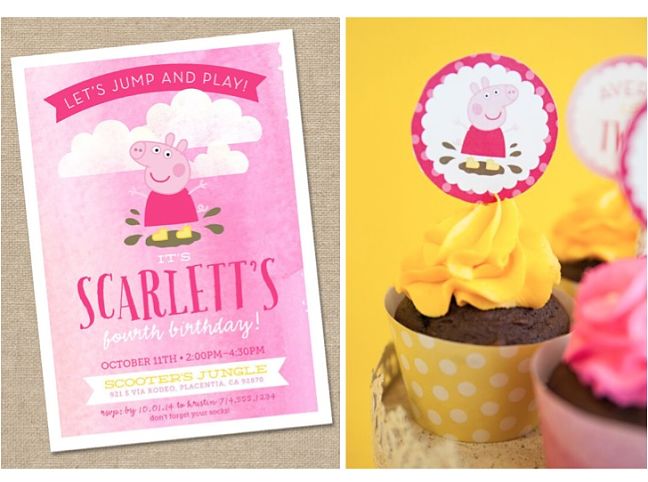 All of our printables for the party were from thelilredwagon on Etsy. At left: Here is the template we later personalized for Avery's invitation; at right, her adorable cupcake toppers and wrappers.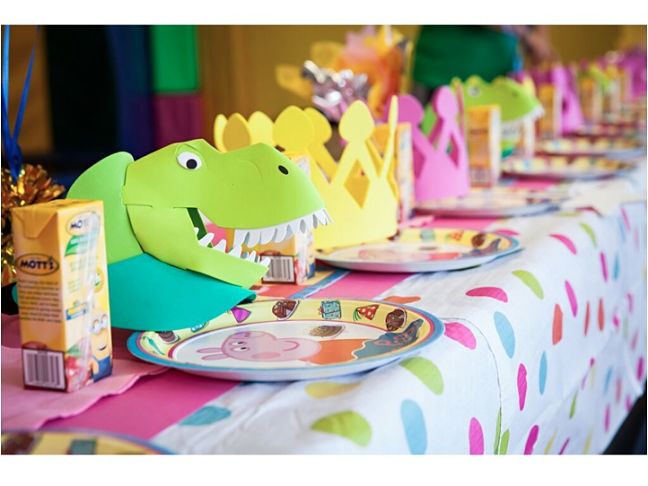 I found the crowns and dinosaur foam hats on a whim at Michaels and thought they bore an uncanny resemblance to the characters' favorite toys—Peppa's little Fairy Peppa and George's Mr. Dinosaur. I totally lucked out, and the saleswoman thought I was bonkers for buying so many hats (though you would definitely need to be an avid show watcher to "get" that they were part of the theme)!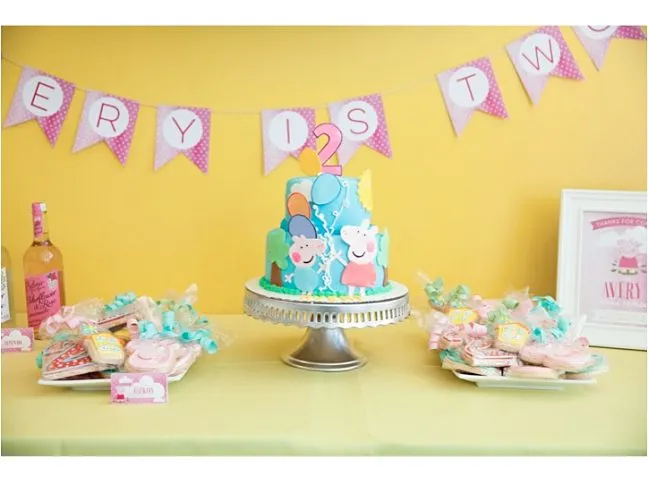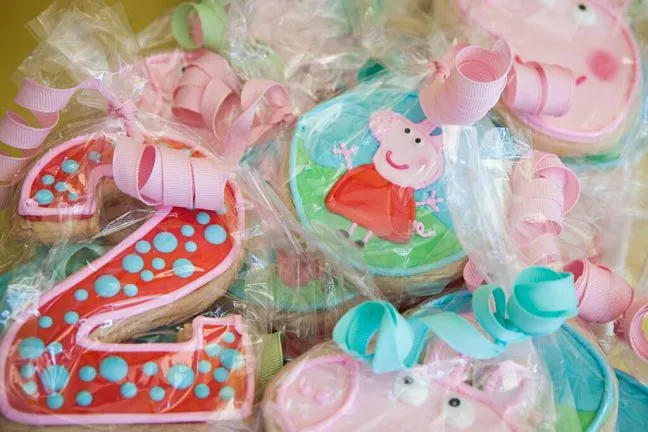 Candace from Nom Nom Cookie Company made the most amazing Peppa Pig themed cookies! In addition to a particularly scrumptious Peppa face cameo, she mixed in great Peppa houses, Peppas waving hello, and a series of "2s" to help drive home Avery's second birthday theme.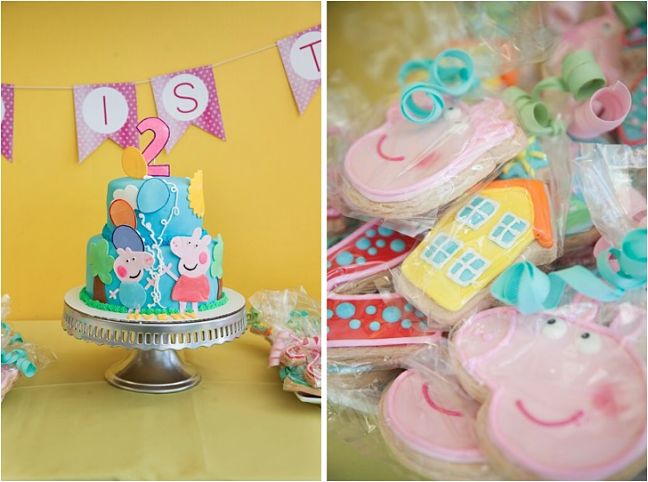 Franny Cakes and Cookies made the absolutely delicious fondant birthday cake (left) and hand-delivered it to the gym unscathed (hooray!). At right, Nom Nom Cookie Company shipped the cookies to us. She isn't local to Westchester, New York (she's in Long Island), but they arrived in a huge box and not a single one came chipped or broken. They were a huge hit with the kiddies and adults alike!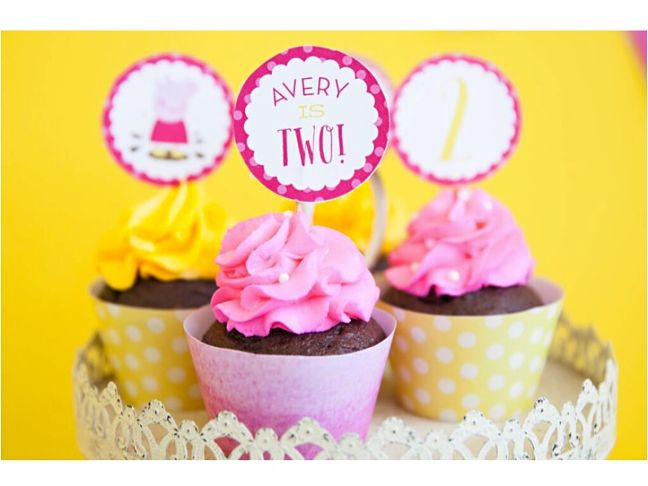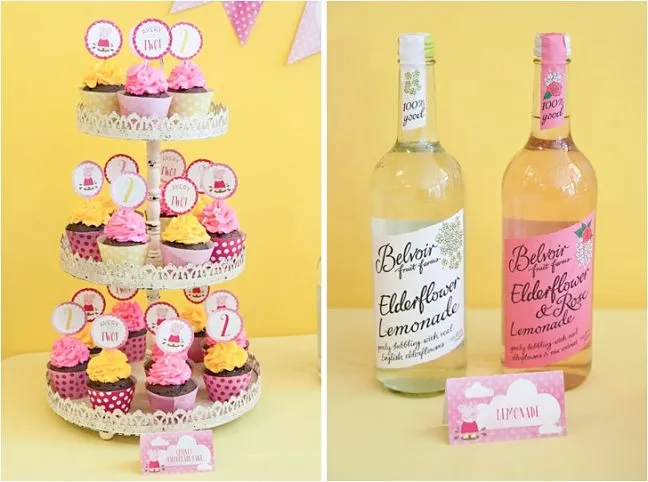 At left: thelilredwagon was responsible for creating all of our paper goods, including these dotted cupcake wrappers and toppers, and table tents. She was an amazing Etsy find; I can't wait to call Kristin for next year's party!
At right: Since the kiddie party was at 10:30 a.m., there were no "adult beverages," but I found great sparkling elderflower lemonades that matched the color theme at Fresh Market. They looked gorgeous on the table, and have since been a staple in my house when we have mommies-to-be over for cocktail parties!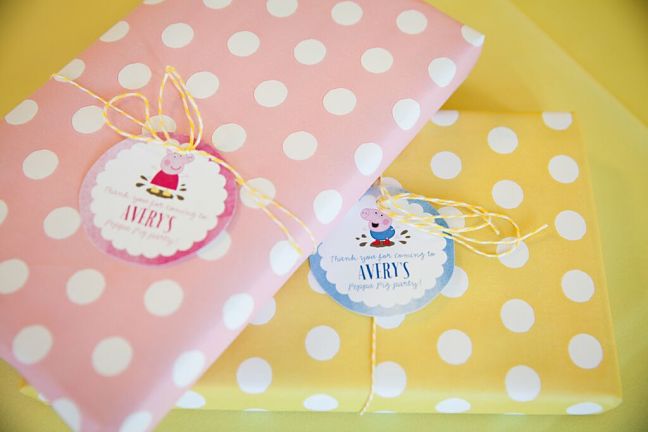 I wrapped the party favors in pink and yellow polka dot paper from Paper Source, and tied the custom hangtags (which read "Thank You for Coming to Avery's Peppa Pig Party") in yellow baker's twine. The boys had George Pig themed favors, and the girls' favors were Peppa themed. These boxes were one of two favors: Melissa & Doug rainbow sidewalk chalk, plus other favors detailed below.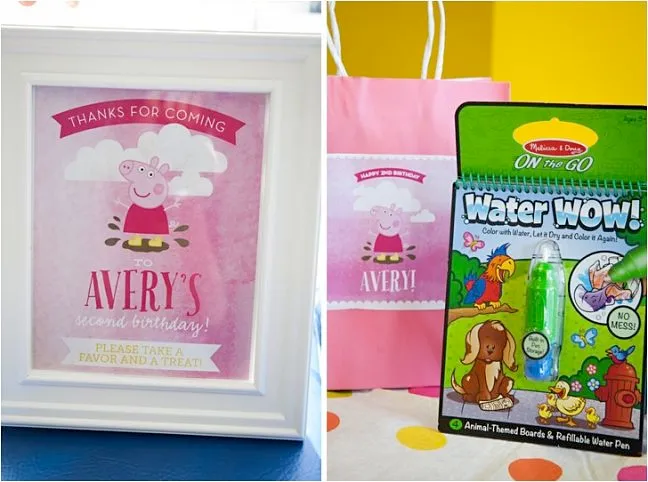 At left: Also on the favor table, I had a custom sign made by thelilredwagon that suggested guests grab a Peppa cookie and a favor. (I am always chasing people down the street with favors I forget to formally give, so this was my solution so they wouldn't be shy.)
At right: In addition to the hand wrapped favors, I had pink kraft bags with custom labels. Inside were Melissa & Doug Water Wow activity boards—I always stash these in my bag for restaurant outings, and my daughter LOVES them. (I also thought fellow moms would appreciate the mess-free crafts for their kiddos!)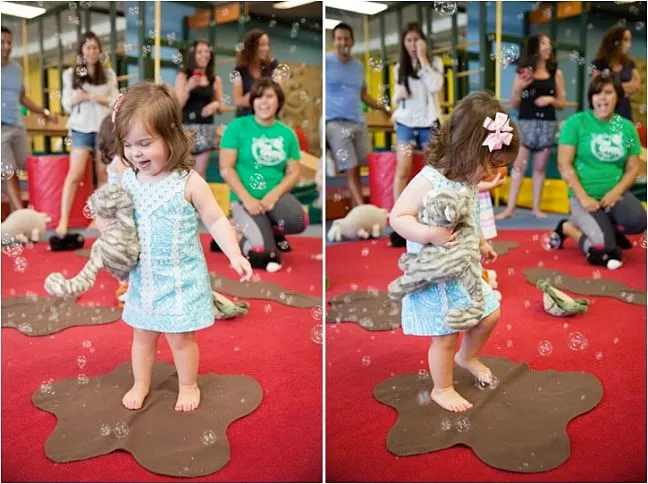 If you're a Peppa Pig watching momma like me, you know Peppa loves to jump in muddy puddles—it's sorta her thing. My daughter also now loves that! Since the kiddie party was at a My Gym, I thought it would be fun to make a bunch of felt "puddles" and throw them around the center floor for bubble time. The kids ADORED it. (For privacy purposes, I'm only showing my daughter, but I promise this was a major hit! You can see how we made the puddles below.)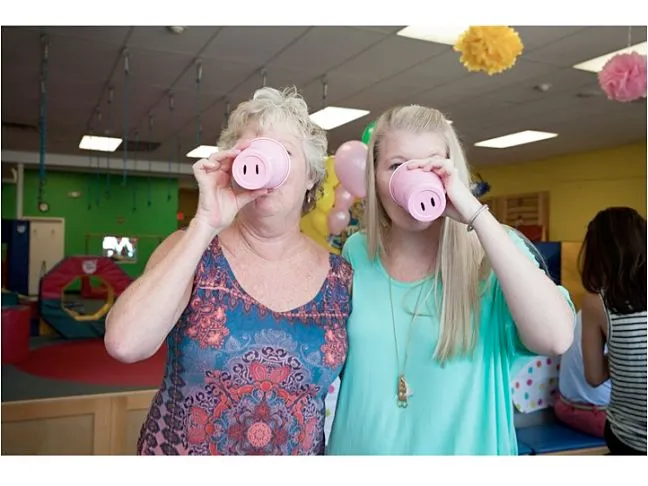 The snout cup craft was the simplest themed detail of the party! I just bought extra large pink Solo cups and took my trusty Sharpie marker to draw a pig snout at the base of each cup. It was a cute surprise for guests!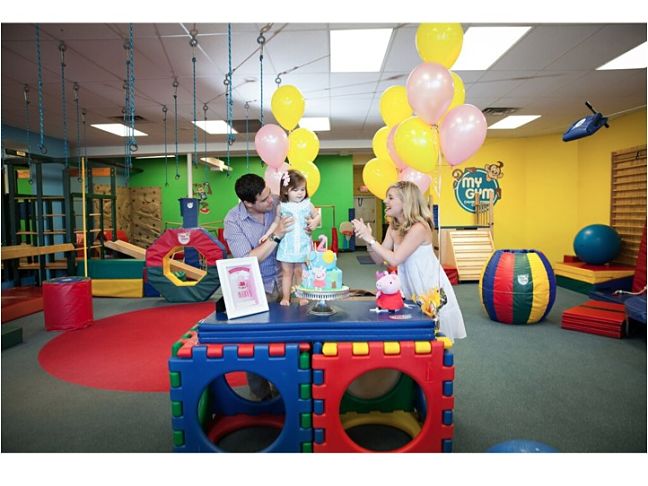 In retrospect, I'm also really thrilled we threw Avery's party at My Gym Larchmont. The staff was amazingly accommodating, they dreamed up age-appropriate activities that married back to the Peppa theme, the kids all had a blast…and I wasn't left sleepless at night thinking about what would happen to my house if it rained. (That said, we also had a post-nap party at our home for family who didn't have kids…it included a great food truck! You can see some details in the slideshow at the bottom of the post.)
All of the above photos are by Sofia Negron Photography. 
Here's some behind-the-scenes party prep, plus additional tutorials: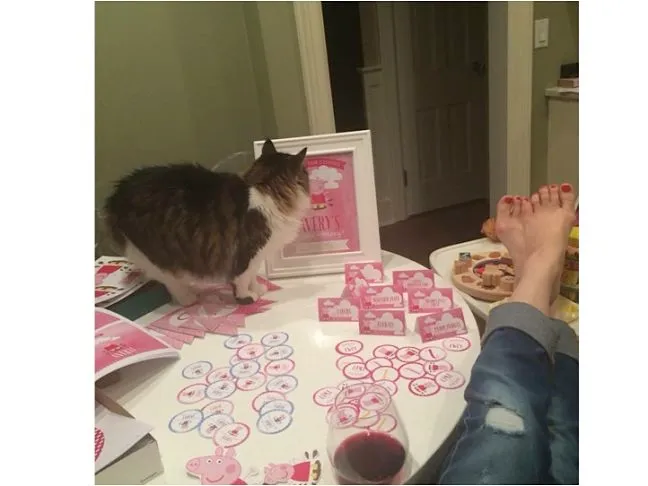 The thing about printables: Yes, they're custom printed, but all that cutting and collating was still up to Mommy. (Nothing a little vino doesn't solve, though.)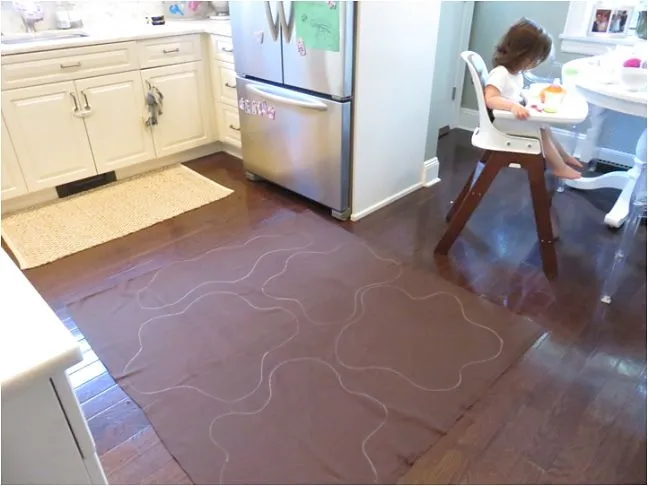 Multi-tasking moms can make their muddy puddles at breakfast. I bought a few yards of brown felt at Michaels, drew out some puddle shapes with white chalk, then cut them out with fabric scissors while Aves had her morning Cheerios!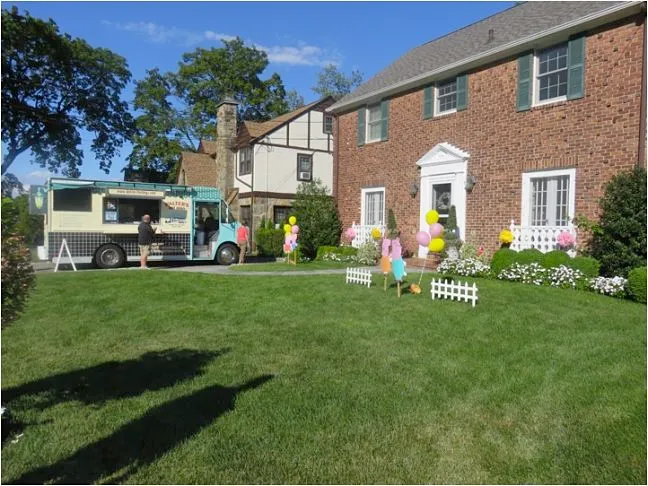 We had a backyard Peppa party later in the day for family and kiddies who couldn't attend the morning My Gym Peppa Party. The godsend behind this post-nap fiesta was the Walter's Hot Dog truck. Walter's is famous in the Westchester, New York suburbs for their split dogs and sides, but if you're out of the area, I can tell you how renting a food truck can make your life so. much. easier for hosting an at-home birthday party. Of course, there's the novelty of not having to wait in a long line for famous local food, and the cool appeal of having a truck parked outside your home for guests, but there's also no guessing on head counts (read: last-minute sick kids—it unfortunately happens!) and absolutely no mess! Apples to apples, it's also only marginally more expensive than a catered BBQ.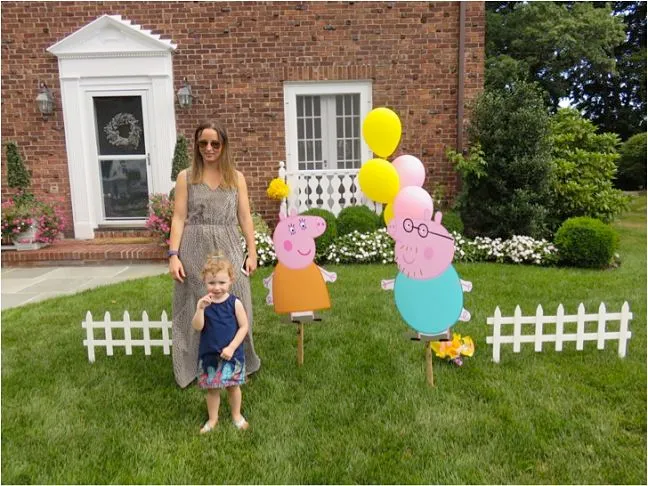 Moms and kiddies alike enjoyed the Peppa Pig "step and repeat."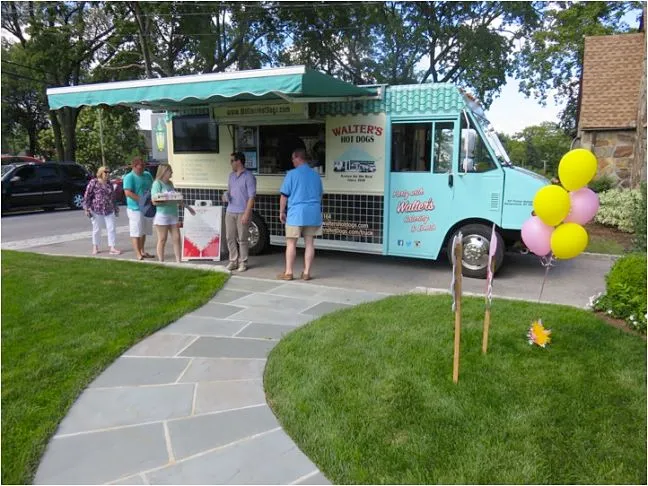 Guests were greeted by the hot dog truck and the Peppa Pig lawn characters!
More Kids' Birthday Party Themes:
Save
Save