Printed tights are such a fun wardrobe staple for girls. And they get bonus points because you can score cool style points with them but unlike necklaces or purses, they're more of a clothing item than an actual accessory, so there's no dress code hangups or fear of leaving them behind at the park or the bus.
Printed tights for girls are practical because they add some coverage for kids like mine who like to wear skirts and dresses but are also avid climbers and runners. Plus, they're just plain cute! The perfect pair is fun, comfortable and durable. We love a good footless tight, adore anything floral, are mad for plaid, and go nuts for a pair where one leg is different than the other.
These 14 adorable printed tights for girls will make it easy to transition from the warmer months to the cooper temps:
More Fun Style Finds for Kids:
Like what you see? Don't forget to Pin it!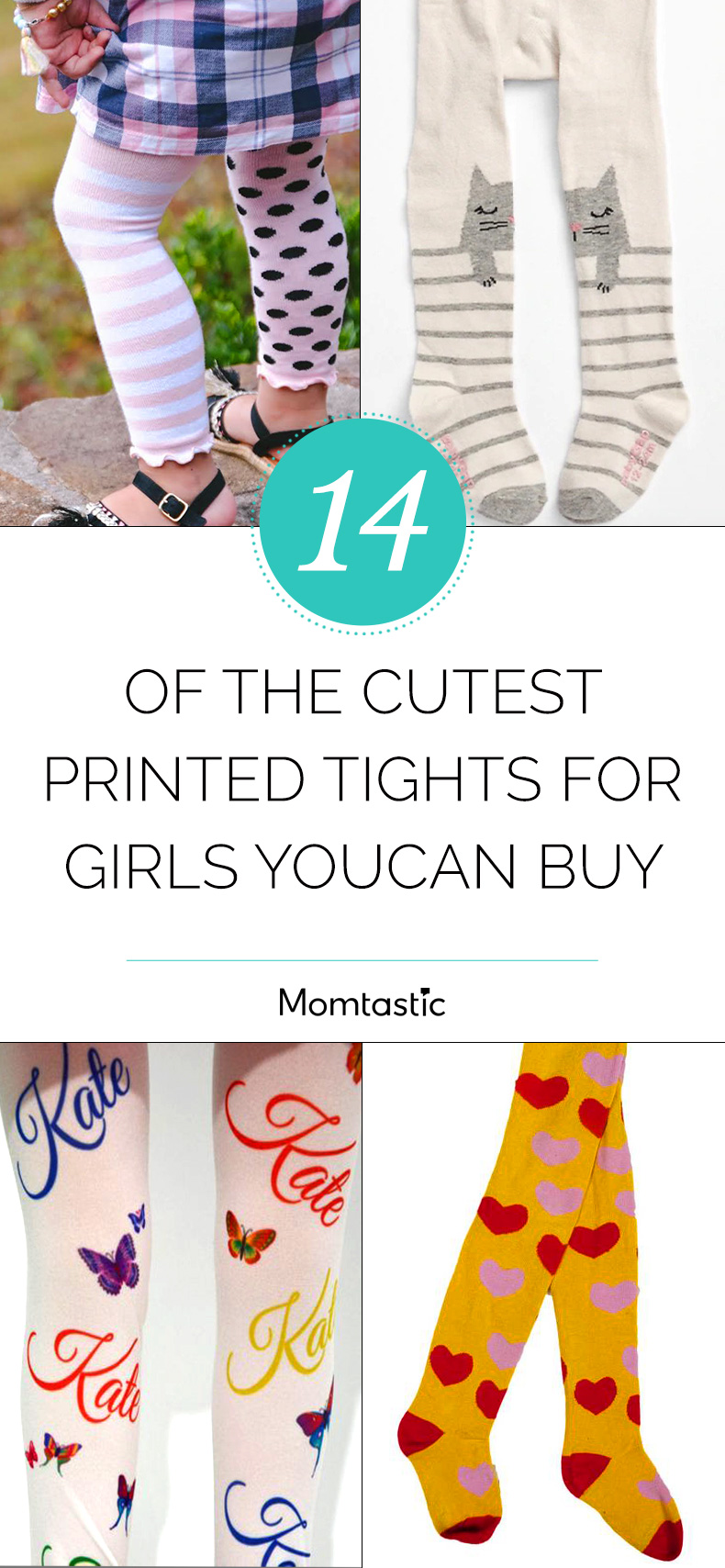 Fall Tights for Girls
Lili Lane - Dots & Stripes

Everything from this mom-run shop out of Ohio is basically to die for but the tights assortment is second to none. The fact that these printed dots and stripes style is footless means you can wear them now while it's still warm with sandals, but also later with Ugg boots.

Buy It: Lili Lane
Price: $12
Photo: Instagram/ourlifeinrosegold

Hanna Andersson - Flora Tights

She's your sun, moon, and stars: these tights will be hers. I am head over feet (pun intended!) for these celestial tights from Hanna Andersson. Scope all the other fun printed pairs they have, too, including unicorns, ladybugs, and other favorite critters.

Buy It: Hanna Andersson
Price: $22

Cat & Jack for Target - Tartan Opaque Tights

Who doesn't love an excuse for a Target run? At just under $5 a pair, we stock up heavily on girls tights whenever we go shopping there. While they don't necessarily hold up as well as the thicker, higher quality offerings at pricier competitors, they're cheap, easy, and super duper cute.

Buy It: Target
Price: $4.99

Etsy - Personalized Name Tights

We haven't bought these yet, but I will now.  For such a unique and special design, the price on these personalized tights is amazing.

Buy It: Etsy/Coline Design
Price: from $20

H&M - 2-Pack Fine-Knit Tights 

H&M is one of my go-to plaes for affordable, super-cute fashion statements for the kids (and for me!). The tights selection is no exception. From stars to stripes and hearts to unicorns, this collection has something to satisfy every little girl's style, and the two-pack pricing is a win for parents.

Buy It: H&M
Price: $14.99/2-pack

Jacadi - Striped Cotton Tights

These beauts are très chic for the little girl who is, too. Bold, French-inspired style statement for school? Oui, oui! You can pair these with a classic A-line dress or pleated skirt and sweater, but they truly work with everything. 

Buy It: Jacadi
Price: $25

Bonjour Bear - Rainy Day Clouds Tights

They might be for little ones only, but I couldn't resist throwing these sweet baby and toddler tights on the list. A footless, thick design means these double as leggings, too.

Buy It: Bonjour Bear
Price: $9.95

J. Crew - Girls' Printed Tights

A navy background with crowns, stars, hearts, and arrows makes these fun tights equal parts girly and cool. These are available in a wide range of sizes so if you have more than one girl, it's a perfect opportunity for sister-sister matching. 

Buy It: J. Crew
Price: $14.50

Gap Kids - Critter Tights

These sleepy kitties are just one example of the vast collection of cool girls' and toddler tights Gap Kids is flexing this season. 

Buy It: Gap Kids
Price: $16.95

Janie & Jack - Bow Tights

Simple, sophisticated, and oh-so-sweet, Janie and Jack's bow tights are a girly-girl's dream come true. From the front they may look like plain white tights, but once she turns she'll reveal a little pop of pretty. 

Buy It: Janie and Jack
Price: $18

Osh Kosh - Unicorn Tights

Another pair for the petite peanut in your life (but in truth, my daughter wore her 12-24M pairs from the brand long into her 3T days). Life may not always be rainbows and unicorns, but childhood sure should be.

Buy It: Osh Kosh B'gosh
Price: now on sale for $8.40

Smallable - Bobo Choses

I don't know if I'd be cool enough to pull these off, but my daughter certainly is. You'll have to figure out the size guide (which is decidedly un-American), but after that's settled, shopping on this ultra-fun website is sure to earn you mega mom points.

Buy It: Smallable
Price: $37

Moromini - Retro Hearts Tights

Does it get any sweeter than heart-print tights?  There's more where these came from so check out the Scandinavian shop, ittiKid. The good news is, they ship worldwide. Load that cart up, Mama!

Buy It: ittikid
Price: $23

JoJo Maman Bebe - Cream Floral Tights

Every little girl needs a pair of floral tights in her wardrobe. Check out the rest of the collection for dark-print florals, unicorns, stripes, dots, and even some holly-inspired cuteness for the holiday season.

Buy It: JoJo Maman Bebe
Price: $18