Adaptive clothing lines for kids that will make yours, and your child's life so much easier. 
I'm in the thick of back-to-school shopping for my girls right now. And while It can be fun to shop for a new collection of cute kids clothing for the average parents, the struggle to find fashionable, affordable adaptive clothing for kids with special needs is very real. After working at a school last year, I realized just how many kids have physical or sensory issues that standard retailers just don't accommodate. Look, every parent wants to make sure their children are set up for success, but shopping for adaptive clothing for special needs kids can be a frustrating and challenging task.
What makes adaptive clothing easier to put on for kids with special needs? Items with very specific features, like tear-away tags, zipperless designs, no buttons, sensory-friendly and clinically accessible for certain treatments. Clothing that adapts to fit wheelchairs, G tubes, diapers, and more. Even adaptive clothing lines that carry bodysuits in big kid sizes, because permanently tucked in tops keep curious hands away from medical equipment and diapers.
The right clothes can make a huge difference in how well your child's school year will go, and adaptive clothing companies understand that. See these 10 adaptive clothing brands that make getting dressed easier:
Like what you see? Don't forget to Pin it!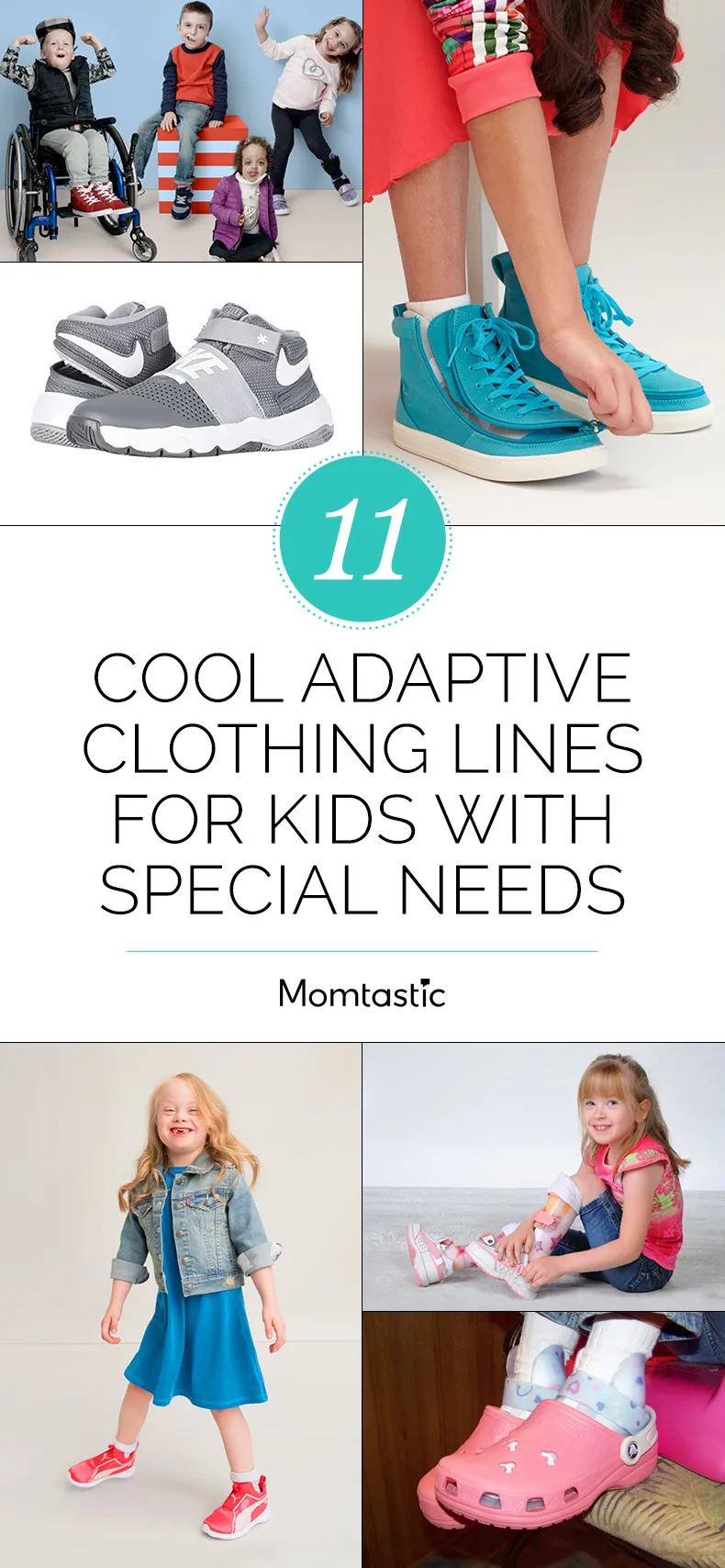 10 Cool Adaptive Clothing Lines for Special Needs Kids
Design For All Collection by Target

The big box retailer's Design for All collection makes adaptive clothing stylishly affordable. Hidden abdominal access, hidden leg openings, and flat seams all come standard with this branch of the popular Cat & Jack line.

Source: Target

Tommy Adaptive

Magnetic buttons, adjusted hems, and thoughtful details bring Tommy Hilfiger's Americana style within reach for kids of all ages.

Source: Tommy Hilfiger

FlyEase Shoes by Nike

FlyEase shoes are lace-free and feature a zippered heel so kids can easily slip on the sneakers. The Lebron Soldier XI is sure to complete any kid's favorite back-to-school looks.

Source: Nike

BILLY Footwear

A fun zipper loops nearly all the way around the top of these classic high-rise (and low rise) canvas sneakers to accommodate braces. 

Source: Zappos

Independence Day Clothing

This thoughtful line features styles that are 4-way reversible. They can be worn forward, backwards, and inside out in either orientation  so there's no chance your kiddo will get frustrated while getting dressed. They even make a universal fit sock.

Source: Independence Day Clothing

PBS + Zappos

In an effort to promote the inclusion of kids of all abilities, PBS has teamed up with Zappos to launch a gender-neutral, two-way reversible adaptive children's apparel line.

Source: Zappos

Hatchbacks Footwear

These dress and casual shoes have an easy-to-open back so kids with leg braces, aka AFOs, can slip their feet into the shoes without difficulty.

Source: Hactchbacks

Crocs

Turns out, the shoes that Prince George has made oh-so cool again are perfect for accommodating leg braces. Crocs aren't made or marketed as adaptive shoes, but they are hack-free, comfortable options that kids can wear without feeling self-conscious.

Source: Hayley is My Hero

Zappos Adaptive

The shoe e-tailer now allows you to search for apparel by filters like: magnetic, post surgical wear, treatment wear, and reversible. Shopping for your kiddo will be a breeze with 12 different criteria.

Source: Zappos

Etsy

The DIY, crafty platform has an entire network of artists creating adaptive clothing for kids. Fun patterned G tube covers, Halloween and dress up costumes that accommodate wheelchairs, and more are all at your fingertips.

Source: Etsy