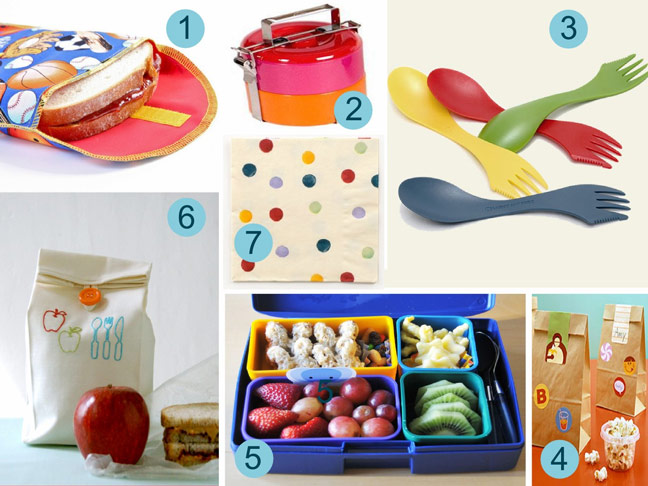 Help your kids to look forward to lunchtime with these fun ways to dress up their home-brought meal!
1.  Reusable sandwich back from SnackTAXI
3.  All-in-one utensil from Light My Fire
4.  DIY lunch bag labels from Martha Stewart
5.  A healthy lunch from Shim and Sons
6.  DIY lunch bag from The Purl Bee
7.  Fun napkins from Joanne Hudson Basics
We all know how important it is for kids to stay focused and sharp during their day, and nutrition plays a huge role in that.  Sending them to school with a home-prepared lunch is one way to know that they are getting the fuel they need, and when it's packed in fun containers, it makes mealtime just that much more exciting!  Forget the rusty old metal lunchboxes of your youth:  today's are fun, colorful, and have all sorts of cool compartments for their grub, making it easier then ever to pack their lunch full of healthy goodies.  Prefer to brown-bag it?  Dress up their sack with bright stickers and labels, or even make one yourself that they can use over and over for the entire school year.   Add re-useable sandwich bags, all-in-one utensils, and a patterned napkin, and your kid will never look at lunch the same way again!