Packing lunch for kids in the morning is a big task for parents. As a busy parent, you want to make a kid's lunch that does not require much effort and most importantly, should be nutritious as well as delicious, so that your kids can devour it without any tantrums. But coming up with new lunch ideas every day is not easy and we get that. That is why we have prepared a list of 5 easy and healthy lunch box ideas for kids that will keep you and your precious one happy. 
1. Pasta Salad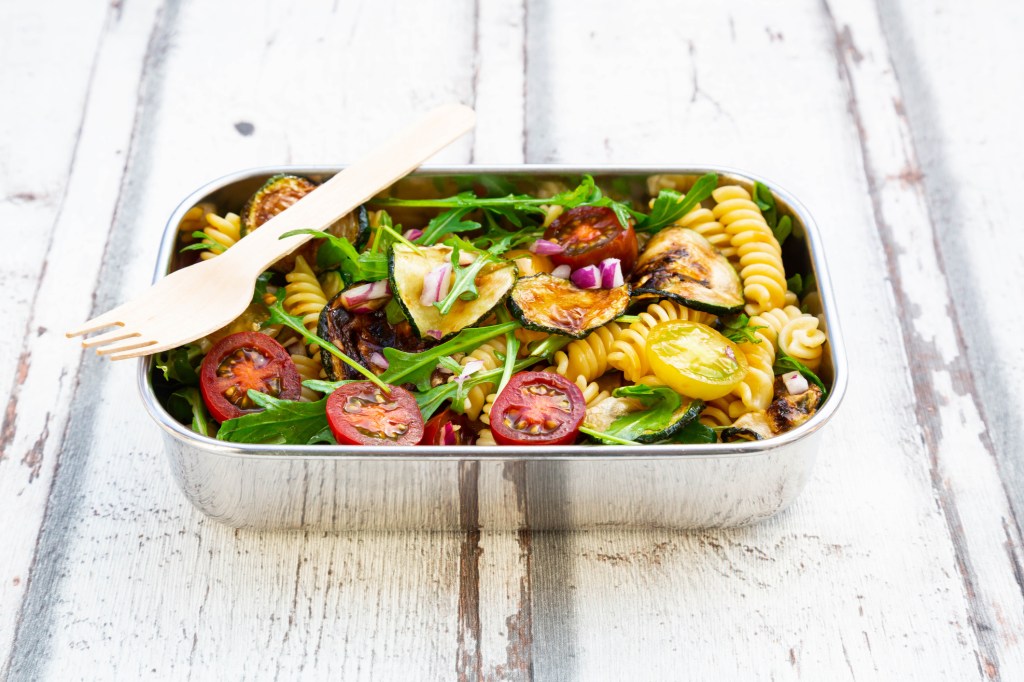 Give your little one pasta salad loaded with chicken, tomatoes, and other crunchy veggies. You can pre-cut the veggies and even boil the pasta the night before and store them in an airtight container. In the morning, bring it all together with the sauce, and voila! a healthy and nutritious lunch is ready in no time. Omit the chicken and add more veggies, in case your child is not a fan of chicken.
2. Pepperoni Pizza Sliders
You kids will love these easy-to-make mini-pizza sandwiches. Simply brush both sides of buns or bread with garlic butter, add pepperoni, and cheese along with their favorite sauce. Now, bake it in the oven till cheese melts. You can even toast them in pans and even replace pepperoni with veggies like lettuce, tomatoes and so on as per your kids liking.
3. Spinach and Corn Sandwich
This nutritious sandwich is easy to make and very filling. Just heat some butter in a pan, add some garlic, and toss in a cup of baby spinach along with some boiled corn. Then add a little amount of all purpose flour and saute till the raw smell goes. Finally, add a splash of cold milk, and cook till the mixture thickens before adding cheese and other seasonings. Now, simply place the cooled mixture on the bread and add more cheese and toast it till the bread is crispy brown. It might look a lot, but this sandwich does not take more than 15 minutes to make. If you want, you can prepare the mixture the night before and use it in the morning.
4. Hummus and Veggies
An easy lunch box idea for kids that will come together within minutes. Prepare the hummus, plain or flavored, in advance and pair it up with lettuce, peppers, carrots, cucumber, or any thinly-sliced veggies. Hummus can stay at room temperature for a few hours without getting soiled. You can even use hummus in your kid's sandwiches and rolls.
5. Vegetable Rice
Have you got some leftover rice in your fridge? Then take it out and toss it in the pan, add crunchy vegetables, chicken, or egg, along with some seasoning and sauce, and you will have a power-packed lunch ready for your kids.
Do not forget to add fruits in the lunch box of your kids to make it a wholesome meal. You can always alter the recipe to suit your and your child's needs. Do not get fixed with one recipe, play with the ingredients and come up with a new variety of your own to make the whole experience enjoyable for you and your little one. Happy cooking!
You can also read 8 Things Parents Should Never Say or Do in Front of Kids