Recently, a friend of mine showed me her C-Section scar and I was pretty surprised: It was a tiny horizontal slit that was about the length of her hand. In fact, the incision only needs to be big enough for a baby's head to fit through, so the average C-Section scar is about five-inches long, says Lana Selitsky, DO, an ob-gyn in private practice at Midtown Obstetrics and Gynecology, in New York City. Occasionally, a larger incision has to be made — say, if the baby is especially large or the mom has scar tissue from a previous surgery. Doctors cut about two centimeters above the pubic bone, horizontally, for both cosmetic purposes (it's easily hidden under a bikini bottom, for example), as well as easier healing for the patient, she adds. Scars after a C-Section are unique. "We close everybody the same way, but everyone heals differently," Dr. Selitsky explains.
According to the Center for Disease Control, nearly 1 in 3 women in the United States deliver their babies via C-Section, for many different reasons (from delivering multiples to delivering a baby in a breech position). If you're about to deliver a baby and it's possible that you may have a C-Section, knowing what to expect afterwards can be comforting. (And, OK: Even if you've already had a C-Section it is sort of fascinating to compare your scar to others.) So, we've rounded up a collection of C-Section scar pictures to give you a sense of what it looks like after you've had a C-Section, with photos taken a few weeks to a few years post-birth. They're all different, but they're all beautiful. After all, every scar symbolizes the birth of a new baby (or more!).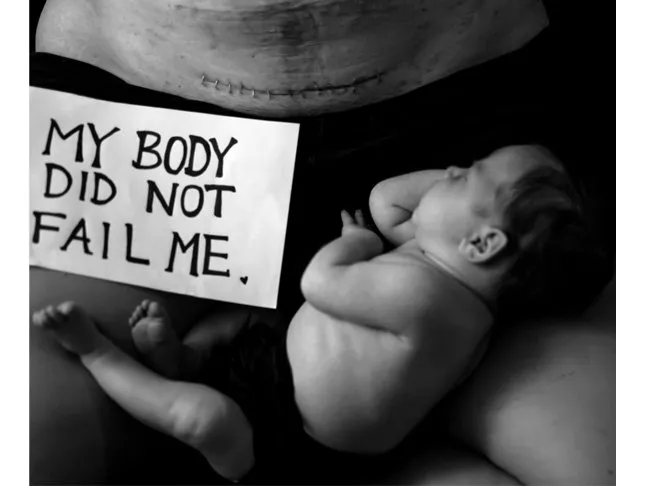 A mom cradles her baby while holding a sign that reads, "My body did not fail me," as part of The Honest Body Project by photographer Natalie McCain. "I hear a lot of talk from other moms about wishing our bodies didn't fail," the mom reveals. "How a 'traditional' birth would have been better, and wondering how we wound up here. I can tell you I didn't plan on a C-section. I didn't want a C-section…but my body didn't fail. This body that has seen surgeries, tumors, three C-sections and incredible loss didn't fail me one bit. My baby is alive, I'm alive, and no scar or procedure will take that away from me."
Photo: The Honest Body Project/Instagram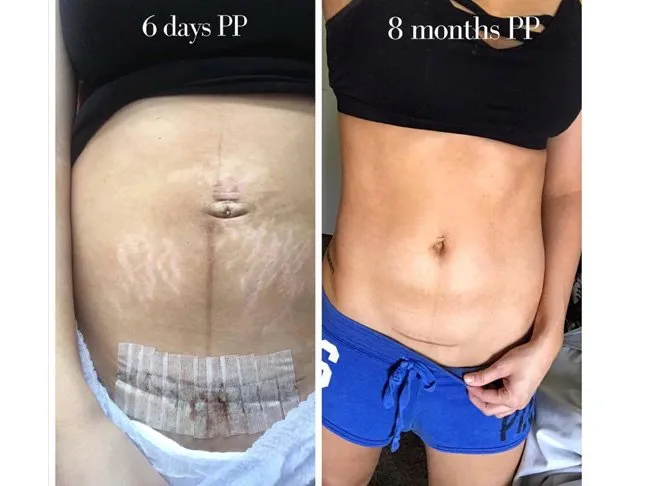 The blogger behind The Ruth Lee Diary shares the journey of her C-Section recovery, from six days post-op (left) to eight months postpartum.

Photo: baybayruth/Instagram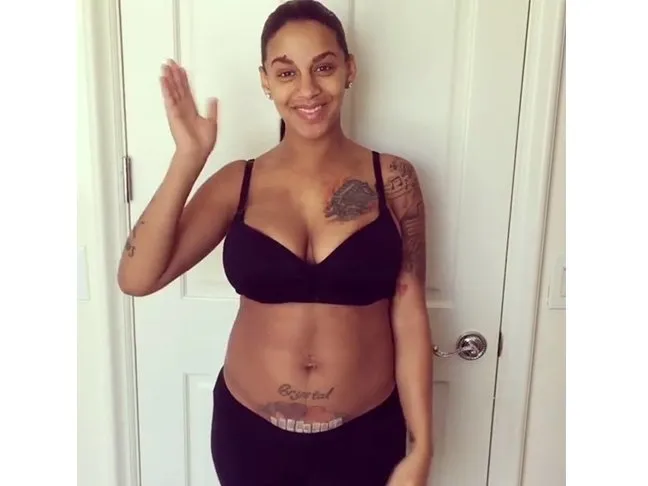 Crystal Renay Smith, wife of singer Ne-Yo, shared her post-delivery body including visible C-Section incision one week afterward, coupled with this message: "My body isn't what it once was but that's ok because now in the next coming weeks (AFTER IM HEALED PROPERLY) I can share my #SNAPBACK journey and progress with you guys! This comeback is about to get real y'all! #SJmamabad #JustHadABaby #NoWaistTrainer #StretchMarksWhereBih #MyHus-bandIsALuckyGuy #FlawsAndAll."
Photo: Crystal Smith/Instagram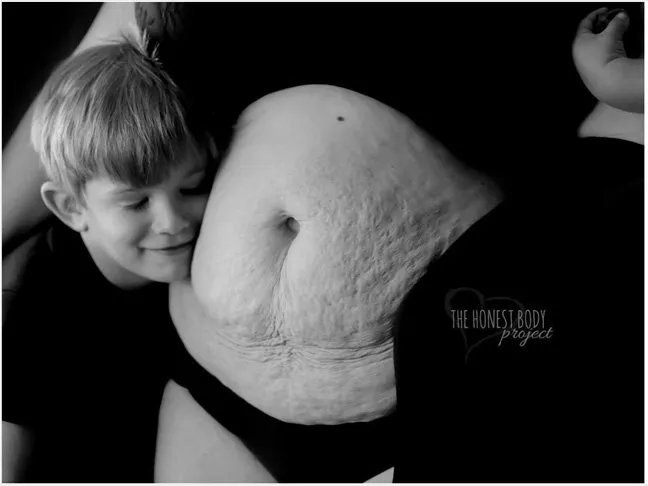 This mother describes her third C-Section in aching detail on Instagram, closing with, "Sacrificing oneself for another is not fair. But it is beautiful." The photo is also part of The Honest Body Project by Natalie McCain.
Photo: The Honest Body Project/Instagram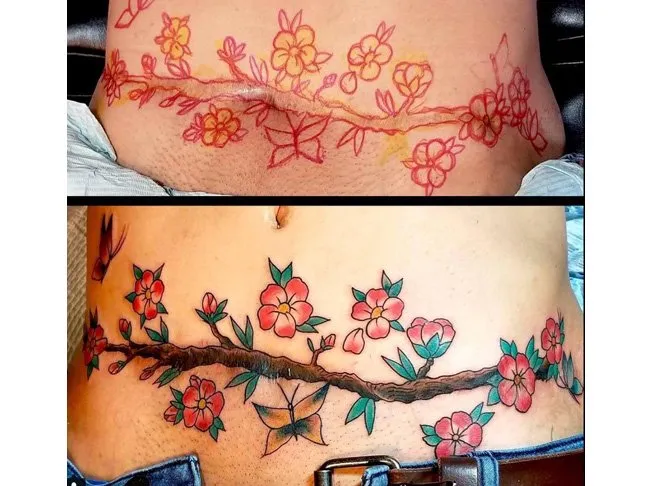 A talented tattoo artist turned one mom's C-Section scar into something else beautiful: a flowering vine.
Photo: Fyre Body Arts/Instagram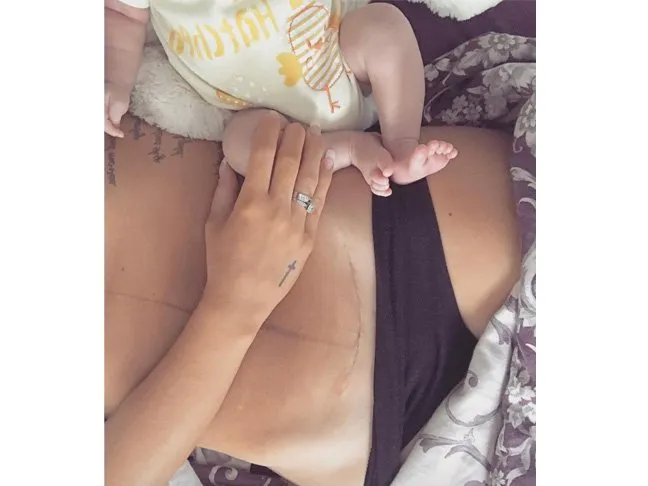 A C-Section mama snuggles with her baby. She captioned the Instagram snap with, "Women's bodies are incredible." She's right!