In my house, the adults are the picky ones. I know, weird. My husband and I both dislike a lot of foods – many vegetables in particular – so when I try to incorporate more vegetables into our meals, it's often the same few ingredients over and over. Because carrots are one of the "approved" vegetables we both like, I tend to make them in various ways to add variety to our meals. My personal favorite way is roasted!
Roasted carrots are, in my opinion, the superior way to cook carrots for a delicious side dish. You can add just about any ingredients or seasonings to them and they'll be delicious. This week I made brown sugar roasted carrots packed with a ton of flavor.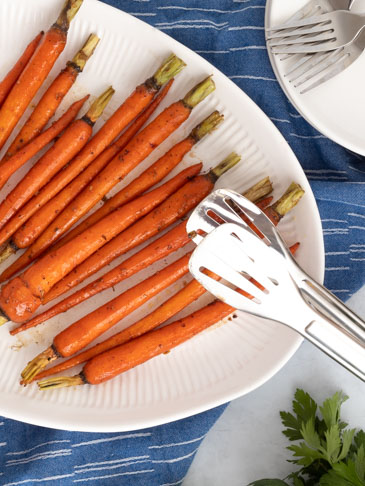 Coated in a mixture of brown sugar, butter, honey and a bit of balsamic vinegar, they're just sweet enough to make you forget you're eating vegetables. Plus, like any good veggie recipe, they're smothered in garlic and herbs. They take very little prep and reheat well for leftovers. THAT is how I like my meals!
Choosing the right kind of carrots can definitely play a part in this recipe. I used whole baby carrots that I trimmed and peeled. You can also use bagged baby carrots for easier prep or rainbow carrots. However, if you use the larger whole carrots available in every grocery store, I recommend halving them for an easier cook time because they are significantly thicker and the longer bake time could burn the buttery topping.
If you have leftover roasted carrots, simply package them up and store in the fridge for up to three days. To reheat, I do recommend warming them in the oven if possible to avoid them becoming too soggy. Although the microwave will do the job, the carrots may take on a mushier texture this way.
Now, here's how to make your own brown sugar roasted carrots!