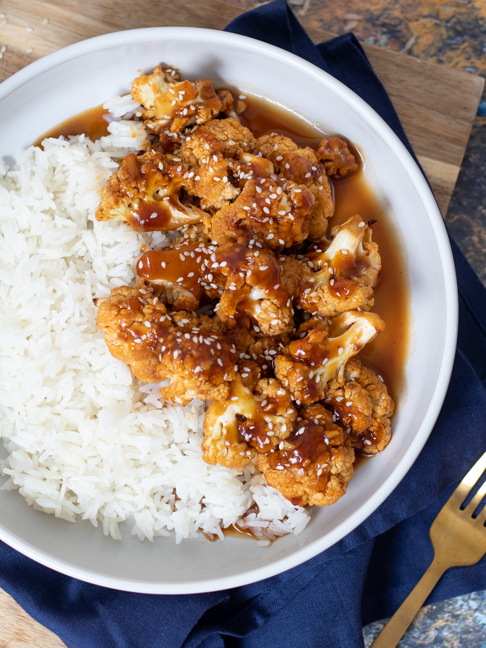 Surely I haven't been the only one worried about my pandemic eating habits. During such a stressful year and a half, I've been guilty of indulging in "comfort food" most days of the week, including my favorite frozen orange chicken from Trader Joe's. It was time to start incorporating veggies back into my daily diet, and it turns out this easy Kung Pao Cauliflower was the perfect solution! When I compare it to my favorite orange chicken dish, it's SO much healthier and truly tastes great! The key to make delicious Kung Pao Cauliflower is the sauce. It'll be delicious on any kind of vegetables you want to add to your dish!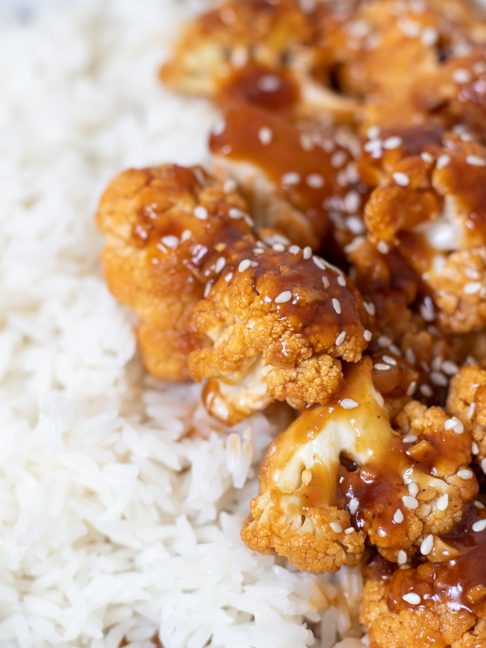 Served over a bed of jasmine rice, Kung Pao cauliflower is very versatile. Basically, you roast the cauliflower in a simple soy sauce and cornstarch mixture until browned and fork-tender. Then you saute a bit of garlic and ginger – gotta have ginger! Then you mix in the sauce ingredients with cornstarch and let the sauce thicken before tossing with the cauliflower. If you want to customize it more, you can incorporate vegetables like roasted carrots or bell peppers into the dish for even more flavors. Cauliflower is relatively mild, I think, so it works as a great vehicle for the sauce. Let's be honest, that's the whole point of the recipe!  Just adjust the heat based on your preference. For example, I like to add a little sriracha to the sauce (as I note below) but you can also skip it in favor of chili flakes.
Finally, you can top Kung Pao Cauliflower with sesame seeds, peanuts and/or green onions for a bit of color and additional texture. Although I'm not personally a fan of peanuts outside of desserts, I do love some simple sesame seeds on top. Next time, I think I would incorporate some red peppers.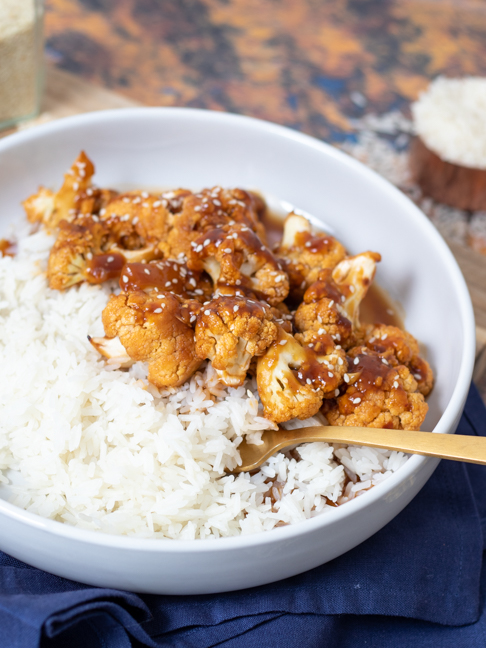 As far as ingredients used in the sauce, you can find them all in the Asian Cuisine section of any grocery store. If you don't want to buy new ingredients for one recipe, you can also substitute a few things. For example, hoisin sauce can be substituted for regular barbecue sauce. I know it sounds weird, but it really does end up tasting fine! I've done this in stir fry recipes before. Olive oil can be substituted for sesame oil if needed, and apple cider vinegar can replace rice vinegar. However, it's always best to use the authentic ingredients when possible.
Here's how to make delicious Kung Pao Cauliflower at home!