If you've read posts from me before, you might already know how much I LOVE my air fryer. It's one of the best and most useful gifts my husband has bought me, and I use it all the time. This week, I tried out a new recipe for salmon in the air fryer that turned out way better than I expected! It turns out air fryer salmon is THE best way to make it, in my opinion. We don't typically cook seafood at home, and now that I know it's this easy, maybe that will change. Paired with a side salad, it's an easy weeknight dinner you'll feel good about eating.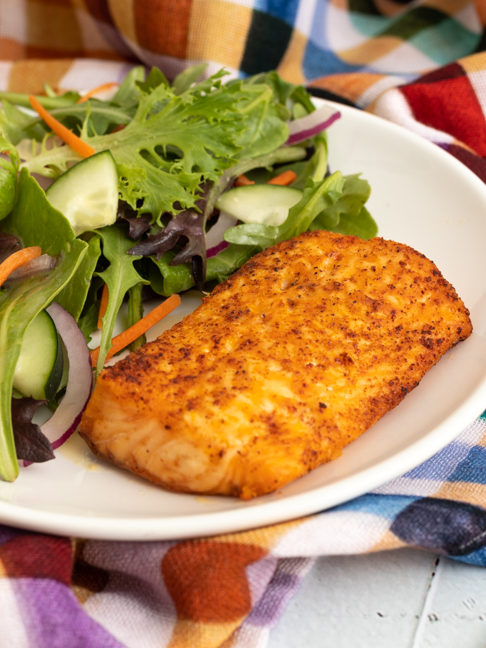 The great thing about this recipe is you can switch up air fryer salmon with any spices you'd like! In this recipe, I used a combination of paprika, garlic powder, onion powder, salt and pepper. However, you can make just about any variation in the air fryer, including a crusted salmon or a glazed salmon. It only takes up to 10 minutes to cook either way. Who doesn't love a meal like that?!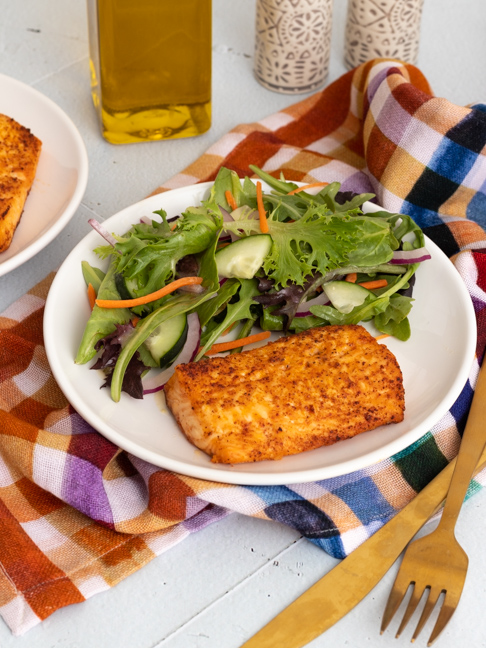 Air fryer salmon would pair well with a simple salad or with rice, roasted vegetables and just about anything else. The portion of this recipe is for two 4-ounce pieces of salmon, but if you have a larger air fryer, it's be just as easy to make a larger batch. You can make this salmon recipe with or without skin on.
Here's how to make delicious salmon in the air fryer!