Can we take a moment to appreciate the best meal of the day? Brunch! I love brunch as much as the next person, but I also love beautiful food that takes a lot less effort to make. That's where a brunch board comes in! Choose a variety of items from your fridge and pantry to arrange into a beautiful (and SO easy!) brunch board for your family or guests to snack from. With multiple snacks and toppings, it'll be fun for everyone to make their own combination! Best of all, it's a whole lot easier than making a homemade batch of pancakes.
Simply set it out for everyone to make their own brunch. It's really no different than a charcuterie board – just for brunch! Kids and adults will definitely appreciate a brunch board for your next gathering (post-COVID, of course) or regular Sunday morning.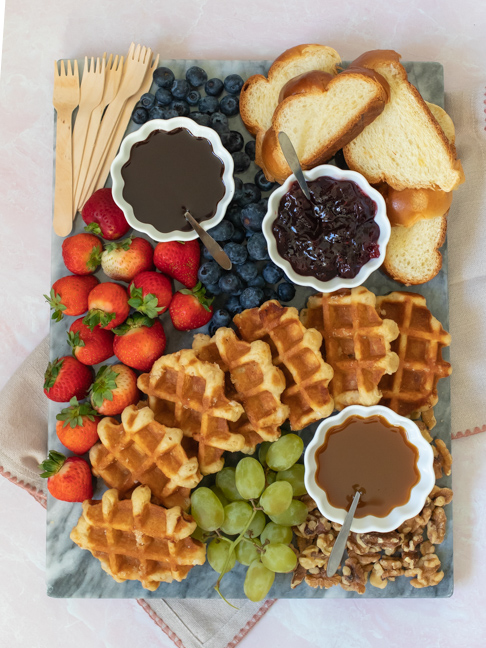 What do you put on a Brunch Board?
When assembling your brunch board, start by raiding your kitchen! You'd be surprised what might be delicious arranged together for everyone to grab a snack.
When in doubt, here are a few brunch board ingredients to try:
Waffles – Belgian waffles, waffle chips, homemade waffles cut into easy-to-grab sections
Baked Goods – Fresh pancakes, crepes, muffins, danishes
Breads – Challah bread, brioche, bagels, English muffins
Fruit – Strawberries, grapes, raspberries, blueberries
Dips and Spreads – Peanut butter, chocolate syrup, caramel, jam
Nuts – Pecans, walnuts, almonds
Sweets – Chocolates
Cheeses – Mix of soft and hard cheeses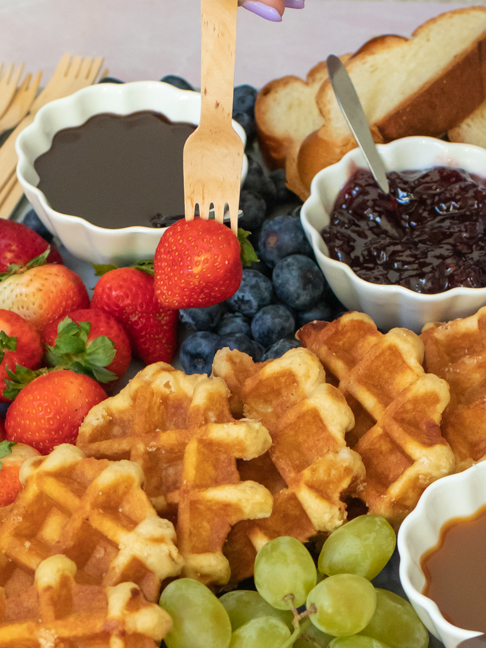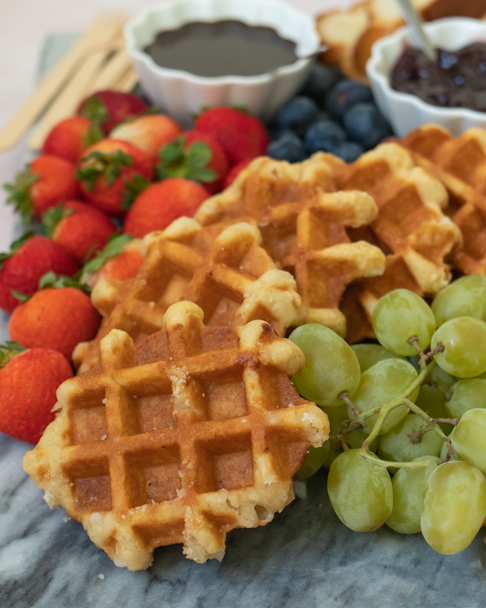 You can see I started with a lot of Belgian liege waffles as the main piece of my brunch board. They're pre-packaged, so no cooking necessary! Then I added bowls of chocolate syrup, caramel syrup and a berry jam. With three varieties of spreads, everyone can find something they like. Then I started spreading out three different kinds of fruits – grapes, blueberries and strawberries. To finish off the plate, I incorporated a few slices of homemade challah bread (a sweet bread similar to brioche) and walnuts for a little crunch. When making a brunch board, try to think of the various combinations of flavors and what kind of variety you can offer. After all, everyone has different tastes. Keep in mind you'll want options of soft and crunchy foods as well as sweets versus salty or savory foods.
Don't forget you can also make a savory brunch board with foods like bagels, avocado, hard boiled eggs, granola, lox and more! Just have fun with it, and there's truly no wrong way to make a great brunch board. Serve with mini forks or tongs for everyone to make their own personal plate.
More Breakfast and Brunch Ideas: