Even those of us who spend most of our days in neutrals often love dressing our kids in fun, bright colors. Black onesies? Not exactly what adorable photos are made of. That's where Kelsey Searles and her brand MiliMili come in.
Made in LA from the softest fabrics they make cribwear and new parent gifts in some of the most memorable prints I've come across. So now you can even get adorable crib photos (hopefully they're all smiles if you've had success with Taking Cara Babies like we have!).
To find out more about her brand, how it got its start and what's to come we chatted with Searles.
Momtastic: Can you tell us a little bit about your background before becoming a mom?
Kelsey Searles: Prior to becoming a mom, I spent eight years in high-end residential interior design while obtaining a degree from USC in entrepreneurship. This was followed by a handful of years working in sales for an IT consulting firm. A large career shift from design to IT, but each job fulfilled something I needed at the time. Design to flex my creative muscle (plus I had dreamed of becoming a designer since I was a child), and then move to the IT consulting role as I was craving more processes and order that I really wasn't getting working for others in my design career.
After having my daughter, Remy, I realized I really missed that creative piece and started searching for a way to fill that hole in my life that could blend my love of process/order and allow me to be creative. And hopefully provide me with some flexibility to chose when/how I spent my time with my kids.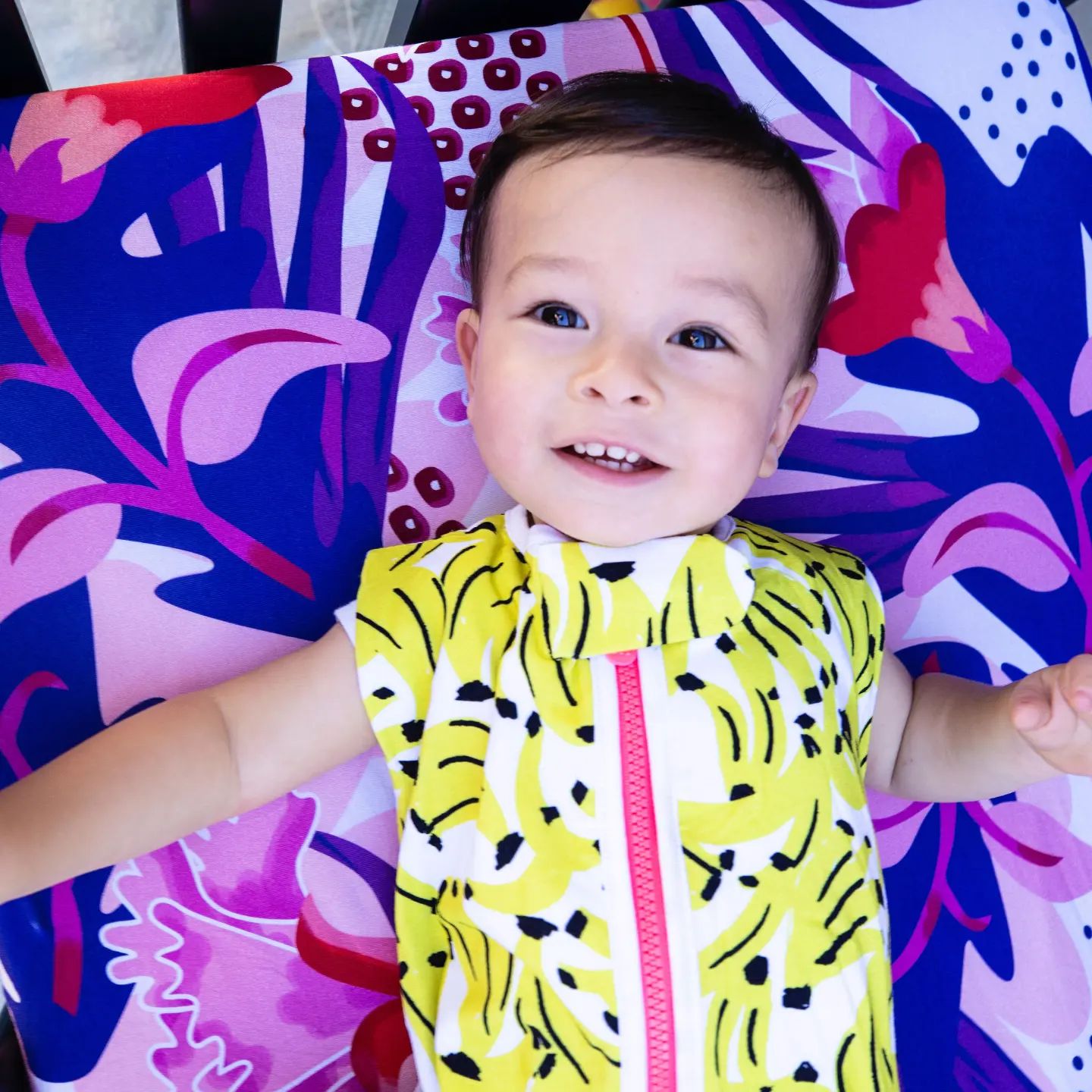 Momtastic: Can you tell us a little bit about your business and how being a mom inspired it?
Kelsey Searles: MiliMili is a bold and colorful nursery goods brand. We make sleep sacks, crib sheets, and coordinating luxuries for babies and their grown ups featuring the softest fabrics in modern and vibrant prints. No baby pink, pastel blue or gender neutral greige here. We want to help you provide the best products for your baby without sacrificing your colorful sense of style. Our products are favorites of sleep consultants and pediatricians alike, and are all ethically made here in Los Angeles.
The idea for MiliMili started with a gift back in 2018. Well, it all started with a one-year-old's birthday. And for that birthday, a crafty, jane-of-all-trades friend (meet: Rose) couldn't find a gift bold enough to match the bright style of the baby (Remy) and her mama (that's me, Kelsey!) At a loss, Rose dusted off her sewing machine and decided to make a custom wearable blanket in a pink and teal flamingo print for my daughter, Remy.
Funny timing of it was—I had been looking for wearable baby blankets and baby goods that were, well, less sucky. I was tired of the sweet, precious, and overly gendered prints typical of baby goods. I was tired of junky zippers and fabric that felt like it was chemically treated. I was looking for the perfect safe, breathable, quality wearable blankets and sheets that didn't leave Remy a sopping bucket of sweat during hot LA summer nights. So Rose's gift had the perfect timing and the exact impact she had intended: it was special AND useful.
With a ton of research, some pattern tweaks and a plan, we started MiliMili, to create bold and colorful nursery goods (in prints and fabrics you not so secretly will want for the rest of your home!).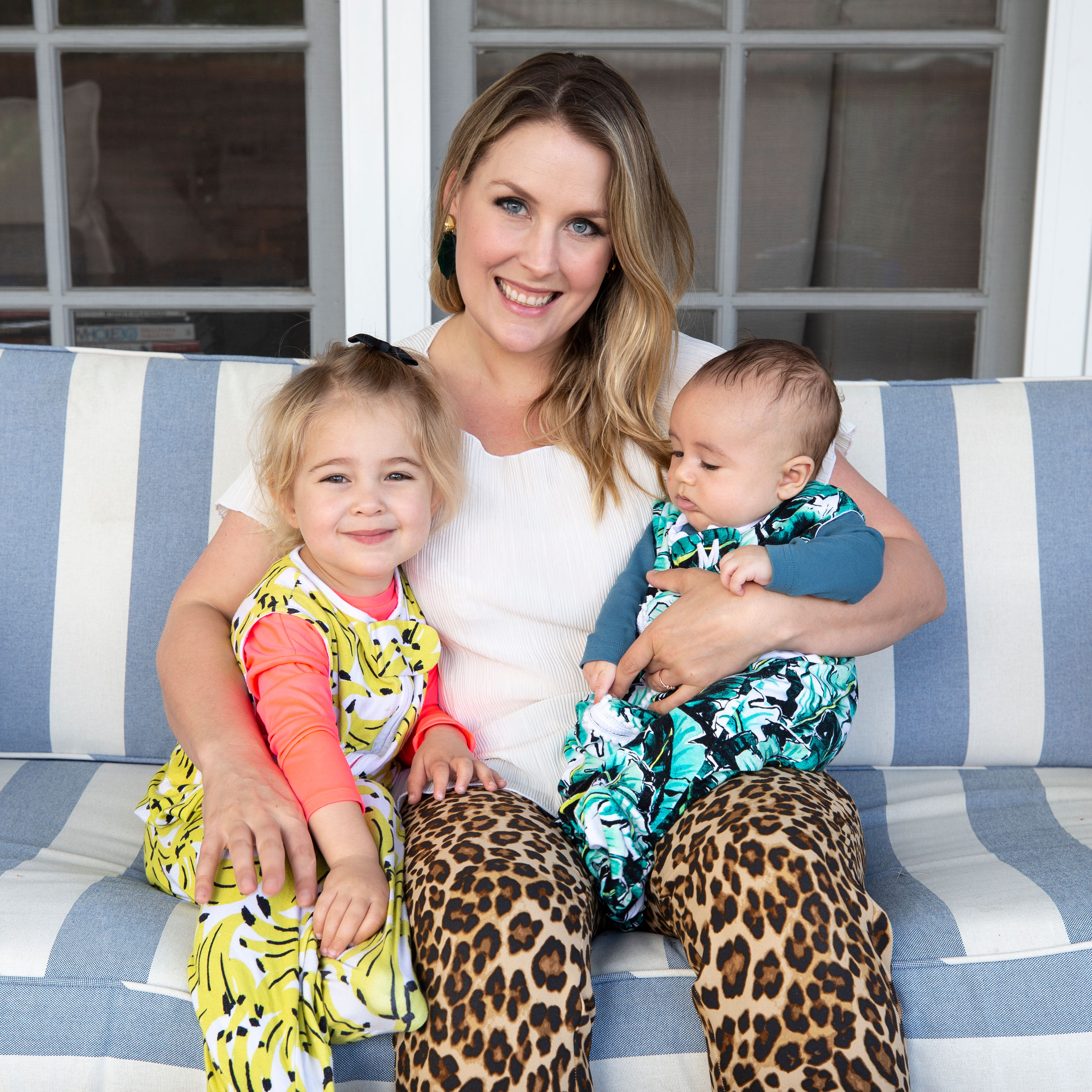 Momtastic: It's not easy to balance running a business with being a mom – any tips or tricks? 
Kelsey Searles: I definitely need to work on this balance as its hard for me to tune out of work to totally focus on my kids (there is so much to do!) but blocking out my time and keeping my phone away from me when I'm on parent duty (which is daily 7-8:30, and 4-7pm), helps a bunch. I also have the benefit of being able to incorporate my kids in my work. They are often MiliMili models and product testers, and they have made their fair share of visits with me to our production facilities here in Los Angeles.
What have been some of the biggest challenges when it comes to the business? 
Kelsey Searles: There have been two big ones we are constantly facing: one being finances. Product companies require a lot of capital to scale – and we need to continue to scale to improve our margins to have better budgets for advertising and to make the retail model make sense (we are currently predominantly B2C). We bootstrapped this business and so far haven't taken out any loans or outside investment – which has been great but we've hit a time where that needs to change so we're trying to figure out our best options in that area.
The other challenge has been production. Manufacturing goods is tough! You'd think you'd find a production facility that does the work well and you're good to go – but we babysit the whole process here in Los Angeles because there are often still errors that need to be fixed. Our standards are really high for our products and it's important to us that we provide the best possible goods for your babies.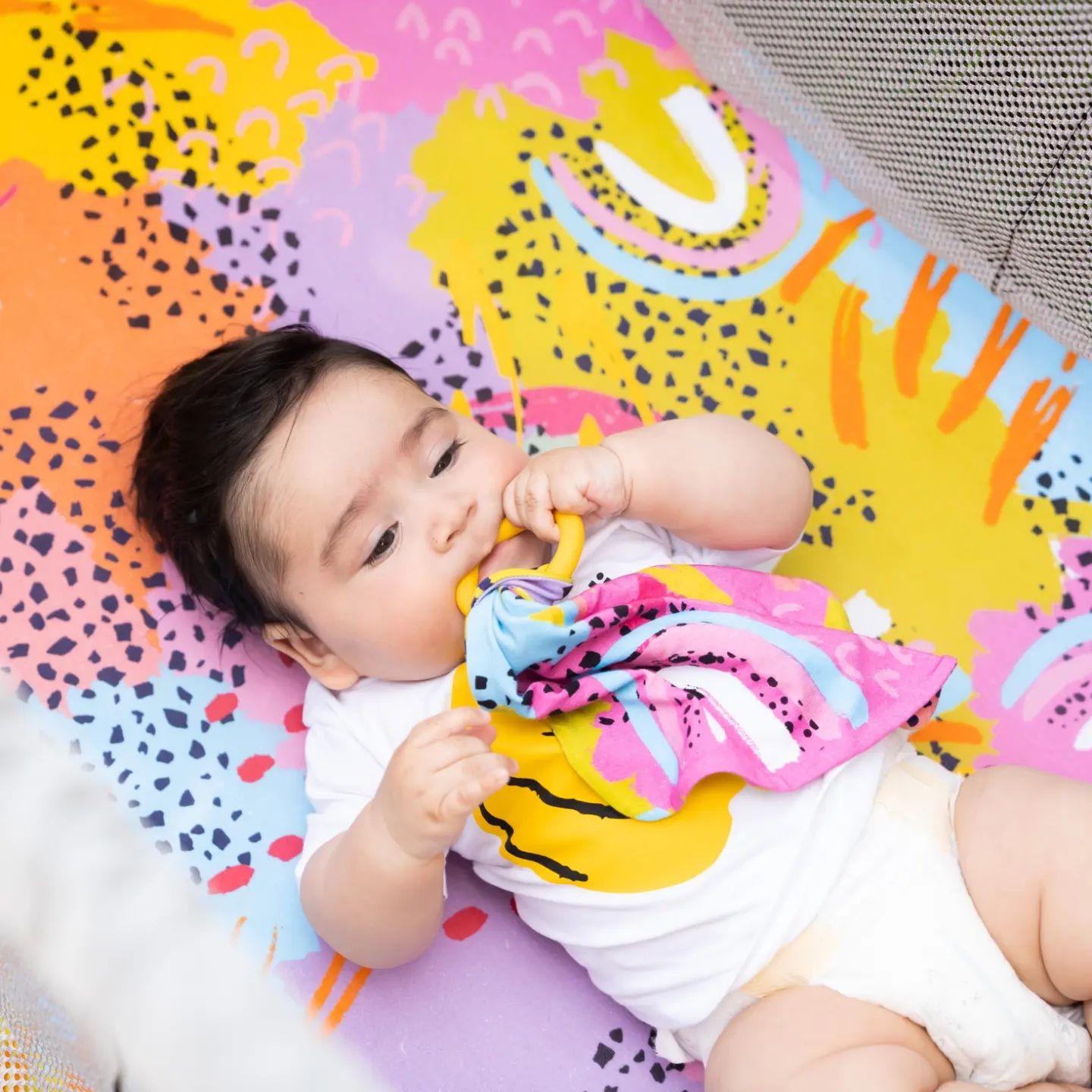 At any point did you think about giving up? If so, what kept you going? 
Kelsey Searles: So many times. Entrepreneurship is a roller coaster, and even though we've continued to grow each year and had some amazing wins, we are still running into walls all the time. Mix that with Covid and  kids who have been sick on and off all year (and my co-founder and I being the primary caregivers in our respective families when that happens)… well it's exhausting!
Last year in the spring we had an internal meeting, trying to decide what we should do as a company. Growth was happening, but not fast enough, and we were running out of internal steam. On the recommendation of a friend, I applied to the Target Accelerator program and was absolutely shocked and thrilled when we were accepted. It was the exact jump start and validation we needed to keep on going. And it was so incredibly fruitful – we fleshed out our 5-10 year plans, revised packaging, improved our customer profiles, and started to work on new supply chain solutions.
It was also around this time we were approached by Jesse Tyler Ferguson and his husband Justin Mikita to work on a collaboration collection that would benefit LGBTQIA+ rights.
So it's these huge wins that keep us going, even when we're being frustrated by production or supply chain issues or whatnot.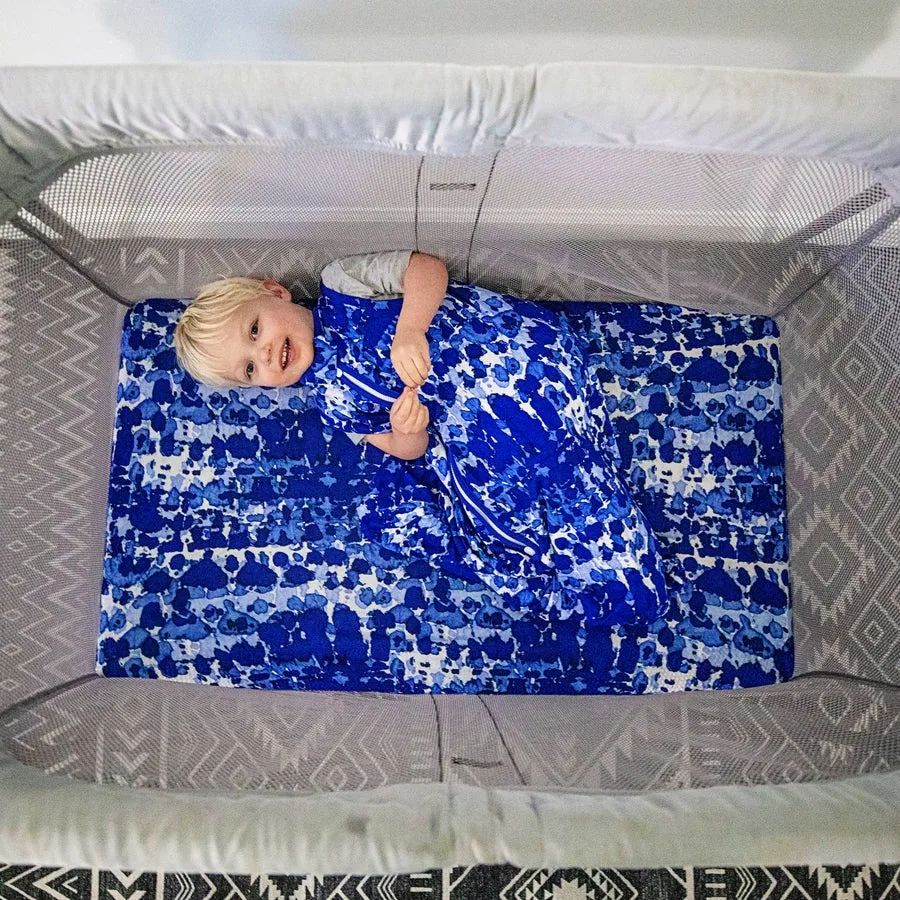 Can you tell us, in general, some of your favorite parenting must-have items? 
Kelsey Searles: I have so many, and most are from other mama-run brands!
The ToteSavvy was my diaper bag insert – I used it in all my favorite totes and it helped keep me organized and even had a little cooler pocket for milk! Tres Lunch Box plates – they are so cute, easy to clean, sustainable, and suction to the table to minimize spills.Plus they are run by an awesome mama from Texas!
The BabyBjorn Travel Crib – its great for travel and comfy and our Travel Crib Sheets fit it perfectly and make it so much more comfy and cool. Tubby Todd All Over Ointment – I'm not sure how, but this thing is a miracle cream. It clears up diaper rash, eczema, you name it.
Roll on Sunscreen – I used to exclusively use Project Sunscreen, but they aren't around anymore (incredibly sad about this) but I did some searching and other brands make them in roll on bottles too (I got a SunBum one recently, and I just reuse my old Project Sunscreen silicone tops on them to attach them to my bags). My kids LOVE rolling on sunscreen and it has made the whole 'getting sunscreen on' daily process so much easier.