People thought I was nuts to fly across the country to Mykonos – Greece's seaside party destination – with a 10 month old. But I did, and it was one of the best trips of my life. I flew with my parents and my husband and our hotel offered babysitting services so I figured worst case, I'd have a joker in my back pocket (but I didn't need it!).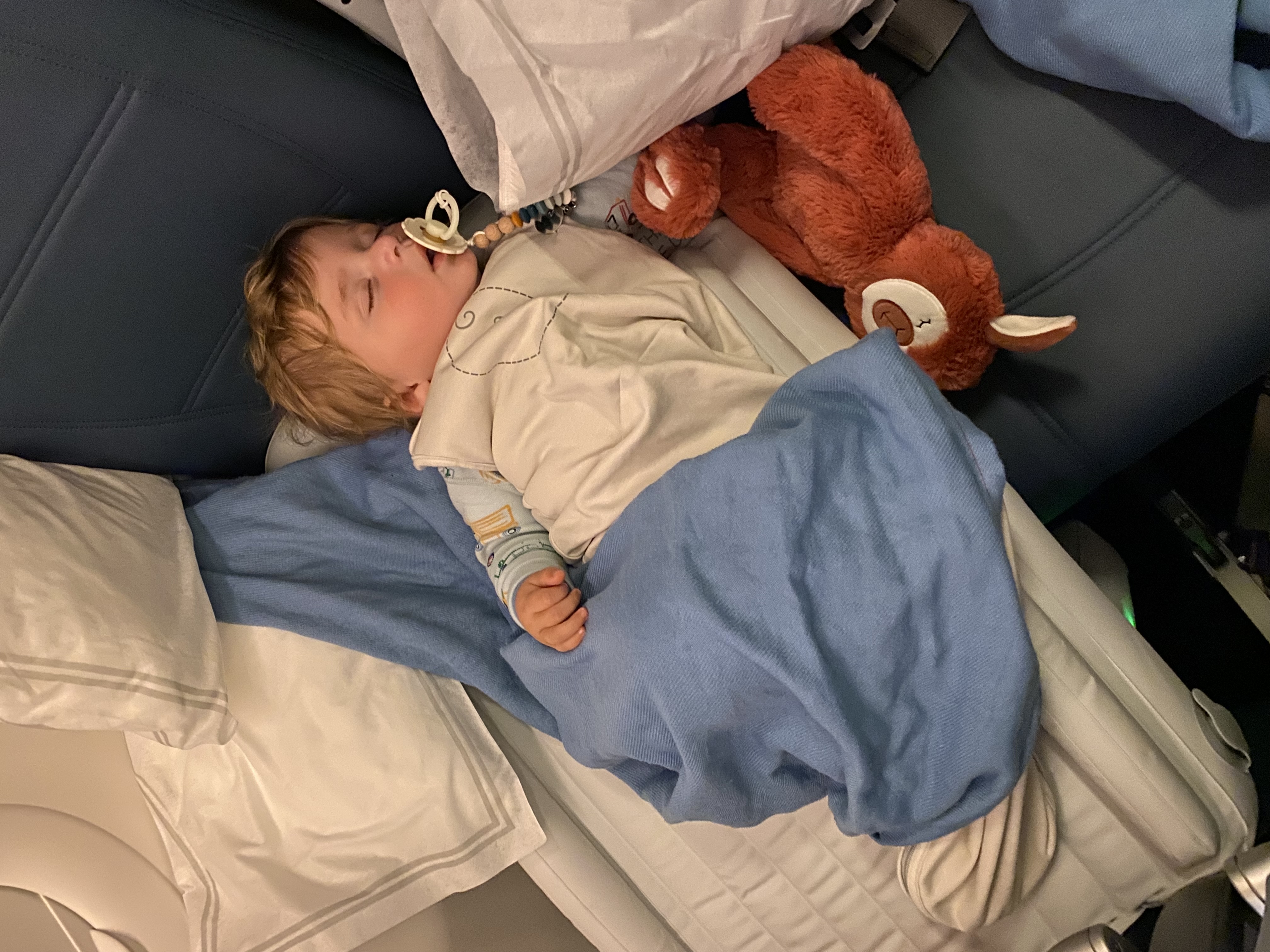 Thanks to Flyaway Kids Bed, the flight was about as breezy as it could get. Usually the back row by the bathrooms as well as one bulkhead area is saved for parents traveling with children, so as I have done with all flights I've done so far with my 10 month old… I took a risk and didn't book him a seat. I got a free one and set up the bed and he fell asleep soon after takeoff. The bed is amazing and something I've come to recommend to anyone traveling with a baby, toddler, young child, especially when alone or on a long flight. Just make sure whatever airline you're flying is on their approved list.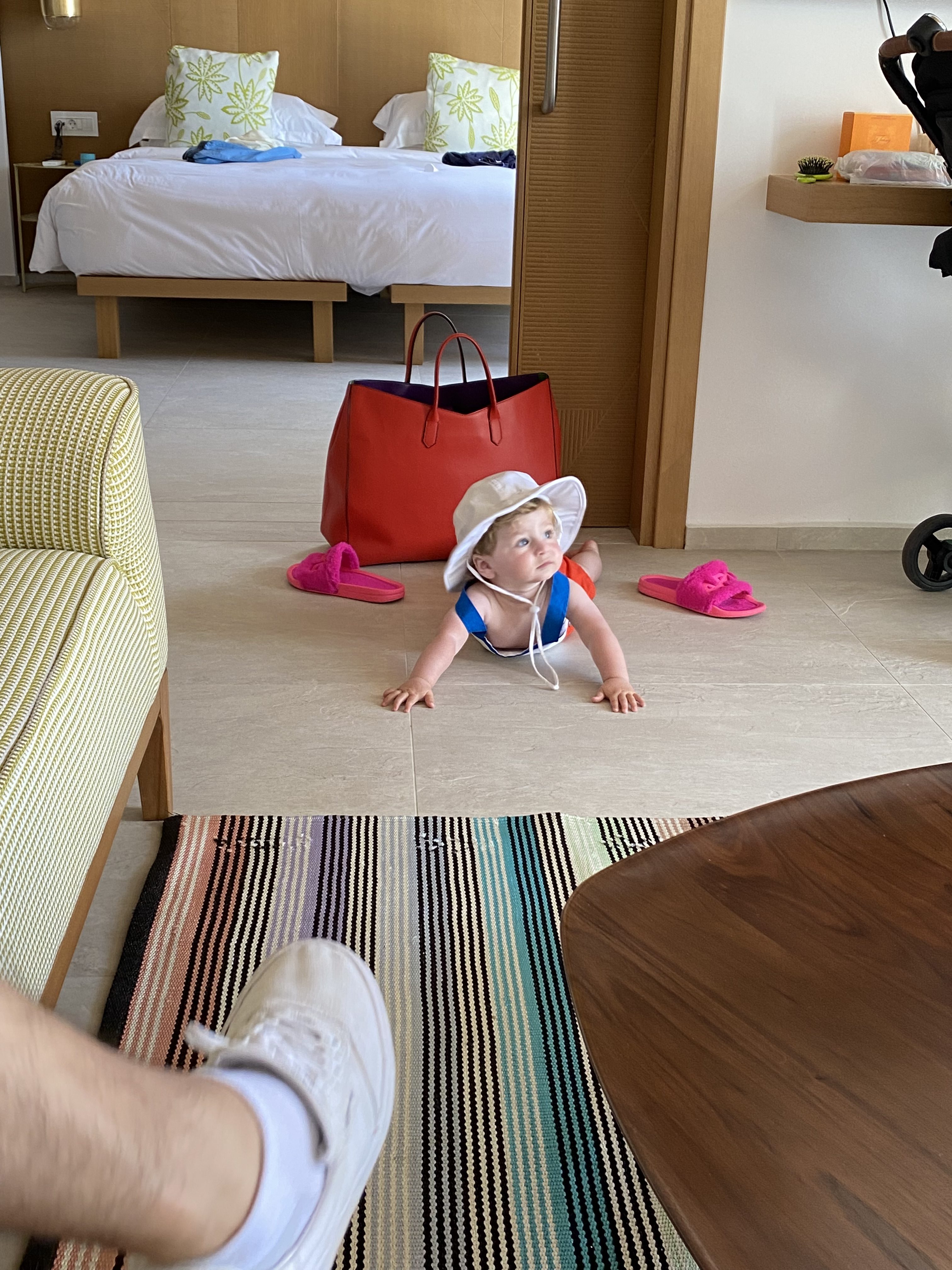 I remember from my pre-baby days that getting around Mykonos is very difficult. There are few cabs and it's very busy (i.e. traffic is nuts), so the best way is to rent an ATV – but with a baby and grandparents that wasn't happening, so we opted to stay at Myconian Korali, a beautiful 5-star hotel about 15 minutes walking from the town (or for 15 euros the hotel could organize a car ride as the walk is along traffic and do-able, but not that pleasant). We booked the rooms with AMEX Platinum, which gave us a free upgrade if available and luckily it was! Both my parents and my husband and I were upgraded from Junior Suite to a Two-Room Suite (we were lucky because we flew towards the beginning of June just as peak season was beginning…had we come just a few days later there is no way there would have been two free rooms for an upgrade).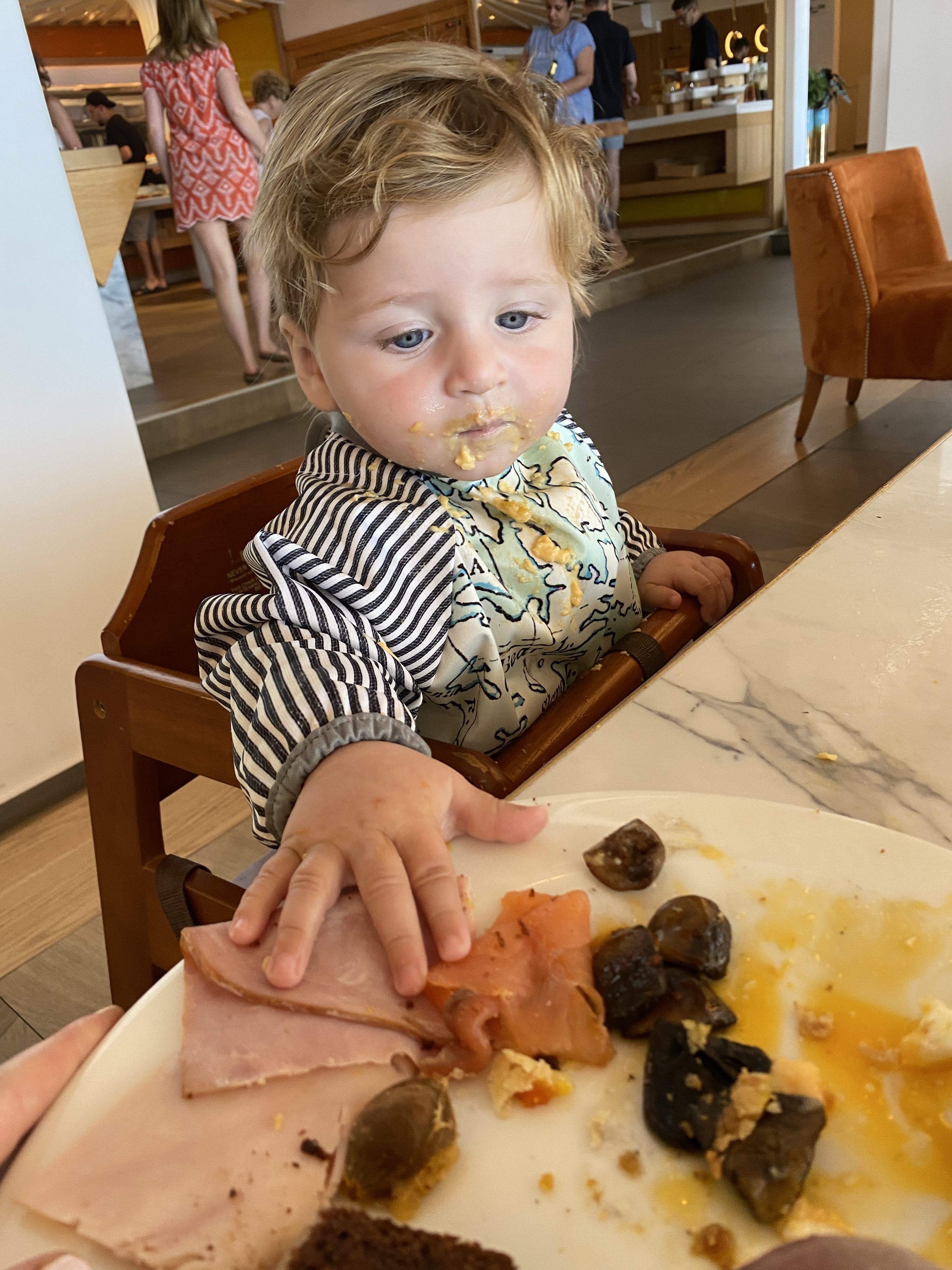 This two-room situation was perfect as it allowed my son to sleep and nap in peace just as he would at home. I tinkered with him naps a bit to lengthen his wake windows from 2.5-3.5 hours to 4 hours so that he could join us for our 7/8pm dinners. All of this magic is thanks to Taking Cara Babies. I can't recommend her sleep courses enough. They are the main reason I think that my son is so adaptable, making things like traveling to Mykonos for a week possible.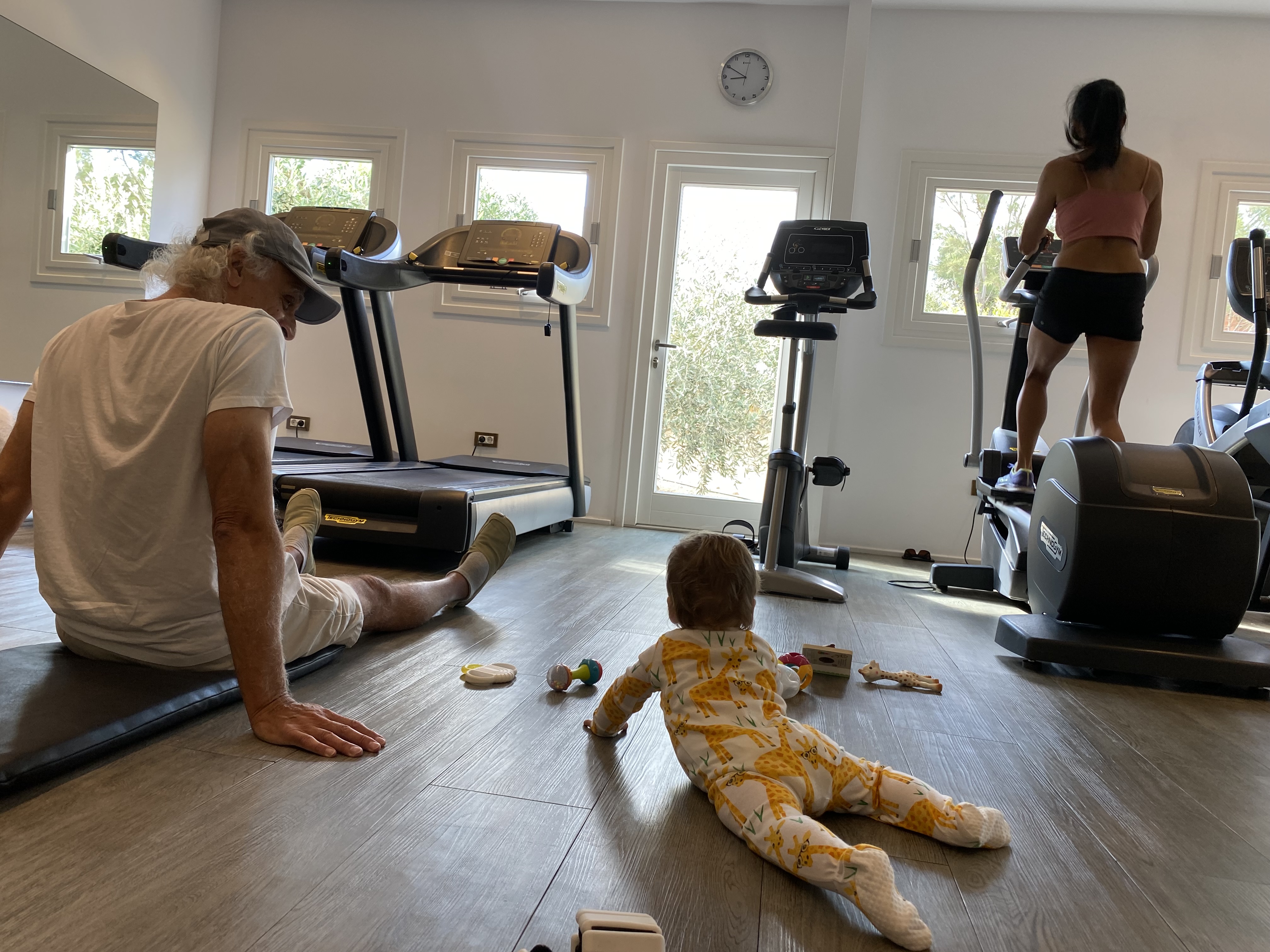 So what did we do all day? We started off at the gym. Above you can see my father and son – brining lots of toys was key. We then went to the buffet breakfast at the hotel. Then nap time (11am-1pm). Usually my son naps 2.5 hours after waking, but again I stretched the wake windows to 4 hours and because there was excitement everything worked perfectly. In the afternoon we went to the pool and then to town before nap #2 from 5 to 6pm. Dinners were at 7 or 8pm.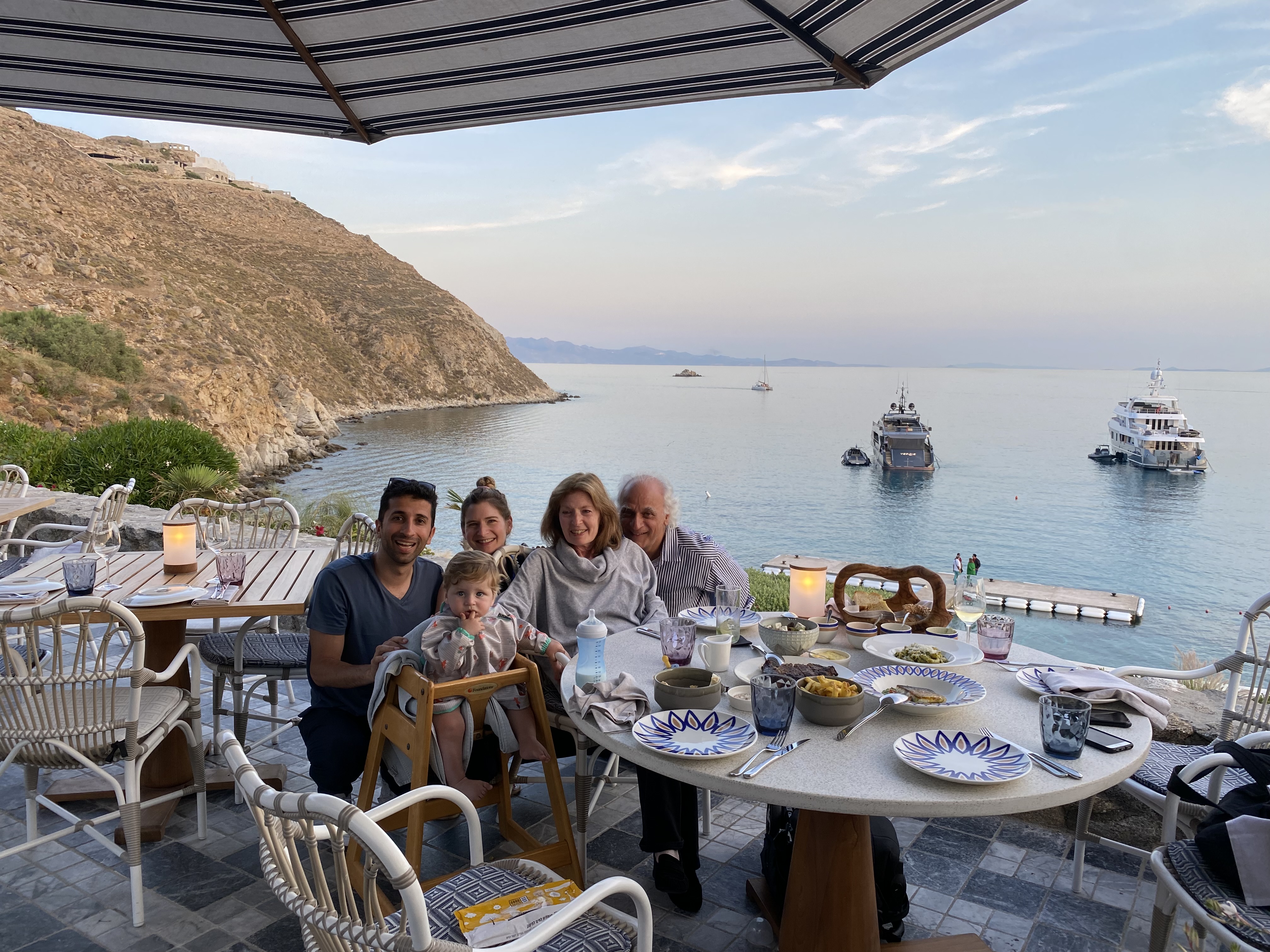 Unlike what you might think, people in Mykonos love babies. The staff everywhere we went were unbelievably friendly, even though we do BLW and there is food everywhere when my son eats. If there's one "must" when it comes to dining in Mykonos, it's Mykonos Social By Jason Atherton. The service, the views and the food (Atherton is a Michelin chef) are unforgettable.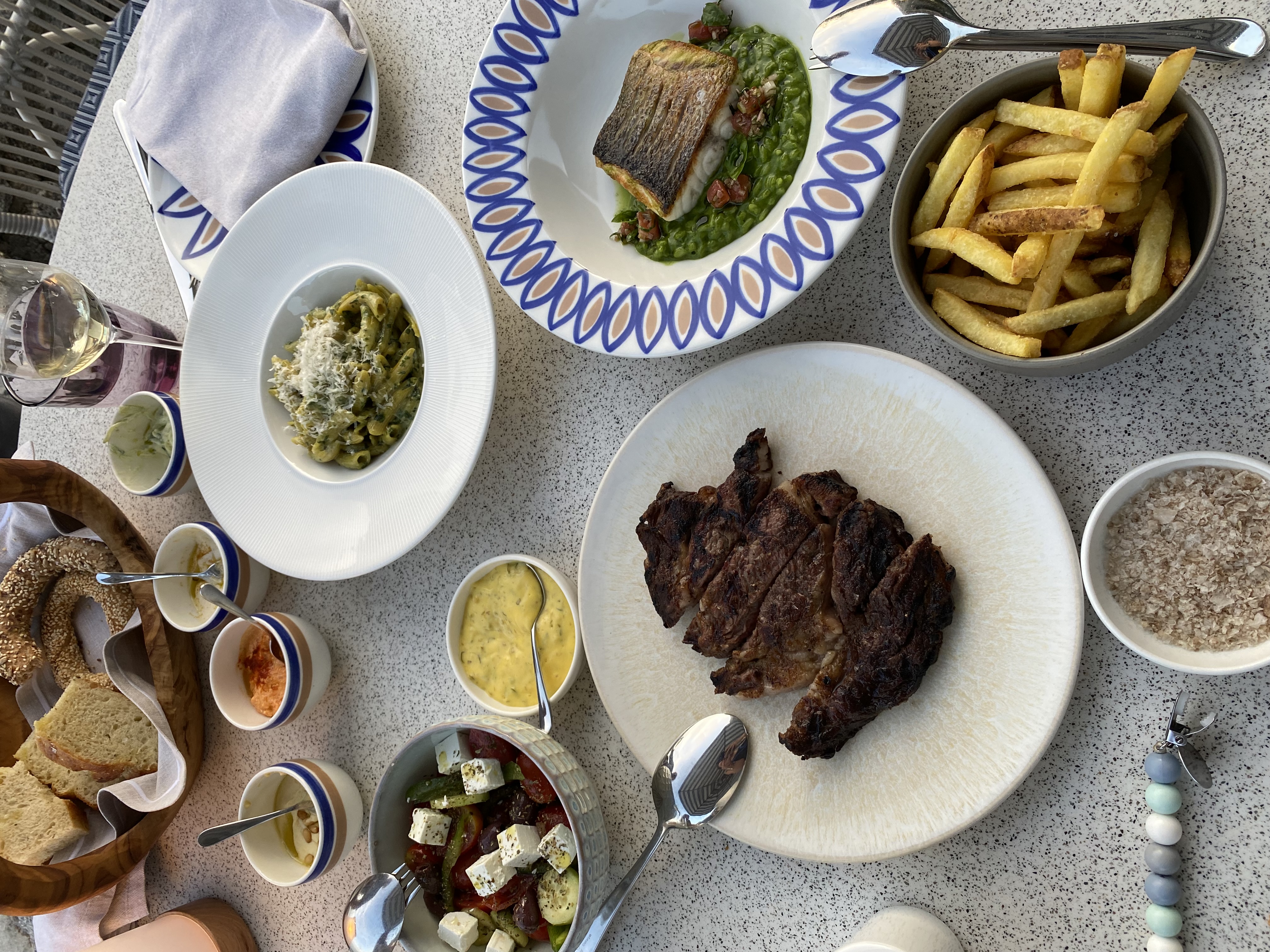 You can't go wrong with anything you order, but I recommend the bread basket with dips, the fish dishes and the dessert. It's a calm vibe with a beautiful setting and then, if you want, you can go to the downstairs area Buddha Bar for a post dinner drink (it's one of the top hot spots in Mykonos).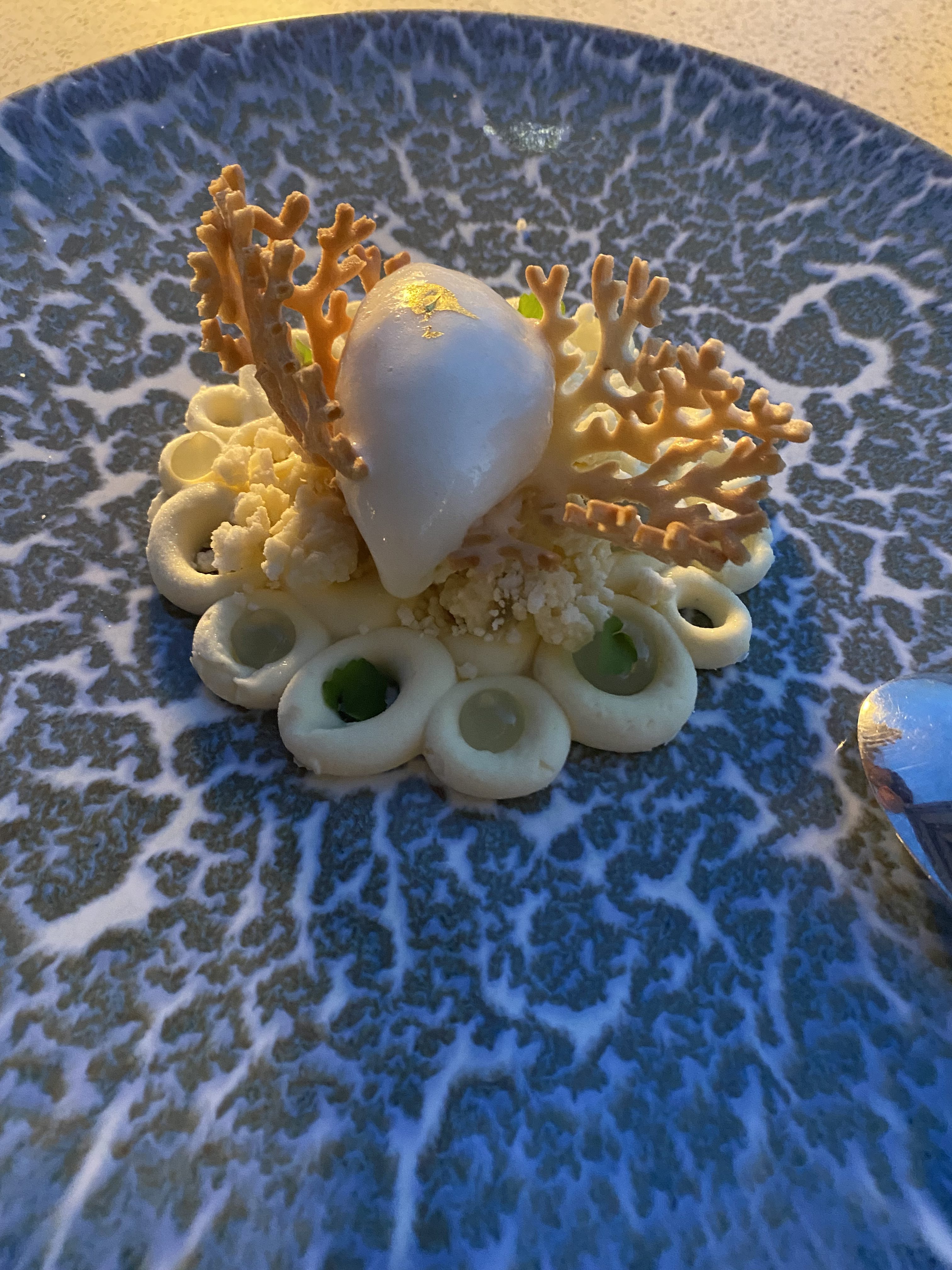 The best time to come here is around sunset, but like all sea-side restaurants if you're going towards to early or late parts of the season, bring a jacket as it can get windy.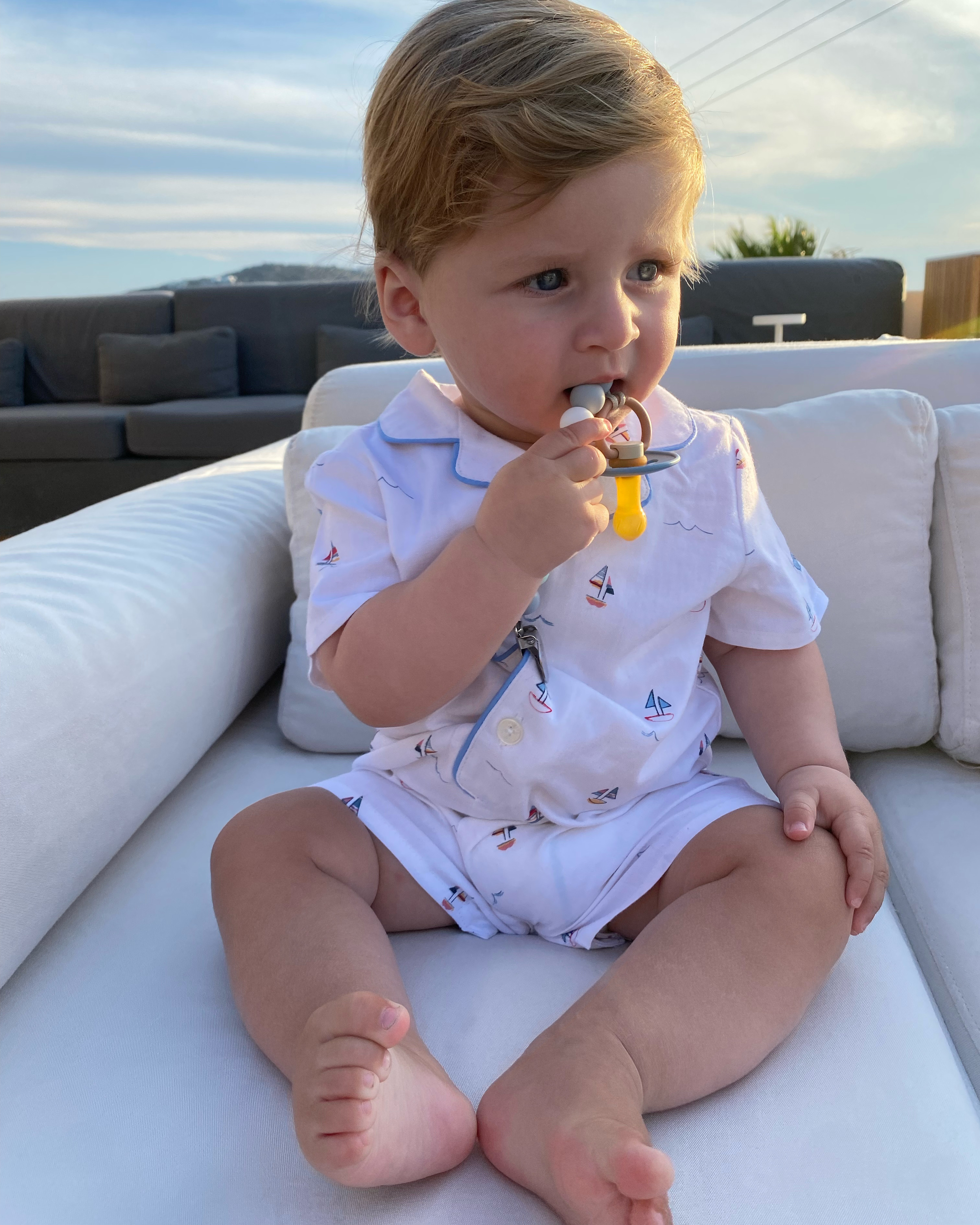 Another spot with great views, especially for a pre-dinner drink or small bite is the Sunset Lounge at Bill and Coo (also a great hotel option if you want to be in walking distance from town). It's located with sea views right by the hotel's stunning infinity pool. Above you can see my son at the lounge – I opted to put him in a Petite Plume PJ that is so beautifully made it works as RTW. I did this so that when we got back to the hotel I didn't need to change him for bed as I knew he would be very tired.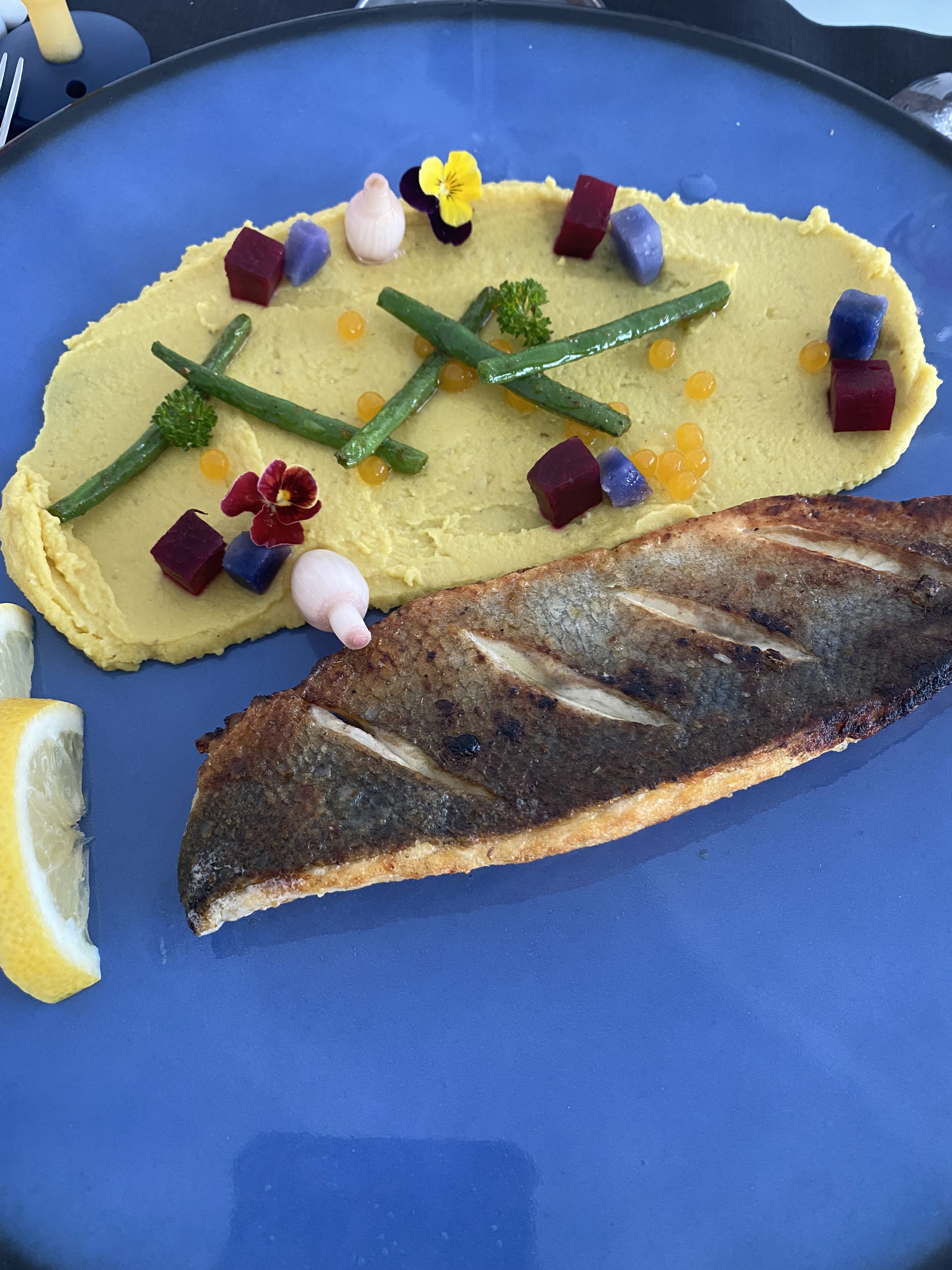 We also went to the VIP restaurant located at the Petasos Beach Hotel & Spa Mykonos. It's a somewhat unassuming spot located right on the water – stunning views – with some of the best food you'll find in Mykonos. The fish and meat were cooked to perfection. It doesn't get busy at night, so it's a great spot if you're feeling a bit self-conscious about your baby being loud/making a mess.