Drinking a bit more wine to get you through your self-quarantine? No judgement. And as the saying goes, "when life gives you lemons, make lemonade". Except in this case, the lemonade is a wine (and the wine cork crafts are just a bonus).
Crafting and wine are two things I enjoy, so wine cork crafts are a total win, in my opinion.
See, before the COVID-19 crisis, we would have a quarterly mom's night out. Just the moms. No kids. No husbands. We might have a bonfire or go to a restaurant. We relax, and inevitably, we pop open a bottle or two of wine to share with the group. Our children are all under the age of 9, so I have a feeling that when things return to normal, there will be lots of bottles in our future over the next 10 to 18 years. Needless to say, we have quite a collection of wine corks so we might as well start planning some fun, creative wine cork crafts to do with all those leftovers. Plus, we have all accumulated quite a collection over the past two weeks. Because, kids.
Looking for some creative wine cork crafts? These easy upcycling projects will make sure your vino toppers don't go to waste.
Like what you see? Don't forget to Pin it!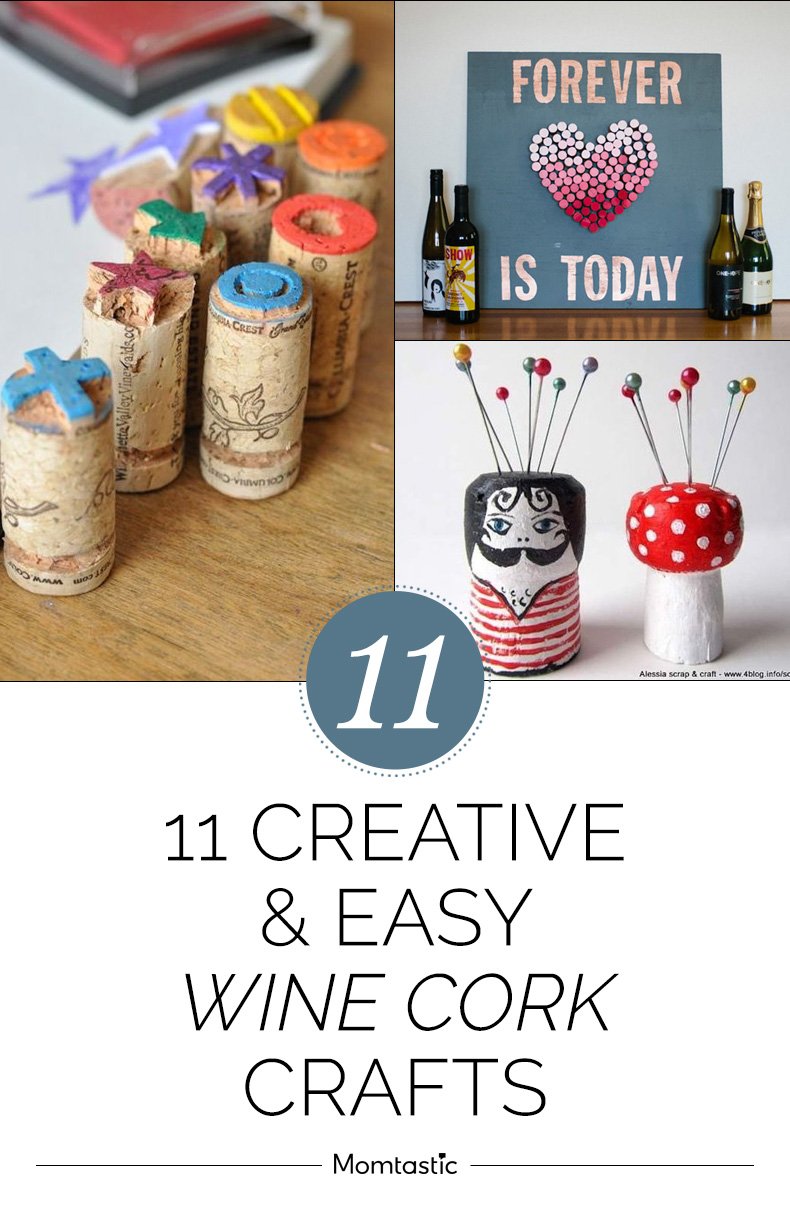 More Wine-Inspired Crafts:
12 Creative Wine Cork Crafts
Wine Cork Planters

Teeny succulents are right at home in teeny cork planters. Add a magnet, and you've got yourself a botanical garden on your fridge!



Photo + more info: Upcycle That

Wine Cork Bath Mat

This simple bath mat is perfect for a natural, minimalistic decor scheme. It ages well, and it mimics more expensive store-bought options at a fraction of the cost.

Photo + more info: Crafty Nest

Wine Cork Bulletin Board

Make this cork board the focal point of your family's command center. Post pics, grocery lists, and reminders for all too see.

Photo + more info: Everyday Dishes

Wine Cork State Wall Art

Get your DIY (and your drink) on by creating your favorite state or country template out of corks. 

Photo + more info: Brit & Co.

Wine Cork Stamps

Carve simple shapes into the end of corks to create cute stamps for kids to play with on a rainy day.

Photo + more info: This Heart of Mine

Wine Cork Ombre Heart Wall Art

Celebrate your union with this giant symbol of love. Such a fun and pretty detail to add for a wedding -- or even your home. I could see this hanging in my kitchen!

Photo + more info: Green Wedding Shoes

Wine Cork Angel Ornament

It's inevitable that you break a few ornaments each your decorating your tree. Get a jump start on replacements with an easy DIY cork angel ornament. 

Photo + more info: One Little Project

Wine Cork Pin Cushion

Put a pin in it. Seriously, these toadstool and tiny man corks are the perfect places to keep track of your loose pins. The instructions are in Italian, but you get the idea by simply looking at the photos.

Photo + more info: School of Scrap

Wine Cork Photo Display

Yay! You actually printed all of those pics filling up your camera phone. Now, you can also display them without breaking the bank on a million different picture frames. 

Photo + more info: Shutterbug Sage

Wine Cork Garden Labels

If you consider yourself a bit on the un-crafty side, this one is for you! Keep track of your garden contents with this easy 3-step (not including drinking the wine) project.

Photo + more info: Shine Your Light

Wine Cork Glass Labels

Sharing is caring, unless you're talking about germs from random strangers. Keep dibs on your wine glass with these simple DIY charms.

Photo + more info: Family Chic