Jetting off to St. Tropez or Capri probably isn't in the cards for most of us this summer, so let's all try for the next best thing – turning our backyard into an oasis for family fun.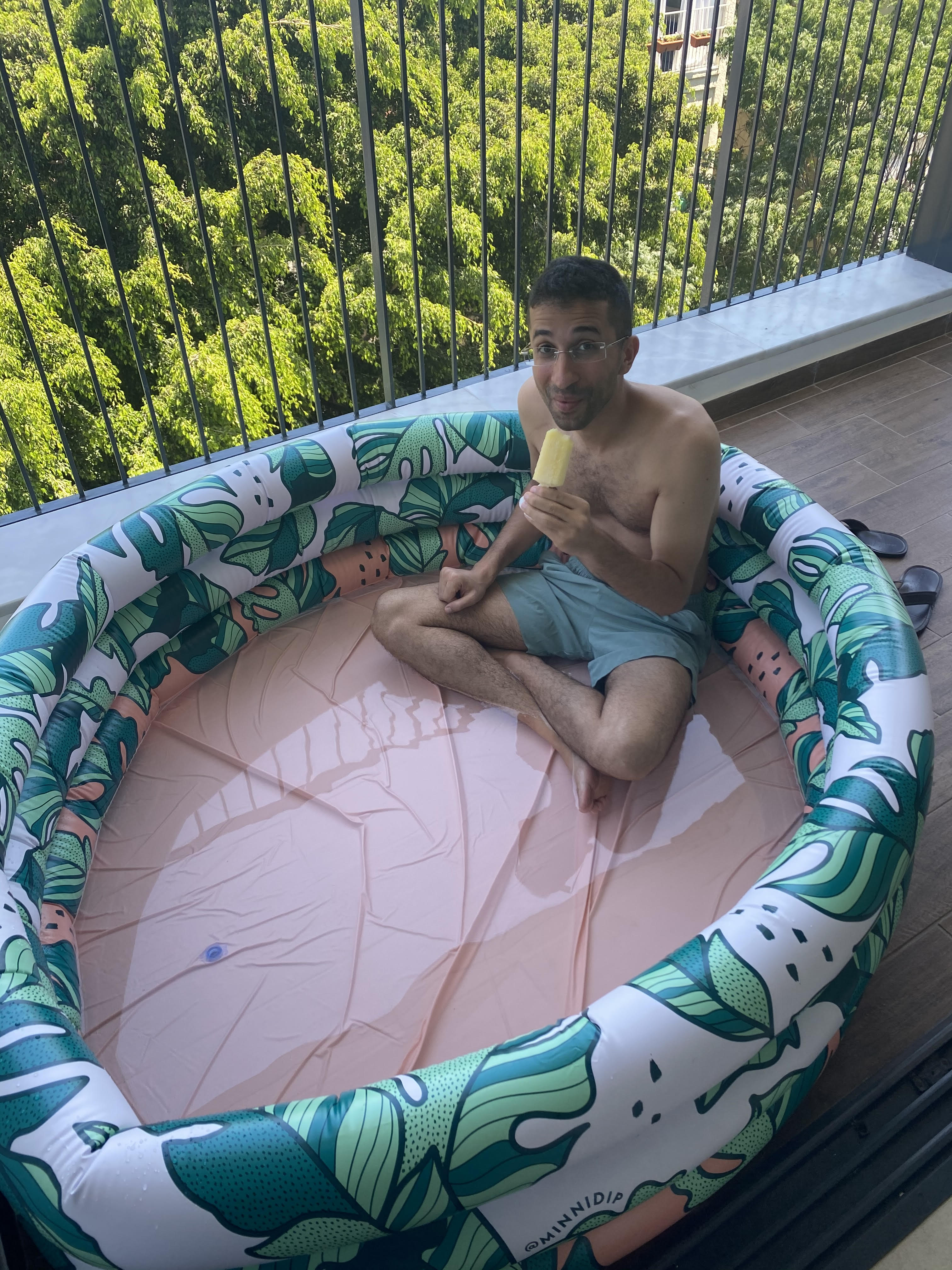 Only have a small space? No problem – see photo above!
We've rounded up amazing buys that the whole family will love. Many of them are also portable so you can easily take them to the beach or park.
Amp Up The Outdoor Fun With These Family-Friendly Summer Buys
MinnieDip The DiPP!T Ball Pit

Is this not the most stylish ball pit you've ever seen? And trust us, it looks even better in person. It's made from velvet vinyl! It comes with about 500 balls (many ball pits you see online don't actually come with balls) and you can pick the color of the actual pit as well as the balls. 

$199 at MinniDip

Radio Flyer Backyard Bouncer

You'll be the most popular house on the block with this bouncer! It has a rear door for easy entry, high walls and mesh netting for safety and room for three kids. 

$299.99 at Radio Flyer 

Funboy Rocketship Spinkler

This rocket comes equipped with four sprinklers to help kids cool down while having fun (without making much of a mess). Plus, it inflates in minutes. 

$69 at Funboy 

Funbaby Private Jet Float

This "Private Jet" features a steering wheel with an integrated horn for added sensory play in the water. It's part of an adorable new Funboy collection called "Funbaby."

$49 at Funboy

Little Tikes Cozy Coupe Inflatable Pool Float

Who didn't have one of these for outside when they were a kid? It was a staple for anyone who was born in the 80s or 90s! Now the signature red and yellow car gets an inflatable twist. 

$24.99 at Leslie's Pool

Team Magnus Devilfish Slip & Slide

Slip & Slide is a classic for a reason... it never gets old! This one from Team Magnus is especially great because it features two lanes (race your little one), a built-in sprinkler system and crash pad made from high-quality material that is 38% thicker than the average slip-n-slide to ensure that there are no leaks or tears.

$94 at Team Magnus

Radio Flyer Tumble Town Foam Blocks

Foster imaginative play with this lightweight 6-piece set that includes two triangle blocks, a square block, a half-circle block, a rectangle block and a cylinder block that children as young as nine months will love. 

$149.99 at Radio Flyer 

Doona Liki Trike

This is the must-have kids item for being out and about this summer. It's beloved by pretty much every celebrity you can think of (and as we know they can get their hands on anything...) because every kid that gets on this trike is gleefully happy. It's also easy to store and will grow with your child - it works for kids 10 months to 36 months. 

$249.99-$349.99 at Shop Doona

Minnidip Palm Leaf Splash Pad Sprinkler

Easy to set up, this splash pad is a great way to cool down when the warm weather hits. 

$31.99 at Target

Team Magnus Water Gun Incog

If you've got the space for it, these water guns have a 32 foot reach that your kids will love. 

$24 at Team Magnus

Sandy Bumz

This outdoor ground cover is perfect for the beach, park or a picnic. It's easy to pack and store and made from water-resistant material. 

$29 at My Sandy Bumz

NSG Deluxe Bow and Arrow Set for Kids

Bring Summer camp to your backyard with this kid-friendly archery set.

$39.99 at Amazon

WOWMAZING Giant Bubble Powder Kit

What sets this giant bubble wands apart? It has a two-handle design, which has supposedly been used to set every big bubble world record in the last 30 years.

$15.95 at Amazon

Funboy x Malibu Barbie Golf Float

Older kids will love this made-for-Instagram float. 

$129 at Funboy

Hog Wild Birdie Golf Set

This set includes two clubs, four birdie balls, a flag and a caddy pack. If someone in the family is a golfer, this is such a fun bonding toy. 

$39.49 at Target

Sky Nook

Attach this nook, which comes with a pillow seat, to a tree branch outside to encourage peaceful reading (we can all dream, right?) - it may look like it's easy to fall out, but it's not. 

$39.95 at Fat Brain Toys