Evite just contacted everyone in my daughter's preschool class to remind them about her 5th birthday party. Oops. Looks like amid all the homeschooling, short order cooking, Zoom meetings and toilet paper hoarding, I forgot to cancel the event.
Not only had we already put down the deposit on a venue, ordered a cake and secured the RSVPs, but we had amassed the party favor bags, including 27 stuffed raccoons (long story). With this socially un-distant affair impossible during COVID-19 and a birthday still to celebrate, I had to pivot quickly.
Celebrating my daughter's 5th birthday at home with none of her closest friends wasn't what I had in mind, but I was determined to make the best of it. I didn't want her looking back on turning 5 with anything but joy.  Here's how we handled it: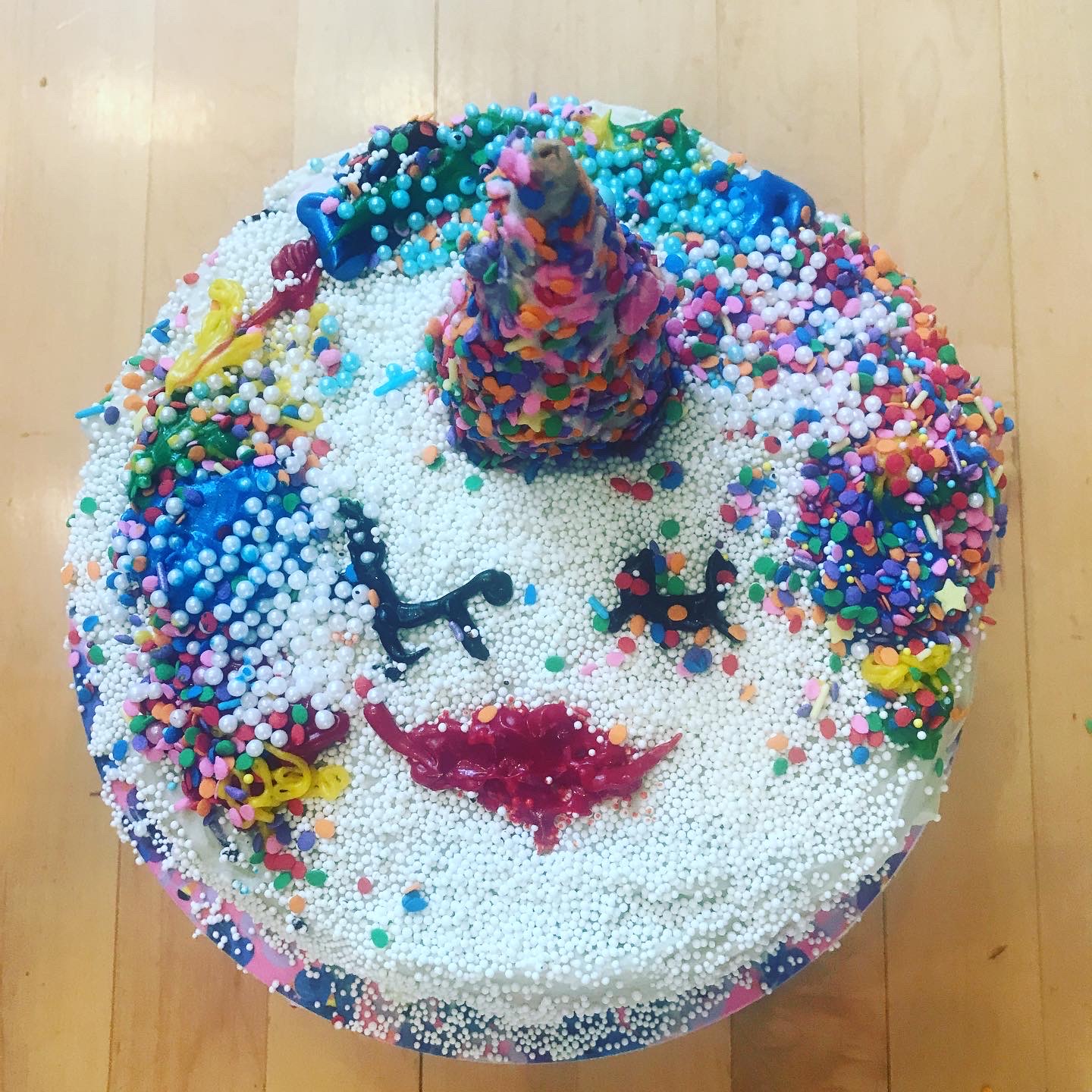 The Cake
I enlisted the help of my 9-year-old who loves to bake. With nothing but time on our hands, I okayed her dream project: a six-layer rainbow sprinkle cake decorated to look like a unicorn. That's one of the silver linings of self-quarantine–everything has slowed way down. With nowhere to be at no particular time, we can spend a whole day destroying the kitchen together.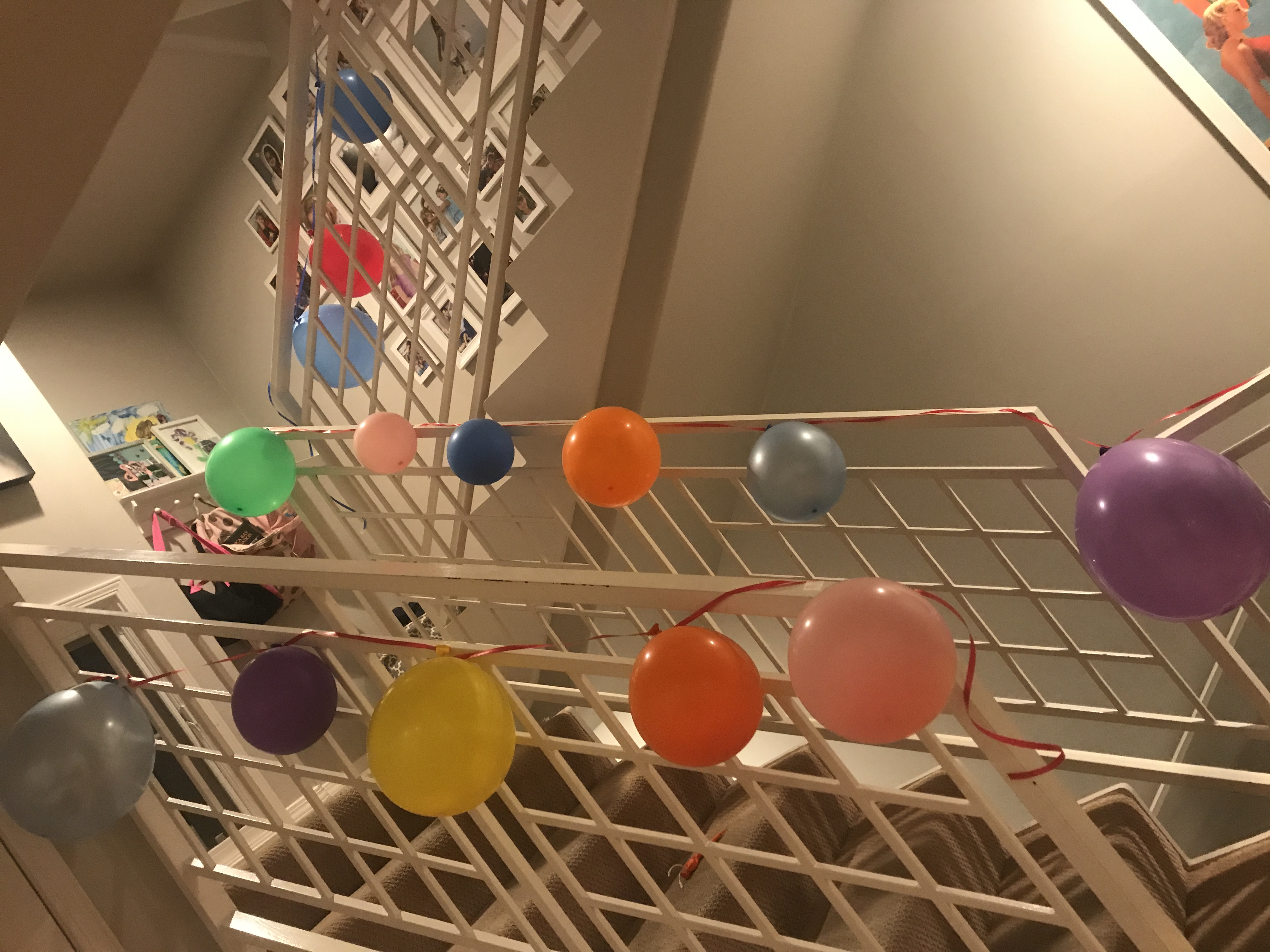 The Decorations
Without any party stores open, I had to make do with what we had, and that did not include a helium tank. While the birthday girl was sleeping, we blew up about 50 balloons with, you know, air and arranged them in rainbows all the way down the stairs and across the living room, creating a bright and beautiful start to her birthday. Plus, my kids can never get enough of playing balloon catch, so there's a built-in game afterwards.
At breakfast (French toast), I used every leftover party supply in the cabinet and the result was a funny mashup up years past: Peppa Pig plates plus panda cups plus unicorn napkins, like a Party City exploded in my living room.
The Presents
Luckily, I had bought and wrapped most of her gifts before the stay-home orders went into effect.  Given the circumstances, I added some extra time-consuming activities (crafts, puzzles, coloring books) to her haul–thank you, Amazon.
To create an activity out of opening presents, we designed a scavenger hunt with rhyming clues, such as:
Where are those shoes that gave you a blister?
That's where you'll find a present from your sister!
(Hid gift in shoe bin near door.)
Where do we keep eggs by the dozens?
That's where you'll find the gifts from your cousins!
(Hid gifts in fridge.)
You love to read because it's fun–there's  a present on a bookshelf if you can figure out which one!
(Hid gift in one of four possible bookshelves–somehow she found it immediately.)
Friends & Family
An older kid would probably appreciate a virtual b-day party on Zoom, but my little one gets thrown off by too many talking heads. Instead, we FaceTimed and swapped video messages with some of her favorite folks. She could never hear the Happy Birthday song enough times.
Our neighbors surprised us by decorating the outside of our home with signs and birthday messages, and other friends stopped by to sing live–from a safe, 6-foot distance. I was blown away by their kind gestures. I do think this strange situation is bringing our community closer.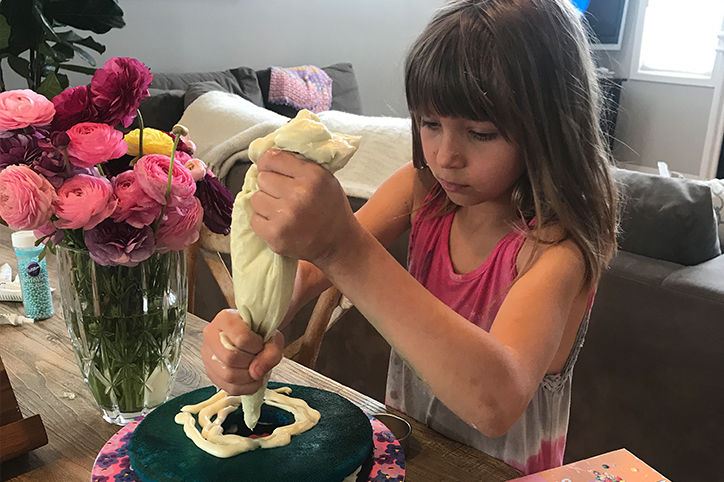 And all the rest
It goes without saying that we let the birthday girl pick the movie that night (Frozen 2–again) and we played with every new toy. Even though we couldn't have the party we'd planned, I think she felt special. And we'll never forget how we celebrated her 5th birthday…in quarantine.
More Birthday Party Ideas: