The kids will never know this bliss balls recipe is full of veggies. Pop one or two in the lunch box for a nutrition packed recess pick-me-up. The dates and vanilla paste give the balls a rich sweetness without having to add any extra sugar.
After you've made these a few times try adding a little more carrot and a little zucchini too. You can freeze this recipe for up to a month, so try doubling the recipe so you always have plenty of tasty treats on hand.
This is how easy it is to make these bliss balls:
Carrot Cake Bliss Balls
Prep Time:
Cook time: 0 
Servings: 20
Ingredients:
10 Medjool dates, pitted
1 cup desiccated coconut
1 cup oats
1 large carrot, grated
½ tsp vanilla paste, powder or essence
½ tsp cinnamon
Pinch ground nutmeg and cloves (optional)
30g pecans, ground (optional)
Instructions:
Step 1: In a food processor, combine all ingredients except the pecans. You want to pulse the mixture so it comes together slowly.
Step 2: Check the mixture along the way and when it can hold together easily, you're ready to roll.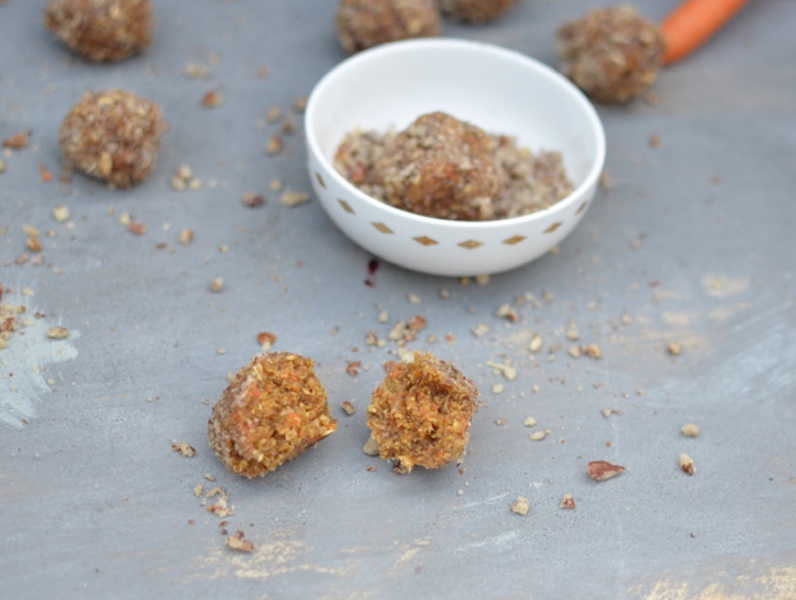 Step 3: Pop the ground pecans in a separate bowl (if you're using them) and start rolling spoonfuls of the carrot cake mixture into balls before rolling in the pecans (if you want to use them). Store in the fridge or freezer, ready for the kids to enjoy.
More top ideas for the lunch box:
Images: Stacey Clare