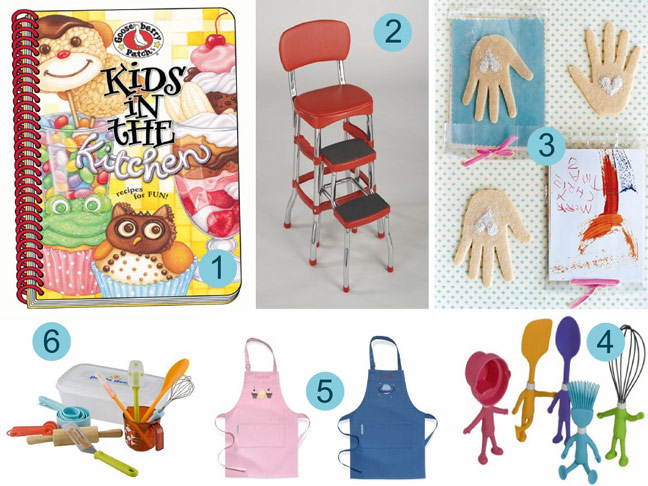 Get kids involved in the kitchen with these fun, just-for-kids goodies.  Your little helper will love to mix, stir, and measure right alongside you!
1.  Kid-friendly cookbook from Gooseberry Patch
2.  Retro stool from Step Stool Universe
3.  Hand cookies from Martha Stewart
5.  Personalized aprons from Williams-Sonoma
Good eating habits start young.  And by letting kids help with cooking from an early age, you'll spark their interest in food, how it's made, where it comes from, and instill within them the satisfaction that comes from making a meal.  The key is to make it fun, and with these tools and projects, you'll be able to do just that!  Start by getting them up to counter-height with a stepstool or sturdy chair, and giving them their very own personalized apron to wear while helping.  Kids-only measuring sets and utensils fit into their small hands and make it easy for them to help with meal prep.  Easy and fun recipes are everywhere; make sure to find ones that are appropriate for their age and don't involve too much work, so that you keep their interest to a maximum and frustration level to a minimum.  You'll have a foodie for life!