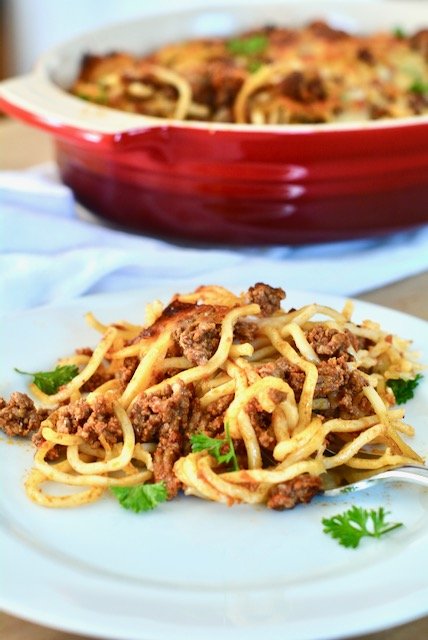 Introducing a spaghetti bake that is next level. 
In my household, September is always a bit of circus because I have to get myself back into quick weeknight dinner mode. During the summer we have the luxury of eating dinner late, but come the fall season we are back on a tight schedule and the kids are hungry earlier. One of our go-to dinners is a spaghetti bake. With melted cheese, ground meat and tomato sauce, it's a delicious make-ahead meal you can freeze. But I recently decided to take things next level and add some taco seasoning to the mix.
My kids love this taco spaghetti bake because it's like their favorite taco dinner and spaghetti meal have joined forces to create the best dish ever. I like it because I can easily bake it beforehand and reheat it as necessary. I can also assemble it and bake it fresh if that's easier. Either way there is no wrong way to do it!
Follow my easy recipe below to make your own easy taco spaghetti bake. Throw together a salad and some garlic bread you have an amazing dinner ready to go in less than an hour.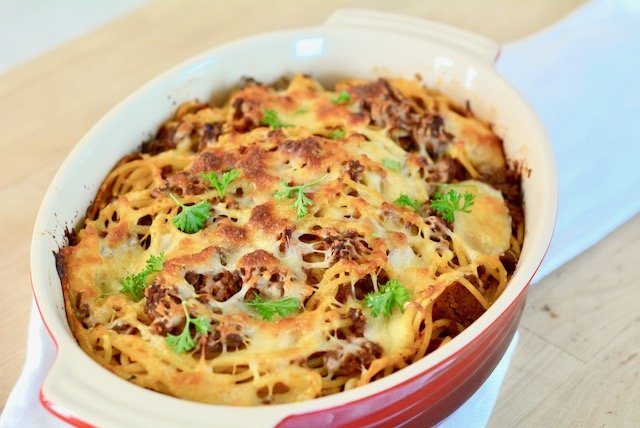 One-Pot Taco Spaghetti Bake