Baby shower games are great, but baby shower prizes are even better. I mean, who doesn't want to win something fabulous after a little fun competition? There are so many ways to get creative with baby shower prizes, too. I love when they're tailored to fit the baby shower theme or color palette. Tiny details such as custom labels, gold lettering, and hand-selected flavors or scents are the little touches that make any prize recipient feel truly appreciated. It shows some thought went into the gift.
Ready to find some cool stuff to impress your baby shower guests? I've rounded up 10 unbeatable baby shower game prizes that everyone will want to win.
Like what you see? Don't forget to Pin it!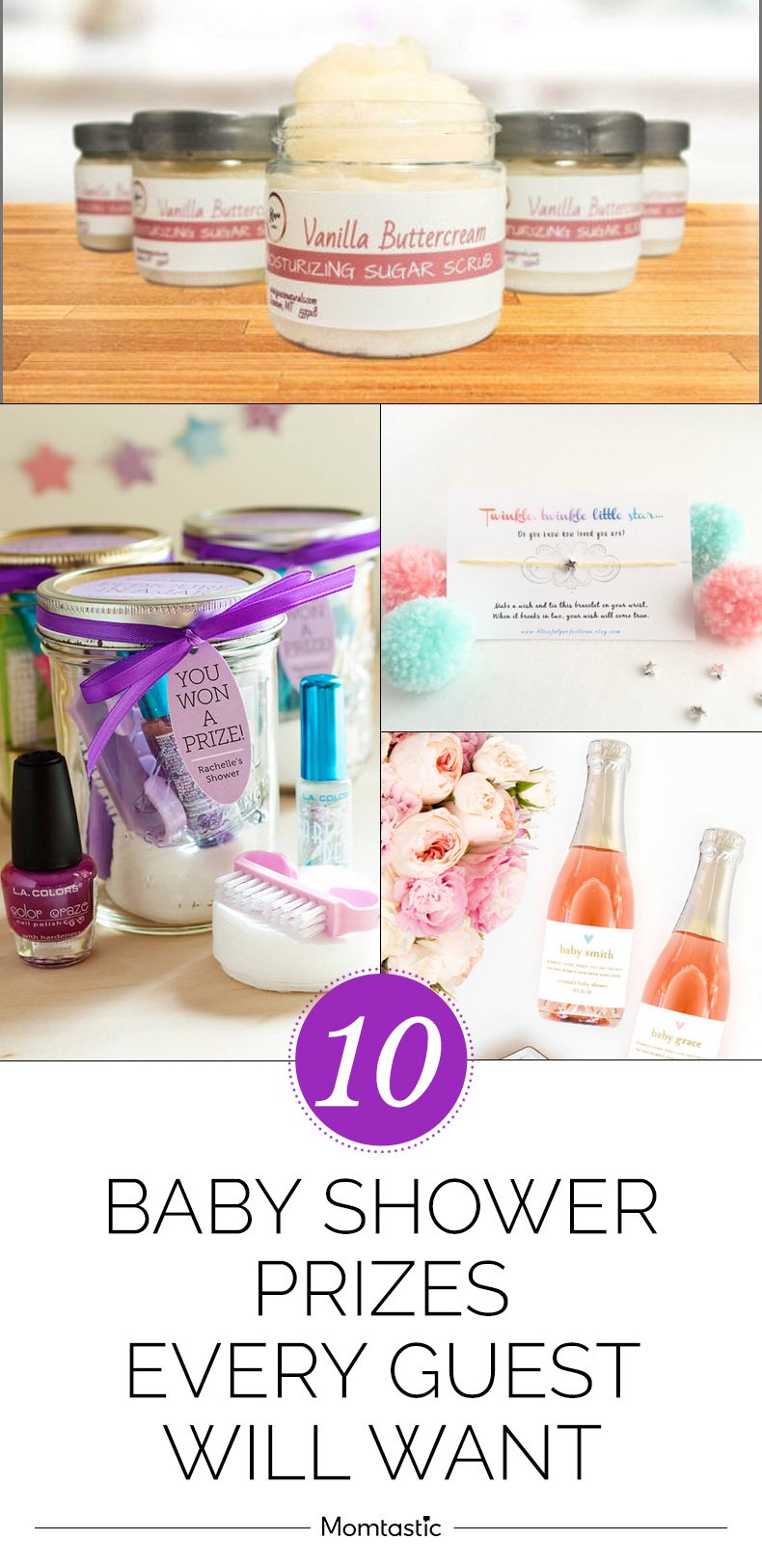 10 Unbeatable Baby Shower Prizes
Mani-Pedi Gift Set

A mason jar filled with pampering products. Your guests will ooh and ahh for these nail care goodies.

Source: Baby Care

Mini Champagne Bottles

Baby shower game winners will love to pop their mini bottle of champagne when the mom-to-be pops.

Source: Label with Love

Wish Bracelets

Your wee one is surely a wish you've been waiting for, so give your guests these wish bracelet prizes and the chance to get their wishes granted, too.

Source: Blissful Perfections

Vanilla Buttercream Sugar Scrub

Aloe vera, shea butter, and sweet almond oil team up with a slew of other moisturizing oils to create a luscious, giftable body scrub.

Source: Gracie Naturals

Soy Candles

These candles come in fun scents, like champagne strawberry, vanilla nectarine, and white tea ginger along with a custom baby shower label.

Source: Lulu Sugar

Onesie Iced Sugar Cookies

Guests will give each game their all when they find out these deliciously adorable onesie cookies are the baby shower prize they will win.

Source: Holly Fox Cookies

Succulent Watch Me Grown Gift Tags

Little succulents make pretty baby shower prizes that your guests will be happy to take home.

Source: Borden Specifics

Personalized Hair Ties

Customized gold lettering adds a fancy touch to inexpensive hair ties. Winners are sure to appreciate this useful baby shower game prize.

Source: Love Mia Co.

Coco Chanel Inspired Flowers

Create a Chanel no. 5-inspired label to adhere to a small potted flower. Its pretty blooms will cheer up the recipients for years to come.

Source: Kara's Party Ideas

Mini Shower Gel Gifts

Baby shower guests deserve a little pampering in a shower of their own. These mini custom shower gel gifts fit the bill.

Source: Freshly Cut Crafts