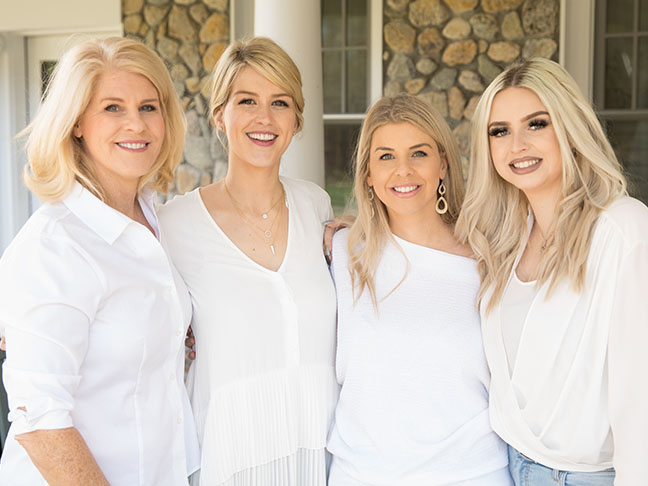 March is National Women's History Month, a month dedicated to celebrating the achievements and contributions women have made to society. For an entire thirty-one days, we highlight and salute women who are making strides and shattering norms. This Women's History Month, we're taking a look at some everyday moms who inspire us. They are truly powerful, motivated, and admirable women who have made their mark in various fields. Enter Rose McInerney, founder & CEO of WomanScape, an artful storytelling platform that entertains and inspires provocative insight about women who light up the world.
How do you define motherhood?
Motherhood is less about the biology of being a mother than it is about the nurturing qualities that we provide to our kids. The most important aspects of motherhood for me include providing a loving and guiding role in my children's development.
What superpower do you bring to motherhood?
I'd like to say my superpower is wisdom or knowledge but truthfully, it is having the strength and the tenacity to do my best every day. Parenting is the toughest job in the world. When my children were very young, I wanted to be joyful during every stage of growth even when it was tough. Raising kids that feel happy, loved and able to share their gifts with the world was number one!
What makes you do a better job at mothering?
Having support and the opportunity to share my mothering challenges with my spouse and other parents is super important. It's a tough world and there are so many distractions and ways to lose sight of what really matters. When I am tempted to look too far ahead or to look behind and question how well I've done, I stop and try to look within. Anything is possible, today.
What's your funniest mom story?
There are so many funny-mom stories but I like this one because every mother can identify with it. One Friday when I was racing to pick up two of my kids up from daycare, I rushed in to pay the babysitter. After I apologized profusely and paying her, I placed my wallet on the roof of my car so I could buckle them into their car seats. I drove off not giving my wallet another thought until I arrived home to a phone call from the police. Apparently, a bus driver whose route went right by a police station had seen my wallet lying in the middle of the street. He stopped to pick it up and took the time to leave it at the station. I never forgot the kindness of strangers and try to slow down, especially when I'm frazzled. We all make mistakes and life always has a way of working out.
What special project are you working on now (not mom related)?
My special project and my advice are one in the same. Two years ago, I started an online storytelling platform for women at WomenScape.com. Having been a high school English teacher, a strategic management consultant and a stay-at-home mom, I was passionate about reading, writing and art. But I never thought I could create a business around these passions.
Now that my kids are older, I am following my heart. I meet fascinating women every day and have started to give speeches while writing a book. WomanScape connects women making history in the past to women making history today. We have so much to learn from each other and when we revisit the past, we are better equipped to support from each other today.
Head on over to Womanscape.com to learn about more inspiring women who are changing the world.
More Inspiring Women: