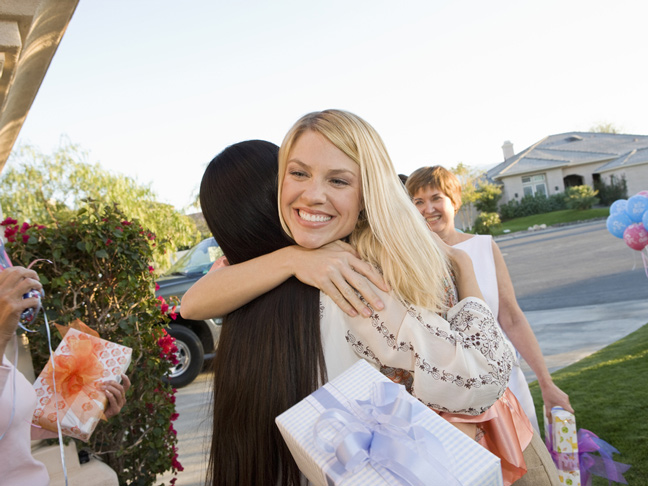 One complaint we see ALL the time in pregnancy forums is why, after spending so much time building a registry, families end up with gifts they never registered for (and will probably never use).
I'm a huge proponet for building the registry YOU need. I've seen over 35,000 registries go through our baby registry BabyList, and can confidently tell you no two families are the same. In addition to staying true to yourself, here are 4 easy things you can do when building your baby registry to make the process easier for you and your gift-givers. With these baby registry must haves, here's how to create a list people will actually buy from, with only the things you'll actually use.
1. Broaden the Price Range
30% of things bought from registries are under $15, while 10% are over $100. Be sure to add items large and small, so grandma can buy the big stuff she wants, and your broke-butt college niece can still get you a small token.
2. Ask, "What would my gift-givers buy?"
Your friends' personal styles will always influence what they purchase. Your aunt has a thing for organics? You'll have no problem getting those eco-friendly diapers and wipes. Try adding items with gift-givers in mind, and you'll find they're the first to go.
3. Add a Note
Guests get weird about buying something generic like a humidifier. ("But I wanted to buy something CUTE!") The trick is telling them how important it will be in a note:
"This will be invaluable when Beebs gets his first cold. If we have it on hand, you will be our HERO!"
4. Remember: building your registry should be fun!
A little effort here and there to personalize your registry can really pay off when it's time to ooh and aah over your baby booty. If you're looking for some inspiration, see BabyList's showcase of baby registry inspiration.
Congrats, and happy nesting!
Veteran moms: what's your best tip for creating your baby registry?