My husband and I work so hard at parenting our two young children that we often feel more like friendly coworkers than romantic partners. The best way we know to keep our spark from flaming out is to never stop dating each other.  We need time alone, away from our kids, to reconnect and feed our relationship. But when it comes to date night, I'll admit, it's easy to get into a rut. Dinners out are nice, though we tend to have the same old conversations – usually about the kids!
So recently, I talked him into signing up for dance classes at our local Arthur Murray studio. Tango and Cha Cha lessons took us way out of our comfort zone as we stepped on each other's feet and tried, breathlessly, to keep up with the music. There was a lot of giggling, and definitely no kid talk. All it took to break our dating rut was a little creativity and a willingness to try. If you're up to the challenge, here are 101 new ways to date your partner, from evening outings to daytime dates to free dates to at-home date ideas: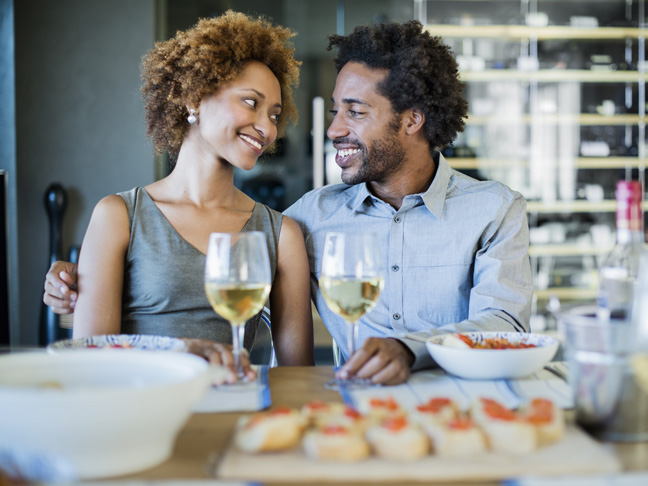 Evening Date Ideas
1. Sing a duet at the karaoke bar. Express your "Endless Love" like Diana Ross and Lionel Ritchie.
2. Take a couples cooking class. Choose one with sexy food and wine pairings for the full date experience.
3. Laugh it up at a comedy club. The two-drink minimum is just what the doctor ordered.
4. See a burlesque show. Strip clubs may be tad tawdry for date night, but burlesque can be tastefully erotic.
5. Go wine tasting. Even if there's no vineyard near you, many upscale liquor stores and wine bars offer pours.
6. Root on your favorite team. Check out the pros in action, or cuddle in the bleachers at a high school football game.
7. Take in a cabaret show. See what your local theater troupe is performing. Good or bad, you'll have something to talk about later.
8. Go on a pub crawl. Leave your car keys at home (thanks, Uber) and hit up as many of your favorite nightspots as you can before the babysitter clocks out.
9. Be a taste tester. Find a local culinary school that serves meals and taste what the next generation of chefs has to offer.
10. Organize a trivia night.Team up to win prizes (or just pride) at your local bar.
11. Visit a sex shop. Browse the videos, explore the toys, and get inspired!
12. Learn to salsa dance. Once you master the basics, you can take your new moves to a club.
13. Shoot some pool. Those dark billiards halls can be sexy, especially with all that bending over the table.
14. Recreate your first date. Return to the bar/restaurant/coffee house where the magic first happened.
15. Enjoy a moveable feast. Switch restaurants for each course — appetizers, entrees, and desserts.
16. Watch a drive-in movie. They still exist, and they're romantic. Check drivein.com for the theater nearest you.
17. Play Bingo! Not just for old ladies, bingo night at a bar is silly and fun.
18. Go retro. Find a roller rink or dance club with an '80s night and relive your youth.
19. Learn a new language. Take night classes together and practice what you've learned over dinner. Bon appetit!
20. Visit a museum at night. Explore great art, then browse the gift shop for a print or postcard to frame.
21. Go bowling. Grilled cheese, beer and balls — what else do you need?
22. See an indie band at a tiny venue. You were cool once, right?
23. Check out a high school musical. Watch the local teens perform Grease, Hairspray, or Legally Blonde and sing along.
24. Plan a surprise. One of you plans a secret date and the other must follow, even if it involves riding a motorcycle or getting on stage.
25. Track down your favorite band from high school. So what if the one-hit-wonders are playing at the county fair? They're still awesome.
26. Attend a painting party. Learn how to create masterpieces while sipping cocktails.
27. See a magic show. And try to figure out how the magician pulled that rabbit from his hat.
28. Hire a limo. Ride around town in style, holding hands and sipping champagne. You don't even need a destination.
29. Go on a food truck hunt. Track down the tastiest eats on wheels — and enjoy something great from each one.
30. Get cultured. Go the symphony, opera, or ballet, then download the music you heard to enjoy at home.
31. Go stargazing. Visit the planetarium, where it's always a clear night.
32. Have a ball for charity. Splurge on tickets to a black tie gala and get dressed to the nines. It's for a good cause: romance.