Dabble & Dollop is an all-natural, vegan and mom-founded children's bath line that recently launched Dabble Ducky specifically for infants with eczema-prone and sensitive/dry skin. Dabble Ducky is fragrance-free and essential oil-free (most common irritants). What caught my eye, however, is the packaging of all of the brand's products. I'm a sucker for great packaging and Dabble & Dollop looks as good as it feels (yes, I've been using the products too…). My favorite is the Rainbow of Bubbles kit from the Dabble & Dollop range. I've been using it nightly with my toddler and the bottles work double duty to teach him about colors and scents (they smell so good…sweet but not nauseating like so many other products).
More impressively still, the line is made entirely in the USA. Besides the washes I just mentioned from the Dabble & Dollop range, the Dabble Ducky range includes Infant Wash, Infant Balm and Face & Neck Wipes, all of which are made with 10 or fewer ingredients, vegan, dairy-free, gluten-free, cruelty-free and underwent rigorous testing with third-party laboratories to ensure they are Certified Tear-Free, ultra-mild and infant safe.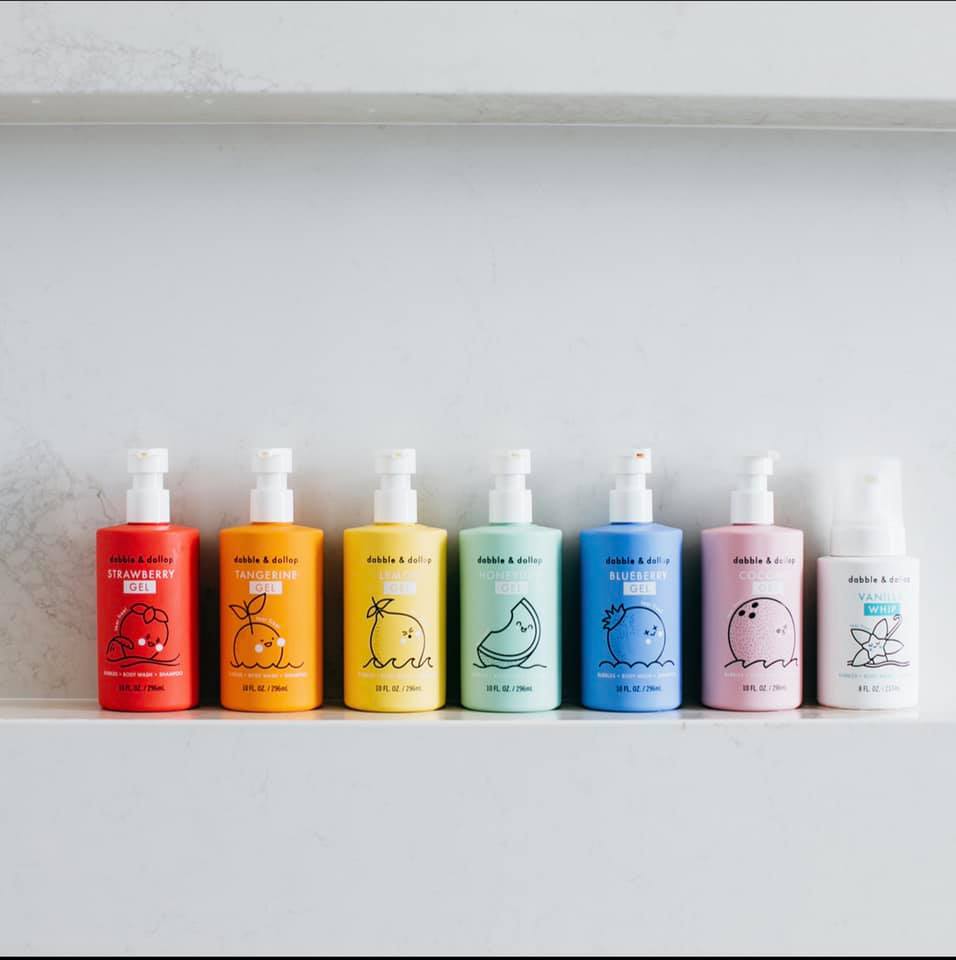 There are few things I love more than supporting – and learning from – mom entrepreneurs, so I was delighted  to be able to chat with Stephanie Leshney, who founded the brand after 20+ year experience in the cosmetic and personal care ingredients space.
Keep reading for how she got her start, how being a mom impacts her business and her parenting must-haves.
Momtastic: Can you tell us a little bit about your background before becoming a mom?
Stephanie Leshney: Before becoming a mom, I probably would've been labeled a "workaholic". So many of my friendships, personal joy, and satisfaction came from my years working in the cosmetic and personal care industry. I absolutely loved what I did, working at an ingredient company that my dad founded. So, my work and my family were so closely tied together and very meaningful and fulfilling to me on many levels.
Momtastic: Can you tell us a little bit about your business and how being a mom inspired it?
Stephanie Leshney: I started Dabble & Dollop after the sale of my family's natural ingredient business.  The idea for the mixing concept behind Dabble & Dollop came to me through my children.  I used to create "Kids Science Days" at our office, where we'd have all the employees' children in, and we'd set up a little laboratory setting for each child.  They'd follow a "recipe", mix our ingredients, and make shampoos, lotions and bath bombs.  After one of these events, I was struggling to get my three kids into the tub so I figured we'd "re-run" the experiment. I noticed them mixing the shampoo with the bubble bath and talking about their "potions." That was my eureka moment.  When I started the product development process for the business, I involved my kids in all the consumer preference testing and would show them different bottle designs and ask for their opinions.  Today, they really feel that they are part of the business and that they helped bring the brand to life.  Being a mom is a huge part of the inspiration behind Dabble & Dollop.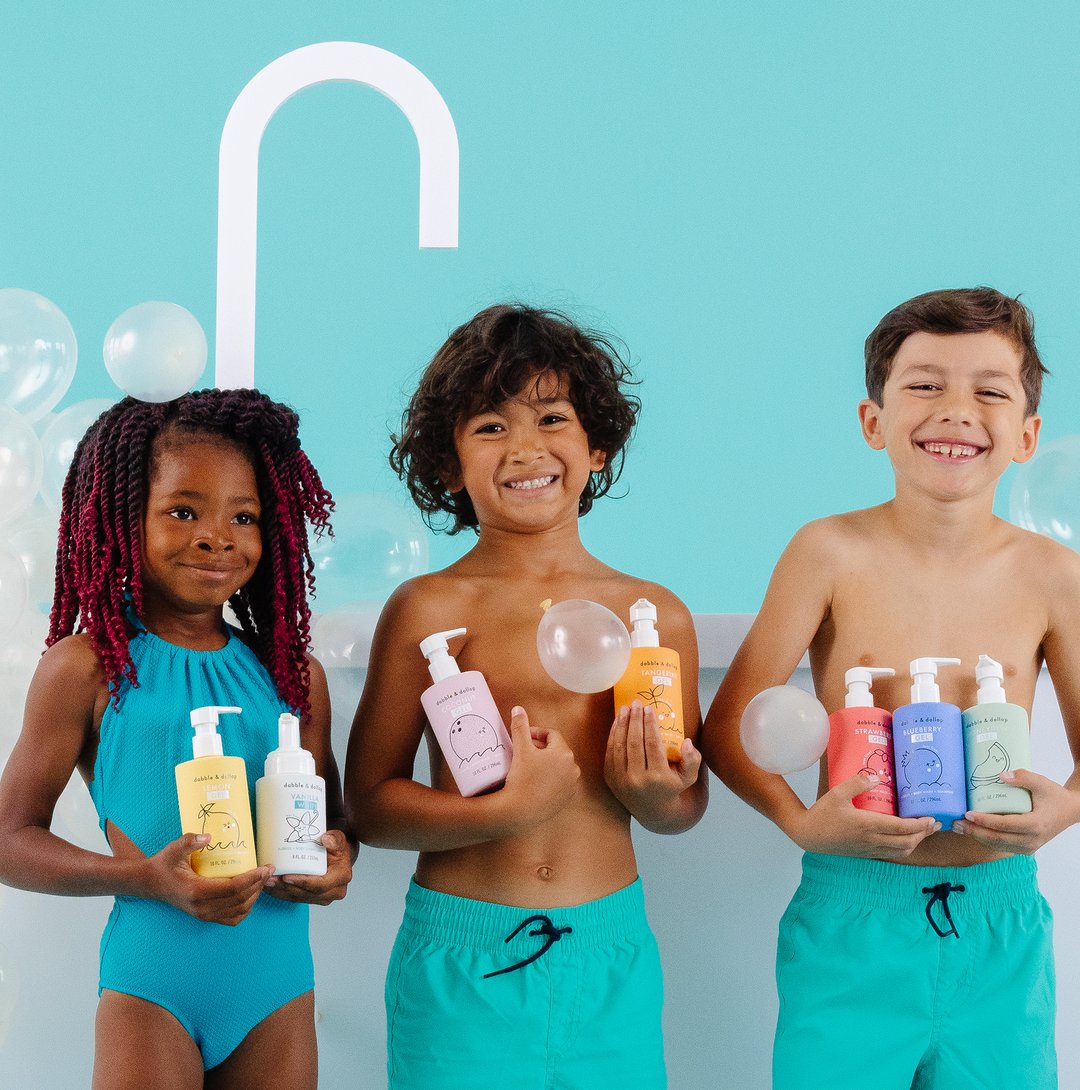 Momtastic: It's not easy to balance running a business with being a mom – any tips or tricks?
Stephanie Leshney: Running a business and being a mom is a balancing act! The hardest time for me was running the ingredient business and my twins were 3 and my youngest was 2.  It was a very chaotic, draining, and challenging time. I found myself working on a work project, then scheduling a doctor's appointment, then having a meeting and then arranging a playdate. It all was just too much! With my new company, Dabble & Dollop, I have learned that it is a lot easier to manage everything if you block times out in your calendar and be intentional about your work hours and your parenting hours. That gives me peace of mind knowing there is time and space for both roles. This way I don't end up as what I call an "accidental workaholic".
Another reason that I am able to find balance is because I'm generally very disciplined and focused – when I'm at work, I work and when I'm at home, I do all the "momming" things – I rarely blur those lines. Its been a hard lesson, but I think this discipline has really helped me stay balanced.  There are many days when I leave my office at 3:30 because I've worked with intensity, accomplished everything I needed to accomplish and can give myself a break and more time on the "mom" end of the day.  As my kids are getting older now, and the time feels like it is going by quicker, I really value the quantity of time spent with them at home after school, or at any of their various activities.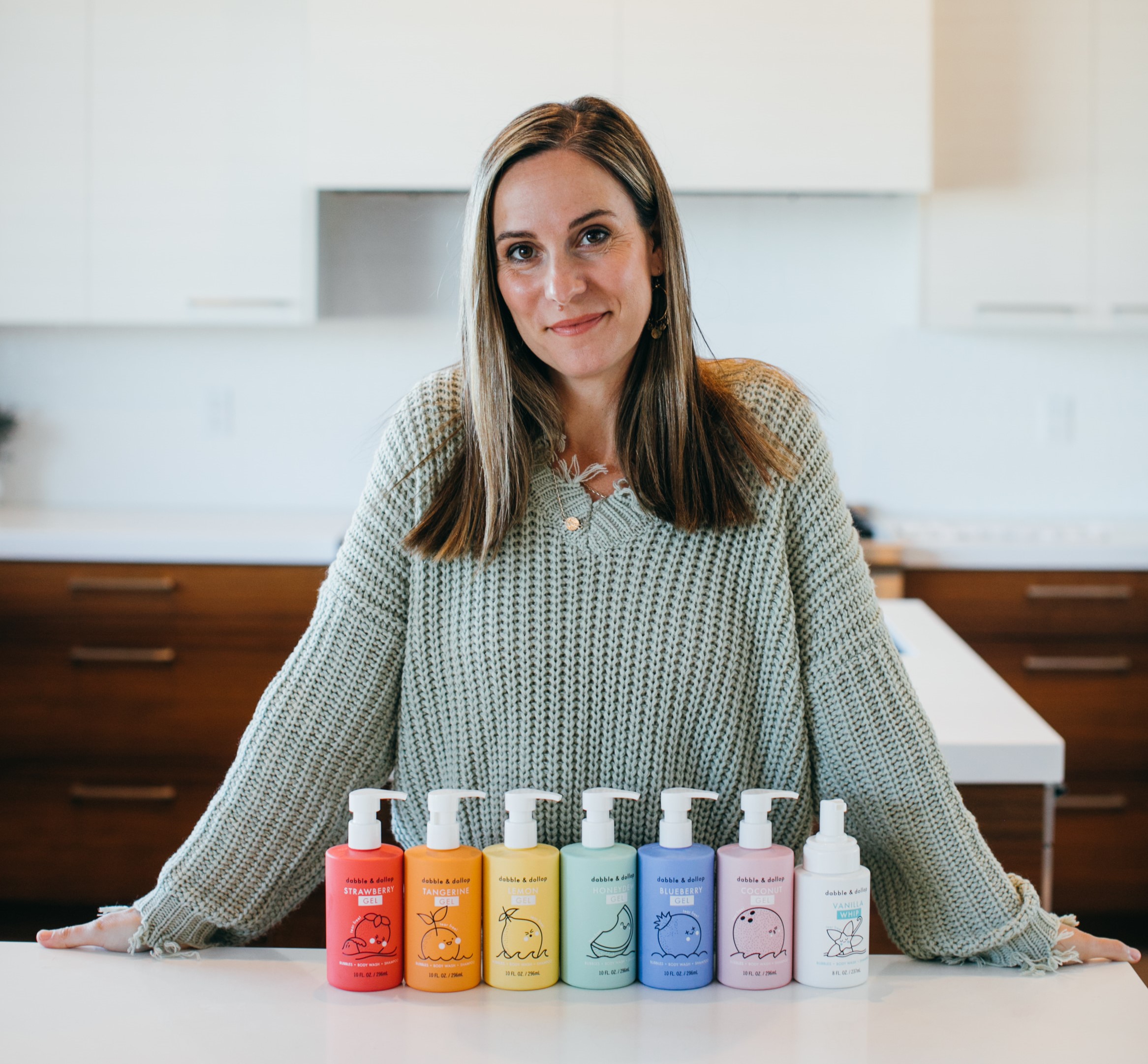 Momtastic: What have been some of the biggest challenges when it comes to the business?
Stephanie Leshney: First, the baby/child personal care space had become increasingly crowded since 2017 when I initially hatched this concept.  In our first six months in business, I noted four new baby/child brands launching; and that pace hasn't diminished.  It is interesting to note, none of these founders come from ingredients or cosmetic science backgrounds.  Mostly, I see marketing "shell" companies, many featuring a celebrity at the helm, using "off the shelf" contracted formulations to launch quickly. They spend a lot more time on the messaging than the product. I find that they often use components, bottles, and ingredients sourced or produced in China. Some are entrepreneurial types jumping on a specific "fad" ingredient or relying on fear-based marketing tactics highlighting that their products are "free from this or that," often based on what they read in blogs or hear on talk shows.
Another related challenge has been the crowding of the D2C channel by both start-up and long established "super brands." Not only did the pandemic spur the launch of many indie brands, but the closure of retail stores meant large multi-national/big box brands were forced to migrate online. So now, when we are trying to advertise online for "safe bubble baths for kids," we see the likes of Unilever and P&G and stores like Walmart, and Target brand vying for customers' attention. Simultaneously, buying ads on the Facebook platforms has become increasingly expensive and less effective as 70% of consumers have opted out of targeted advertising in conjunction with Apple's iOS upgrades.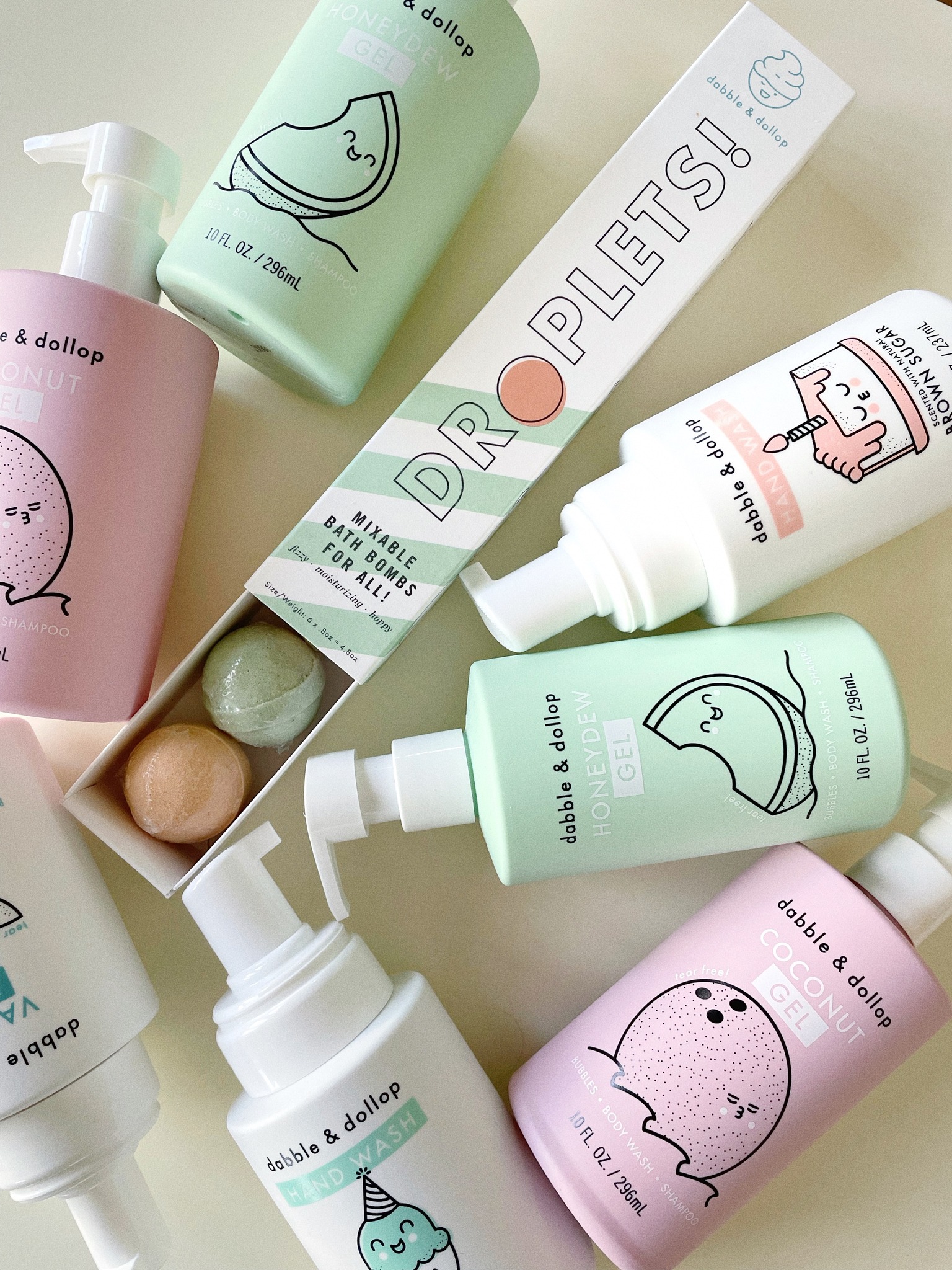 Momtastic: At any point did you think about giving up? If so, what kept you going?
Stephanie Leshney: I have certainly had moments where I've thought, 'Stephanie, you could've put this money (the money I've invested so far in the business) in the stock market and made more money to date.' That said, I'm making choices today that I believe will make a great brand in the long term; not doing what brings in the most cash at this moment. The vision is that this company will be a nationally recognized brand with staying power.
From my experience in ingredient sales, working very closely with hundreds of brands, I learned that it is very rare for a brand to become a success overnight.  Dabble & Dollop and Dabble Ducky are great brands with truly great products. I know that it will take time, patience, and of course luck to set them up for long-term success.  Additionally, having 6 little eyes on me keeps me going. I love building my business with my three children as witnesses.  I am grateful to use my experience as an opportunity to show them what hard work is, to show them that success doesn't happen overnight and to show them resilience.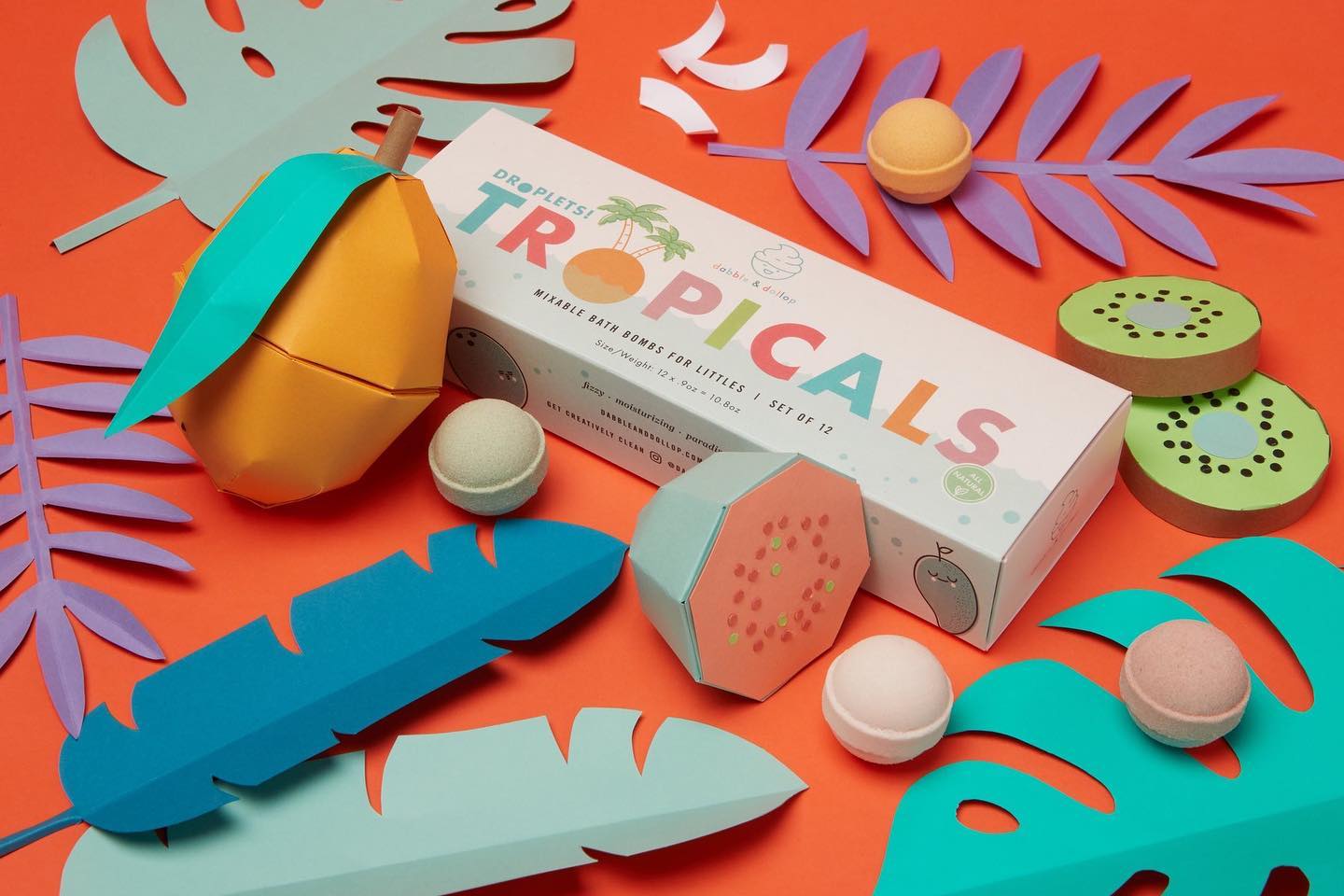 Momtastic: Can you tell us, in general, some of your favorite parenting must-have items?
Stephanie Leshney: Since I've spent over 20 years in the cosmetic and personal care industry, I think it might be helpful to share a few of my favorite brands:
My children never had diaper rash because my dad, a cosmetic scientist, shared with me that A&D ointment is the only product that truly works.  Yes, its not a new, modern, natural brand, however a thin layer of the product creates an occlusive barrier on the skin and nothing can penetrate it.
For a new parent, certainly our new infant line, Dabble Ducky, is a must-have. In those first few months you want to use the gentlest products possible with as few ingredients as possible.  With as many as 20% of children suffering from eczema today, there's a real need to be very cautious of what products we use on our littlest ones.
Did you know that scent has a stronger link to memory and emotion than any of the other senses?  Knowing that, I incorporated safe-scented products into my routine as well. I loved to use Lavanila's rollerball for a quick refresher and pick me up in those early days.  I always kept one in my purse, my diaper bag and at home. My children are all drawn to vanilla scents today and I'm pretty sure its because it reminds them of me.
After 6 months old, you can safely use sunscreen on your baby. While my preference is always to have the kids stay in the shade and cover with UPF-wear, our family's favorite SPF brand for both efficacy and aesthetic is currently MD Solar Science Kids.
I'm a big fan of Everyone and their hand sanitizer has always been a favorite of mine. It's a great company, a former customer of mine, so I love to support them.