When CassaroKids emailed me I was immediately blown away by how stunning their indoor playsets are. I have a not-so-secret affinity for rainbows much to my son's chagrin who is often confused for a girl because of how I dress him, so the excitement was palpable  (as much for myself as for my toddler…) when I setup two rainbow pieces from the brand. A few weeks later I happen to see other pieces when my son and I started taking classes at Union Square Play, a cult studio chain for baby/toddler/kid developmental, movement and dance classes. I quickly found out CassaroKids is an Upper East Side mom favorite.
Not everything they make is rainbow. If you're looking for something more neutral they have plenty of items ranging from climbing ramps to wooden rockers, all of which are wonderful for years of evolving open ended play. It's worth mentioning, however, that rainbow is not only visually appealing, but can help children visually motor plan as they're exploring these various structure.
And before you get scared off by the size, the pieces come in various sizes and many of the pieces can be folded for easy storage. Safety is a top priority for the brand and I can attest to the fact that in the nearly four months of using CassaroKids ramp and latter I was never worried once for my child's safety. There are cheaper versions of some of these items, but these kinds of playsets are not something to skimp on given how important construction and stability are.
To chat more about the benefits of these beautifully made toys (and more on safety), I spoke with occupational therapist and CassaroKids medical advisor Jessica Ahdout Portal MA OTR/L.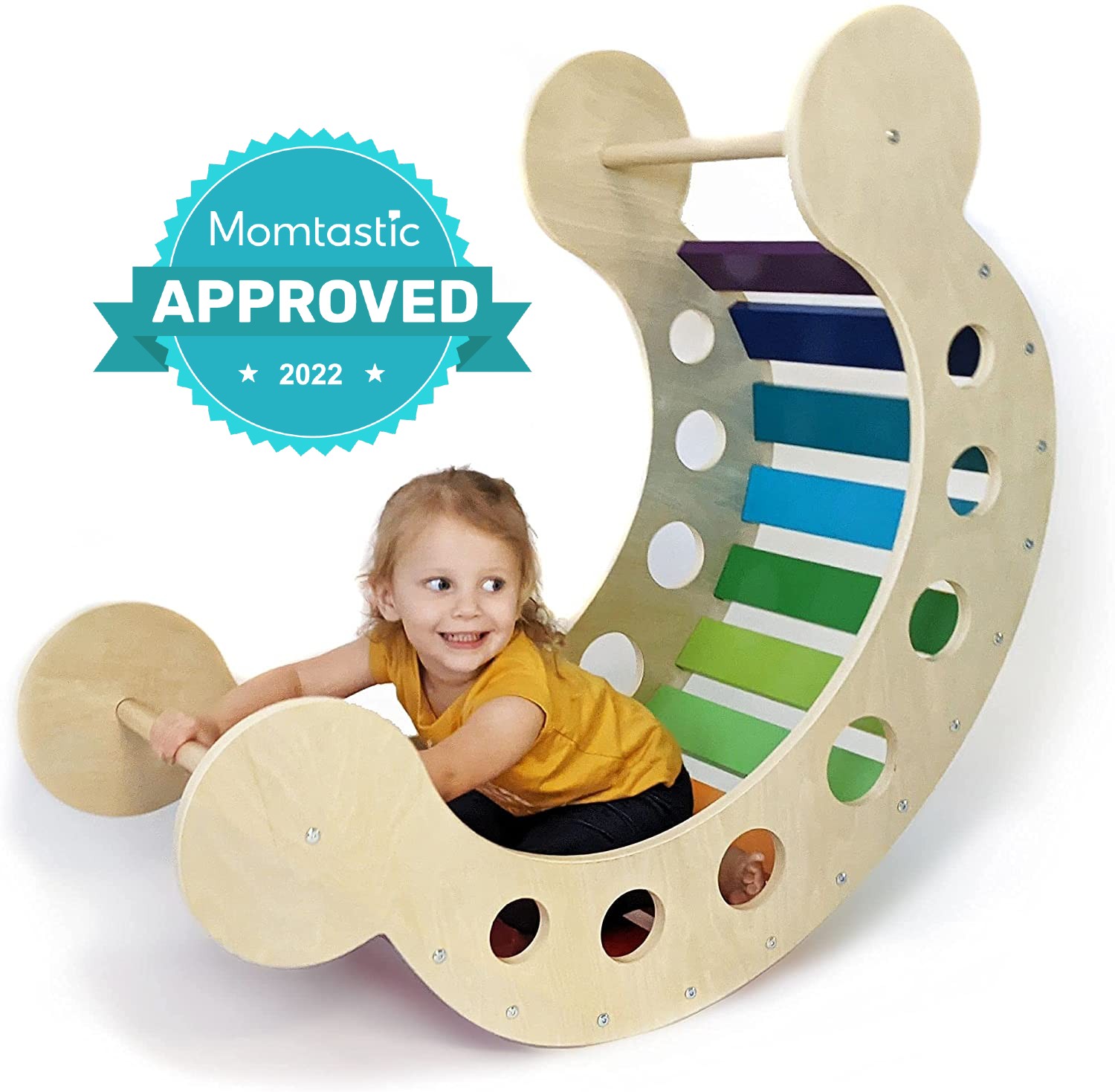 Momtastic: What are some of the benefits of climbing triangles, rockers, climbing ramps and the likes in terms of child development?
Jessica Ahdout: Children learn through play and exploration. Experience shapes neurology and muscle memory in the brain. Before a child learns to read and write, their body must develop the underlying skills to do so. Can they sit up to look at the board? Do they have enough control and strength to stabilize their arms so their little fingers and wrists can write, cut and color? Climbers, rockers and triangles provide not only strength and coordination, but build foundational sensory processing skills which need to be aligned in order for learning and success to take place. Not only can they assist with developing "big muscles," but also work on the "small muscles'/fine motor skills that are needed for handwriting, cutting and hand strength.
Momtastic: I see these kinds of structures associated with so many communities Waldorf, Montessori, REI…are they related to any of these? 
Jessica Ahdout: These structures are important in any educational and play based setting. A child's "job" is to play and through that play in the child's natural setting strength coordination and confidence are built.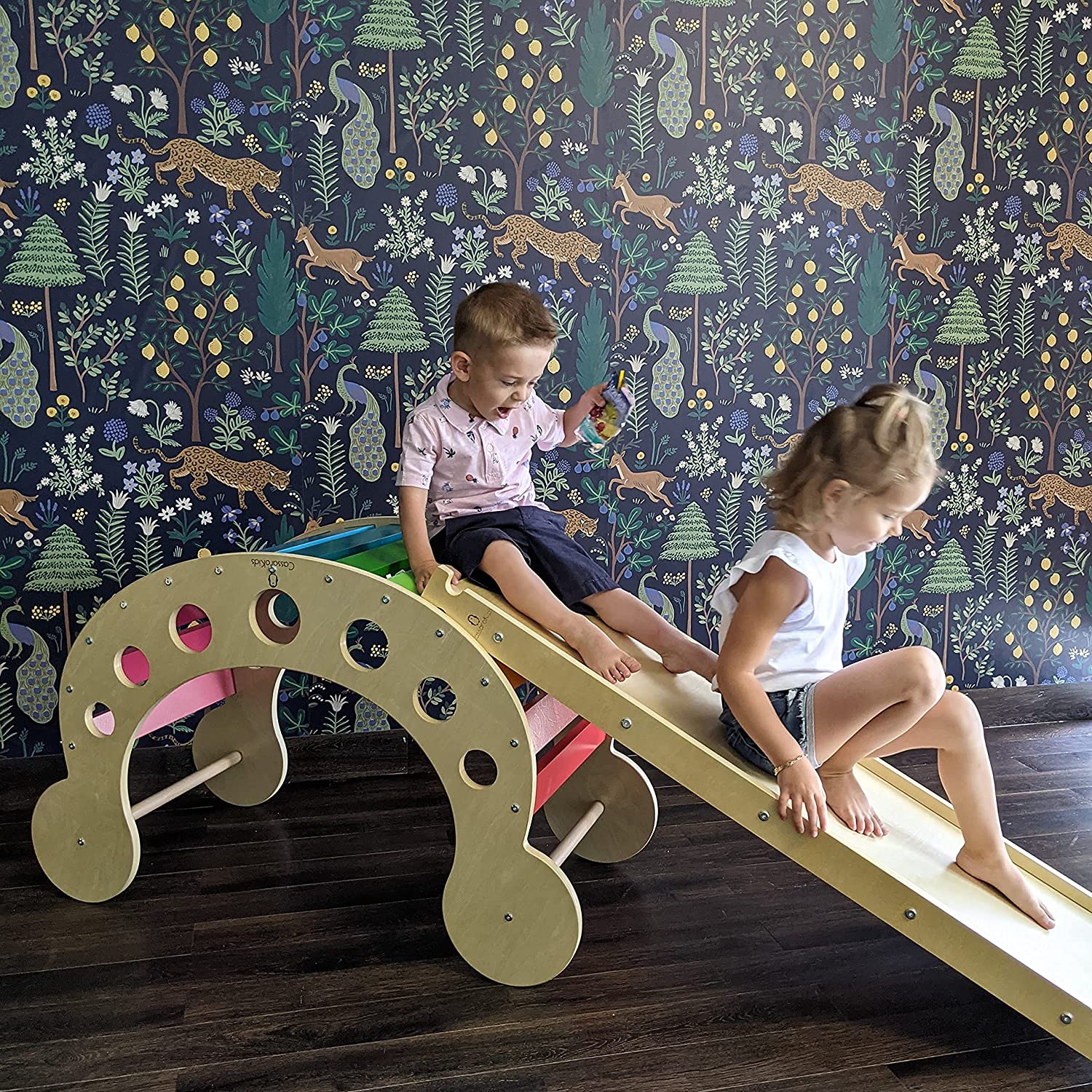 Momtastic: For what age are they appropriate? Is there any benefit for babies before they are able to crawl to say a Pikler triangle or Waldorf rocker?
Jessica Ahdout: Climbers and rockers can be used as young as six months. Personally, I love the idea of the rocker as a versatile piece that can grow with your child as early as three months old. A child can utilize it, specifically with the cushion/pillow area to work on tummy time, rolling and provide important movement. The rhythmic rocking and positioning is great to provide calming movement and develop a child's vestibular sensory system. This important sensory system develops a child's ability to regulate emotions, be aware of their body in space and develop their balance and coordination. It is vital for much of their learning abilities. By providing them opportunities to climb, rock, hang, move and jump we are setting those wheels in motion from an early age.
Momtastic: Do you find that "all" kids like these kinds of imaginative play structures or is it a specific "type"?
Jessica Ahdout: Kids love to play and engage with activities where they feel safe and confident. These structures provide more than inspiration but rather a space to add another "level" to their play and engage. I love the fact that the triangle ladders can double as a tent. Imagine a child that has trouble focusing and attending, having a space that limits visual distractions and gives them a feeling of security can help with learning or be a nice nook to do some coloring, reading or even homework for older kids!
If a child avoids these structures or is not interested it may be due to their own physical abilities and/or limitations (perhaps a discussion with their pediatrician and/or a physical therapist/occupational therapist).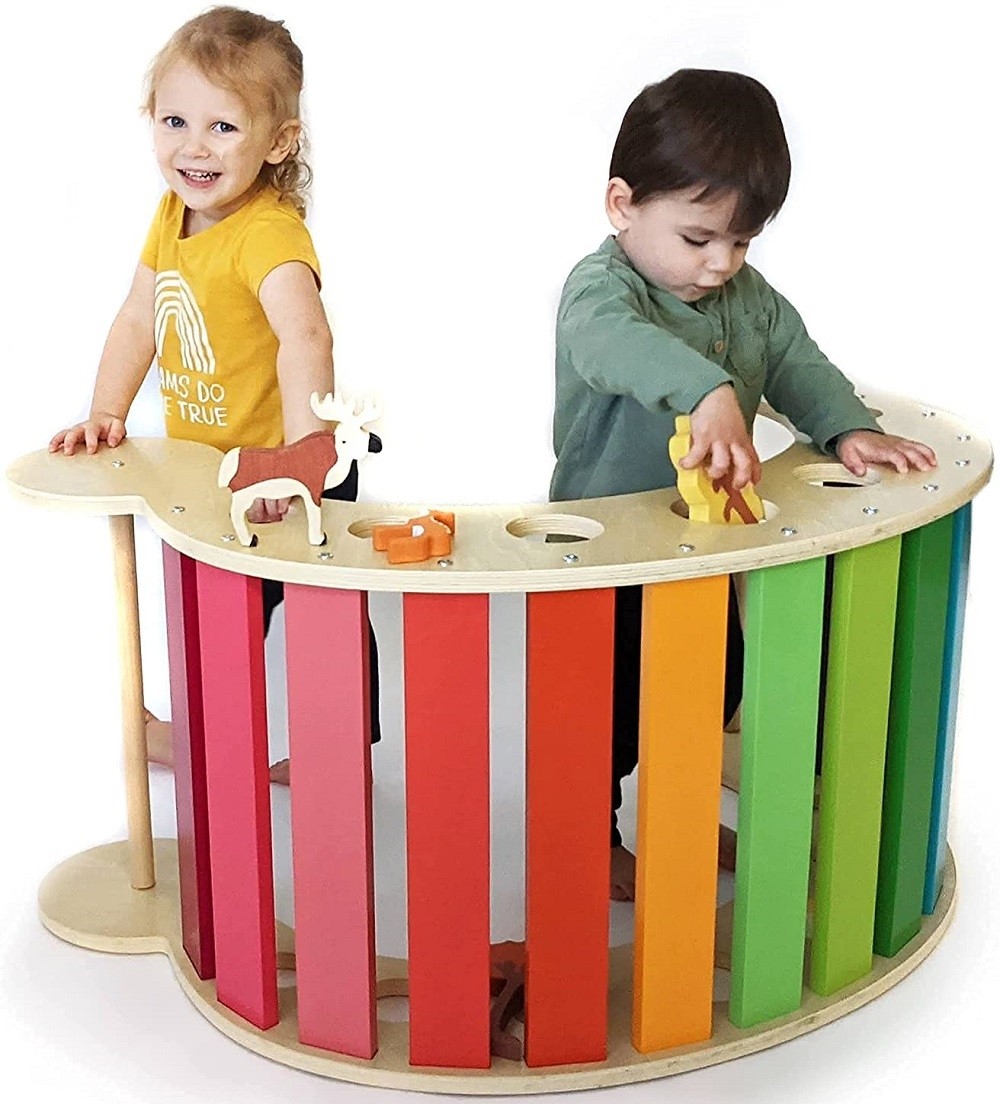 Momtastic: How long does the interest usually last? 
Jessica Ahdout: Haha If I had the answer to that question I could win the Nobel peace prize. Doesn't every parent just want a moment of peace and a break? It's funny you can set up the most elaborate activity that "YOU" find interesting and motivating and your child will say "ehhhh I'll just play with the box instead." So there is no specific rhyme or reason. Rather a child should relatively have a minimum amount of time that they can attend for their age and developmental level. Typically, we say one minute for each year of life, but obviously that can vary depending on the child and needs. The amazing part about having an awesome and versatile play structure is you can add in your own twist and expand play on it. Take the triangle ladder, climb it, hang from it, turn it into a tent, add the chalk board to work on fine motor skills. Add some scarves, or clips or a fun game to have to retrieve at the top and the attention won't stop and the fun keeps it going longer!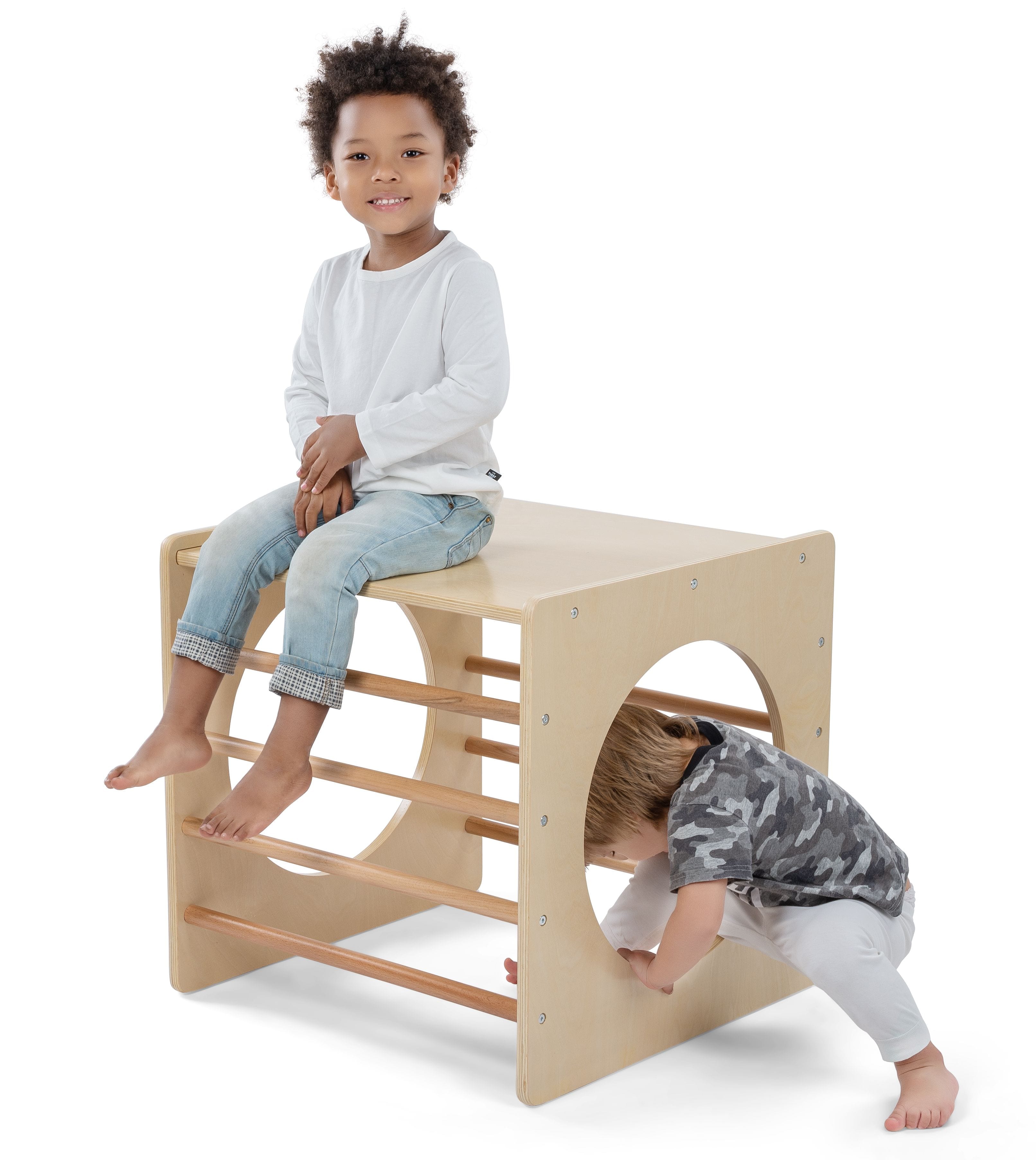 Momtastic: When it comes to things our kids are climbing, construction and materials are top of mind. What are some things you suggest parents look for when they are buying Pikler triangles and the likes to make sure they are safe? 
Jessica Ahdout: I personally like the durability and construction of wooden materials that can last a long time. I love ones that have options like adding colors. Take a ladder climber and rock wall for example. As a pediatric occupational therapist working with kids with special needs or trouble with maneuvering their body through space, I find objects with colors easier to navigate. CassaroKids Triangle and Rock Wall offer rainbow color options, so that a child can visually motor plan to climb and use it. It's also great for learning. If you hand an object on a specific color you can work on working memory – "give me the pink clip off of the yellow rung." Safety is of upmost importance and always supervise your child when using any type of equipment that moves and their feet are off the ground. CassaroKids's rocker offers the pillow and cushions, which can totally double as a crash mat.