While our 2021 certainly wasn't much of a step up from 2020, quite a bit of joy did emerge in the form of pandemic babies. Like the rest of us, celebrities were cooped up for the vast majority of 2020, and for some, a brand new baby was the result in 2021.
Just the fact that a term such as "pandemic babies" has even been coined and circulating tells us all we need to know about pandemic activities. New babies, of course, are always a cause for celebration, even if the circumstances of conception are less than perfect.
Below I give you ten celebrities who embraced the chaos and welcomed either a first child or an additional one, in 2021. Fair warning: adorable stories, whirlwind romances, and even a turkey baby are all part of 2021's pandemic babies narrative.
10 Pandemic Babies Born in 2021
Olivia Munn & John Mulaney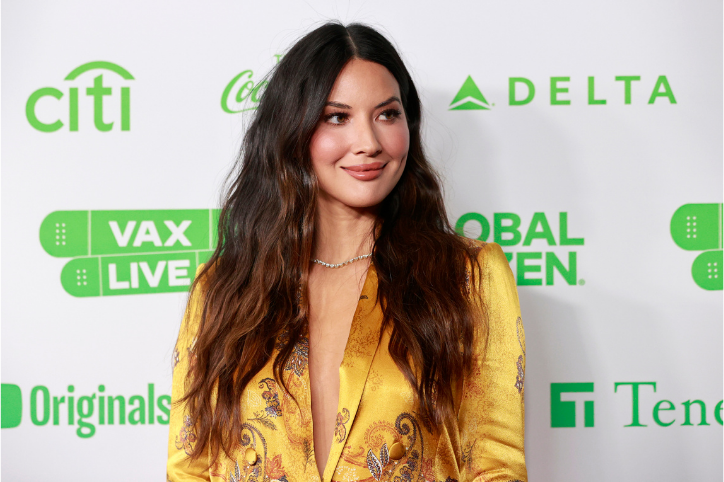 On November 24th, 2021, actor Olivia Munn and comedian/writer John Mulaney welcomed the first of our pandemic babies into the world — Malcolm Hiệp Mulaney. Munn first shared a photo of the newborn via Instagram on Christmas Eve, eliciting quite a lot of glee from her following.
 

View this post on Instagram

 
Munn and Mulaney first met back in 2013 at fellow comedian Seth Meyers' wedding, reports CNN. At the time, Meyers was married to his former wife and would soon face some struggle with drug addiction. After pursuing a full recovery, Mulaney and Munn's relationship turned romantic, and the rest is history.
Shortly before Malcolm was born, both Munn and Mulaney spoke on The Today Show about their relationship, prior struggles, and future hopes. "Olivia and this baby have helped save me from myself in this early journey out of recovery," Mulaney conveyed.
Ewan McGregor and Mary Elizabeth Winstead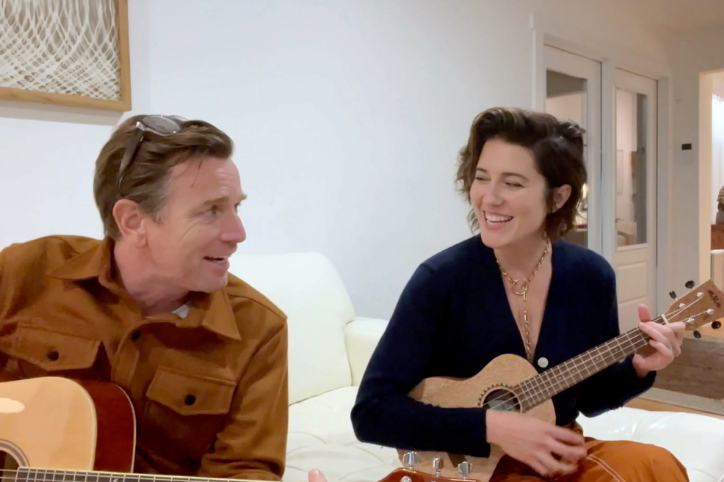 Towards the end of June, actors Ewan McGregor and Mary Elizabeth Winstead brought Laurie, a beautiful baby boy, into 2021. One of McGregor's daughters from a former marriage, actor Clara McGregor, posted a photo of herself holding her new brother on Instagram.
 

View this post on Instagram

 
"Welcome to the world little brother," Clara wrote in the caption. "Congratulations to my Dad & mary — this is the greatest gift." Followed shortly by a similar post from Esther McGregor, who referred to her attire in the photo as quite "pirate," saying, "Met my little brother looking like a pirate. I recommend! Welcome to the family little Laurie."
McGregor is set to voice Cricket in Guillermo Del Toro's upcoming reimagining of Pinocchio, and Mary Elizabeth Winstead recently starred as the titular character in Kate, on Netflix. Both actors have a stacked slate of upcoming films and series for 2022. With a brood of three and successful careers, they certainly are a pair of super parents in these uncertain times.
Scarlett Johansson and Colin Jost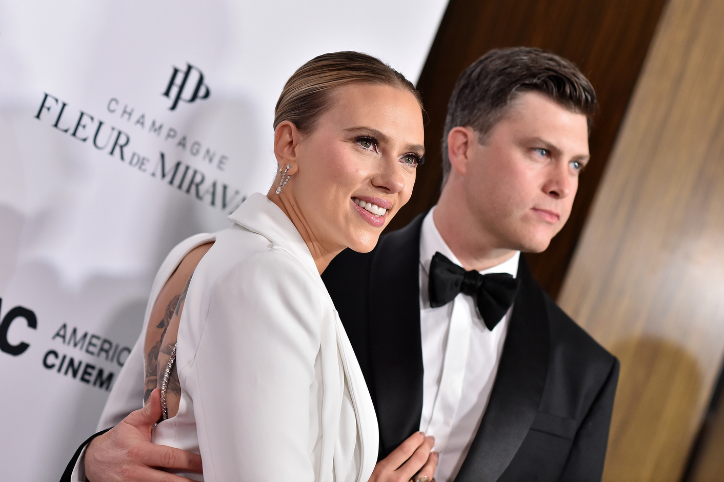 In August, actors Scarlett Johansson and Colin Jost announced both their pregnancy and the birth of their baby, Cosmo, in the same week. Johansson is, of course, known for a near life-long career in Hollywood, prior to Marvel fame, while Jost performs weekly on Saturday Night Live. In 2021, Johansson finally starred in a solo film for her character Black Widow.
Johansson and Jost married in October of 2020, after close to a year of engagement and two years of dating. After their engagement, Johansson sported a stunning 11-carat ring on stage at the 2020 San Diego Comic Con. Aside from marriage and baby news, Johansson also fought a tough lawsuit with Marvel and Disney this year, over the terms of her contract for Black Widow. The film's release digitally, due to the pandemic, adversely affected her earnings; ones that she more than certainly wanted to put toward her child's future.
Jost made a very subtle announcement of the pregnancy on SNL, back in August. Then, the following Wednesday, posted a simple text graphic to Instagram announcing the birth. Marcel Pariseau, Johansson's publicist, confirmed the birth with PEOPLE. Both parents, firmly seated in the public eye, asked for privacy regarding the pregnancy.
Kirsten Dunst and Jesse Plemons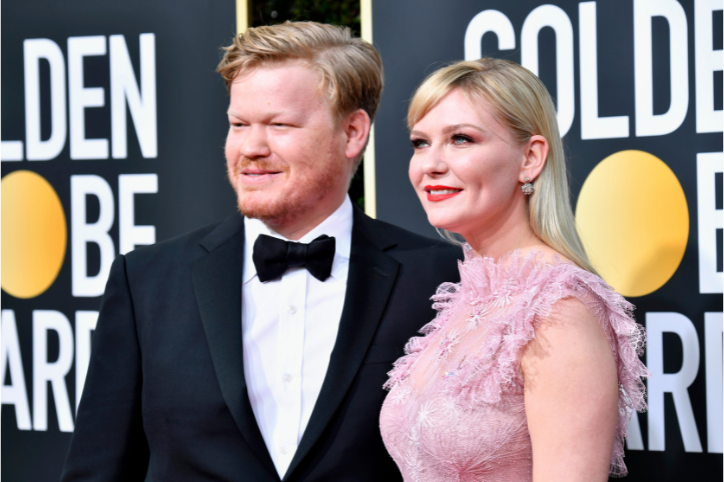 Back in September, Kirsten Dunst confirmed with The New York Times that she and her husband, Jesse Plemons, delivered a healthy baby boy four months earlier. So, roughly, James Robert was born in May. Dunst affectionately referred to him as "the Big Kahuna," and stated that "he's an angel, but he's a hungry angel."
Dunst announced the pregnancy via a stunning W Magazine photoshoot styled by Sofia Coppola. Photos from the shoot elegantly capture Dunst's pregnancy glow (and bump), looking as beautiful as ever. She appeared on the cover of the magazine alongside Elle Fanning and Rashida Jones.
James Robert is the actor couple's second child, after Ennis, their three-year-old. They met while starring together in the drama series, Fargo. While they didn't begin dating right away, Plemmons told the New York Times that upon meeting Dunst, "I knew that she would be in my life for a long time." In 2021, the couple starred together again in the Netflix film, The Power of the Dog, which has received critical acclaim and plenty of Oscar buzz.
Meghan Markle and Prince Harry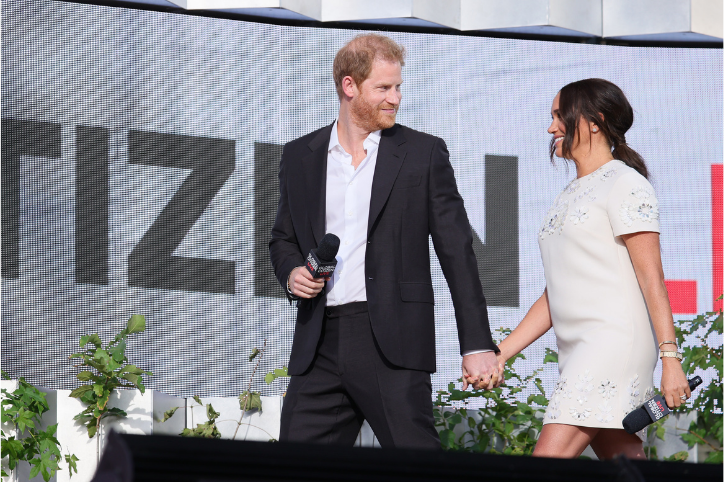 Over the holiday, Prince Harry and his wife, Meghan Markle, shared their first family Christmas photo with their newest baby addition, Lilibet "Lili" Diana. This photo was part of their 2021 Christmas Card and the photo was taken over the summer, a few months after Lili's birth, reports Page Six.
"This year, 2021, we welcomed our daughter, Lilibet, to the world," the card conveys, which includes the couple's two-year-old son Archie in its photo. "Archie made us a 'Mama' and a 'Papa,' and Lili made us a family." Lili isn't just the usual celebrity baby, either. She's eighth in line to the British throne. Her namesake comes from Queen Elizabeth II, and Harry's late mother, Princess Diana. According to Page Six, Lilibet is the Queen's family pet name.
The royal couple's Christmas card further states that protecting parents of all kinds are at the forefront of their minds this holiday season. "As we look forward to 2022, we have made donations on your behalf that honor and protect parents," the statement reads. "…from those being relocated from Afghanistan, to American families in need of parental leave."
Kieran Culkin and Jazz Charton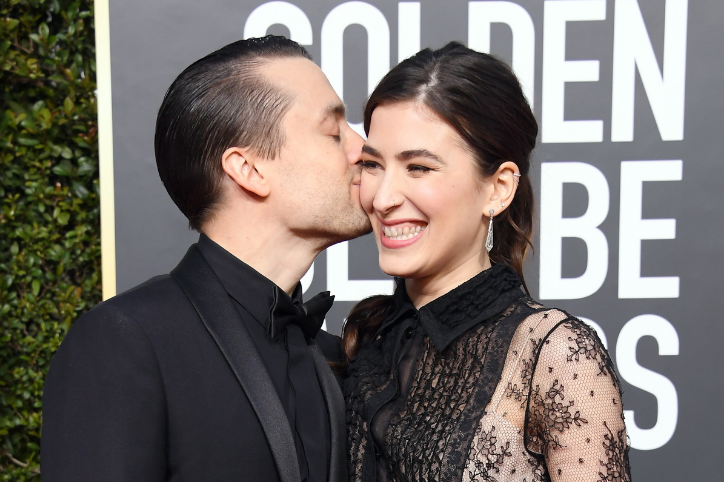 Kieran Culkin has been in the collective cultural unconscious for about as long as his brother, McCauley Culkin. Both starred in the infamous Home Alone films as children, and both welcomed pandemic babies in 2021, with their better halves.
Culkin is married to former model Jazz Charton. Back in September, Charton posted photos to Instagram of the newborn babe, a month after he was born. "One month with our perfect little man," Charton wrote in the caption of the sweet photo. With the newborn and her two-year-old daughter, Kinsey Sioux, alongside.
 

View this post on Instagram

 
Earlier this month, the third season of Succession drew to a close with a devastatingly delicious finale. Culkin plays Roman Roy in the wildly popular series, a fan-favorite character. There were certainly many surprises in the store for Roman this season, which kept us on our toes. But, of course, none of those could possibly top the birth of the actor's baby.
Alicia Vikander and Michael Fassbender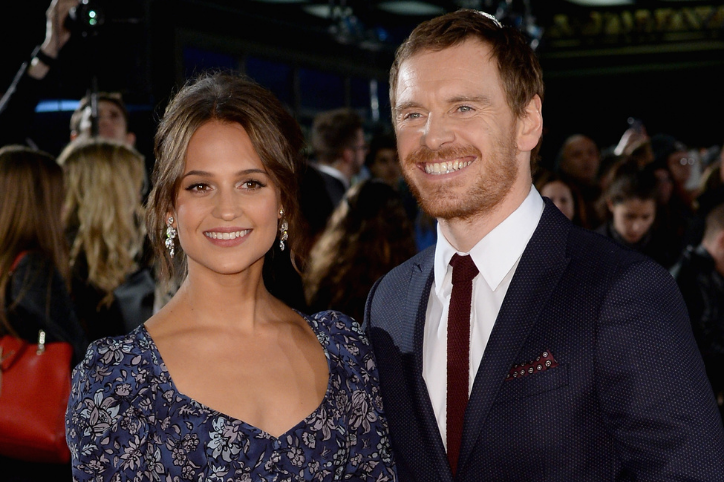 Both Alicia Vikander and her husband, Michael Fassbender, are strictly private about their internal world together, understandably so. However, Vikander did open up to PEOPLE this past September regarding the birth of the couple's first child, born earlier in this year of pandemic babies.
"I now have a whole new understanding of life in general," the actor expressed to PEOPLE. When asked about how much her life has changed, she opted to wait in offering too many details. However, she did state that she's "enjoying finding it out in the moment." Some things are better kept close to the chest; specifically, close to the heart.
Vikander and Fassbender met in 2014 while playing husband and wife in the film The Light Between Oceans. They married quietly and honeymooned in Italy, preferring to steer their relationship clear of the spotlight. At least, as much as is possible for two stars of their stature. Back in 2018, Vikander told Vogue that she felt "more happy and content than I've ever been." She certainly deserves the privacy to enjoy it. Vikander's most recent film, Blue Bayou, is available on-demand.
Rose Leslie and Kit Harington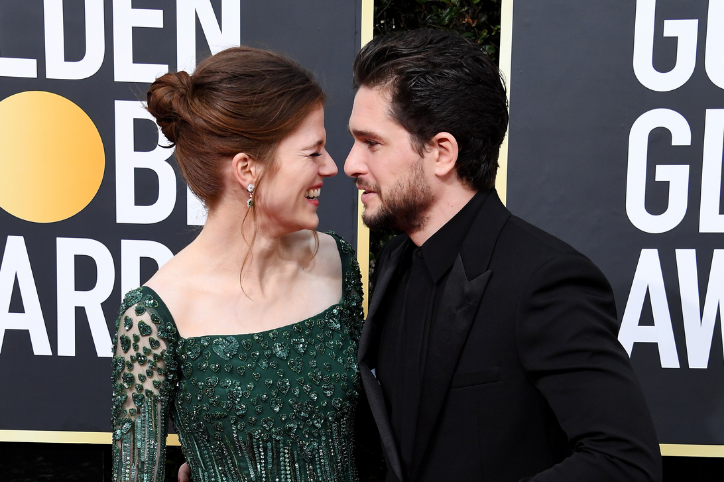 If you were part of the massive fandom of Game of Thrones, then you surely know Kit Harington and Rose Leslie as Jon Snow and Ygritte. They're a couple in the real world, as well, which sadly is without dragons. However, it does have one more adorable pandemic baby, thanks to the couple. Earlier this year, the actors welcomed their first baby wildling, a boy, into the fold.
Shortly after photos started circulating of the couple out and about with the newborn, Page Six confirmed the birth with Harington's publicist. The couple is, like many of the celebrities mentioned today, quite private about their child. But Leslie did gift us with a photoshoot, via UK's Make magazine, showing off her baby bump.
Harington and Leslie made the "announcement" of their relationship by attending the 2016 Olivier Awards together in London. Given the nature of their relationship in their wildly popular series, this caused swooning as far as the eyes could see. In 2017, they issued a newspaper announcement of their engagement and then married in a castle in Scotland, ancestral to Leslie, in 2018.
Seth Myers & Alexi Ashe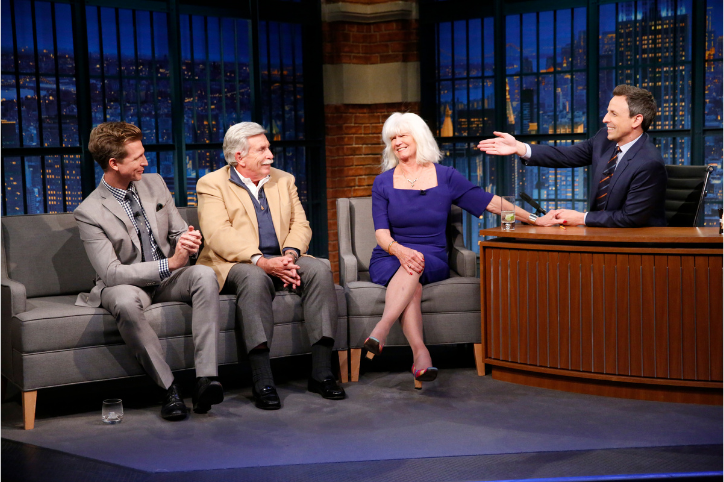 On the Thanksgiving broadcast of Late Night with Seth Meyers, Myers announced that his family had welcomed their third child two months prior. Myers' wife, Alexi Ashe, gave birth to a healthy baby girl, named Adelaide. A new sister for their sons Ashe, 5, and Axel, 3, Page Six reported.
Annually, Meyers does a family segment on his show for Thanksgiving. Typically, his sons dress up in festive costumes and look adorable. This year, the tradition continued, but this time, sitting between Myers' sons was baby Adelaide. She was dressed up like a little turkey. The two boys leaned in to give their new sister kisses on her cheeks. As far as birth announcements go for these pandemic babies, this was certainly one of the cutest. Even their pup was dressed up like a little pilgrim.
Myers included his brother, Josh Myers, and his parents, Larry and Hillary Myers, in the show's festivities. Hillary explained that she knew that the new baby's name "had to start with an A." Her mother's name was Adelaide, but she didn't want to suggest it. When it turned out that the couple had named their baby after her mother, she said she "burst into tears."
Gal Gadot and Yaron Varsano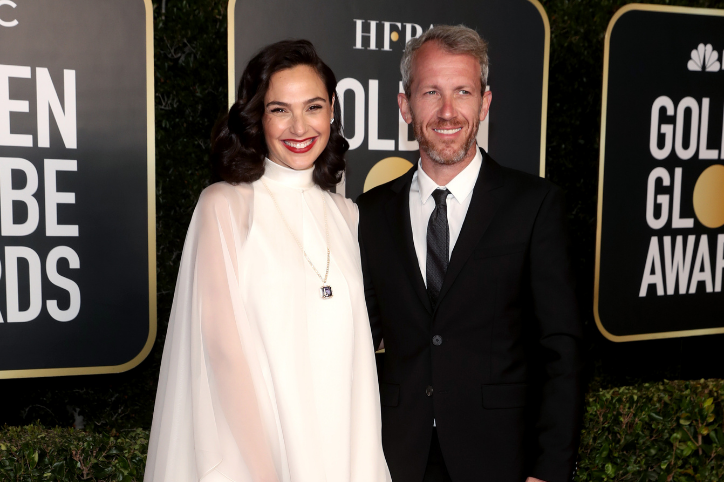 Wonder Woman gave birth to her third daughter, with husband Yaron Varsano, back in June. Gal Gadot announced the birth via Instagram alongside a family photo. "My sweet family," she wrote in the caption. "I couldn't be more grateful and happy (and tired)." Gadot went on to express her excitement about welcoming the new baby girl into her family.
 

View this post on Instagram

 
Within the photo, the couple's other two daughters, Alma, 9, and Maya, 4, are framed between Gadot and Varsano. Young Alma's face is lit up with delight as she holds baby Daniella for the photograph. That big sister glow, ever apparent.
According to Page Six, Gadot appeared on Live with Kelly and Ryan and spoke about having a third girl. "Yes, we're sticking to what we know," Gadot jested. She further mentioned that this pregnancy came with a heavier emotional weight than previous ones. "I can cry from just a thought that crosses my mind," she said. "And usually, I'm so not like that!"
Which of these pandemic babies did you most love hearing about? Did you, yourself, have a baby sometime in 2021? Let us know in the comments below.