While Covid-19 still plagues us, and the question of the pandemic having an end lingers thick in the air, babies have a tendency to declare — the show must go on! Ten celebrities expecting babies in 2022 are making the case and sharpening the point.
All of these women and families are vastly different humans, despite a shared celebrity stature. Therefore their methods of announcement, if there is one at all, vary greatly. However, one thing is clear: they are all just as excited to bring a baby into 2022, despite circumstances, as they would be at any other time.
Babies, after all, have an exquisite ability to spark magic in the hearts of the weary, and we hope some of these offer you a little of that, as well.
10 Celebrities Expecting Babies in 2022
Kylie Jenner and Travis Scott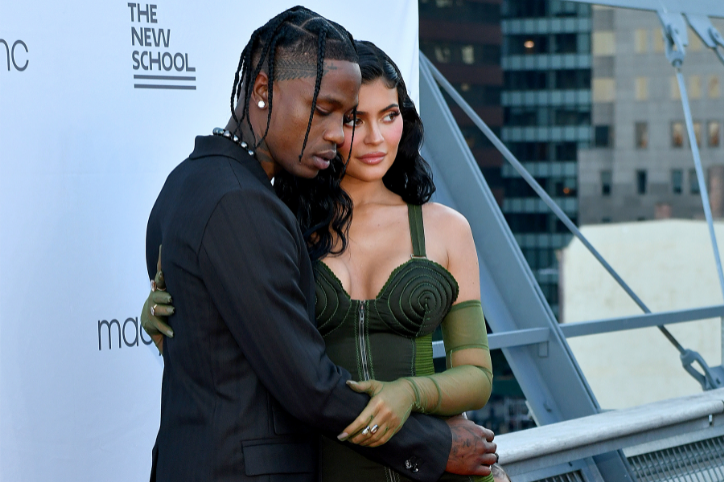 According to Elle, Kylie Jenner and her husband, Travis Scott, are the first of our celebrities expecting babies in 2022. Sources close to the couple expressed to Elle that Jenner is thrilled (and fully prepared) to be giving her daughter, Stormi, 3, a sibling. Apparently, Jenner and Scott have been trying for close to two years. Regardless of 2021's shortcomings, it sounds to be a special year for the superstar couple.
Jenner's pregnancy has been rumored since August, but she confirmed the pregnancy a few months ago, in September. Which makes her due sometime in early 2022. Her confirmation of the rumors was announced via Instagram, where Jenner shared a heartfelt video. Within the video, Jenner takes you on a bit of a pregnancy announcement journey. It's beautiful, relatable, and entirely fun.
Since this announcement, Jenner and Scott have kept the pregnancy quiet and private due to the tragic circumstances surrounding Astroworld. Scott was headlining at the venue when a crowd surge killed ten people. In the wake of such a tragedy, which must have been devastating, it makes sense that the couple would refrain from being outwardly celebratory.
Aaron Paul and Lauren Paul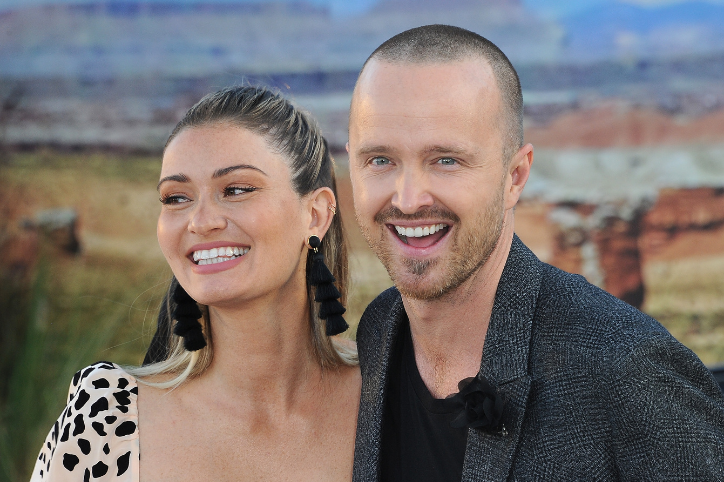 At the start of December, Aaron Paul's wife, Lauren Paul, announced via Instagram that they, too, would be joining the ranks of celebrities expecting babies in 2022. In the caption of her post, Lauren Paul wrote, "We can't wait to meet you, baby! We love you so much already." The photo attached was of herself and her three-year-old daughter, Story Annabelle; the young girl is seen holding momma's baby bump.
 

View this post on Instagram

 
Aaron Paul expressed to Haute Living back in 2020, "I can't wait to have another baby," reports Page Six. Paul, of course, is an actor best known as Jesse from the series that will live in infamy, Breaking Bad. "Fatherhood has definitely changed me," Paul stated. "Having a child is the closest thing to magic that anyone can have." He went on to explain how much more he understands parents who rushed to get home, saying "you don't want to miss any of it."
The Paul's married back in May of 2013 and brought Story Annabelle into the world in 2018. Aaron Paul was quite the proud papa on Instagram, at the time, and we expect he'll be so again very soon. All of the celebrities expecting babies this year will surely provide days of happy scrolling, should you feel so inclined.
Chris Pratt and Katherine Schwarzenegger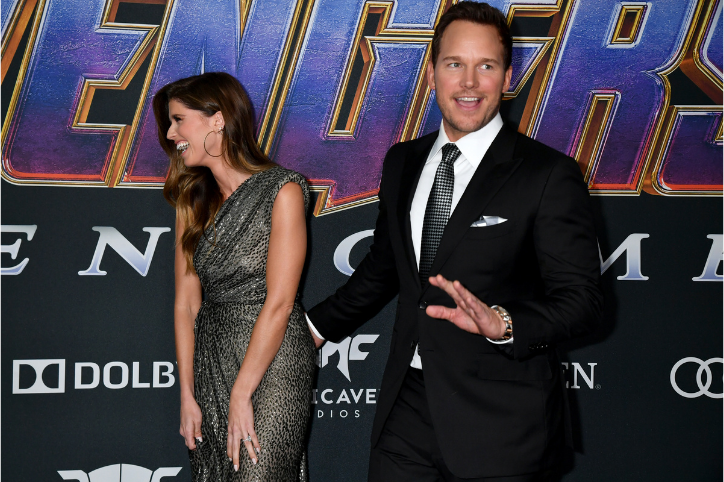 Earlier this month, PEOPLE reported having learned from exclusive sources that Chris Pratt and his author wife, Katherine Schwarzenegger are expecting. If the sources are to be trusted then this will be the couple's second child together, and Pratt's third. Lyla Maria, now 16-months old, was born in 2020, and Pratt's son, Jack, from his previous marriage to Anna Faris, is nine years old.
Recently, Pratt praised his wife on his Instagram in a sweet birthday tribute. Schwarzenegger, daughter of the infamous Arnold Schwarzenegger, turned 32. In Pratt's post, he shared a slideshow of memories with his wife, and wrote in the caption, "I simply can't imagine how lost I'd be with you. You're beautiful, tough as nails, reasonable, deeply thoughtful, extraordinarily smart, you're a complete boss, eternally driven, and you communicate like no other."
 

View this post on Instagram

 
Schwarzenegger also shares familial updates via Instagram. In fact, she does a weekly Instagram series honoring babies and motherhood. Back in August, she posted for Lyla's first birthday, sharing a few memorable photos from their first year together. The proud mamma wrote about how "magical" the year had been, going on to say, "Clearly, I have fully embraced the mommy and me matching moments, the girly outfits, the bows, and the wonderful things my mom saved for me to pass on to her."
Lily Rabe and Hamish Linklater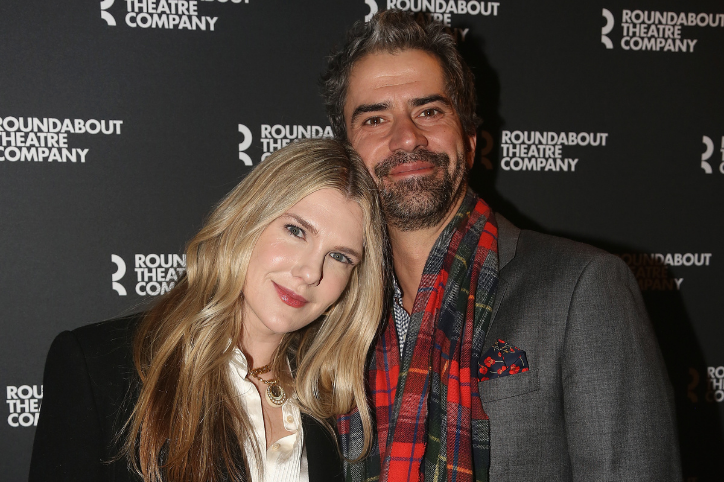 When Lily Rabe and Hamish Linklater aren't smashing Nielsen ratings with award-winning television series, they're among the celebrities expecting babies. Their newest expectancy will be their third baby since 2017, reports Page Six. To the uninitiated, Rabe has been a recurring cast member in multiple seasons of American Horror Story. And her partner, Linklater, kept stride this year with Netflix's Midnight Mass, in which he plays the most memorable priest of all time.
News began circulating about Rabe's pregnancy after she attended the Academy Museum of Motion Pictures Opening Gala in September. Decked elegantly in a gorgeous black-and-white gown, the actor kept a hand on what was undoubtedly a baby bump. She posted a photo of the look to her Instagram but did not specifically mention the pregnancy.
 

View this post on Instagram

 
While the couple has been protective about their children, keeping their names close to the chest, they do have two — one born in 2017 and the other in 2020. Furthermore, Linklater has a 14-year-old daughter, Lucinda Rose, from a prior relationship. Rabe and Linklater have been dating and partners since 2013 and starred in Amazon's Tell Me Your Secrets together in 2021.
Michelle Branch and Patrick Carney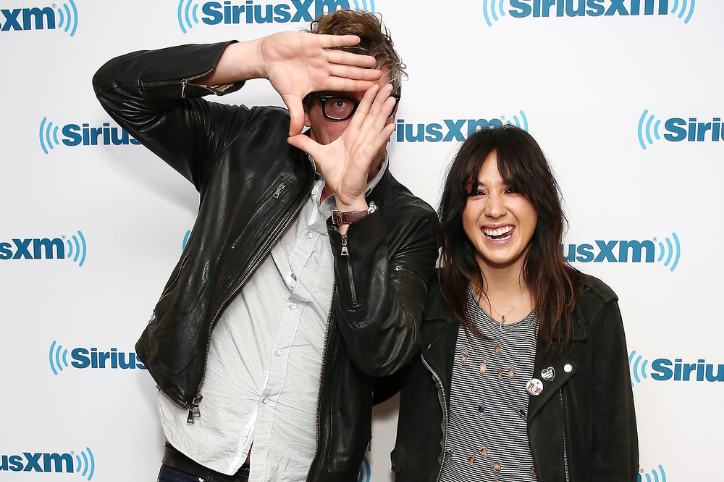 Exactly a year ago, according to PEOPLE, Michelle Branch shared the devastating news that she had suffered a miscarriage. Thankfully, 2021/22 has plans to help rectify the loss. Branch and her husband, Patrick Carney, are expecting their second baby together; Branch's third overall.
Branch announced the pregnancy very nonchalantly via Instagram this month, along with a photo of fresh scones from the oven. "You know you're pregnant when…" she started her caption with, and then went on to explain the impulse baking as a pregnancy craving. The expecting mom praised her doting husband for rushing out in search of the items she needed to get the baking done. But she did also express nerves over being pregnant post-miscarriage.
 

View this post on Instagram

 
Carney and Branch have a two-year-old son together, Rhy James, born in August of 2018. If you're unaware, Carney is the drummer for the Black Keys. The musically-inclined pair married the following April of 2019, at the Marigny Opera House in New Orleans. Branch has a 16-year-old daughter, Owen Isabelle, with ex-husband Teddy Landau, whom she states is a "wonderful ex-husband." Quite lucky.
Jason Statham and Rosie Huntington-Whiteley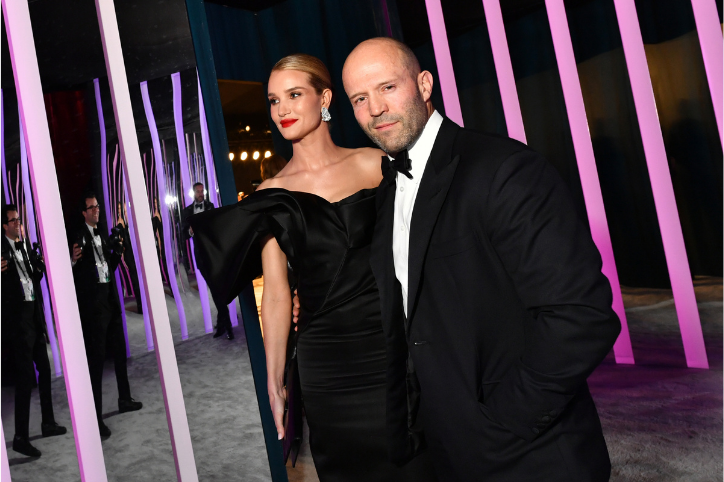 Another of our celebrities expecting babies is none other than action film star Jason Statham, and his fiancé and model, Rosie Huntington-Whiteley. In August, Huntington-Whiteley made the announcement of the couple's second child via Instagram. Her post included a slideshow of happy family memories, which finished with a photo of herself complete with a baby bump. In the caption, she excitedly stated, "Taaa daahhh!! #round2."
 

View this post on Instagram

 
Statham and Huntington-Whiteley both have a son together, already — four-year-old Jack Oscar —according to Page Six. During that pregnancy, Huntington-Whiteley told Ashley Graham of the Pretty Big Deal podcast that she "let the reins go" and enjoyed herself. The model gained "around 55 pounds" during the pregnancy and while it was a "new experience" for her, she enjoyed it.
While they've been together since 2010, and engaged since January of 2016, Statham and Huntington-Whiteley have yet to tie the knot. According to Page Six, they've "gained a reputation as one of Hollywood's most low-key" celebrity pairings. Statham apparently joked with Esquire in 2015 that they tend to "get drunk and float around the swimming pool" as opposed to going out. Perhaps that's why they're on this list of celebrities expecting babies in 2022.
Julia Stiles and Preston J. Cook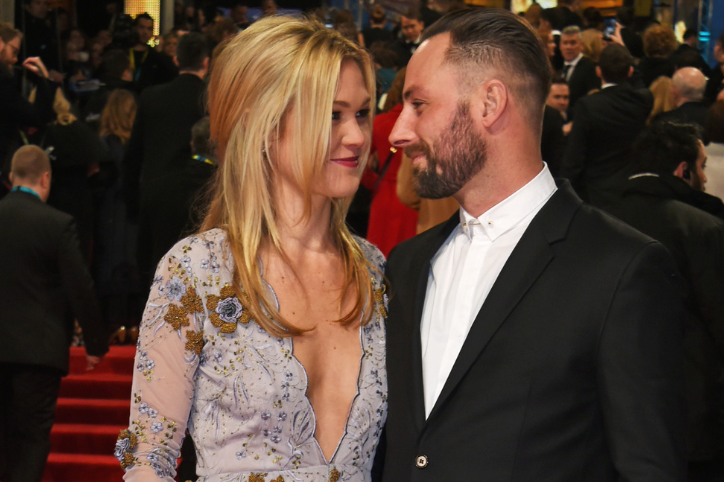 In November, Julia Stiles confirmed that a 2022 baby is on the way. At a New York screening of The Humans, Stiles posed for a red carpet photo while cradling her baby bump. This will be the actor's second child with husband and camera assistant, Preston J. Cook.
 

View this post on Instagram

 
According to Page Six, the couple describes their union back in 2017 as a "shotgun wedding" — Stiles was pregnant, at the time, with the couple's now four-year-old son, Strummer. They met on the set of the 2015 film Blackway and were engaged by January of 2016. It seems to have been a Christmas engagement, as Stiles posted an Instagram photo of her ring with the caption, "Best Christmas ever!"
After Strummer was born in October of 2017, Stiles received unnecessary criticism from the Instagram masses over how she was holding her baby. In a follow-up post, Stiles wittily addressed the remarks saying, "Instead of writing snarky comments about a 5-week-old, try dancing around your living room to a Clash record. It's way more fun." Can't let the internet get you down when you're a brand new mom!
Jessie Cave and Alfie Brown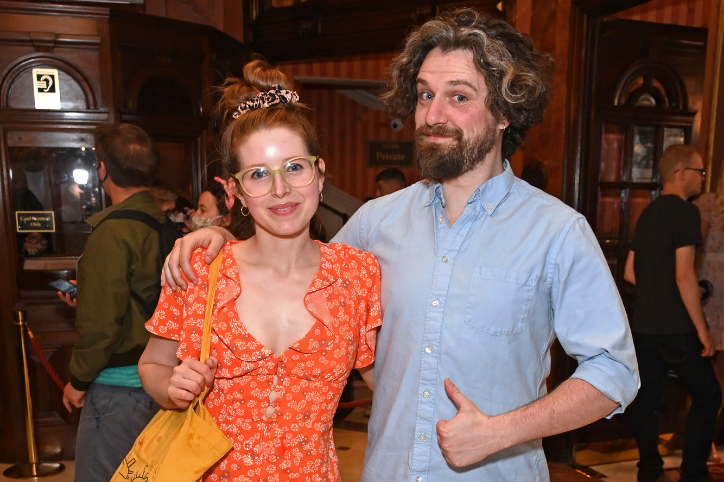 Lavender Brown, from Harry Potter, is one of our celebrities expecting babies in 2022! Her name isn't actually Lavender Brown, of course, it's Jessie Cave. The actor and her husband, comedian Alfie Brown, will be bringing a fourth child into the fold in 2022. It's quite interesting that her character's name from Harry Potter and her husband's last name is the same, isn't it? Quite kismet, indeed.
 

View this post on Instagram

 
Cave announced her pregnancy via Instagram, like most of the rest, in a set of mirror selfies showing off her brand new baby bump. "I can't hide this new baby anymore," she wrote in the caption of the adorable post. Brown, also, announced the pregnancy on his Instagram, posting a sonogram photo. Hilariously, he wrote, "Be easier in the future if I just announce when she isn't pregnant. Enjoy the baby's foot."
Brown and Cave's other children include sons Donnie, 7, and Abraham "Bam" Benjamin, 14 months, as well as daughter, Margot, 4, reports PEOPLE. Unfortunately, Abraham Benjamin had a few health scares after his birth in October of 2020. First when he was born, having to reside in the neo-natal unit for a time, and then later in January after contracting coronavirus. Since then, he has made a full recovery, just in time for a new sibling.
Jennifer Lawrence and Cooke Maroney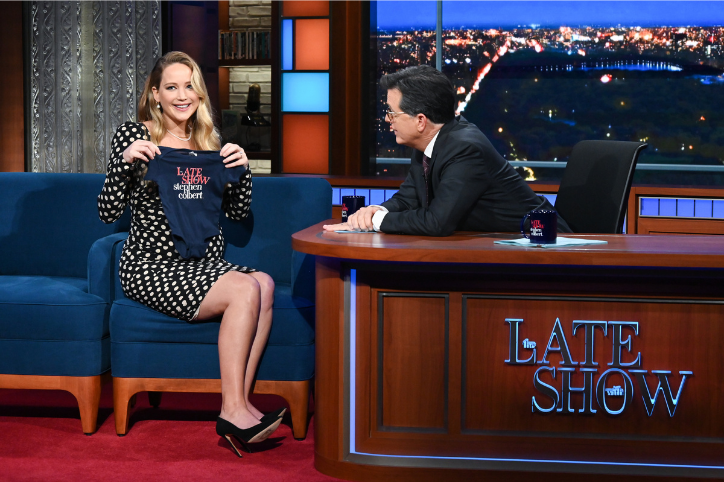 Rounding out our list of celebrities expecting babies is Jennifer Lawrence! That's right, J-Law is going to be a mother, and not just from the film Mother! Lawrence and her hubby, art dealer Cooke Maroney, are expecting their first child in 2022, PEOPLE exclusively reported.
Rumors about the couple started making the rounds in June of 2018, and the pair were soon married, in October of 2019. Their wedding was star-studded, of course, including the likes of Adele, Amy Schumer, Kris Jenner, and Emma Stone, on the 150+ guest list. It took place in Rhode Island, at the Belcourt of Newport estate, designed in 1894 by famous architect Richard Morris Hunt. Quite the dazzling affair all around, it sounds.
But don't be fooled. This doesn't appear to be all glitz and glam, but genuine, down-to-earth love. You really couldn't expect Lawrence to settle for anything less, being that she, herself, is one of the easy-going, completely nerdy celebrities. Also known as, the best kind. When asked on the Catt Sadler Podcast why she married Maroney, she simply said, "I don't know, I started with the basics: 'How do I feel? Is he nice? Is he kind?'" She went on to praise Maroney as "the greatest human being I've ever met," and that's certainly enough.
Which of these celebrities expecting babies are you most excited about for 2022? Is there one not on this list that you'd like to give a shout-out to? Let us know in the comments below.