Sharing kid-inspired tattoos on Instagram, and other social networks, is all the rage with celebrity mamas these days. Kids, without a doubt, leave a permanent mark on our lives, so it makes a kind of sense to commemorate it with a literal permanent marking!
Ranging from simple, meaningful, and minimalist, to having a kid's name straight-up written across their forehead, here are our top ten kid-inspired tattoos sported by celebrity moms.
Chrissy Teigen's Stylish & Vulnerable Kid-Inspired Tattoos
 

View this post on Instagram

 
On socials, Chrissy Teigen often shares truly candid "keeping it real" opinions, vulnerable moments of tragedy, and yes, her kid-inspired tattoos. One such tattoo has the birthdates of her mother, father, husband, and both of her children. It's presented in a tiny string of numbers down the length of her inner left forearm, which she posted on Instagram.
Teigen also unveiled on Instagram, in April 2019, a gorgeous black and white photo of matching ink she'd had done with husband, and musician, John Legend. Inked on both their forearms were the names of each other, followed by the names of their children, Luna and Miles; inscribed in a simple and stunning cursive. Teigen's caption for the photo hilariously says, "Hey guys please don't talk to us unless u have tattoos we are a cool tattoo family now and we only want to talk to other tattoo families."
Then, in November 2020, Teigen posted a heartbreaking addition to this tattoo, on Twitter. After losing her unborn child, Jack, 20 weeks into her pregnancy, she added his name. The simple addition sits perpendicular to the previous tattoo, across her wrist, in the same simple cursive. Undoubtedly, it was part of her healing process after the traumatic year following the loss. Teigen went into vulnerable detail about losing Jack in an essay she wrote on Medium a month earlier.
Angelina Jolie's Globe-Trotting Kid-Inspired Tattoos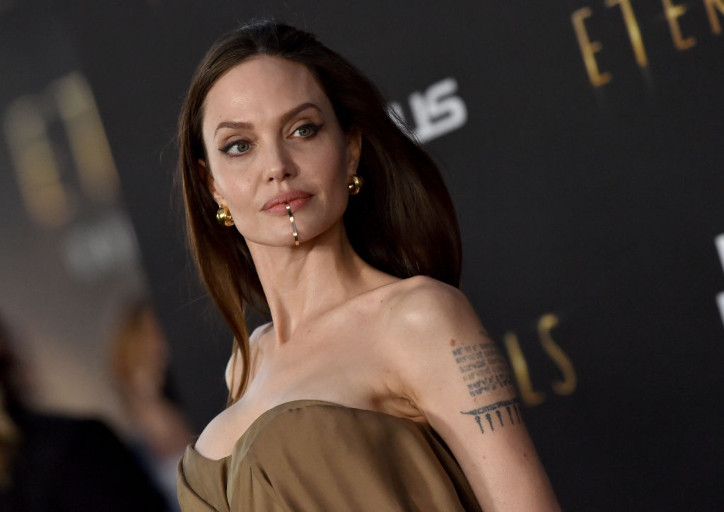 Angelina Jolie is quite infamous for her kid-inspired tattoos—and her kids! Jolie's children, most of which are adopted, are from all over the world. According to People, after splitting in 2003 with former husband, Billy Bob Thornton, Jolie had a previous tattoo of his name removed from her left bicep. In its place, she added the geographical coordinates of her children's birthplaces.
As listed by Today's Parent, N 11º 33′ 0″ E 104º 51′ 00″ is for Maddox, Jolie's eldest adopted son, born in Phenom Penh, Cambodia. Adopted daughter, Zahara, is listed just below that with N 9º 2′ 0″ E 38º 45′ 0″, representative of Addis Ababa, Ethiopia. Then comes biological son, Shiloh, S 22º 40′ 26″ E 14º 31′ 40″, born in Swakopmund, Namibia. Followed by Jolie's other adopted son, Pax Thien, from Ho Chi Minh City, Vietnam, N 10° 46′ 0″ E 106º 41′ 40″. The sixth line, N 43º 41′ 21″ E 07º 14′ 28″, for her twins Knox Léon and Vivienne Marcheline, born in Nice, France, concludes the set.
Each line of the tattoo is listed in a simple font, reminiscent of handwriting. Parents Magazine noted that Jolie later made another addition to the tattoo: a seventh line for husband Brad Pitt, who hails from Shawnee, Oklahoma.
Jamie King's Kid-Inspired Tattoo Represents "Living Authentically"
 

View this post on Instagram

 
According to Today's Parent, actor Jamie King and husband, Kyle Newman, attempted to conceive a child for seven years. King suffered five miscarriages and endured five rounds of IVF, before her son James Knight Newman, was finally conceived. After little James was born, King acquired a bit of ink to commemorate the "miracle", as she referred to it, via a post on Instagram.
In a follow-up Instagram post, King wrote that the tattoo—which consists of a sword, inscribed with Knight, below praying hands encircled with stars—represents "living authentically." The sword is "the sword of truth," the praying hands represent how the couple prayed to conceive, the stars are the "heavens blessing us with this miracle," and the heart at the sword's helm, "the loving trinity of myself, my husband, and child."
Today's Parent further noted that King endured undiagnosed PCOS and Endometriosis throughout the trial of conceiving. However, after the birth of James Knight, things seem to have become a bit easier for the courageous couple. They've since been able to conceive a second child—Leo Thames.
Adele's Kid-Inspired Tattoos Are a Reminder of Her "Emotional Place"
 

View this post on Instagram

 

Adele moves us all to tears with her ethereal and soulful voice, but what gives one of the greatest singers of all time goosebumps? Her son, Angelo. In a 2015 Today Show interview, host Matt Lauer noted that Adele took four years off after the birth of her son. During which time, she acquired three tattoos, all dedicated to her son.
One is noted by Parents Magazine as being a sweeping cursive A, located behind her right ear, and the other two are on the sides of each of her hands; one says Angelo, and the other Paradise. When Lauer asked to see her hand tattoos, he asked if "one referred to the other," to which she responded, "Yeah, exactly." Upon further inquiry about the difficulties of writing album 25, which was released four years after album 21, Adele noted that it was hard because she "wasn't sad anymore."
Lauer further inquired if the tattoos were a reminder for her, on bad days. "He is my emotional place," Adele told Lauer, and when asked if she was a more emotional person after the birth of her son, she said, emphatically, "Yes, in every single possible way." At the time of this interview, in late 2015, Billboard had just ranked Adele's album, 21, as number one on their Greatest Billboard 200 Albums & Artists of All Time list. Adele releases her next album, 30, on November 30th, 2021, reports Bustle.
Kylie Jenner's Stormi-Loving Kid-Inspired Tattoos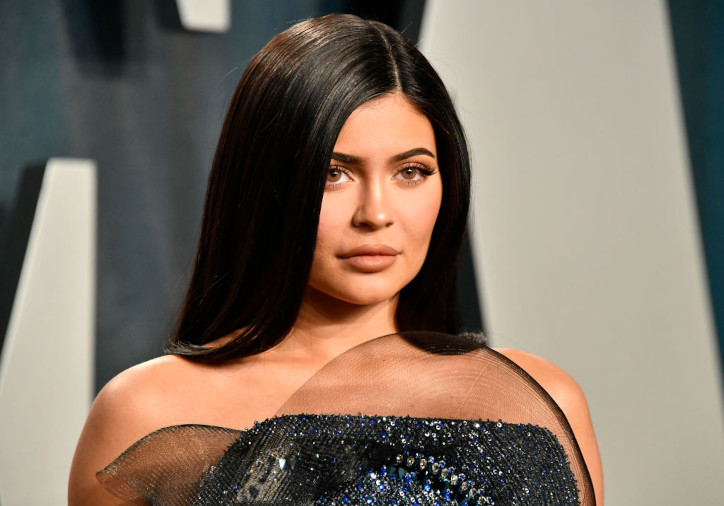 Social media darling, Kylie Jenner, owner of Kylie Cosmetics, is another celebrity mom with kid-inspired tattoos. Ones that she often shows off on Instagram. According to People Magazine and Page Six, Jenner has two tattoos dedicated to her daughter, Stormi Webster, which she had inked in 2019 and 2020, consecutively.
Jenner's tattoo from 2019 was shared in an Instagram story, shared by People, and was simply Stormi's name in simple black lettering. She posed for the photo with her close friend, Anastasia "Stassie" Karanikolaou, who nabbed a matching tattoo. Then, in 2020, Jenner shared her latest ink, again via Instagram story, while posing with her makeup artist. This was originally reported by Page Six as being a simple notation of Stormi's birth time on her forearm. Page Six deduced that the numbers, 4:23, referenced Stormi's birth time. This was based on a custom necklace Jenner often sported with the same notation.
When Jenner isn't posting up about her new kid-inspired tattoos, she's often sharing other adorable videos of her daughter. Recently, she shared a video of Stormi interrupting an Instagram Story Jenner was addressing to her supporters, impersonating her mom.
Jessica Alba's Kid-Inspired Tattoos Show the Real Stars
 

View this post on Instagram

 
In 2018, Jessica Alba, actor and mother of three, told Parents Magazine that, when it comes to parenting, she's "hardcore" that her kids "go to school, do well, and treat others well." But we also know, thanks to Alba's Instagram, that she's also a pretty hardcore momma when it comes to kid-inspired tattoos—she has one for each of her three children.
On Alba's left arm, she sports three different constellations. They are representative of her son, Hayes Alba, and her two daughters, Haven Garner and Honor Marie. Each constellation is, naturally, each child's zodiac sign. In the caption of her Instagram post, Alba broke them down as Gemini for Honor, Leo for Haven, and Capricorn for Hayes. Alba had the inking done, back in 2019, by renowned celebrity tattoo artist Dr. Woo, reported People Magazine. Woo appears in Alba's Instagram photo, as well, from the time of the inking.
In addition to being a tatted-up mom of three, and an actor, Alba is also the co-founder of Honest Company. According to another piece from People Magazine, Honest once donated 1.5 million diapers to Baby2Baby for Mother's Day.
Drew Barrymore's Kid-Inspired Tattoo Inspires "Life-Altering" Love
 

View this post on Instagram

 
Drew Barrymore has been America's sweetheart for most of our lives; if not all. With a turbulent childhood, herself, it makes sense that Barrymore nabbed some ink to keep the experiences of her children firmly in focus. Right there, on her right wrist.
Shortly after her divorce from Will Kopelman, Barrymore had the names of both her daughters, Olive and Frankie, tattoed. Parents Magazine speculated that it might even be in her own handwriting, which could be true. It's a simple black font, with both names, and a plus symbol in between. Just after the ink was done, in an interview with Pop Sugar, Barrymore said that the "only thing that matters" to her, at this point in her life, is that her daughters "know that they were not just loved, but, like, ridiculously, utterly, life-alteringly loved."
Barrymore shared her fresh ink via her Instagram, posing for a photo with her tattoo artist, at the time of the inking. In the caption, she wrote, "Getting a great little lifetime note on my arm." This kid-inspired tattoo joins a few others Barrymore has, says Today's Parent, including a flower bouquet on her hip, a butterfly on her stomach, and on her left arm, the word Breathe.
Malin Akerman Altered Ink for Ex-Husband Into a Kid-Inspired Tattoo
 

View this post on Instagram

 
Most hesitancy with acquiring tattoos, particularly to honor significant others, comes from their permanence. We all know how that can go. However, in most cases, it's possible to remove or alter the tattoo. Much like Malin Akerman did with the Z she originally tat'd for her ex-husband, Roberto Zincone, then altered.
After Akerman and Zincone called it quits, she decided to have her Z altered. Turning something that she thought would be permanent into a kid-inspired tattoo that would definitely be. By layering a powerful serif S over the previous Z, she was able to rededicate the tattoo to her then-infant son, Sebastian Zincone. Akerman successfully turned lemons into lemonade, as they say, starting fresh with her son, at the age of 35.
According to HuffPost, Akerman did the inking over Valentine's Day weekend in 2017, with artist Jose Cordova of Miami Ink, and posted photos of the now kid-inspired tattoo on her Instagram. In an additional Instagram post, she revealed another tattoo she inked that day, of a puzzle piece. Both tattoos join a lotus flower that Akerman already had between her shoulder blades. A tattoo that represents her Buddhist upbringing, says HuffPost.
Susan Sarandon's Is a "Closet Tattoo Person" with Kid-Inspired Tattoos
 

View this post on Instagram

 
Susan Sarandon, actor, kind of became Hollywood's mom over the course of her career. So, when both fans and media started spotting tattoos at various events, they were a bit surprised. In Sarandon's own words to Parade, she's "sort of a closet tattoo person." And, according to Hello Magazine, has at least two major pieces of ink dedicated to her children.
Back in 2008, at a screening of Speed Racer, Sarandon showed off one of these tats. Positioned between her shoulder blades is a vertical ten-inch link of initials, in gothic lettering. All of which belong to her three children; her two sons Jack and Miles, and her daughter Eva Amurri. Sarandon's other kid-inspired tattoo is located bracelet-style around her wrist. It reads E and A for her daughter's initials, according to Hello. When asked about the tattoos at the time, Sarandon said, "Why not? I turned 60 and after a while you think, 'Well I've only got my body for a few more years anyway.'"
Nearly a decade later, however, in 2018, Sarandon nabbed even more ink, according to a feature written by Inked. This one was a matching tattoo that she had done with her son, Miles. It consisted of a stylized A, shaped into a wave. A gorgeous black and white photo of the inking in-progress was posted by the tattoo's artist, Jessica Mascitti, on Instagram.
Amber Rose Has Kid-Inspired Tattoo Inscribed Across Her Forehead
 

View this post on Instagram

 

Amber Rose is a model, and television personality, with a colorful past. But that doesn't keep her from being a devoted mom. So devoted, in fact, that she had the names of her two sons inked straight across her forehead, as reported by People Magazine and seen in a YouTube video from CoolKicks.
While on a shopping venture with CoolKicks, in 2020, the 36-year-old Rose showed off the new tat. It reads Slash and Bash, which are nicknames for her sons, Slash Electric Alexander Edwards and Sebastian Taylor. Inscribed with gothic calligraphy, the tattoo sits just below her hairline. After the birth of Slash, Rose's husband, Alexander Edwards, Vice President of Def Jam Recordings, praised his wife saying, "I could never be as strong as u. Slash a rockstar."
Rose gushed herself about being a mother, in another interview with People, saying, "I literally almost shed a tear every single time when he hugs me really tight and he says, 'Oh, Mommy, I love you so much,'" speaking of son, Sebastian. "I want him to do any and everything that makes him smile and be happy forever."