The concept of a capsule wardrobe has always interested me; 37 items that are timeless, versatile and make up a complete and coherent wardrobe. Sounds kind of cool, right?
About a year ago I was smack bang in the middle of that stage of life where family clothing is just in complete excess. With a one and three-year-old who were growing out of things quicker than I could put them away, bags of kids' clothes that didn't fit for one reason or another waiting to go to charity or friends as well as bags of incoming hand-me-downs from friends and family adding to the chaos. A total necessity at that stage of life but still – just so stressful and time consuming.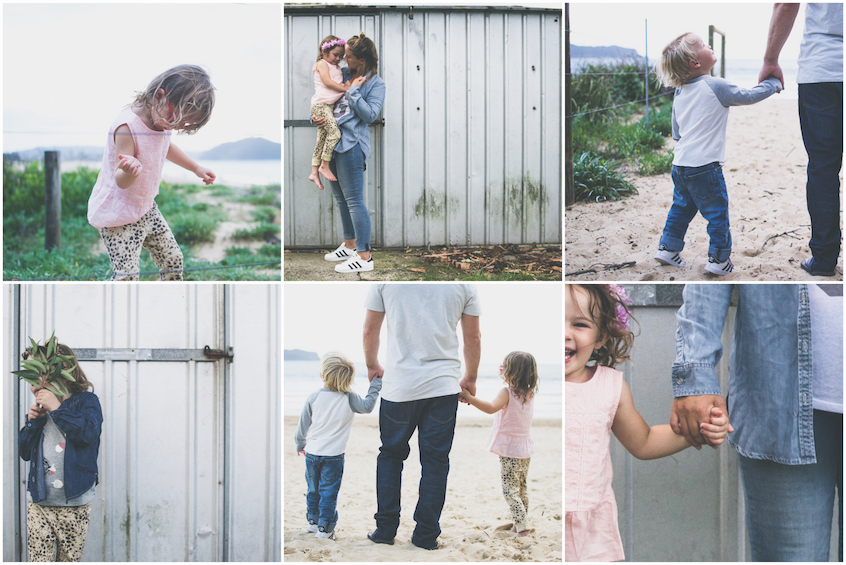 My own wardrobe was brimming with pre-baby clothing that I was still (ha!) hoping to get into, maternity gear from my summer and winter pregnancies –and don't even get me started on the pure volume of maxi dresses I had gathered. It was beyond a joke. And of course…I still had nothing to wear. Building a capsule wardrobe was looking very appealing.
Flash forward a year and I'm pleased to say that the hinges on my wardrobe are no longer threatening to break – I don't own any 'bum-around-in' clothes anymore and, maybe more surprisingly, I have started looking at my children's wardrobes in the same light.
Now I'm in no way saying that I only own 37 items or that my kids' drawers are neatly stacked and rotated by season. But the themes of buying less, choosing quality, versatile pieces that go the distance and shopping really consciously have really helped us move towards a more 'capsule-style' wardrobe and I wanted to share some of the things I have discovered.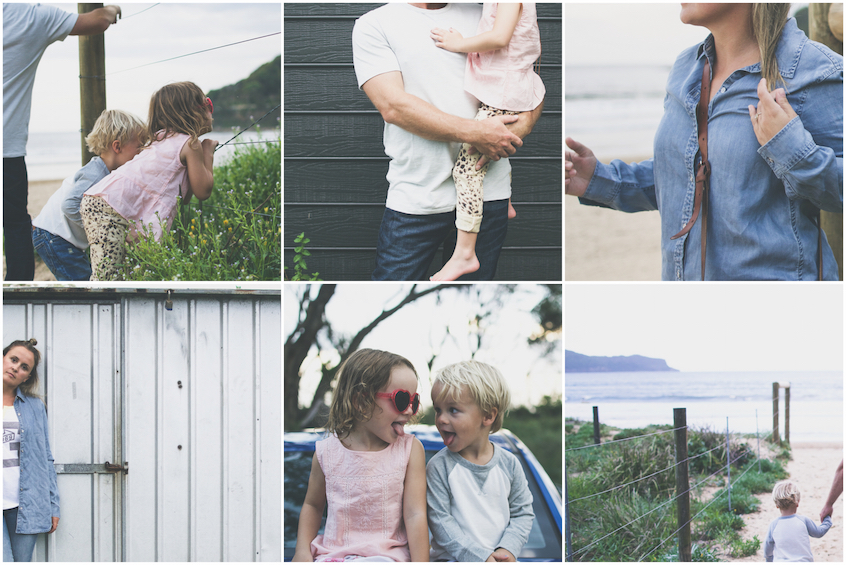 Embrace neutrals.
I am a colour lover in life for sure but as far as versatility goes, you can't go past neutral items if you're trying to downsize a wardrobe. So denim, of course, whites, blacks and in my eyes leopard print and a soft blush or grey-coloured neutral are all going to give you the best bang for your buck. A good denim shirt can pull some serious weight too, especially if you are happy to rock a Canadian Tuxedo (double denim) from time to time. If not, so long as said shirt it is long enough to cover your bum it can be easily paired with a topknot, leggings and funky sneakers.
Make your own rules.
Some people think that stylish ballet flats are a must have item, others love a good set of overalls for the kids (or themselves). I don't believe in any sort of one size fits all approach. Personally, funky sneakers for the whole family and high-waisted jeans for the mama are my go-to necessities. You just need to know what makes you happy, make note of it and move away from the rest.
Lose the 'bum-around-clothes'.
This tip is mostly for the mums – the kids absolutely need their kicking-around clothes! Once upon a time I would save old t-shirts for sleep or working out. I would have threadbare trackies for 'bumming around days' and I was actually wearing these things a lot of the time and they were taking up valuable room. Not cool. I have pyjamas, I have active wear and considering how little exercise and sleep I actually get, I'm pretty sure I don't need additional items for these purposes. Wearing your active wear will serve you much better than old clothes on those days you couldn't be bothered with actual clothing – looking daggy certainly isn't going to help your mood.
Establish your needs before you shop.
This may sound drastic but attacking the wardrobes one family member at a time and laying it all out on the floor is a really great way to approach capsule wardrobing. When I did it with mine I realised that out of the 6 pairs of jeans I owned, none of them were without rips – and not the fashionable kind either. So yeah, not so versatile. My daughter didn't own any pants that weren't leggings and my son needed more whites and greys because there are only so many shades of blue that can be put in one outfit. My partner, well, let's just say there were a lot of gaps in his wardrobe.
When the lovely people from GAP invited me to fill those holes with their latest range, this is what I bought.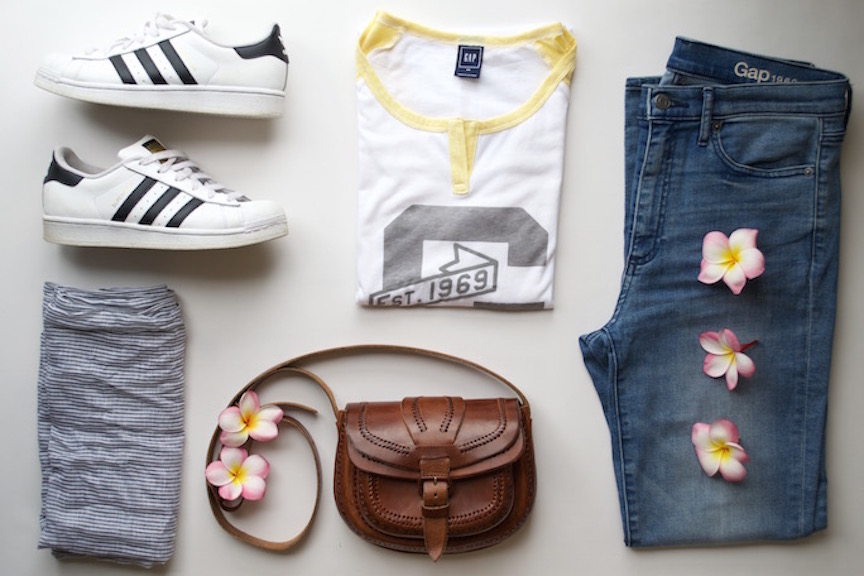 Me
High-waist jeans – better than Spanx right!? Also, no rips so they are a bit more versatile for both casual and not-so-casual events. A yellow raglan because coming out of summer means sun-kissed skin and yellow is a winner there. Also, a denim shirt that can be worn as a top or open as a light jacket, it didn't fit in this picture but you can check it out in all the others.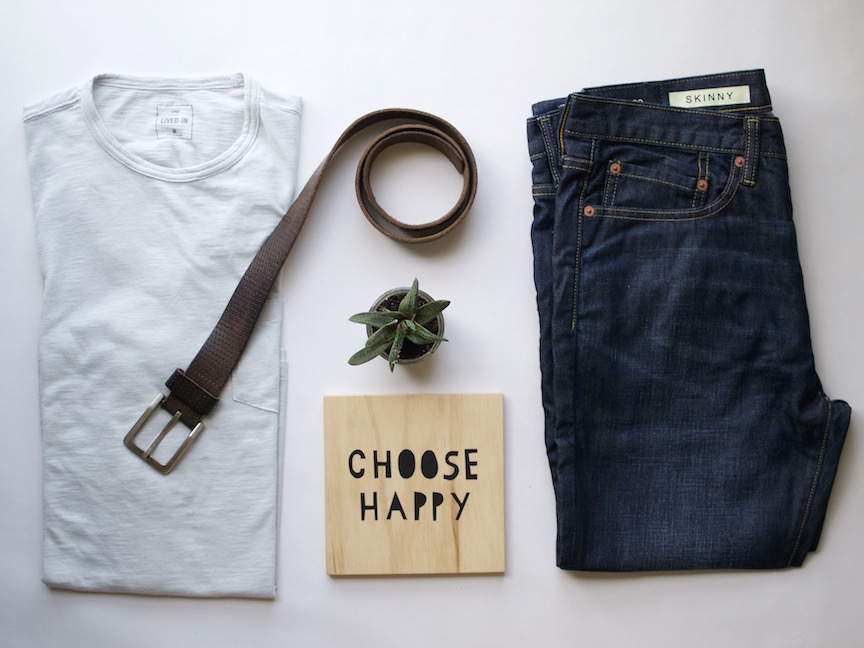 Him
A plain light grey tee, perfect for not clashing with anything and it's made from the softest cotton which means it's a dream to wear (my man, like many men, is definitely a 'comfort first' fashion buyer, but if I can get him looking cool at the same time, it's a win-win). And some dark denim Skinny jeans because you can't go past dark jeans and because these are made to go the distance, they will fade over time too.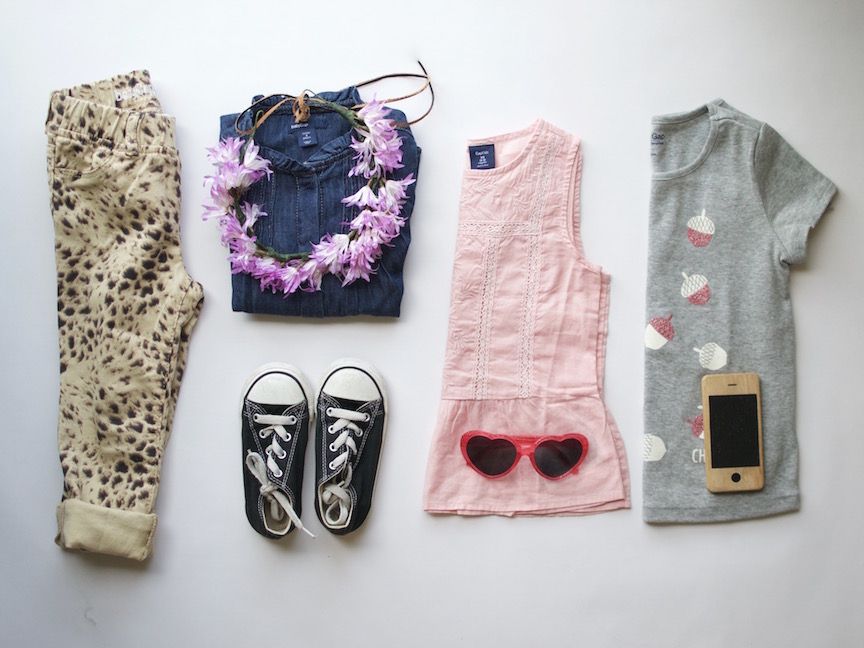 Little Her
There was no shortage of colour and tulle in her wardrobe so the idea here was to get toned down items that we could mix and match. We picked a denim shirt that can also be worn as a light jacket, plain with leggings or with any one of her tutus. Leopard print pants because: new neutral. Also a grey casual tee with just a hint of a cute print.

Little Him
He needs jeans of the thickest quality for sliding down the skate park walls, but he also got some quality navy trackies – again because his play time is generally hard on clothing and these will stand up to his crazy antics. A gorgeous raglan without a print so it will match everything he owns and avoid the fading that can happen when clothing has to be soaked on a weekly basis.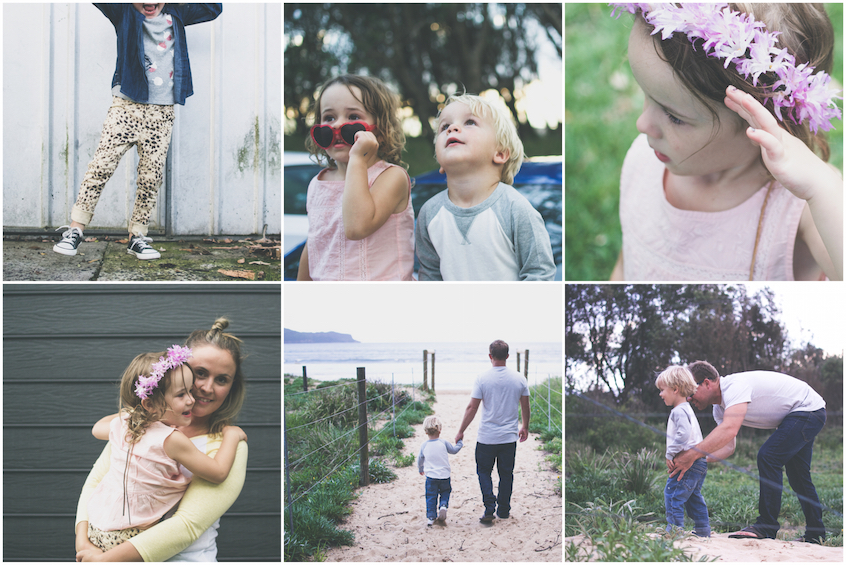 So there you have it, capsule wardrobes are go, thanks to the new Fall collection from GAP. Incidentally, if you love the clothes and you think your cute GAP kid has what it takes to be the face of the GAP Winter campaign, be featured in Child Magazine and get $1000 worth of products, head here for all the details.
Are you a fan of quality neutrals for kids too?
This post was sponsored by GAP.
More style advice for hard-working mums:
Images: Barbara O'Reilly