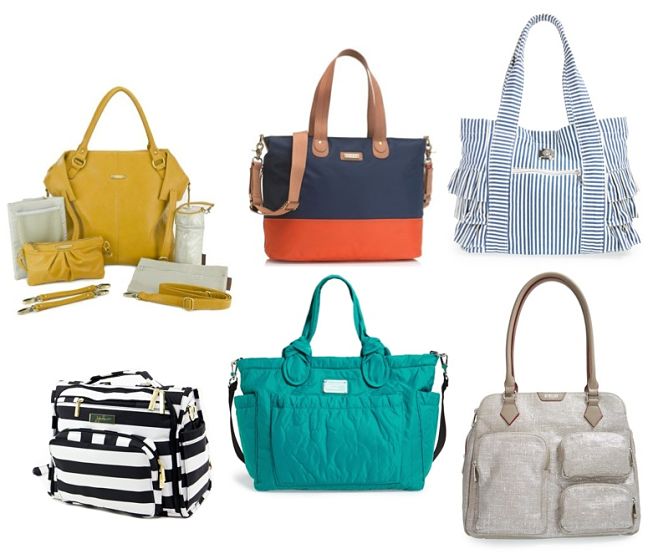 Diaper bags are a necessity for the baby-on-the-go, but why is it that most seem to channel the mommy pack-mule look? While practicality is obviously of the essence, nothing kills my look more than lugging a knapsack over my shoulder when I've already cut corners in the blowout, shower, and makeup departments.
I often tell my friends and styling clients to put a great (somewhat splurge-worthy) diaper bag on their registry. It's a gift your non-mom girlfriends will be excited to chip in on together (especially if they're petrified to buy you a breast pump)!
Here are some of my favorite springtime diaper bags that marry fashion and function for the stylish mom-to-be…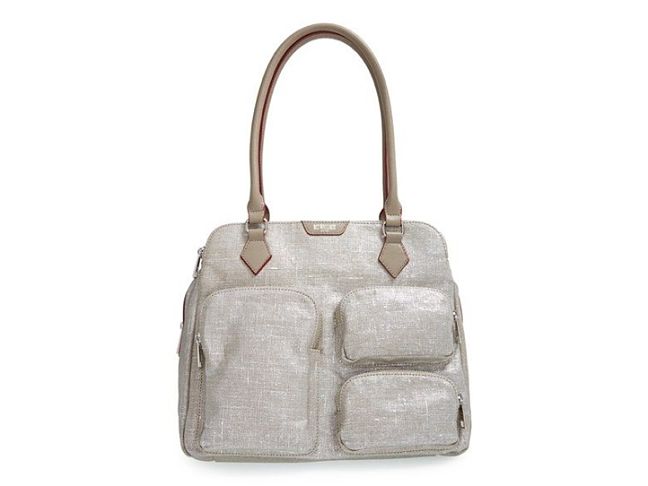 The Eliza Metallic Linen Satchel from MZ Wallace, $395, seems like a splurge until you realize its versatility. This silvery street-chic tote has plenty of fast-access zip pockets for wipes, sanitizers, and pacifiers, but when your little one has outgrown the bag, the spacious silhouette also accommodates tablets and laptops for the back-to-work momma.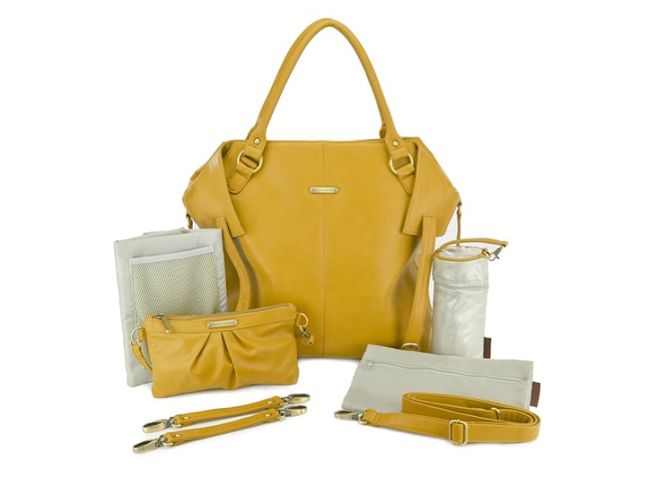 The Timi + Leslie Charlie diaper bag is a stylish steal at only $160. Constantly toted around by Jessica Alba and other chic celeb moms, the eight piece set comes in seven trendy colors that work with nearly every outfit. I'm loving the transitional mustard yellow tone for spring!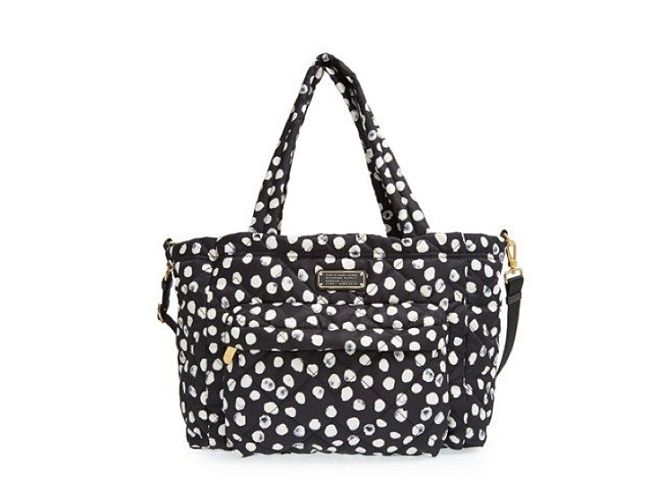 Marc by Marc Jacobs is known for their punchy prints and illustrations—and the $298 Crosby-Elizababy Diaper Bag is no exception. The dot design makes a playful statement while also concealing spills and stains specific to the toddler set.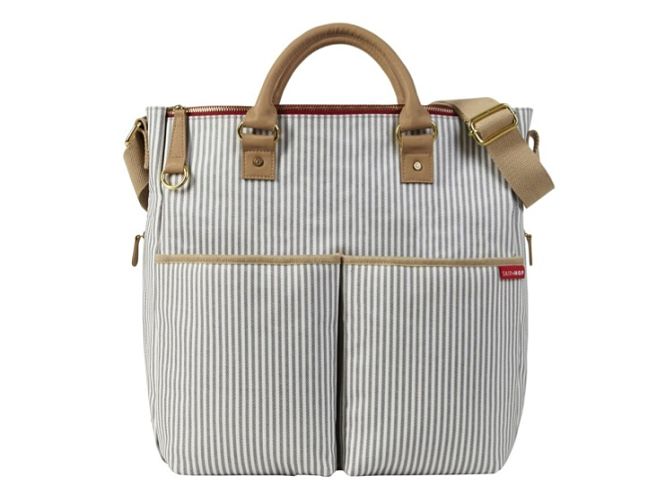 This Skip Hop Duo in Limited Edition French Stripe, $70, boasts all the assets of SkipHop's renowned Duo bag in a crisp, contemporary stripe that your husband won't mind toting around, too. It also comes with a matching changing pad—hey, at least your kid can be coordinated, even if you're not wearing matching socks!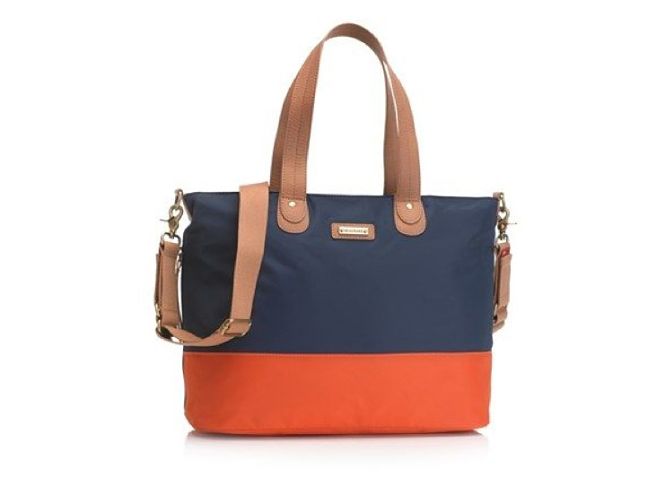 The Storksak Color Block Diaper Bag, $142, has a sophisticated prep look that sleekly conceals its many compartments. Need some outfit inspiration? The pop of navy and orange works with basic playground jeans, a comfy white tee, and your fave Sperrys.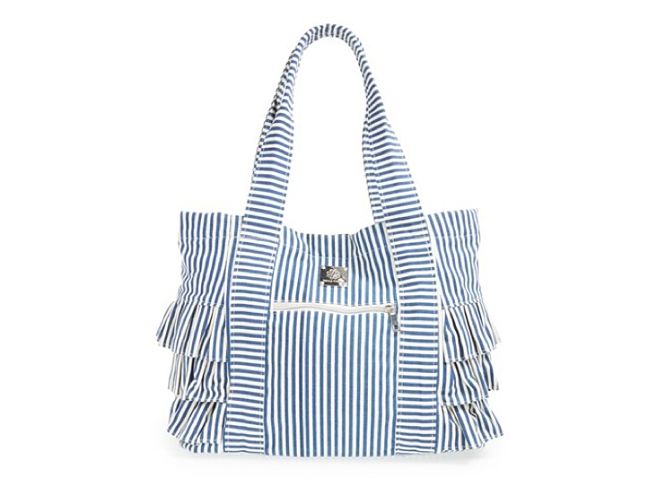 From the flirty ruffles to the crisp stripes, everything about this Bella Tunno bag reminds me of a classic sundress. It opens to reveal a water repellent Kelly green liner and oodles of pockets. At $74, it's at a great giftable price point, too!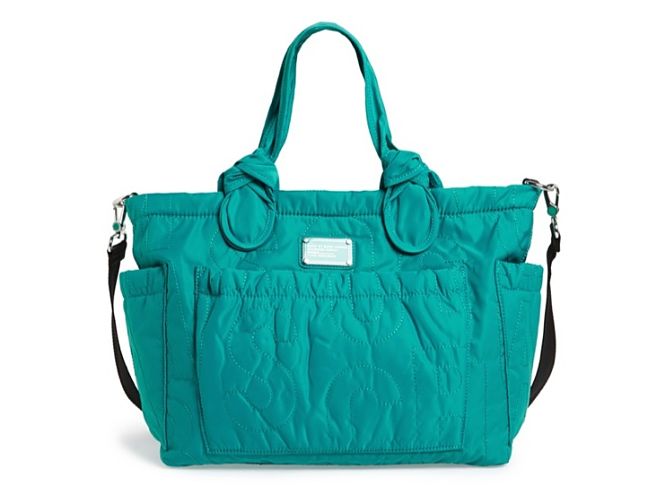 The Pretty Nylon Eliza-Baby Diaper Bag from Marc by Marc Jacobs, $298, has been on the baby gear scene for a while, but the new Rip Tide (shown) and Banana Creme colorways are awesome additions for summer beach days and breezy getaways with your little ones.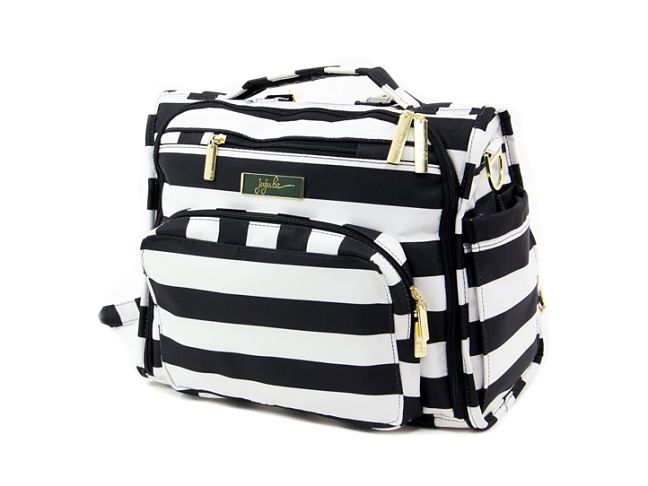 A Ju-Ju Bee B.F.F. Legacy Collection bag, $180, is not only graphic and cute, it is designed with more thoughtful touches than the obsessively organized mom could ever imagine.  Each comes with a memory-foam shoulder strap, Thinsulate by 3M insulated bottle pockets, and Agion®-protected linings that reduce the growth of odor-causing bacteria, mold, and mildew.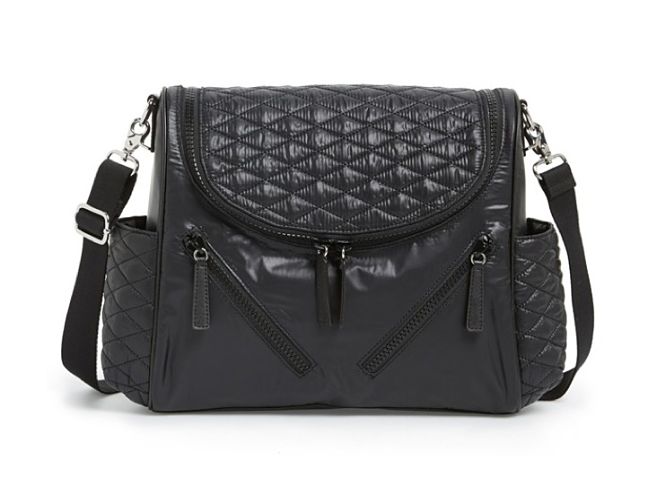 Rebecca Minkoff's Jude Diaper Bag, $395, is a seasonless staple that channels all that cool-girl edge you had before baby. I love it for the exposed zippers and oversized hardware, not to mention its sleek (wipe-and-go) fabric.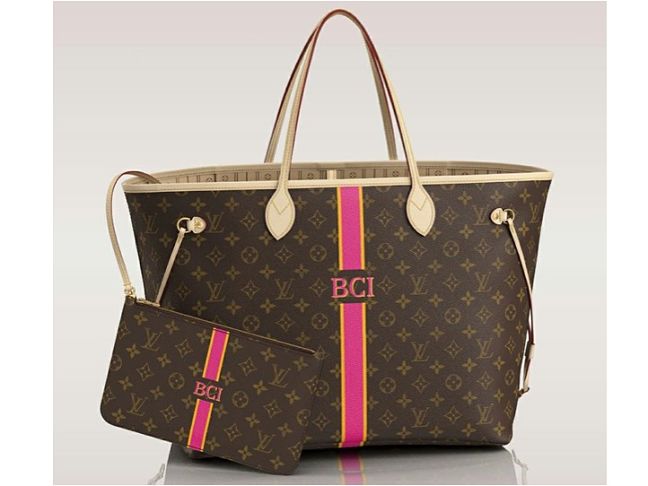 I know…but before you guys roll your eyes at me, hear me out. The Louis Vuitton Neverfull is not just a diaper bag, it's a lifer bag. As in, you buy it now and literally use it for the rest of your life. (Or at least that's how I rationalized it—it's been my go-to diaper/work/everything bag since I had my daughter.) While the Neverfull is definitely a splurge (and falls more into the push-present versus registry category!), it will carry your essentials long after you've outgrown the diaper bag days! Customize it with your monogram (or baby's), and add a SugarBooger diaper bag organizer to keep all your gear in check.
More Stylish Diaper Bags: