"What the heck?!" is the phrase I think I uttered the most after my first son was born. I just about said it out loud every time I'd change my son's diapers (it was amazing just how many diapers the kid could power through in a day), and I think I said it to myself every single time I looked at myself in the mirror. I'm not going to lie, after he was born, my body changed in the most heinous ways. IF my clothes fit, they fit totally differently than they did before. My boobs fluctuated in size so rapidly that I was terrified to find out where they would land in a few months. New hair grew in in places it never grew before (and simultaneously fell out of places where I wished it had stayed).
If you are a new mom and this sounds a lot like what you're going through too, know that these atrocities are totally normal and, for the most part, temporary. You've got a lot on your plate in learning to keep a new tiny human alive. Here are fifteen postpartum style tricks you need to know about. These tips will help you put together new outfits (where hopefully people won't ask if you're still pregnant) and share ways to handle the stress of realizing just how much these baby hormones wrecked your body.
Let's face it: Our new baby bodies can make us feel less than confident, but fear not! Soon, these "new" traits fade into normalcy as your hormones even out and you learn to cope with them better. Either way, that adorable baby face smiling up at you will remind you that your under-eye bags and saggy stomach are all worth it. 
Patterns hide stains and leaks.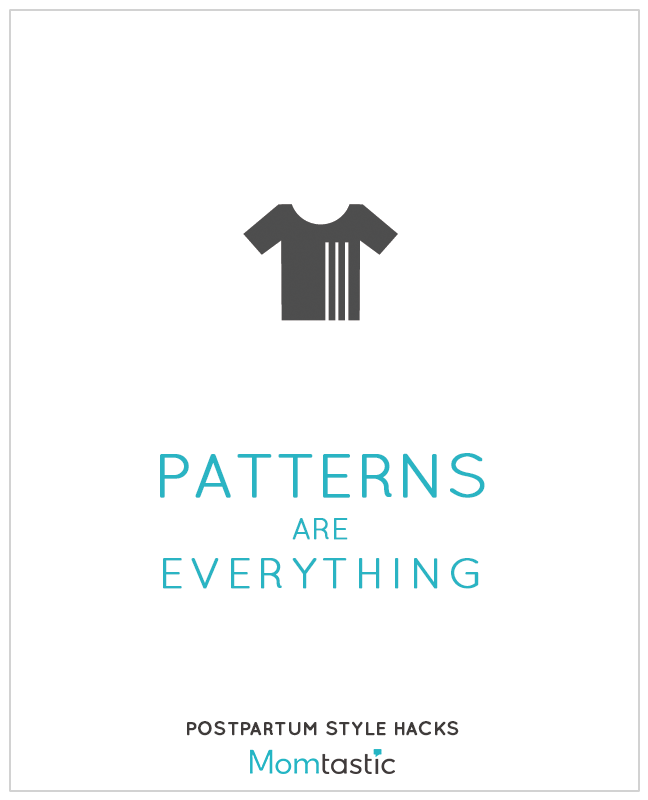 I remember when my milk came in for the first time. I remember, even more clearly, the first time milk shot out of my nipples like a toy water gun. It was a vivid reminder that I was not in charge of my chest area anymore. Being able to feed your child is amazing. But being out in public with a breast milk–soaked shirt, not so much. Patterned shirts are fantastic at disguising leaks that are out of your control. Choose something with a small pattern in a mix of light and dark colors. 
RELATED: 11 Seriously Cute Maternity Dresses for Spring Break & Summer
It's fine to still wear maternity clothes.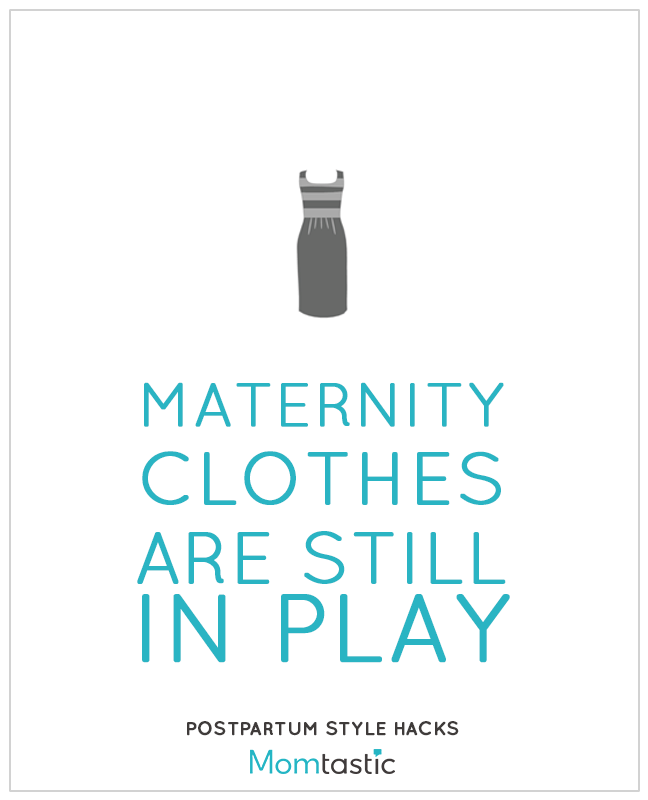 You may think that you'll be able to jump right back into your pre-baby clothes when you get home from the hospital, but that isn't usually the case. Maternity clothes, which are super stylish these days, can be worn for as long as you need to wear them. Maternity jeans, especially, look great but provide a little extra room. They are especially good for C-section incisions as they wear higher on your waist.
Oh, the frizz!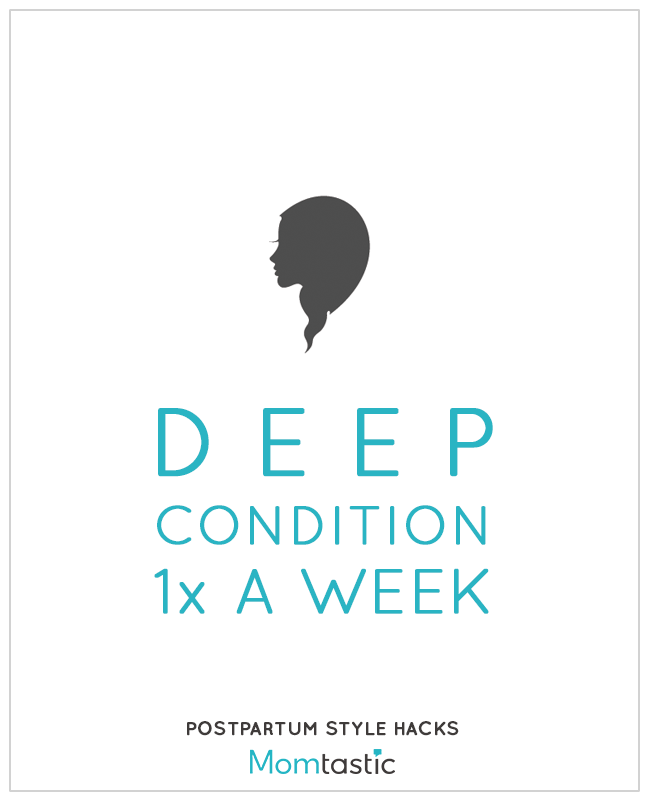 After the birth of my first son, my hormones went right back to normal. But after my second son, they went haywire. The texture of my hair completely changed and was kinky in only certain places, and my whole head became one big frizz ball. It was frustrating to not be able to tame my hair and make it act like it used to. But it was temporary (I had it BAD for about a year, and then it cut me a break). The best solution I found was to deep condition my hair at least once a week, use a leave-in conditioner daily, and use a finishing cream with frizz control as a last ditch effort to smooth the flyaways.
Embrace boho.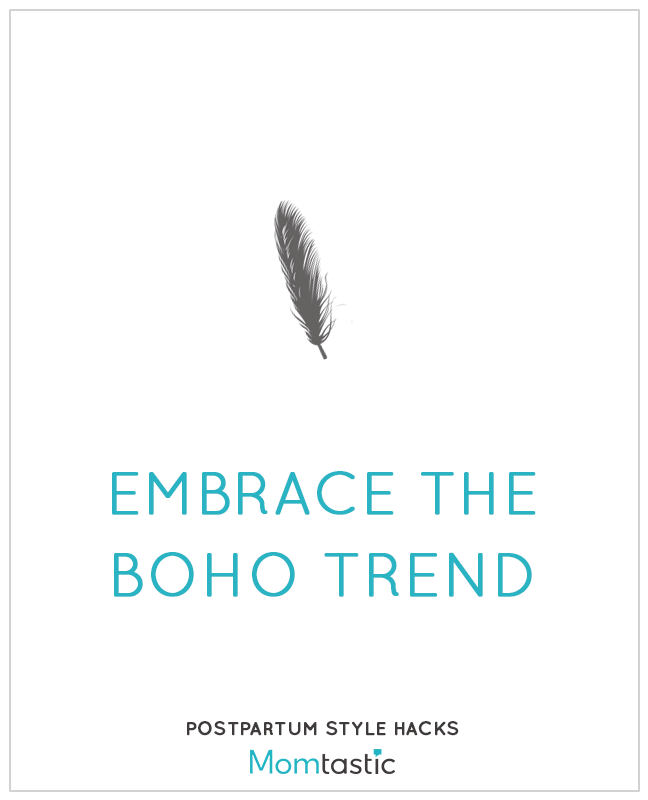 You may not naturally gravitate to the whole bohemian vibe, but after baby it should be your favorite. Kimonos over leggings and a top add another layer of distraction for your problem areas. Plus, they are totally on trend so you'll feel less "new mom" and more "I'm totes on my way to Coachella." Messy buns and braids fit right in with this aesthetic too. Harem pants, palazzo pants in cute prints, and kaftans all work in this scenario where comfort is king. If you just can't get with the boho trend and just miss wearing something form fitting for a night out, chances are you've already looked into waist training and/or postpartum shapewear. Does waist training work? Doctors say no. And what's the difference between postpartum shapewear marketed to new moms and the pair of spanx you probably already have in your closet? Not much. If your old shapewear doesn't fit, hunt through your closet for the smallest tank tops you can find and wear them under your clothes. They'll act as gentle compression tops that'll smooth your lumps and bumps nicely. 
Black pants are your best friend.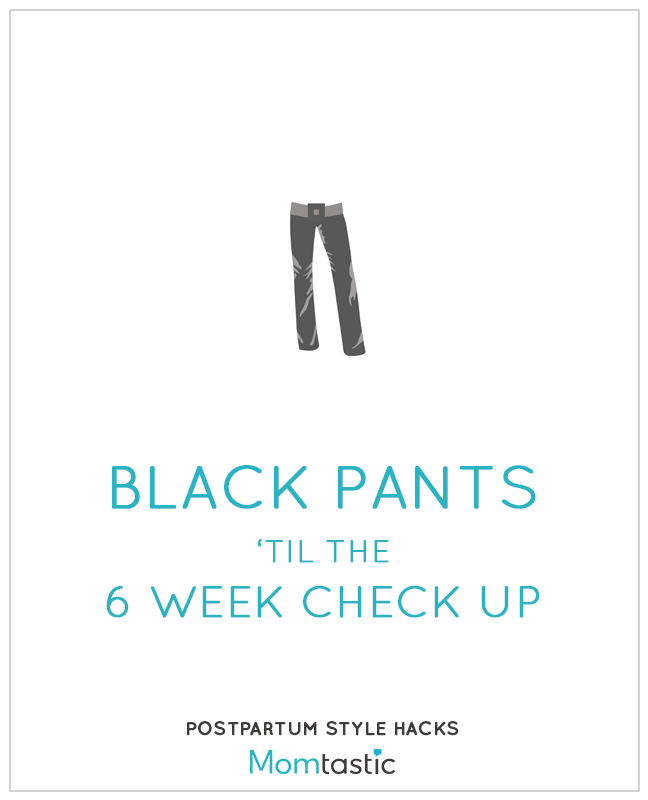 Childbirth is messy. And it continues to be messy for the first few days (maybe even weeks) of motherhood. There is a lot of healing that is taking place. There are also a lot of visitors. Black pants are really great at hiding any blood that may leak, saving everyone a little embarrassment. Choose a comfortable option with a little stretch, and then wear the heck out of them. Even after you get the "all clear" at your six week check up, these comfy black pants will remain your go-to option. 
Invest in nice looking granny panties.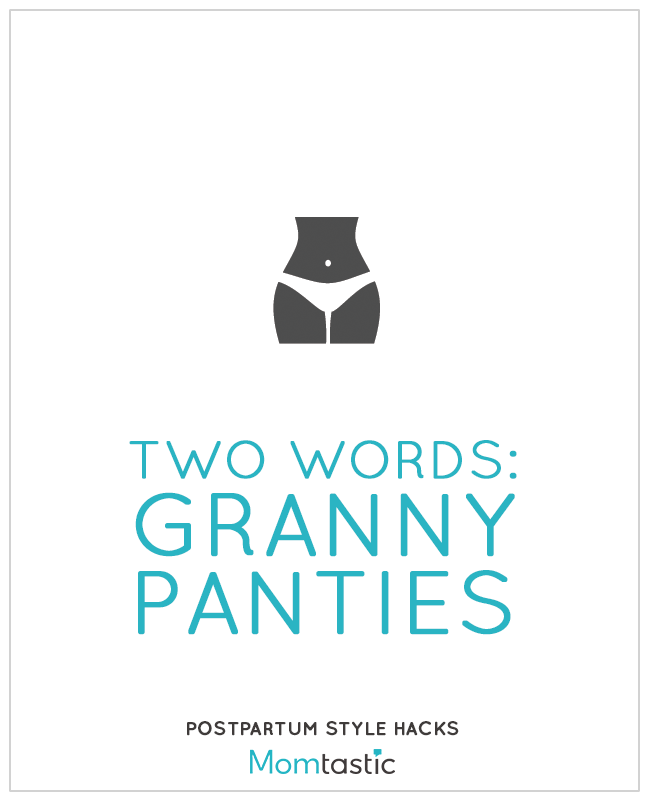 You will recoil in horror at the odd mesh granny panties they give you in the hospital for after childbirth. And then, after a few hours, you'll likely start thinking that you will never wear a thong again. I'm not saying to give up your sexy outfits altogether, I'm just saying to check out your underwear options. While the term "granny panties" is highly unsexy, they make some really great looking, full back options. For the first few weeks of baby's life, you'll be spending a lot of time at home. And there is NO reason you shouldn't be as comfortable as possible.
Try bra inserts for shrunken boobs.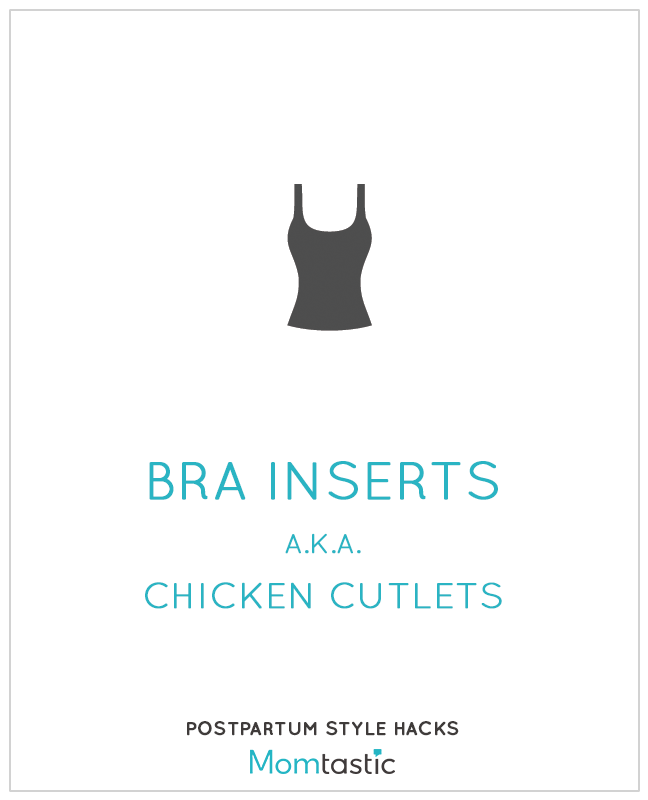 Where did they go? I couldn't believe my boobs shrank after my second baby. Totally fine after the first, gone after the second. Since I don't always want to shop at the pre-teen stores for my lingerie (because, ew), I buy the smallest cup size and use bra inserts to help fill out the cup. Of course, I didn't notice this while I was breastfeeding. Once I weaned and got back to wearing non-nursing bras, it became evident. Bra inserts (AKA chicken cutlets—because some of them look just like chicken cutlets) ensure that there is no shelf effect between the shirt I'm wearing and the empty space where my breasts should be. 
Use scarves to hide the unevenness of nursing pads.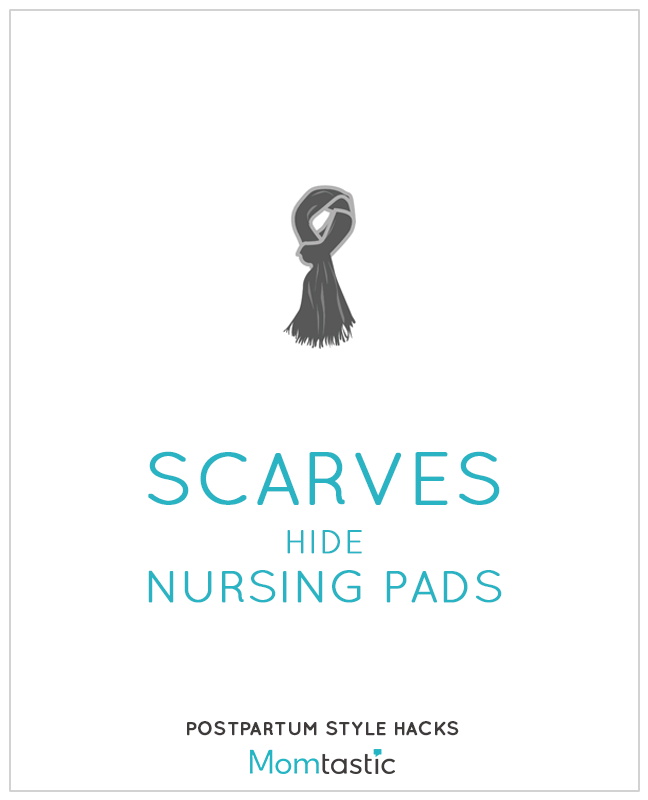 Whether you decide to nurse until your kid is four or stop after a few weeks, you'll probably have to use nursing pads. Sure, they do what they're supposed to. But oftentimes they end up looking lumpy and uneven. Long scarves are a great way to hide the peaks and valleys. The way they drape will distract from the exact area you are trying to hide. And luckily scarves come in different patterns, so you can find one that fits your pre-baby style. Style is something that will boost you up and help you forget about your wonky boobs. 
Think about easy access.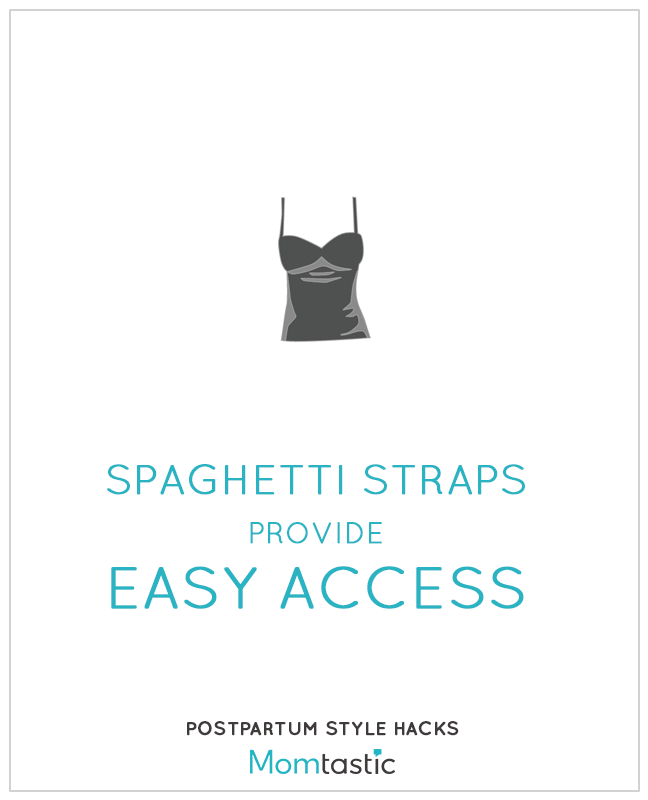 If you are nursing, pumping, or even in the process of weaning, you want to look for clothes with easy access to the milk supply. Button-up shirts are a great idea, as are spaghetti-strap tops and maxi dresses. They also sell nursing tank tops with built in support, so you can easily feed baby and not have to worry about wearing a bra as well. Although they sell clothing designed especially for nursing, you don't really need to buy them. Aside from a nursing bra or tank, you can get by with items you probably already have in your closet. 
Tunics and leggings are forgiving.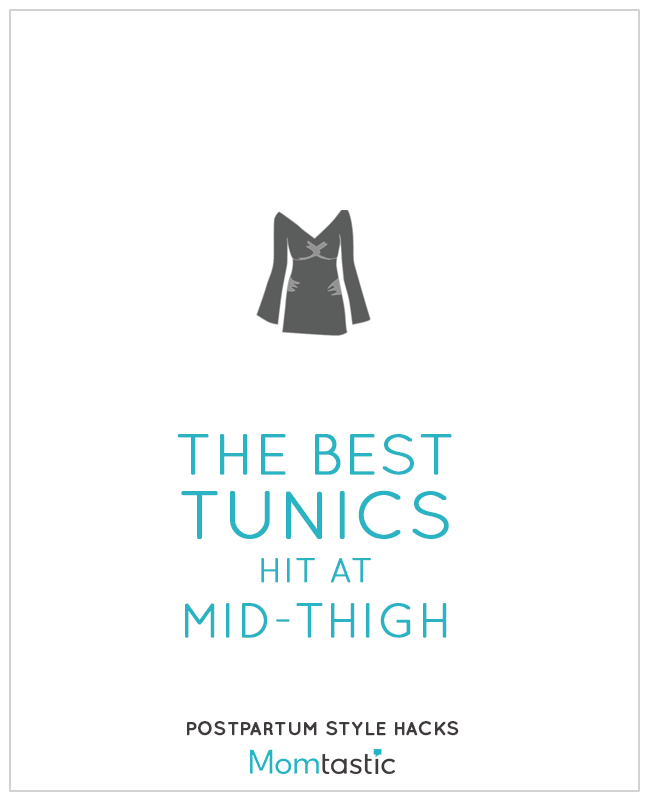 No matter what your stance is on the leggings debate, you WILL wear them after you have a baby. The form-fitting bottoms pair really well with a flowy tunic top. A loose top will help disguise any extra stomach you are working with once you leave the hospital. The length of the tunic is best when it hits you about mid-thigh, where your leg starts to narrow toward your knee. The great thing about this outfit is that it can be dressed up with a pair of boots or dressed down with some sandals. 
Buy some comfy shoes, since your feet may grow a size!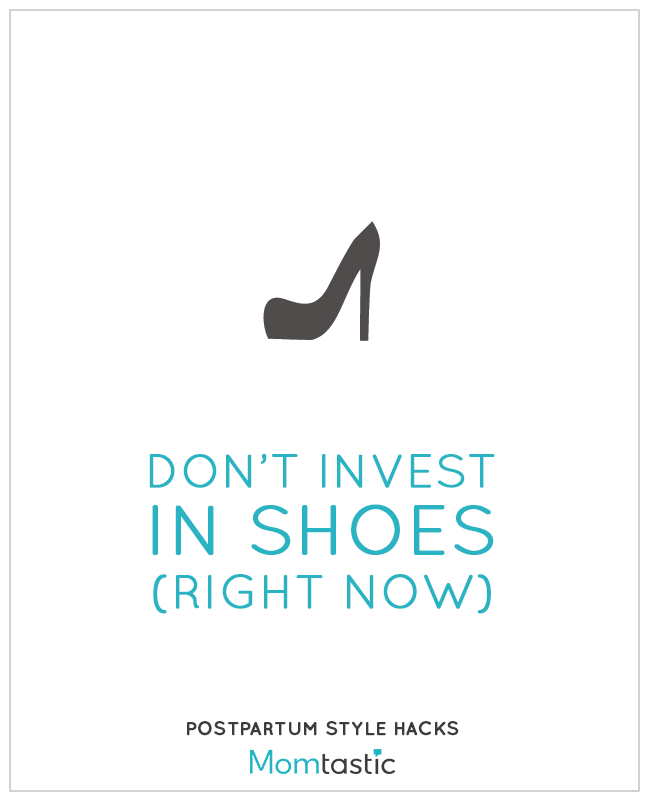 It seems crazy, but many new moms find that their feet grow a size larger after baby. Make sure you are prepared in case this happens to you by having a pair of flip flops ready. That way, you'll be able to run errands (like, to buy new shoes) and not have to wear slippers. Don't be that person. There may be a little adjustment period as you find which shoes still fit you and which ones need to be donated. I promise, though, no one will notice this but you.
Use cute headbands to hide the broken baby hair.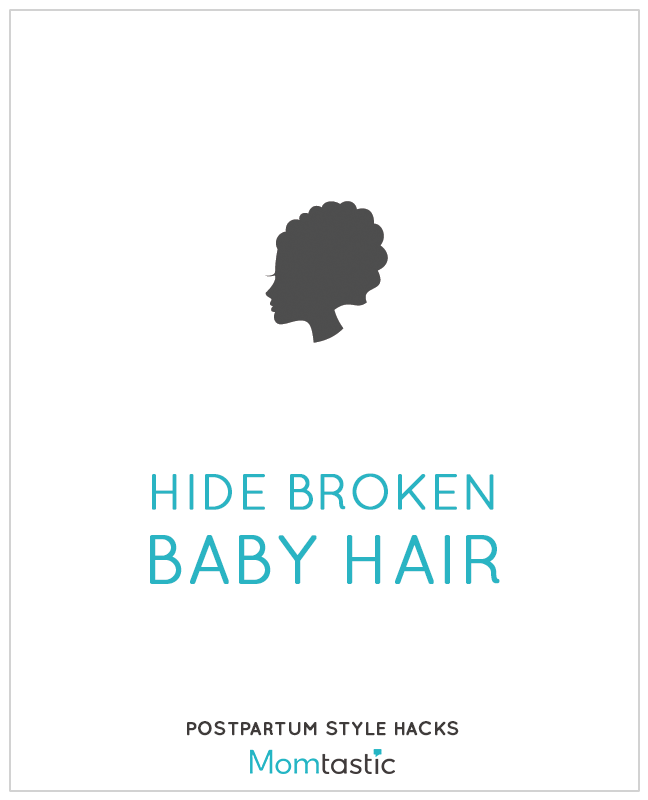 Blame it on the hormones, but you may notice fine, short baby hairs around your hairline. So dumb. There is really nothing you can do about them except hide them until they manage to grow out. For me, I didn't feel the need to cover them up. I just embraced them (or rather ignored them), but one of my girlfriends used the opportunity to wear super cute headbands. While this doesn't "fix" the problem, it does hide it and help accessorize your outfit. 
Find your new best feature and play it up.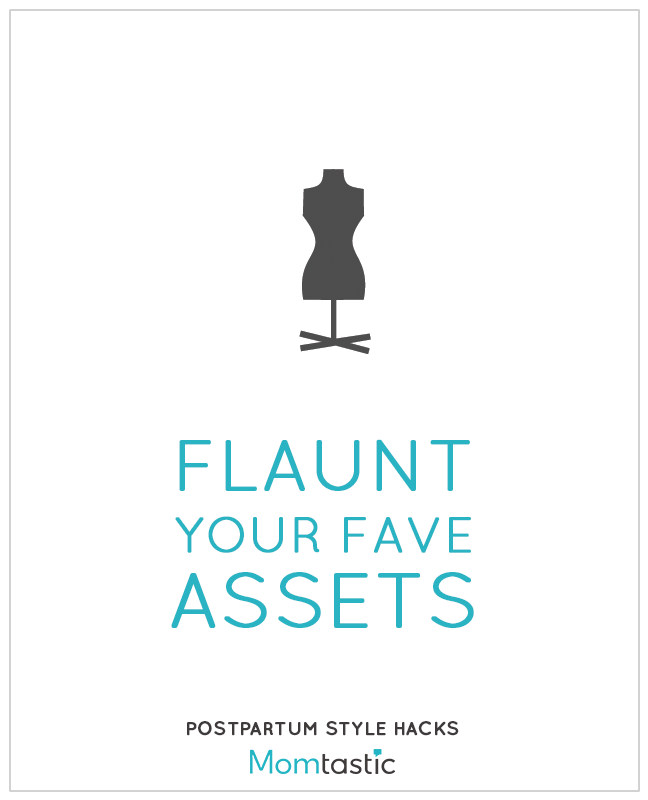 Most likely, your self-esteem will take a hit as you navigate all these new changes. While your waist might not look like it did before baby, it's time to look for your new best feature. For me, I found that wearing racerback tank tops really made my shoulders look great and thinned my arms. You better believe that I showed off my shoulders any chance I got! You may have great legs, killer collarbones, nice hair—whatever it is, show it off! 
Stay hydrated.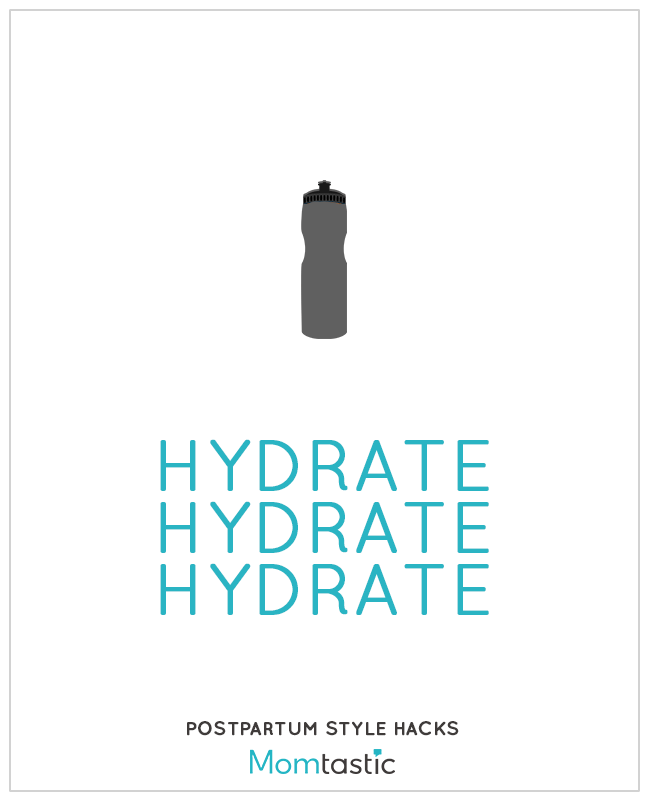 Water. Water. Water. Man, hormones are such a bummer. And there is no way to predict what will happen with yours after each child. I would wake up drenched in sweat in the middle of the night and have to change my pajamas. Breastfeeding left me feeling like I was stranded in a desert and if I didn't get water soon I would die. Water should be your new best friend. While you are probably going to want an IV drip of coffee, you should make sure to up your water intake to keep you hydrated. My skin and hair act better when I drink a lot of water. While I can't promise that to you, on account of your crazy post-baby hormones, it couldn't hurt to give your hair and skin the extra moisture they need. 
Pump up your thinning hair.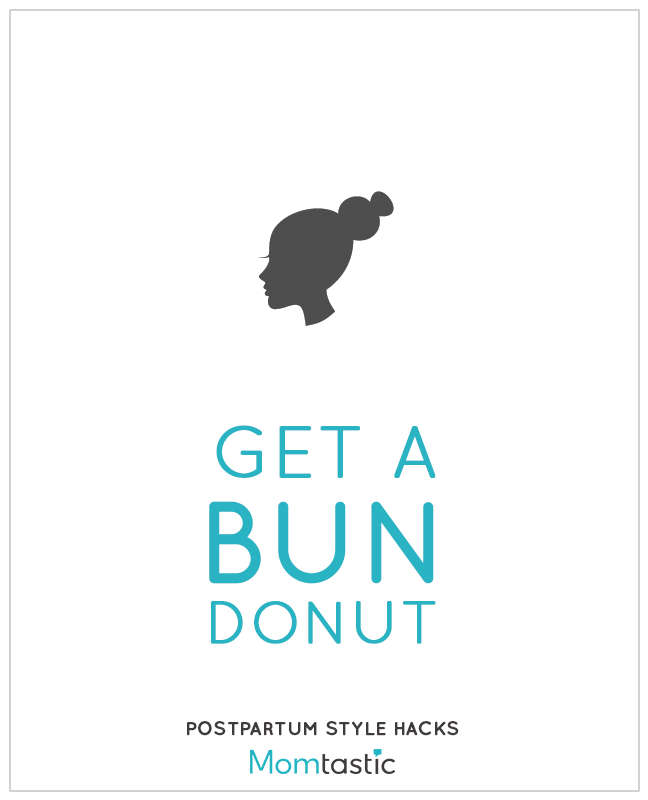 As if there wasn't enough to worry about, some new moms find that their hair falls out. Don't fret—I've not heard of anyone going completely bald. But the hair in your shower and your brush might cause you some alarm. It's normal and will stop. Now might be the time to invest in a Bump It or a bun donut to help fill out your hairstyles. And a little back-combing never hurt anyone to give you some lift at the roots.
icons: aleksandr-mansurov-ru / istock / Getty and syntika / istock / Getty
More Postpartum Style Tips: