I have to admit—I love when my roles as both a mom and bridal stylist collide, especially in a way that's majorly helpful to the masses. Prime example? When a bridesmaid gown (literally!) becomes my all-time favorite, wear-everywhere LBD (long black dress) for my pregnant friends and clients. 
You may have heard of twobirds as a brilliant idea for bridesmaids: one dress, wrapped over fifteen ways, to cater to every body type. But post-wedding, this convertible gown has gotten my girlfriends through their entire social calendar…and the fabric is so stretchy, yet supportive, that I wondered what would happen if we took a beautiful momma-to-be and dressed her through the seasons in a twobirds dress, while styling it with easy-to-find accessories.
So we did. And the resulting outfits are amazing! Take a peek at the below shoot, as I re-wrapped a classic black twobirds gown for each season. The looks made me realize just how phenomenal a black maternity dress really is throughout pregnancy. Take a peek!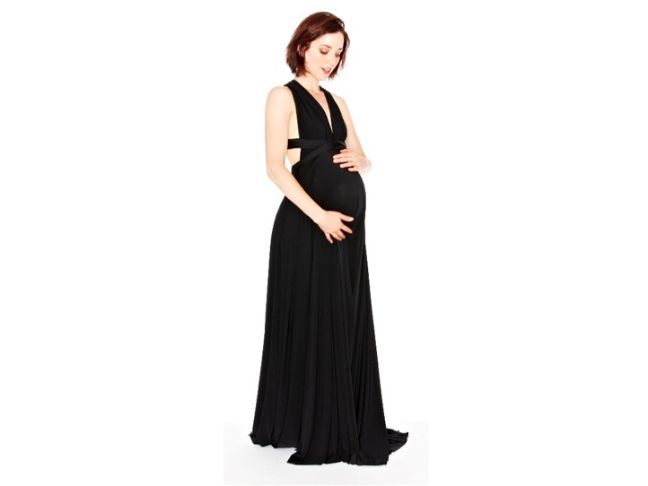 Here's the classic black twobirds gown, wrapped for a wedding or other social occasion. It's chic, polished, pretty, and oh-so bump friendly! Love!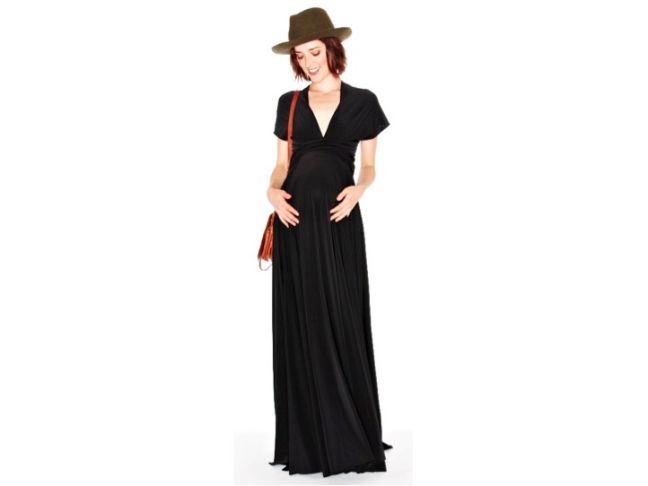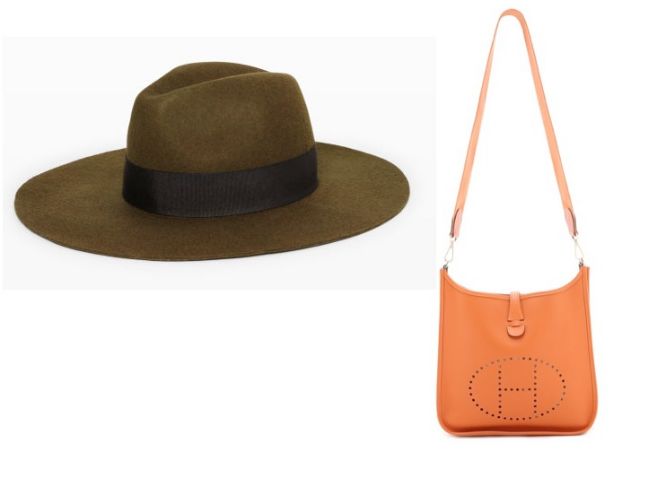 Since fall is upon us, we first paired the dress with a felt fedora and crossbody bag—two of the top trends of the season. If you haven't yet jumped on the bandwagon, The Vancy Hat by Club Monaco, is similar to the one shown on our model, for $129.50. Of course, it pairs perfectly well with an Hermes Epsom Evelyne crossbody bag, but most of us aren't so lucky to have that stacked in our closet…so the Rebecca Minkoff Ragan crossbody bag, $225, does the job just fine!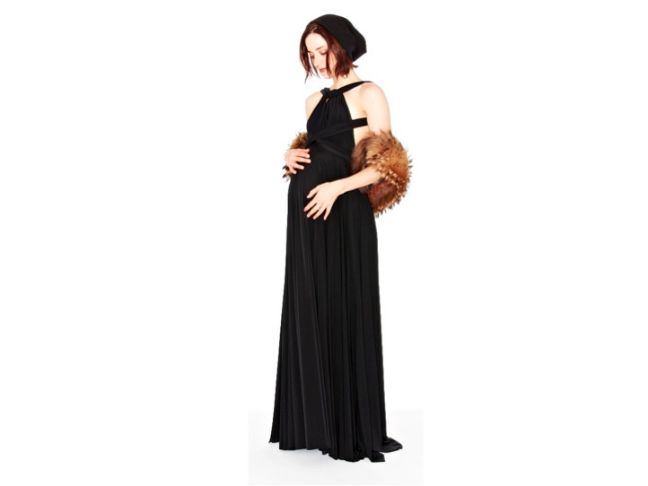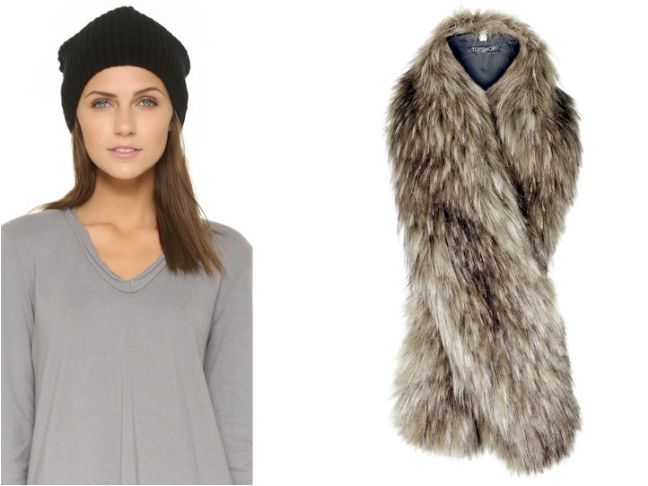 Ready for winter? We rewrapped the black twobirds gown in a bust-supporting halter silhouette that added a little edge to the look. Once our model takes off her coat, she can continue to keep on her accessories. Adding a statement faux fur stole is always a good idea (I just love this Topshop version, $50), and 1717 Olive's cashmere slouchy beanie hat, $120, puts a little downtown edge behind an otherwise formal look.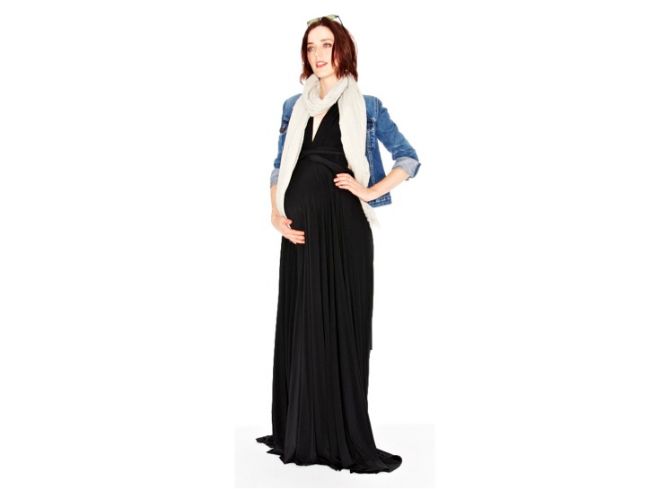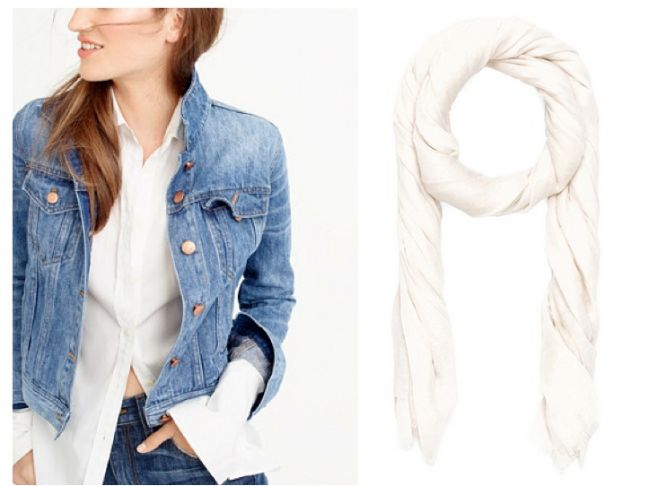 Spring calls for lightweight layers that won't overwhelm your look (nor make you overheat). I love DemyLee's cashmere tissue scarf, $165, for this very reason. It's a transitional season essential, so you won't feel guilty splurging on the luxe cashmere feel, and it's amazing for travel as well! Of course, no woman's wardrobe is complete without a classic denim jacket, and as I mentioned in this white dress rewear post, J. Crew's denim jacket in the Taylor wash, $128, is hands-down the best on the market, bump or no bump!
PS: If you're about to head into your third trimester, you can add a bandeau to your twobirds convertible dress, to allow you to wrap the gown multiple ways while still getting the coverage and support you need!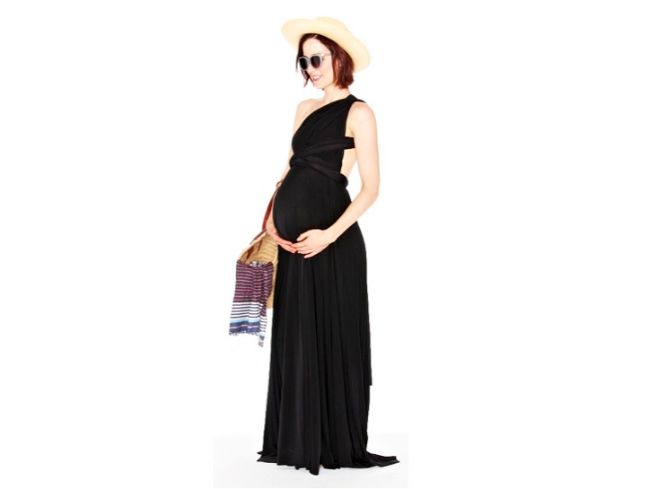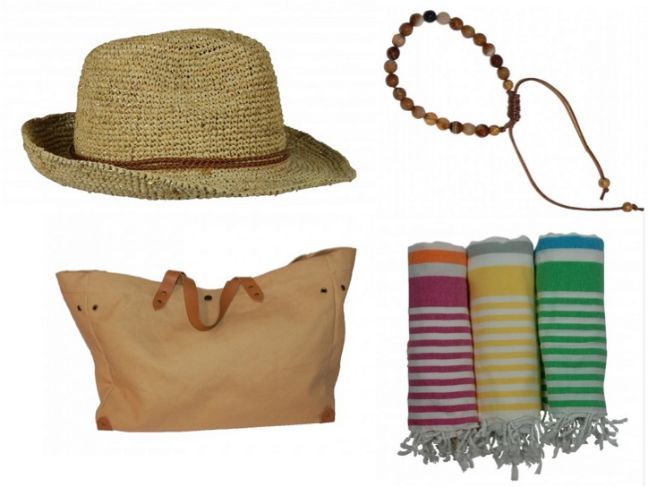 I was afraid it would look forced, but it was actually really fun to restyle this dress for summer (or that fast-approaching winter vacation)! Rewrapped into a supportive one-shoulder silhouette and worn with a classic raffia fedora, $104, by Hat Attack, the twobirds convertible dress is lightweight, fluid, and majorly beach-chic! We added a basic woven beach tote, but I also love the idea of mommies-to-be using a canvas utility bag for this look, as it's also strong enough to double as a diaper-bag option for your post-pregnancy days! A $42 multi-colored striped beach throw and natural stone bracelets, both by Hat Attack, keep the look casually fun.
Definitely make a mental note to add a long convertible twobirds gown to your maternity wardrobe—it's an investment you won't regret, before, during, or after pregnancy.
More Maternity Dresses: