When it comes to feeding your toddler, you may come to realize that while bibs protect the clothing underneath, the bib isn't protected itself. Cloth bibs take on a lot of mess, but when the stains don't wash out, all you're left with are splotchy bibs. You could keep using them to keep clothing clean, or you could trade them in for simple DIY waterproof bibs that wipe away stains in seconds! Much like the fabric used for tablecloths, these DIY bibs have a pocket for the toddler who also likes to stash away their snacks.
The best part is that you can upcycle a reusable shopping bag with a cute pattern into a waterproof bib! You'll find an assortment of plastic-coated waterproof bags at your favorite grocery stores, retail outlets or even the craft store to use. Plus, they're so easy to make that you can make a few extras as gifts!
Here's how to get started on your own DIY waterproof bib: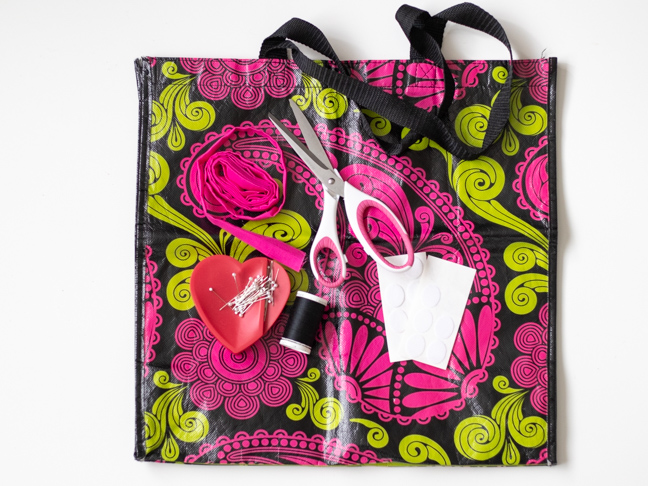 Supplies:
Plastic coated reusable shopping bag
Scissors
Pins
Thread
1/2-inch double-fold bias tape
Stick-on velcro pieces
DIY Waterproof Bib Directions:
If it helps, make a template on paper first! Draw out a bib shape (or trace one you already have) onto a standard piece of printer paper and cut it out.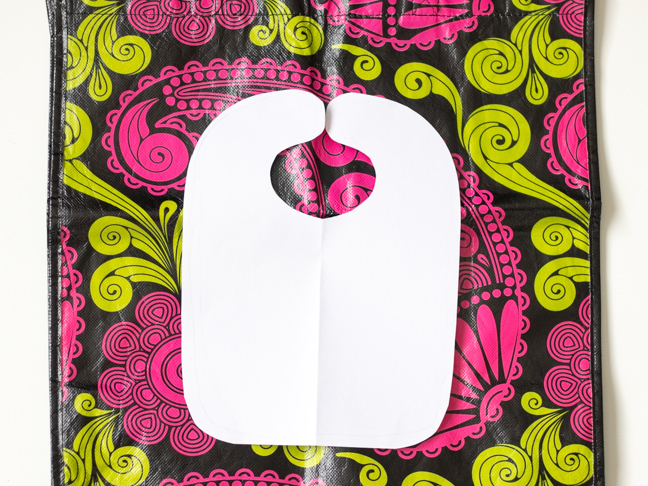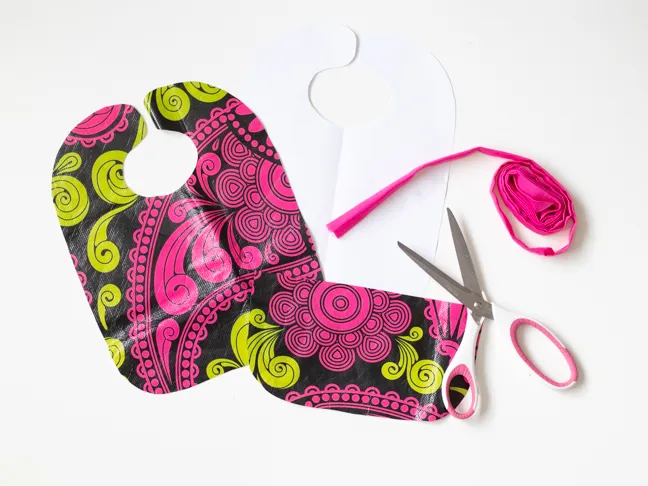 Step 1: Cut a bib shape out of the reusable shopping bag. Then cut a second piece that is the same shape as only the bottom half of the bib – this will become a pocket (optional).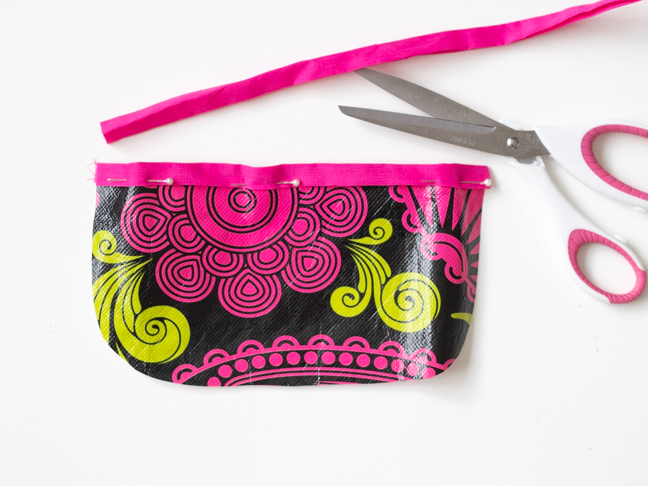 Step 2: If adding a pocket, pin bias tape around the flat top of the pocket piece. Cut to size and sew across.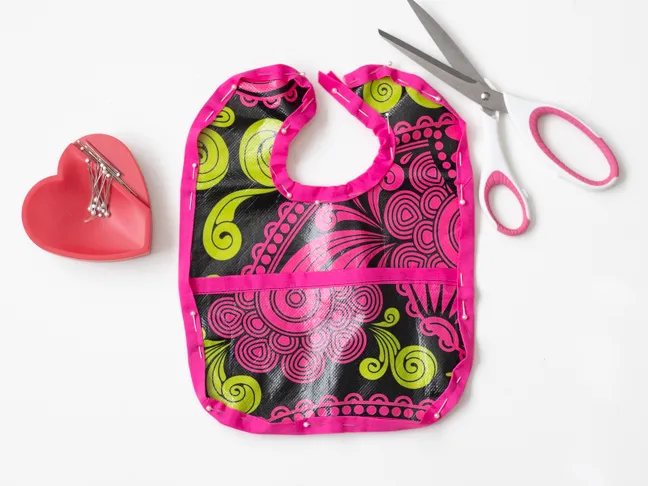 Step 3: Line up the bottom of the pocket with the bib piece. Pin bias tape all the way around the bib starting at one of the straps (see ablove). It will probably bunch around edges.
Step 4: Sew a 1/4 inch seam around the bib to secure the bias tape and create clean edges, folding the bias tape a little as needed to sew curved edges.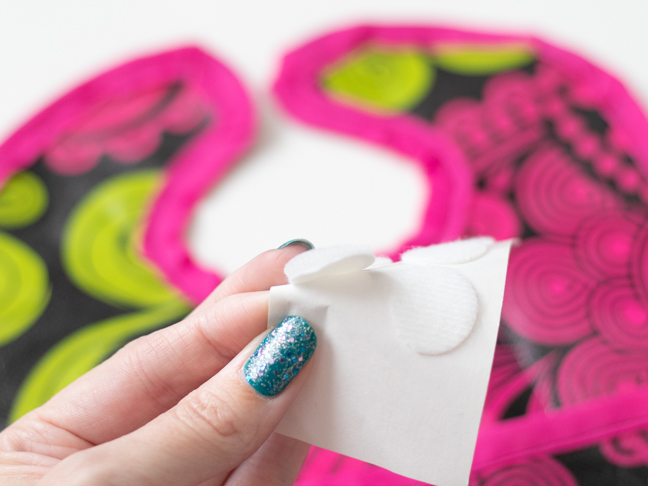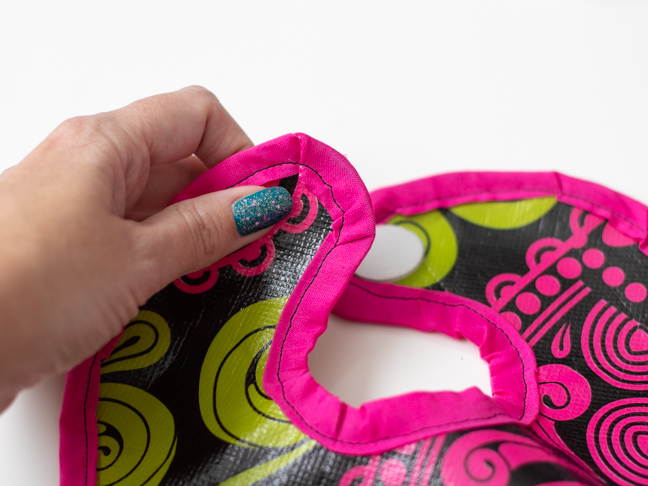 Step 5: Remove the rough side of the velcro circle and place it on top of the soft piece. Then adhere it to the top of one bib strap. When you overlap the other strap, press to adhere the other side of the velcro. This way, it ensures the pieces line up as intended.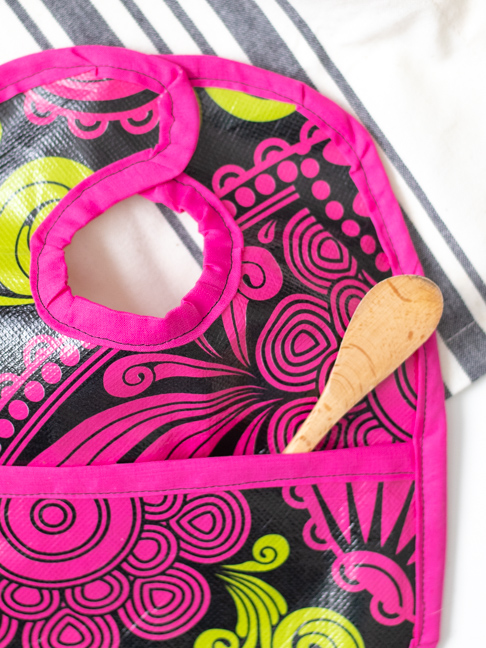 Now the bib is ready for your little one! Simply wipe away messes after each use, and throw it in the wash when it's time for a deeper clean!
More DIY Projects: