Mother and Baby Natural Care just-launched in English and we're kind of obsessed.
The book is an easy-to-follow collection of recipes brimming with French "secrets" for creating clean, natural care products for babies, mothers-to-be and new moms.
Authored by DIY expert Émilie Hébert under the guidance of natural care midwife Hélène Boyé, it includes 40 recipes for health, wellness and beauty products (with organic ingredients that you may already own at home).
We got our hands on four of the book's best recipes – perfect for making in large batches and gifting this holiday season!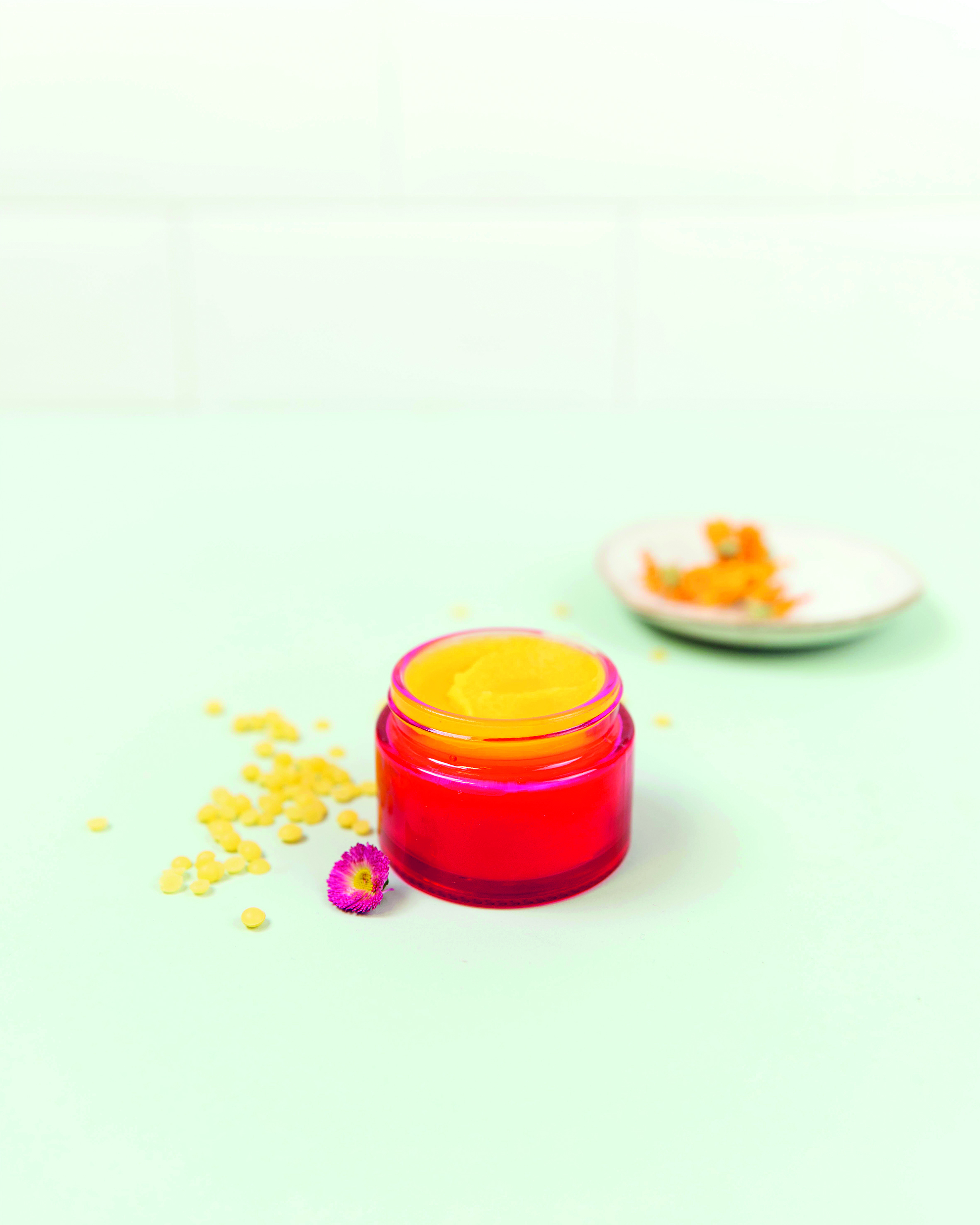 Brightening Acerola Mask
"Acerola, a small Amazonian fruit also known as the 'Barbados cherry,' contains twenty to thirty times more vitamin C than an orange and is also rich in minerals. It naturally prevents the epithelial cells from producing the melanin that causes skin pigmentation."
Preparation time: 5 min
Storage: to be used immediately
Materials: bowl, wooden or porcelain spoon
Packaging: none
Ingredients:
2 tablespoons pink clay
2 tablespoons apricot oil
1/2 teaspoon acerola powder
Preparation:
In a bowl, combine the clay and apricot oil, then add the acerola powder, stirring until the mixture is consistent. Never use metal utensils to prepare your clay-based masks
Directions for Use:
Apply the mixture to the skin in a thick layer. Leave on for 15 minutes, then remove the mask with a damp cloth. Finish with a spray of floral water. Do not allow the clay to dry on the skin: if necessary, moisten it regularly during the application time by spraying a little floral or mineral water.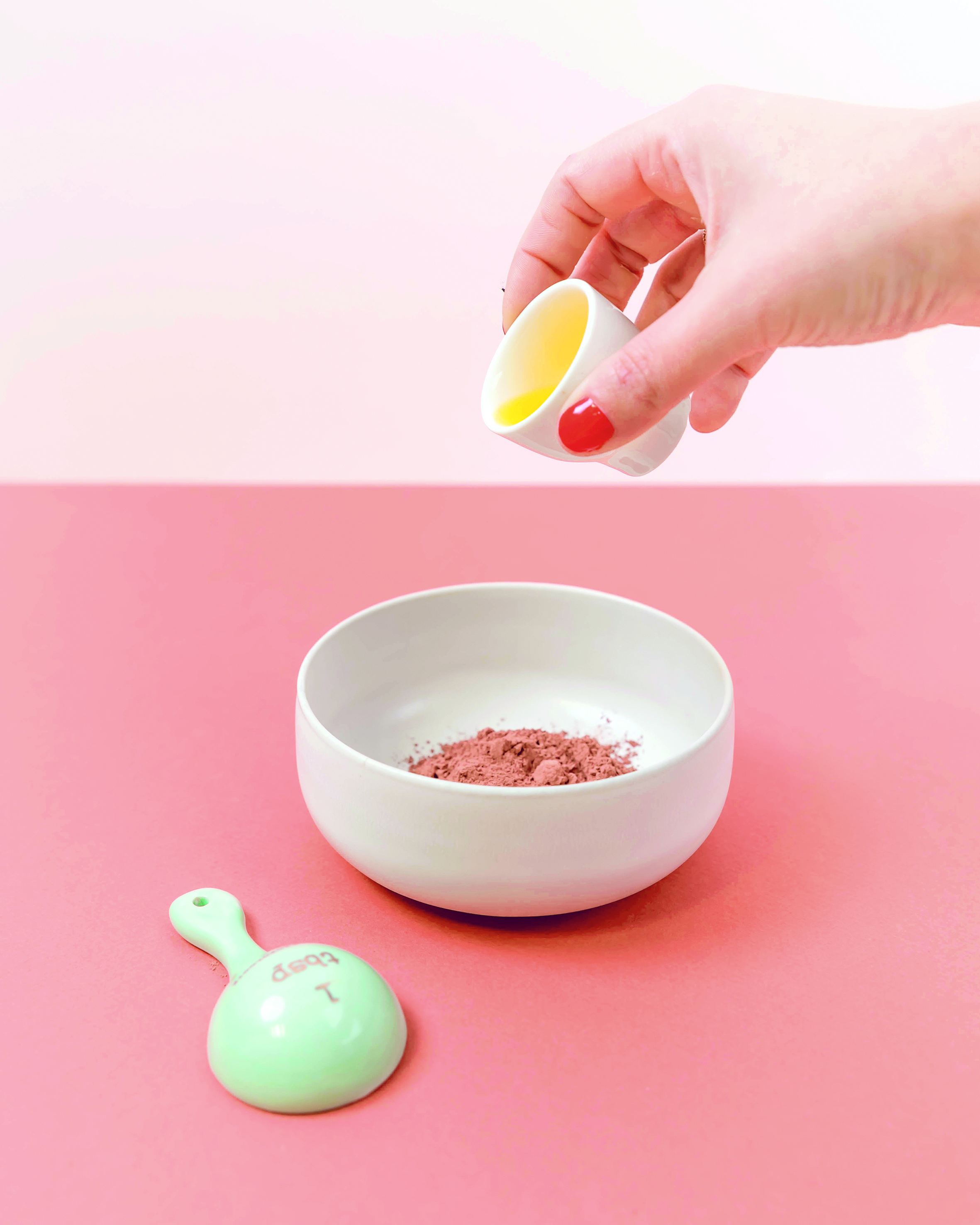 Anti-Stretch Mark Healing Balm
"Soothing and restructuring, St. John's wort macerated oil is known to fight against skin irritation and itching caused by stretch marks. Rich in carotenoids as well as vitamins E and K, rose hip oil is regenerative and restorative; it accelerates healing, boosts cell renewal, and reduces the redness caused by stretch marks."
Preparation time: 20 min
Storage: 9 months
Materials: scale, bowl, pan, mini whisk
Packaging:100 ml glass jar
Ingredients:
30 g cocoa butter
30 g shea butter
20 g St. John's wort macerated oil
20 g rose hip oil
5 drops natural vitamin E
Preparation:
Put the plant butters in a heat-resistant bowl and melt them in a water bath: fill a saucepan with water, set over low heat, and place the bowl in the pan. Remove the bowl from the water bath, then add the plant oils and vitamin E and stir for a few seconds. Allow to cool to room temperature; the balm will become translucent. At this point, mix vigorously with a whisk until you obtain a whipped texture. Transfer to the jar.
Directions for Use:
Take a large dab of balm, then massage the areas where there are stretch marks, using circular movements until the balm is completely absorbed.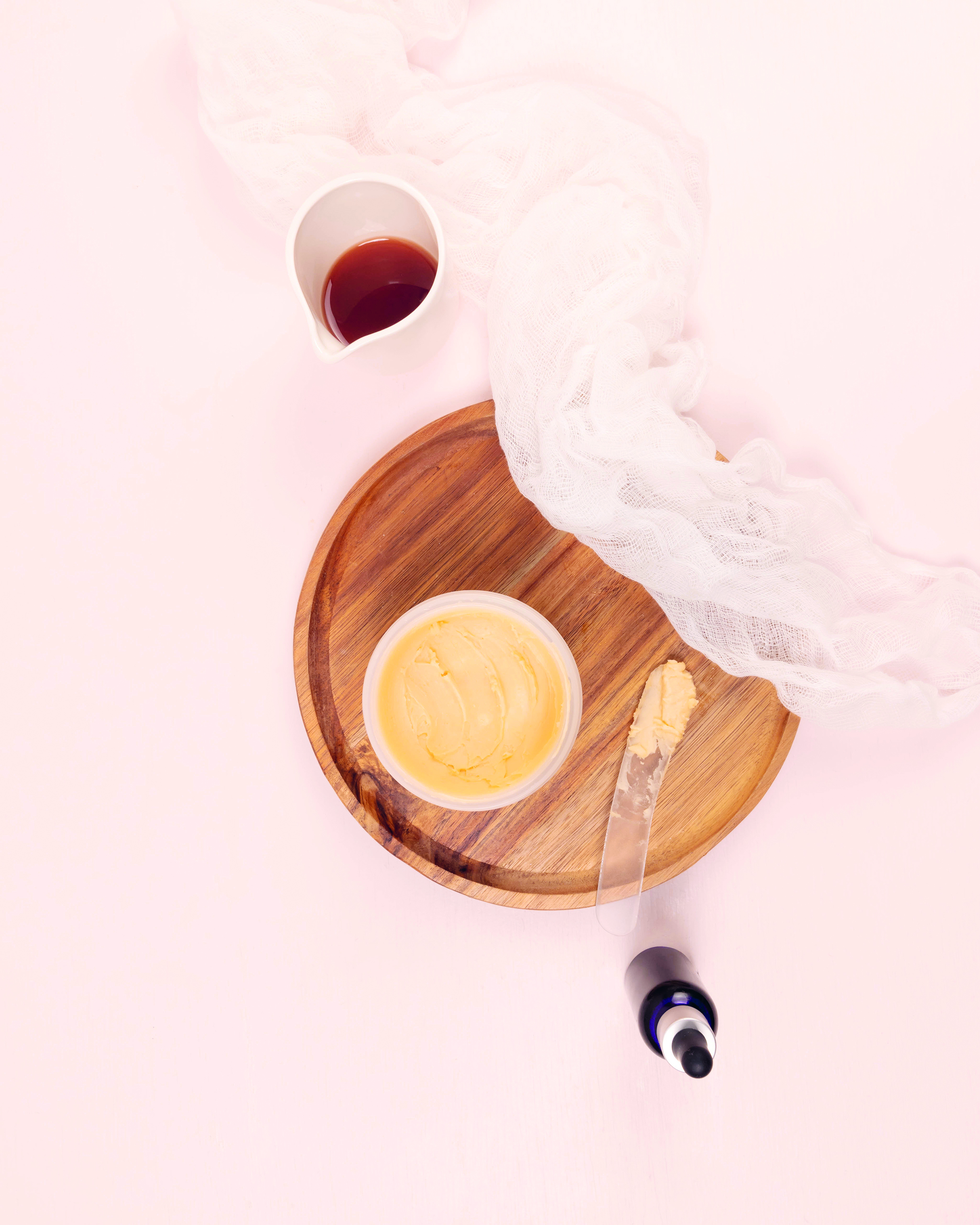 SOS All-Purpose Balm for Newborns
"This rich balm is an optimal treatment for sensitive, dry, or damaged skin. Enriched with calendula macerated oil, it nourishes, soothes, repairs, regenerates, and heals. Its natural formula is vegan and very gentle, and it is suitable for the whole family, especially newborns."
Preparation Time: 15 min
Storage:12 months
Materials: scale, bowl, pan, spatula
Packaging: 50 ml jar
Ingredients:
5 g candelilla wax
15 g shea butter
10 g calendula macerated oil
10 g oat oil
10 g avocado oil
2 drops natural vitamin E
Preparation:
Combine all the ingredients in a heat-resistant bowl and melt in a water bath: fill a saucepan with water, set over very low heat, and place the bowl on top of the saucepan. Remove from the heat, mix for a few seconds with a spatula, and then transfer to the jar. Leave in the refrigerator for 20 minutes to set, then let stand for 12 hours before use.
Directions for Use:
Scoop out some of the balm and let it melt on your fingers. Apply to the affected areas.
Tip:
Newborns secrete endorphins (pain-relieving substances) while sucking. Put your baby to your breast for a few minutes to soothe, calm, or lull them to sleep.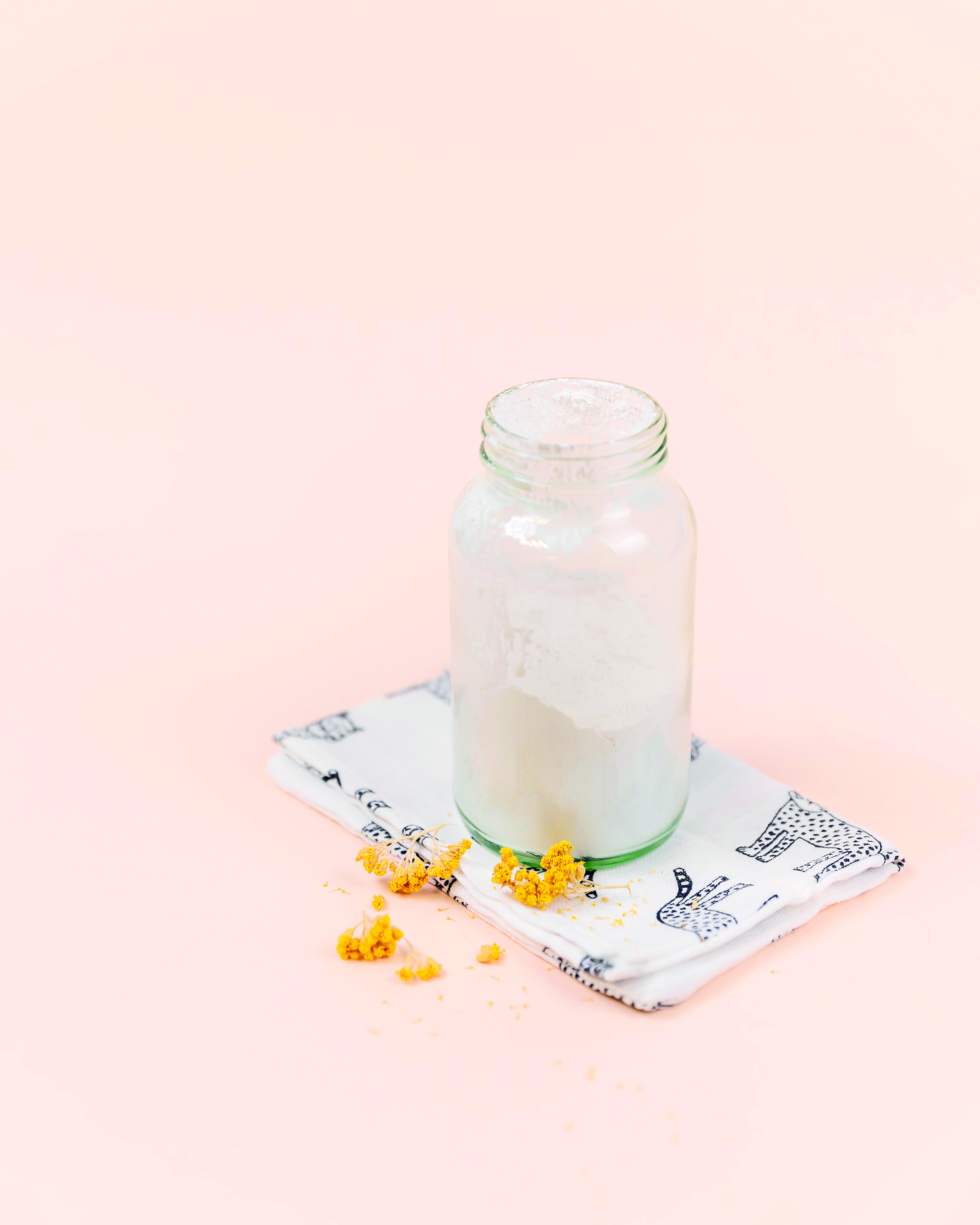 Vegetal Rice Talk with Lavender
"Most of the powders on the market today are talc-based. Used by most women in their makeup or for their baby, talc is now controversial because its quality is inconsistent. It can contain traces of asbestos or useless, sometimes even allergenic, additives. Talc is not irritating to the skin, but it should not be applied to wounds; it is therefore contraindicated if your baby has severe erythema. In homemade formulas, it can be replaced by starches or micronized precooked flours, which are very soft and absorbent. Corn starch, oat or rice cream, and arrowroot or white clay soften, absorb moisture, and create a protective film between the diaper and the skin. This powder, with a base of rice cream and sweet almond oil, can replace most commercially available talcum powders. It absorbs moisture and leaves the skin soft. It is recommended for protecting the baby's buttocks after each diaper change because it leaves a film that soothes and provides light insulation."
Preparation Time: 15 min
Storage:12 months
Materials: scale, mortar, pestle
Packaging: 200 g jar with a small sieve
Ingredients:
70 g rice cream powder
15 g white clay
5 g zinc oxide
1 drop true lavender essential oil (Lavandula officinalis)
5 drops sweet almond oil
Preparation:
In a mortar, work the powders, essential oil, and sweet almond oil with a pestle until a consistent powder is obtained, without lumps. Put it in a jar with a small sieve.
Directions for Use:
After changing the diaper, powder your baby's clean, dry bottom with this soft powder.
Other Recipes To Swear By: