Splish, splash, we'll be takin' a … trip? Yes, people! Life is slowly inching back toward normalcy and parents everywhere are joyfully researching travel options for their broods. If you and your kids like to swim, explore, and laugh all day, we're throwing family-friendly hotels with water parks in the mix for your planning.
Staying at a hotel with an on-site waterpark is such a smart move with kids. It allows you maximum relaxation time as you won't be driving from the hotel to various destinations and having to worry about parking or packing everything up for a day full of fun. Plus, it tires them out and gives them the perfect outlet for all that energy so you won't have as much trouble getting them to sleep on a (somewhat) normal schedule, as you would with, say, a standard sightseeing vacation.
There are indoor and outdoor waterparks all over the world, and some might be closer to your backyard than you think. Whether you're dreaming of an end-of-summer getaway or something for next spring and beyond, or need a hotel with an indoor pool and park for the fall and winter months ahead, we've rounded up the best hotels with water parks for a memorable retreat.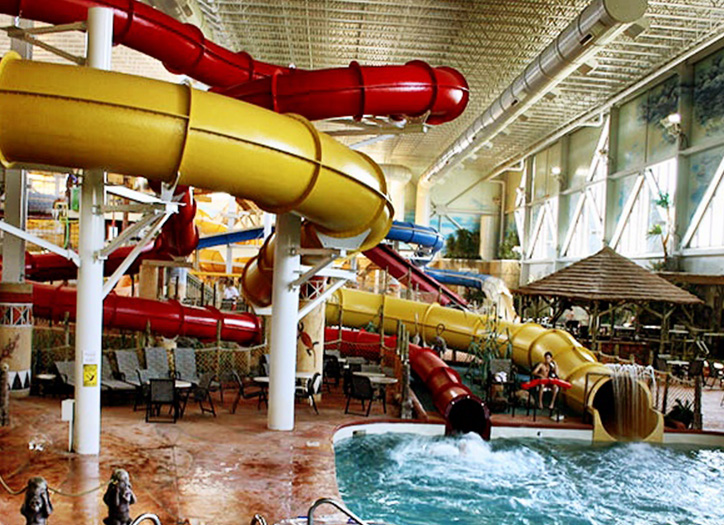 There are several reasons this family-friendly brand makes our list of top hotels with water parks, not least of all are the options. With four Kalahari parks to choose from– in Wisconsin, Ohio, Pennsylvania, and Texas — you can fly or drive to the one that's most convenient for you. Affordable pricing with waterpark access included, and tons of on-site dining options with everything from steak to Starbucks make this option a great one. As their tag line implies, no matter what kind of weather you see out your window, it's always waterpark season at Kalahari Resorts.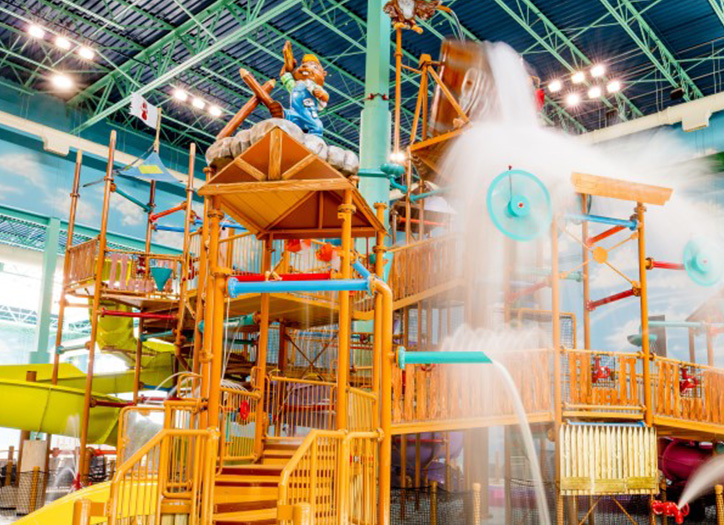 Like Kalahari, but with even more locations, this full-scale American waterpark conglomerate is a must-try. With 19 locations spread out of the Northeast, Midwest, South, West, and Canada, there's no way you can't find easy transport to one. Exact square footage and attractions vary with location, but all have spectacular waterparks and other family attractions including arcades, children's activities, and a spa for Mom and Dad. When it comes to hotels with waterparks, Great Wolf Lodge doesn't disappoint.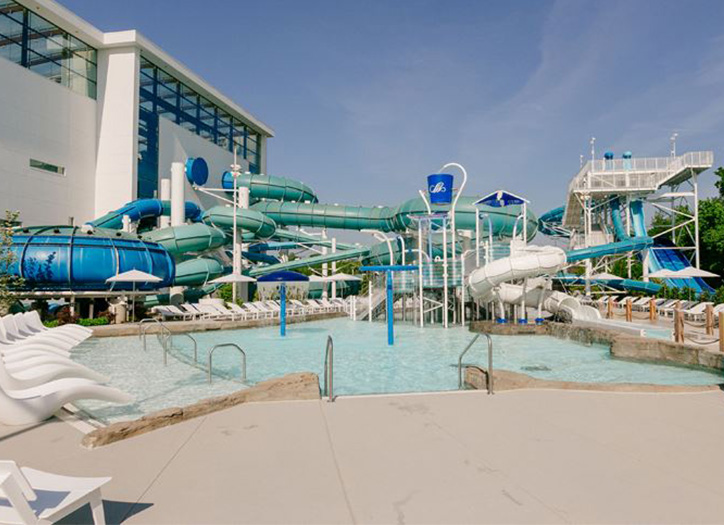 Music City isn't just for country lovers and those with a taste for hot chicken. This family-friendly resort hotel at Gaylord Opryland in Nashville, TN boasts incredible indoor and outdoor waterpark attractions with long slides, outdoor rides, lazy and rapid river simulators, and surf pools. If you can nab a sitter one night, there's even an adults-only pool for maximum relaxation after a long day playing and splashing with the kids.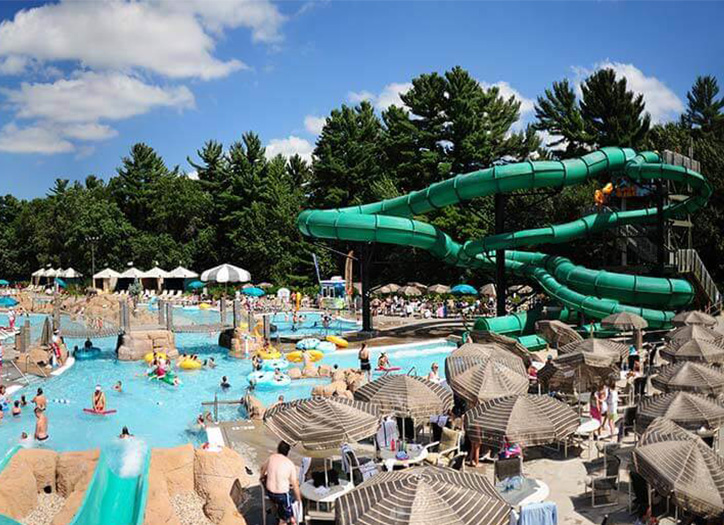 Wilderness in Wisconsin is like a whole world for water lovers. Within are multiple lodging options, four indoor waterparks, four outdoor waterparks, and plenty of attractions for those who need a break from the splashing and swimming. They offer golf, a spa, and poolside cabanas so there's something for everyone. The indoor waterparks have all sorts of attractions the kids will love from challenges and basketball to America's largest indoor wave pool. As for the outdoor parks, that's where you'll find tube slides, lazy rivers, and even a shallow play area for the tiniest travelers.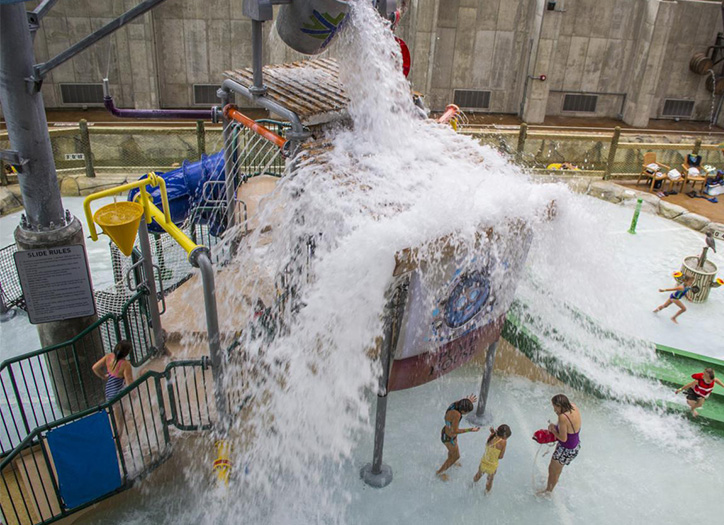 LOVErmont, but want a different type of trip than your standard Northeastern ski vacation? Check out this unique resort and waterpark in northernmost Vermont by the Canada border that also offers skiing and winter sports during colder months. Unlike many Vermont attractions, Jay Peak is open and fun all year long. Pump House is their renowned onsite waterpark, which functions as an indoor attraction in the winter, but the roof comes off at the end of that season for a summer of cool-down fun.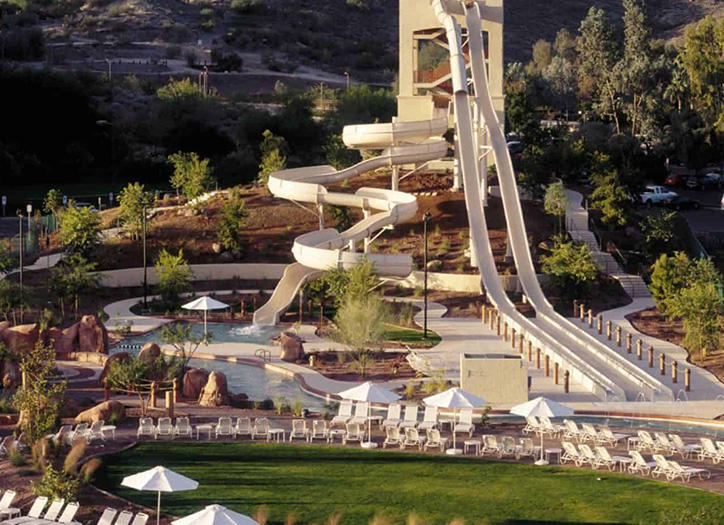 A cool desert escape and awesome place to take the children, this family-friendly resort getaway in Phoenix is gorgeous. Reviews site spacious hotel rooms with super comfy beds, amenable staff, and a very clean, manicured property. In addition to the 7-acre waterpark, there's also golf, a spa, six restaurants, a wave pool, and more fun for the whole crew. Their waterpark is one of the Travel Channel's top 10, making this Arizona getaway a must-see.
Ocean Tower by Hilton Grand Vacations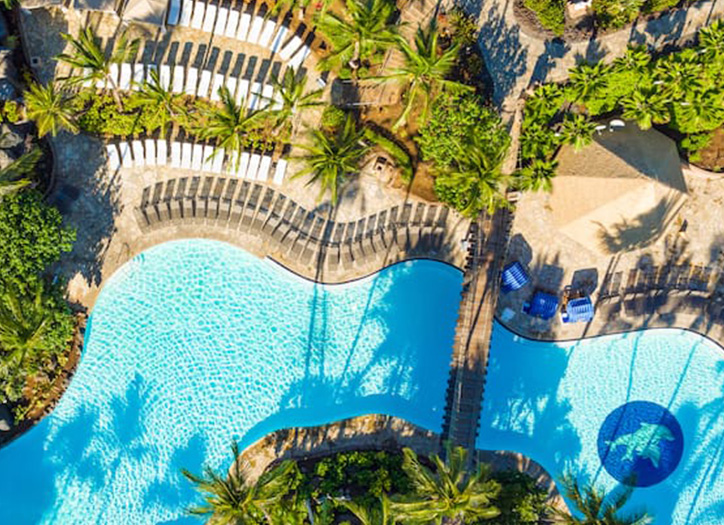 If the Continental US is getting you down, step (or, well, fly!) outside of it for an unforgettable waterpark vacation in Hawaii. This stunning Hilton property situated at the edge of Waiulua Bay is a place to unwind, reconnect with the kiddos, and get lots of swim and sun time in. In addition to their outdoor waterpark, there are also three pools and an ocean-fed lagoon, among myriad perks for the littles like daily activities and scavenger hunts.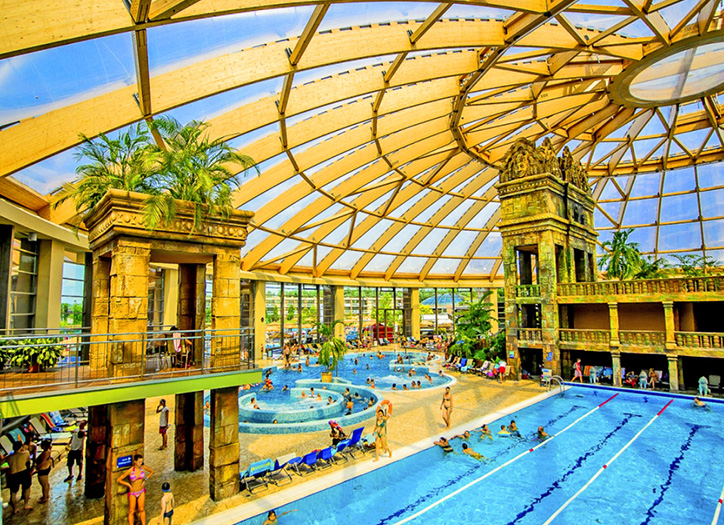 Want to get even farther outside the US for your waterpark hotel vacation? We don't blame you! The Europeans are serious about travel, and there are plenty of places to go "on holiday" throughout that continent. But if you want a waterpark, and one that's super family-friendly at that, check out AquaWorld in Budapest, Hungary. It's a four-star resort hotel with absolutely epic onsite  indoor/outdoor waterpark options (Central Europe's largest indoor one), pools, and proximity to the Budapest Zoo and Botanical Gardens for a change of pace and some culture.
Editor's note: Some of these hotels with water parks may have limited amenities or availability due to the pandemic. Always follow all health and safety rules at the hotel or water park that you choose.
More About Planning a  Family Trip: