The past eight months have been a whirlwind in my house. The COVID shutdown hit, and I was fortunate enough to be able to continue working from home while my girls continued their schoolwork. Summer flew by in a fun blur of biking, kayaking, and backyard camping, but now we're into the new groove of hybrid learning.
My friend in Phoenix has all five of her kids at home everyday for online learning, while my friend in Missouri has both of her kids in school full-time. My nieces and nephews started their year learning online, but now they're going in to school once a week. One thing we've all come to realize after months of trial and error, venting sessions, and endless Google searches is that all kids everywhere have a tough time managing their time.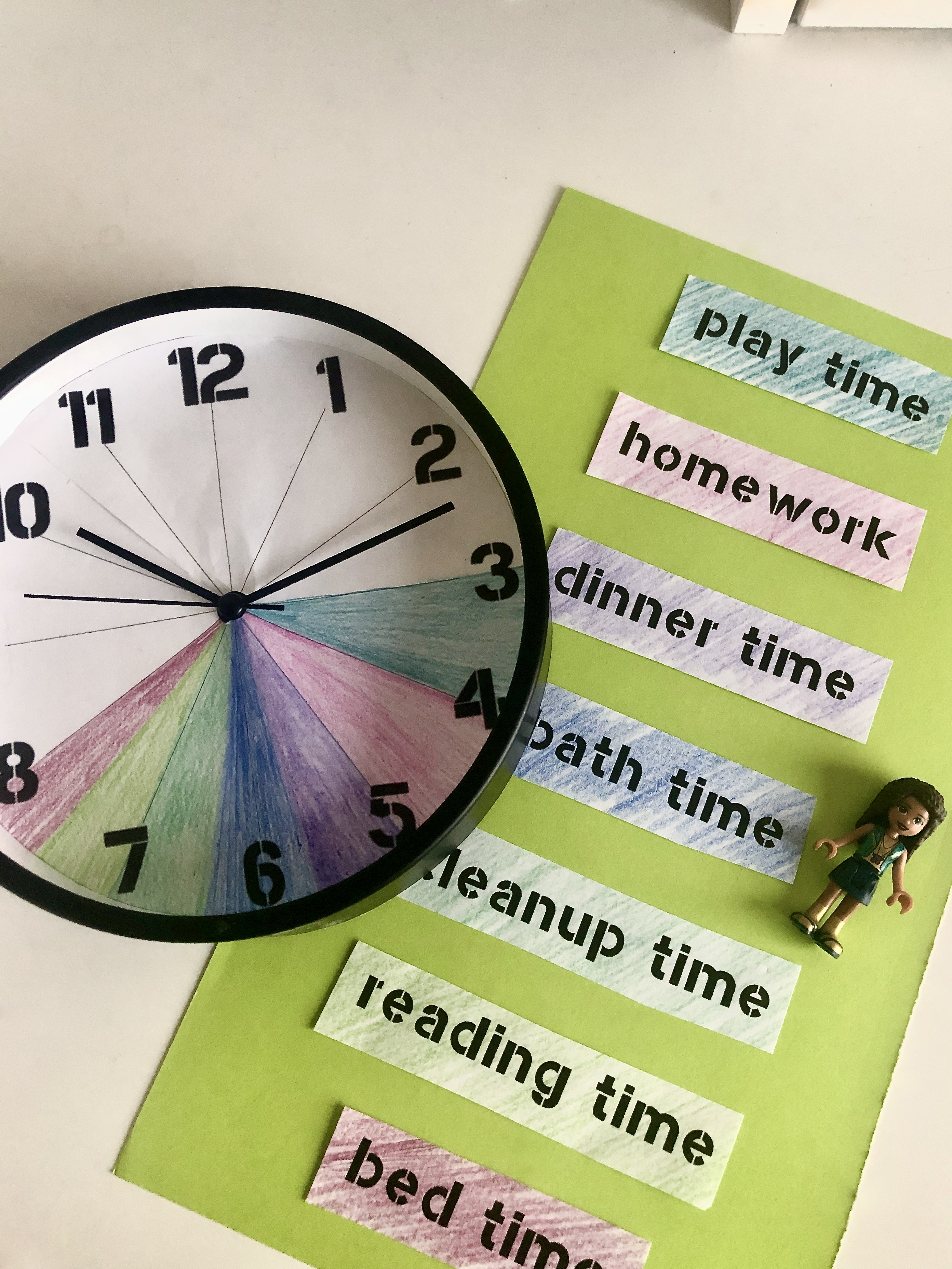 Check out this DIY time management clock for kids. Of course, I included all of the typical tasks that a kid needs to do after school, but many kids are doing school at home this year. So, I also included school time as one of the categories that your kiddo may need help staying on task with while they're home. I know you're thinking, "Wouldn't it be easier to just color the tasks directly onto the original clock face?"
Yes, that would be easier, but it would also hem you into one set schedule. By printing out a clock face to put over the original, you can easily change the order or time length of each task as your needs change. In summer, my girls still do some reading and other school work every day, but their amount of play time and reading time increases, while their bed time moves back an hour.
DIY Time Management Clock For Kids:
Supplies
scrapbook paper
crayons or markers
1/4″ hole punch
scissors
flathead screwdriver or plastic pry bar
glue stick
Instructions
Step 1: Using scrapbook paper, print the clock face and task list printable. Carefully cut just inside the black border around the paper clock face. Set aside.
Step 2: To remove the face of the clock, gently pry a flathead screwdriver between the outer ring of the clock and the inner ring. Be careful not to break the glass face, and set it aside.
Step 3: With your child, discuss which tasks should be included on your time management clock. Allow your kiddo to color each task a different color with crayons or markers.
Step 4: Work together to determine how much time each task should take and in what order they should be completed.
Step 5: Lightly draw segments of time to coordinate with your tasks on the clock face, and color each slice accordingly.
Step 6: Cut a line from the outer edge of the paper clock face to the center point. At the center point, punch a hole. This hole will allow your paper clock face to wrap around the base of the clock hands and sit flat on the clock's original face. Rotate the printed clock face around the base of the hands until the colored task segments are aligned with the correct times.
Step 7: Use a glue stick to adhere the paper clock face into position. Reassemble the clock.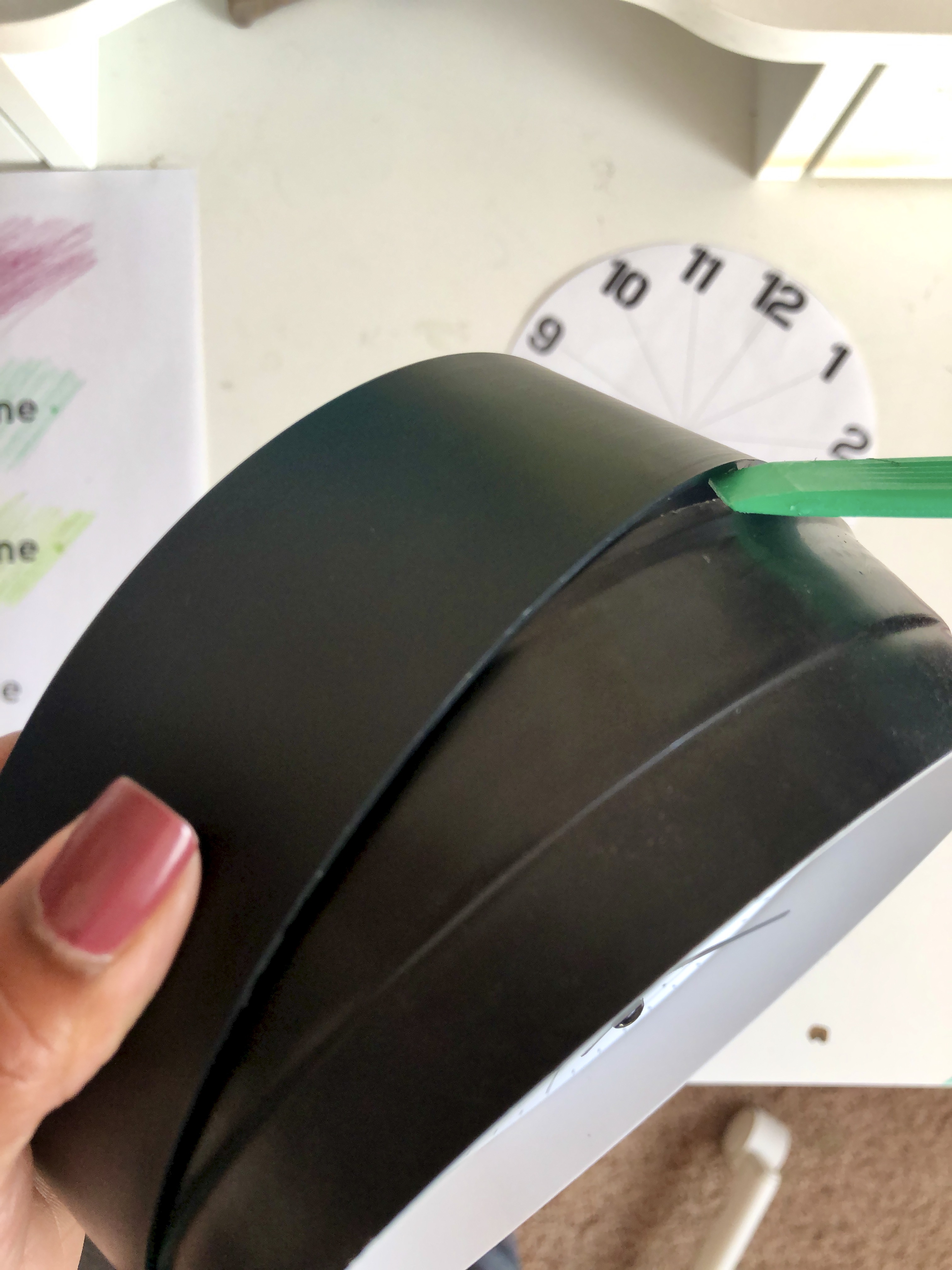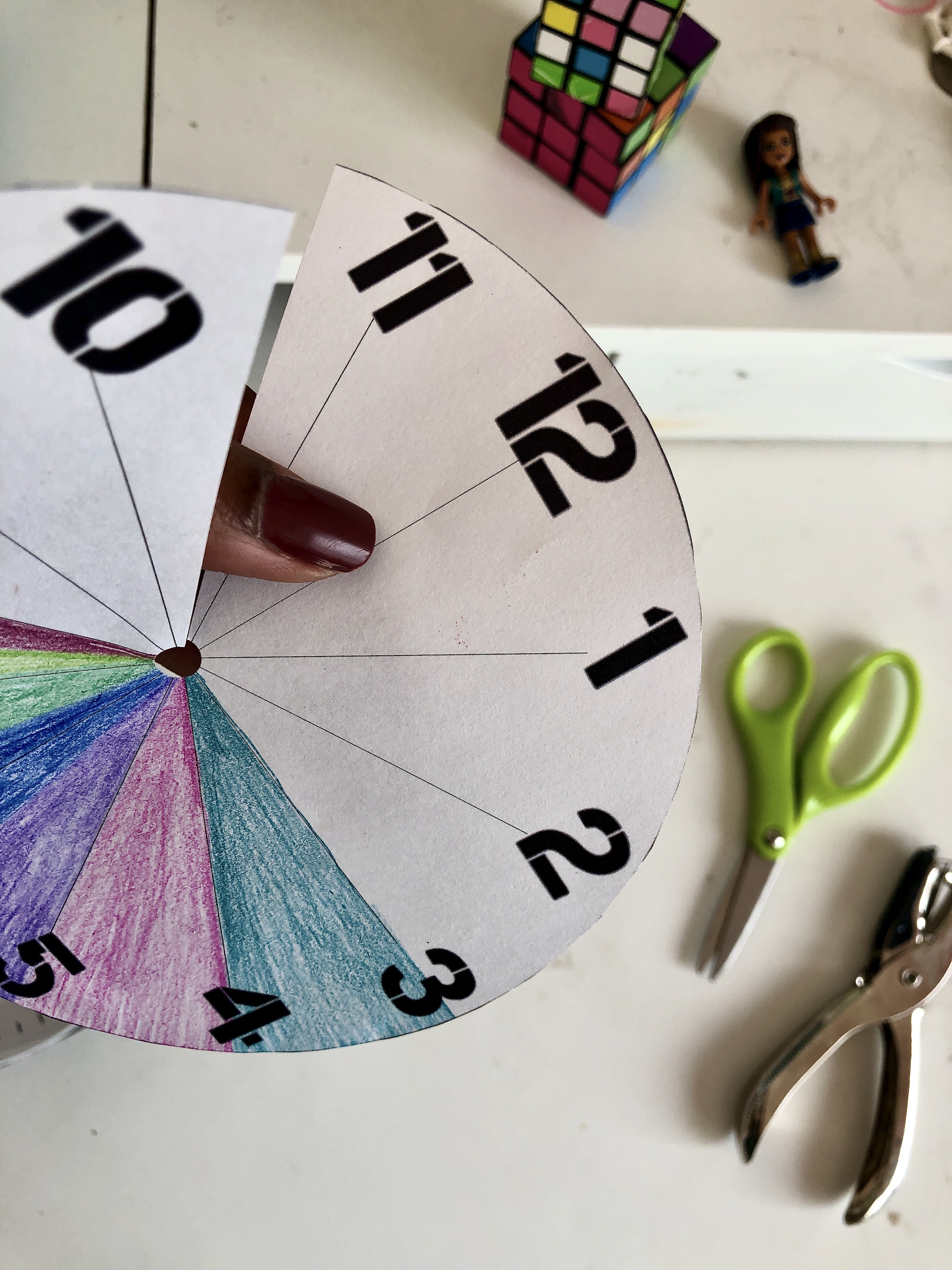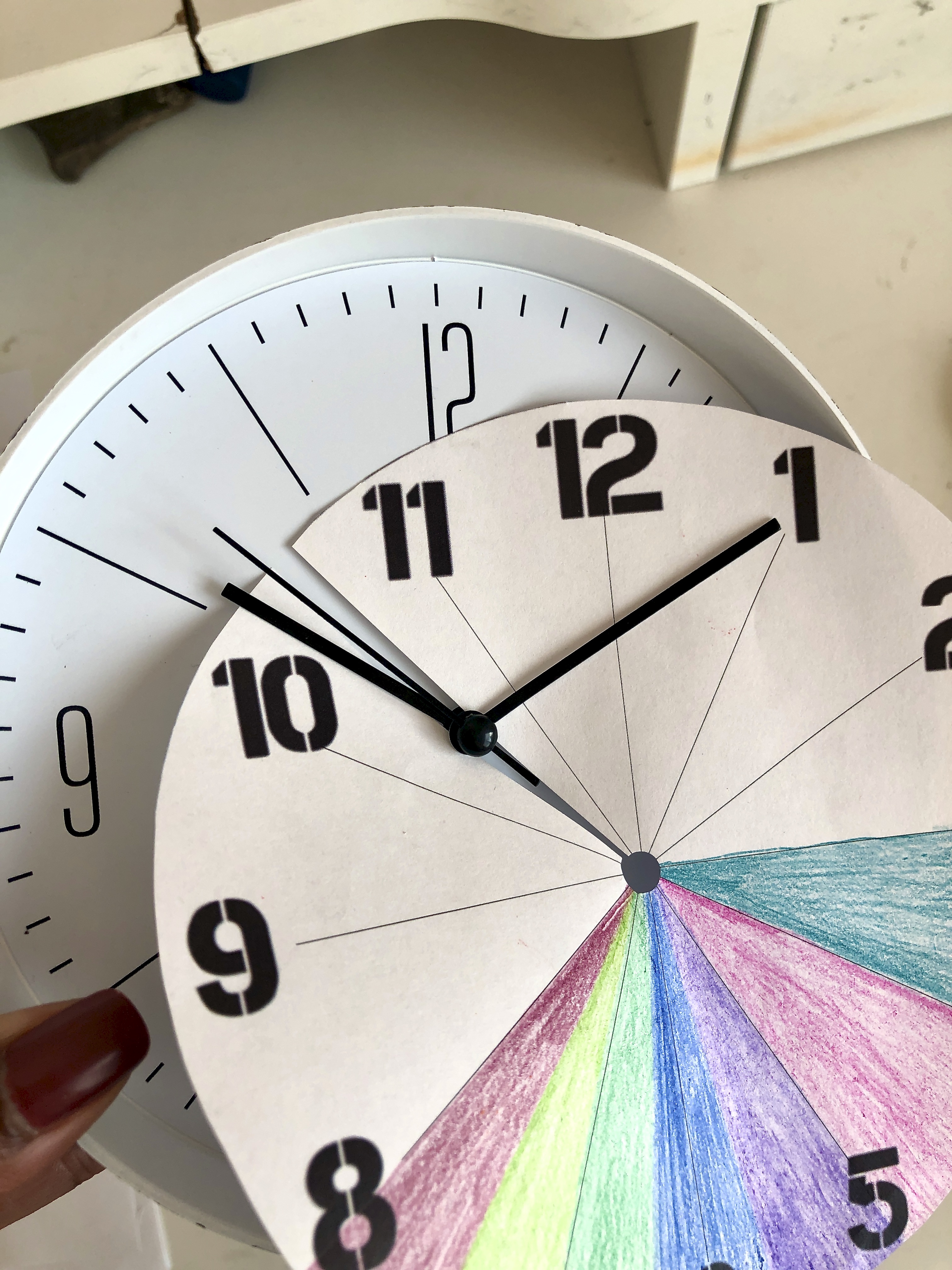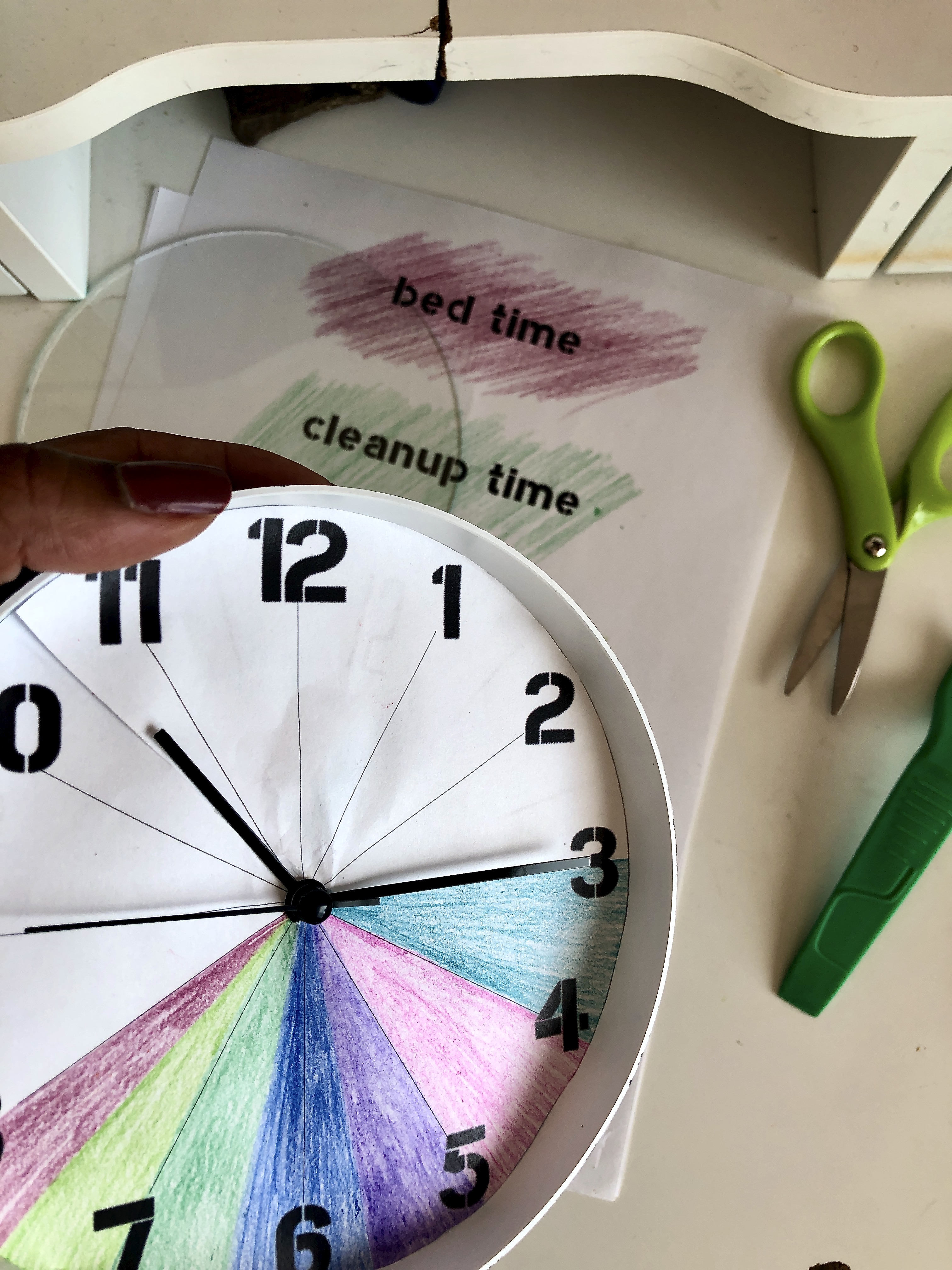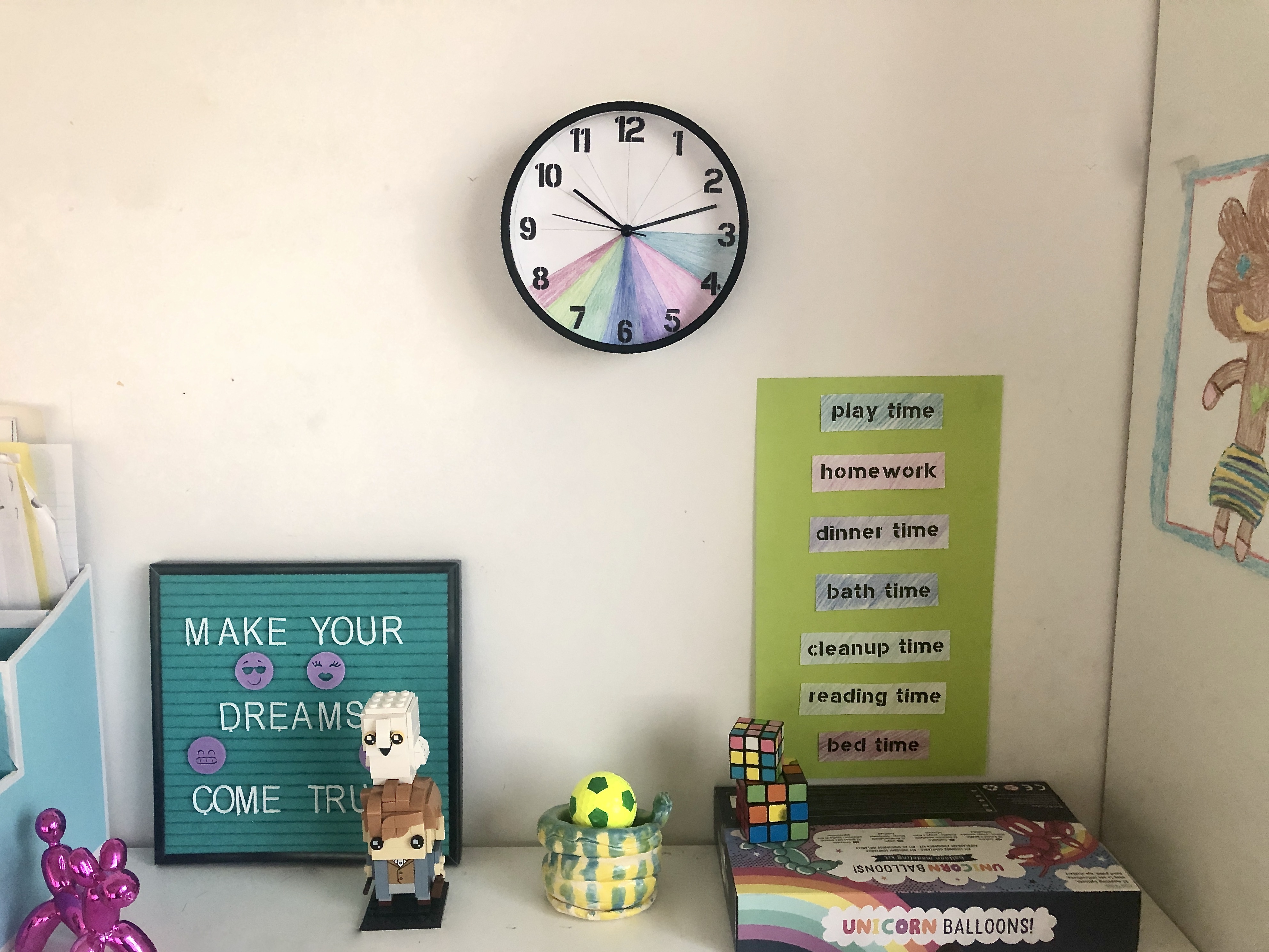 More Smart DIYs for Moms: