Anyone who has been in an elevator with a child knows that children loooove to press buttons. They also love to throw things. Channeling these habits in a way that isn't distributive to those around them is an ongoing challenge, but one that we can work on early but giving them plenty of time to get out the urges to do these things. That's why I love Sassy Developmental Toys.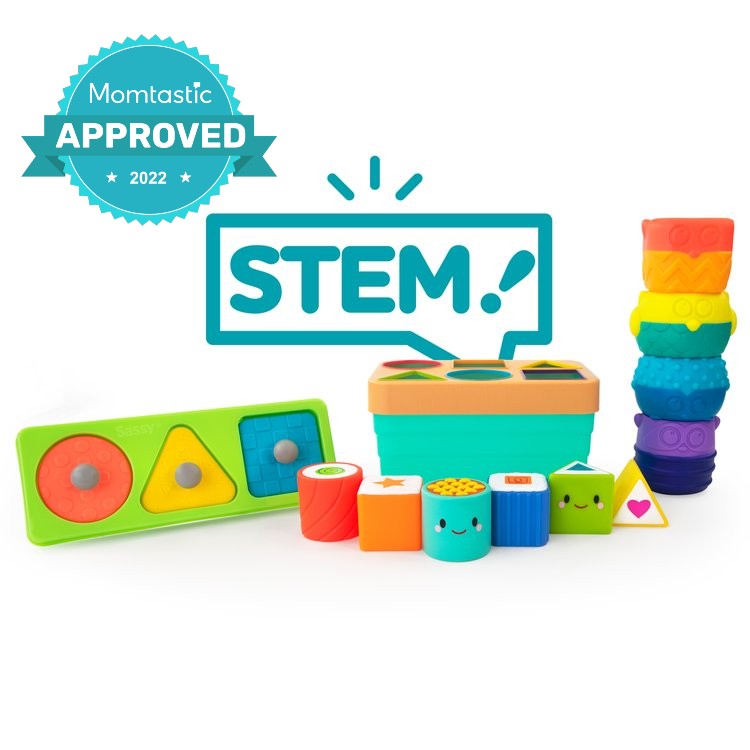 They have squeezing toys, rattles, sorters, put and take toys… basically a ton of options to help kids develop motor and cognitive skills, while getting out the aforementioned disruptive urges. Plus, they're a great way to teach cause and effect and the names for colors and shapes. Everything I've tried is also very sturdy – i.e. it can be tossed and thrown and won't be damaged. Plus, most of the pieces work well for toy rotation, which basically means you give your child the toy to play with for a few weeks and then remove it and introduce it again a few weeks later (or even a few months later).
For example, the set above has items that offer multiple ways to play. While a six month old will just be able to remove the puzzle pieces, a one year old will already be able to put them back giving new interest to the toy.