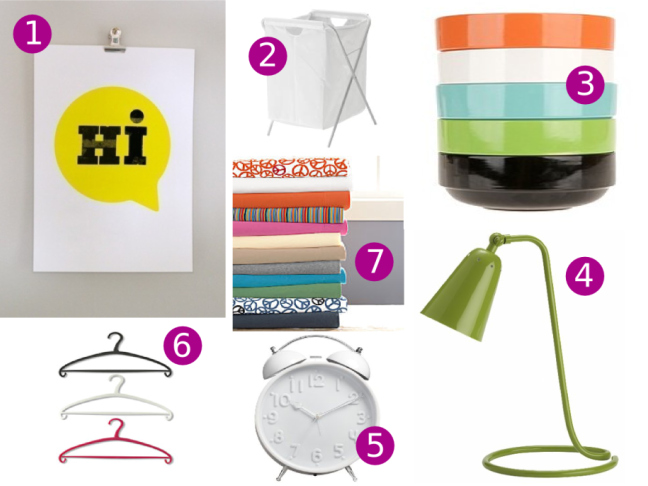 Decorating a dorm room is an important thing for any college-bound kid.  Send your student off to college in style this fall by stocking them up with hip essentials for their tiny new space!
Print from Dear Colleen

Small double bell white clock from Target

Lasso desk lamp from Crate & Barrel

Jall laundry bag with stand from Ikea

Olka hangers from The Container Store

Jersey-knit bedding from Garnet Hill

Well-stacked bowls from Urban Outfitters
Dorm room living isn't meant to be glamorous, but making sure your son or daughter's new space is filled with bright, happy things can do wonders for their mindset while they're living in their home away from home.  Since the lack of space means that you can really only send them off with the basics, pick things that are cool, colorful, and fun, like this stack of bright bowls (from which they'll be eating plenty of ramen noodles) and soft bedding.  Even simple things like hangers and a desk lamp get a bright punch from color, and utilitarian objects like an alarm clock and laundry hampers are made super-cool with modern-yet-functional design.  And don't forget that they'll need to fill up those empty cement walls, too – so check out sites like Etsy and Keep Calm Gallery for a great selection of prints.