The first time I thought about dyeing my hair an unusual color I was in preschool. I remember looking at my dark blond strands in the sunlight and imagining them mermaid-purple or fairy-pink. Obviously, this was a couple (or a few??) decades ago, but some old wishes die hard. Or should I say dye?
I have probably mentioned to my husband the desire to dye my hair pink at least once every other month or so for the past ten years, but there was always some compelling reason that I didn't do it. First, a series of corporate jobs which, even in the fashion industry, didn't lend easily to shockingly dyed tresses. Then, there was the wedding and a year's worth of lead up perfecting my just-this-side-of-ash California-y deep bronde. Post-nup, I chopped it off and got bangs which meant another bold choice was out, and then I became a mom. And you know how that goes.
Every time I've daydreamed in the past five years about saying f— it and dyeing my hair pink, weird old feelings of self doubt have crept in hard:
You're too old now.
You need to look approachable in the preschool drop-off line.
If you do it, the kids will want to do theirs, too.
Blah, blah, blah.
I'm a millennial, but an older one. As much as I've pictured myself with pink-tinged hair forever, it started to feel like one of those things I should have done while I was younger but didn't. End of story. And yet… late at night while my whole family snores and drools, I often can be found on Instagram and Pinterest scrolling through for cotton candy-colored hairspiration I thought I'd never try.
Then COVID-19 hit and the world changed dramatically, in an instant. Because of a compromised immune system, I was home for good the first day they closed our local schools "for cleaning" over a month ago. I was supposed to go on a mom's trip in Nashville that weekend, but couldn't. I wept in my husband's arms reading the text message chain I was still on as my close girlfriends who aren't as medically susceptible as I am took one last hurrah before hunkering down for the foreseeable future. While they packed up their bags and made their wine runs for the road trip, I felt like the last piece of me that is non-child related was gone. Gone for as close to good as we know.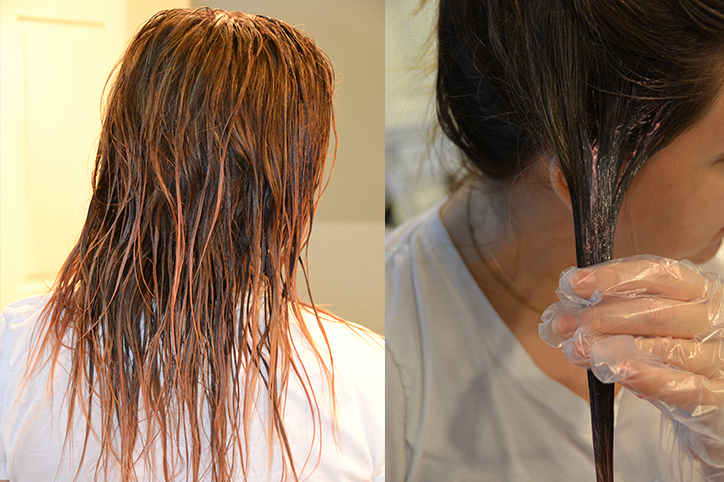 Through my sniffles and lamenting the fact that I have no idea when I will ever leave this house again, I half-joked to my husband, "Maybe I should dye my hair pink." He's so traditional and has never loved the idea, so I was expecting him to laugh it off, but instead he said, "Yeah, now's the time." We ordered my OverTone kit that night. I knew exactly what I wanted — It's not like I had been secretly hoping for this opportunity for months (years?) or anything!
For my first foray into home dyeing, I went with a color depositing conditioner that will wash out. No stripping or bleach involved; and no damage risk. I decided to use their pastel pink on my highlighted medium brown hair, knowing that the pink would show up mostly as a rose gold tone on my blonde highlights.
To start, we did a test strip, let it sit 15 minutes, and then rinsed it out. I could have cried out of glee seeing those first strands turn pink. There was definitely no turning back now; I quickly sectioned my hair off, applied the tinted conditioner with my hands using the gloves included in the kit (you can also use kitchen gloves), and rinsed that out after 15 minutes as well. I can't remember the last time I was this excited to blow dry my hair and see its new color revealed… Maybe in 2003, the year of the platinum allover highlight when I was tiny, tan, and up for anything?
All I can say is wow — dyeing my hair pink as a mom in quarantine was probably the best decision I've made in ages. The pink is perfect for me (but I might even try something bolder next time!) and it's given me a new motivation to get out of bed, wash up, get dressed, and even put a little makeup on.
If you're anything like me, this Covid crisis has caused all kinds of stress. Aside from the obvious, huge implications of a health scare like this and its associated death toll, stock market drops, and other devastating consequences, the fact is things aren't exactly easy at home. We are incredibly lucky that my husband and I can still work at home and our children are here with us. I could count all day and not run out of things to be grateful for. But that doesn't make being marooned at home with two needy, whiny, active young children who need to be comforted, fed, coddled, educated, and entertained all. day. long. any easier!
I needed a little something to lift my spirits from the inside out. Something that's just for me in a time when I don't have the gym, or my girls' nights out, or even much time to read a good book between all the endless housework and schoolwork for the kids. I always had all these plausible worries about pulling the trigger on this concept; being stuck at home for the time being made me realize that every single one of them stemmed from a fear of what other people would think, or how other people need or want me to look.
It doesn't hurt that my hair looks so good, even sweatpants are starting to feel cuter. And my husband is actually loving the pink! I might not have lash extensions or SNS nails with tips, little black dresses or pretty shoes for the time being. But at least I'll have one thing going for me when we all reemerge into the light at the end of this tunnel: the unicorn hair I should've tried years ago.
The day after I dyed my hair pink, I started blowing it out again, dusted off my yoga mat and cracked open a fresh journal. I used to think I would feel childish and ridiculous if I went for it and dyed my hair pink in my 30's, but honoring this one silly, scary thing I've always dreamed about for myself feels actually quite mature. Like something that people who truly take care of themselves do — a gift to me from myself. If there's one thing I'm taking with me out of this quarantine period, it's the strength to do a little more of that back in the real world. Now I know I deserve it.
More About Coloring Your Hair: