servings: about 40 chips
prep time: 10 minutes
cook time: 40 minutes
total time: 50 minutes
Ingredients:
1 large sweet potato (washed and scrubbed)
3 tablespoons olive oil
2 teaspoons orange zest
4 sprigs of thyme (stems removed)
½ teaspoon sea salt
¼ teaspoon ground black pepper
Preparation:
Step1: Preheat oven to 350. Lightly grease two baking sheets and set aside.
Step 2: Thoroughly wash and scrub sweet potato.
Step 3: Slice sweet potato using a mandolin, or a very sharp knife.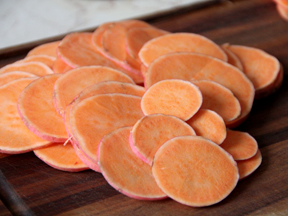 Step 4: In a small bowl, mix together olive oil, orange zest, thyme leaves, sea salt, and black pepper.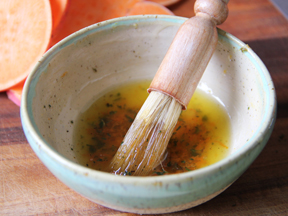 Step 5: Evenly place sweet potato rounds on baking sheets, making sure not to overlap.
Step 6: Generously brush tops of sweet potato rounds with olive oil mixture.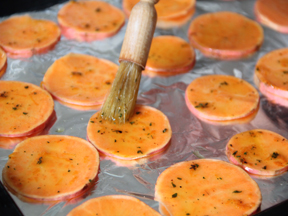 Step 7: Bake the first batch for 20 minutes, or until golden brown and centers are dry. Bake the second batch. Allow chips to reach room temp before serving.
Tip: For alternative chip seasonings, try: cinnamon-spice, cayenne-sea salt, cumin, and rosemary-garlic.
Want more snacks you can whip up in under 30 minutes? Try these:
Get more mouthwatering recipes from Karen Biton-Cohen at K. abc Food & Photography.